Prix Inkspiration 2020 présentés par HP et Dscoop
A French Translation directly follows the English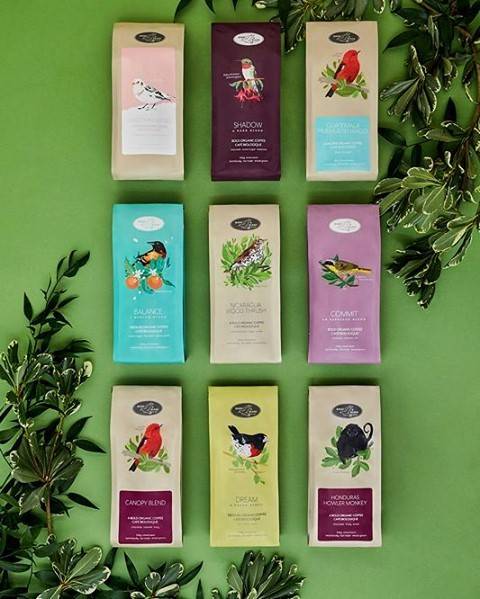 This year, Rootree had the honour of placing second in the Sustainability category at the 2020 Inkspiration Awards, presented by HP and Dscoop! In 2015, HP and Dscoop teamed up together to create this award as a way to celebrate their community and to inspire them to push the boundaries of what's possible with HP's digital printing presses! 5 years later, the award is still inspiring creative minds around the globe.
For this year's application, Rootree submitted packaging that we printed for Birds & Beans Coffee Roasters, a client that is based in Etobicoke, Ontario. Birds & Beans was our first client to print on our Quad-Seal home-compostable coffee bags with a compostable valve. By using these fully compostable bags, Birds & Beans promotes sustainability within the coffee industry and helps to push that trend forward.
We're proud to be recognized among such an inspiring community of creative individuals, especially our fellow businesses in the Sustainability category, and want to thank HP and Dscoop for organizing these awards.
Check out the full Press Release by HP and Dscoop to learn more about the Inkspiration Awards, and to check out the winners in the other categories!
---
Cette année, Rootree a eu l'honneur de se classer deuxième dans la catégorie Durabilité lors des Inkspiration Awards 2020, présentés par HP et Dscoop ! En 2015, HP et Dscoop se sont alliés pour créer ce prix afin de célébrer leur communauté et de les inspirer à repousser les limites du possible dans l'industrie de l'impression numérique HP ! Cinq ans plus tard, le prix continue d'inspirer les esprits créatifs du monde entier.
Pour l'occasion, Rootree a soumis les emballages Birds & Beans Coffee Roasters que nous avons imprimé pour, un client d'Etobicoke, en Ontario. Birds & Beans fut notre premier client à utiliser nos sacs de café compostables à domicile format "Quad-Seal" avec une valve de dégazage compostable. En utilisant ces sacs entièrement compostables, Birds & Beans fait la promotion de la durabilité dans l'industrie du café et contribue à faire avancer cette tendance.
Nous sommes fiers de faire partie d'une communauté qui fait la promotion du développement durable.
Consultez le communiqué de presse complet de HP et Dscoop pour en savoir plus sur les Inkspiration Awards et pour connaître les gagnants des autres catégories !