Sustainable and stylish – it's the most wonderful customizable holiday gift wrap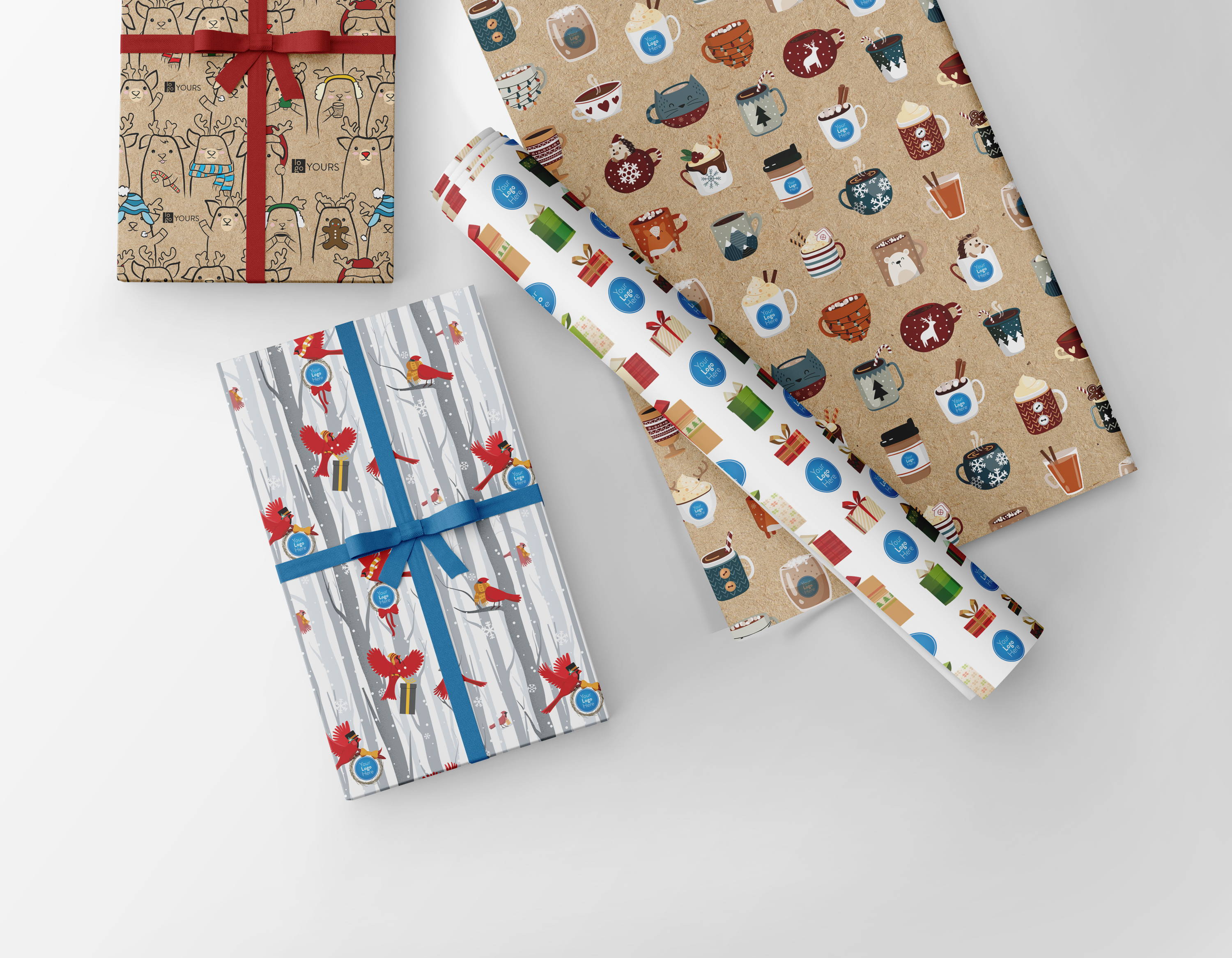 We know that you are currently knee-deep in pumpkin season, but it's never too early to start thinking of the most wonderful time of the year! Step up your corporate gift-wrapping game this year with custom-branded compostable holiday wrap.
Some people say it's better to give than to receive, right? Gift giving makes us feel warm-hearted and fuzzy – there is something to be said about opening a perfectly wrapped gift over the holidays. Luckily, Rootree is here to give you the power of personal, custom-branded holiday wrap this season – and did we mention that it's sustainable?  
Continue reading to learn how you can achieve the ultimate gift-wrapping experience.
It's time to spruce things up – but don't worry, digital printing makes that easy  
It's snow joke – anything is made possible with digital printing. Our gift to you this season is a selection of easy templates for any branded design. Have a specific design or brand logo you want printed on your holiday wrap? Do you also have an expansive colour palette?  Let's all raise a glass, and mistle-toast to digital printing for elevating our holiday gift-wrapping game.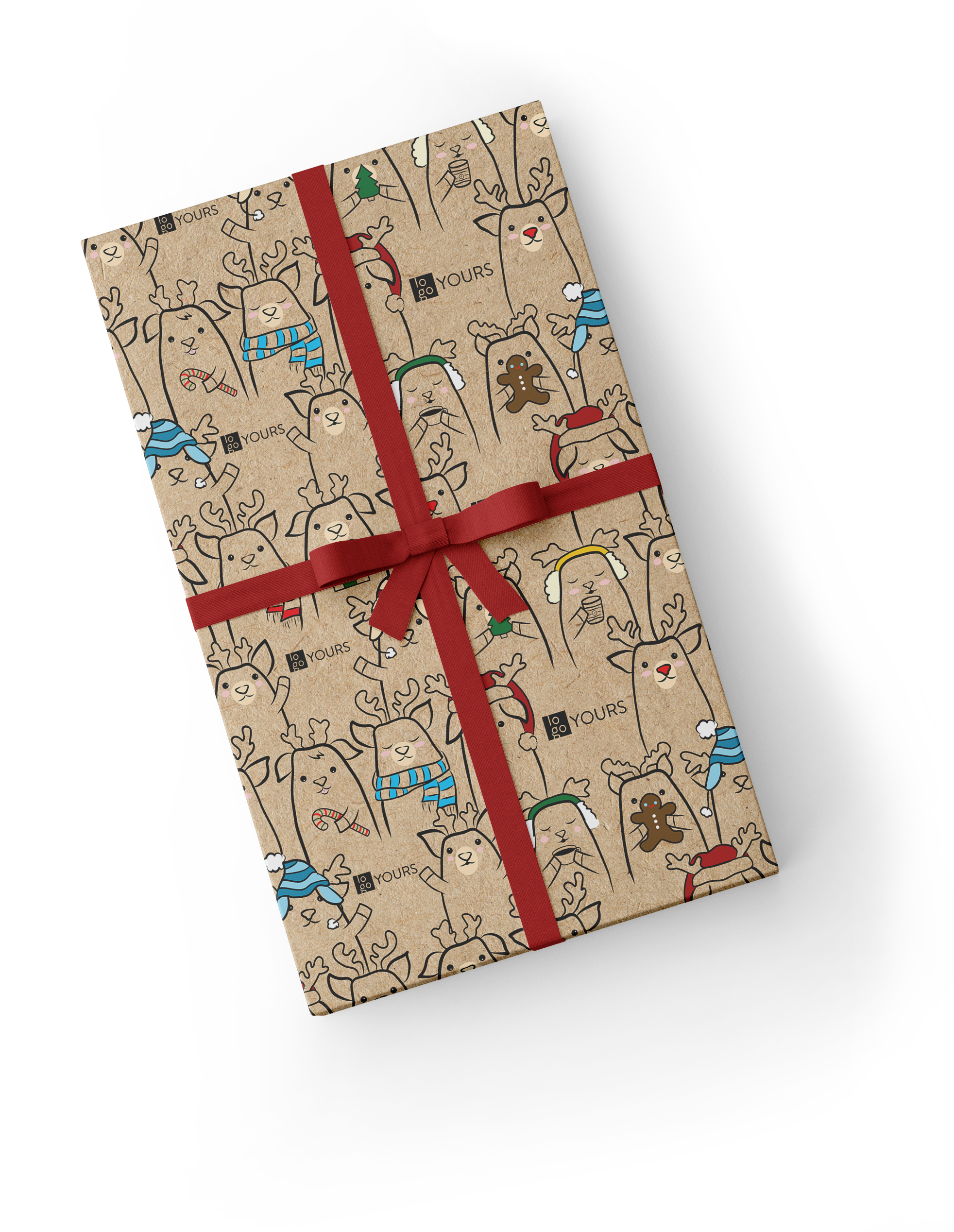 You heard right – it's even compostable
With all the gifting around the holidays, a great amount of waste can be generated. Rootree is serious about sustainability, even when it comes to the festivities that the holidays entail. So, on top of being branded, customizable, and stylish, this holiday wrap is also home compostable.  
Gift without feeling guilty – compostable gift wrap is made from renewable, non-GMO, bio-based materials.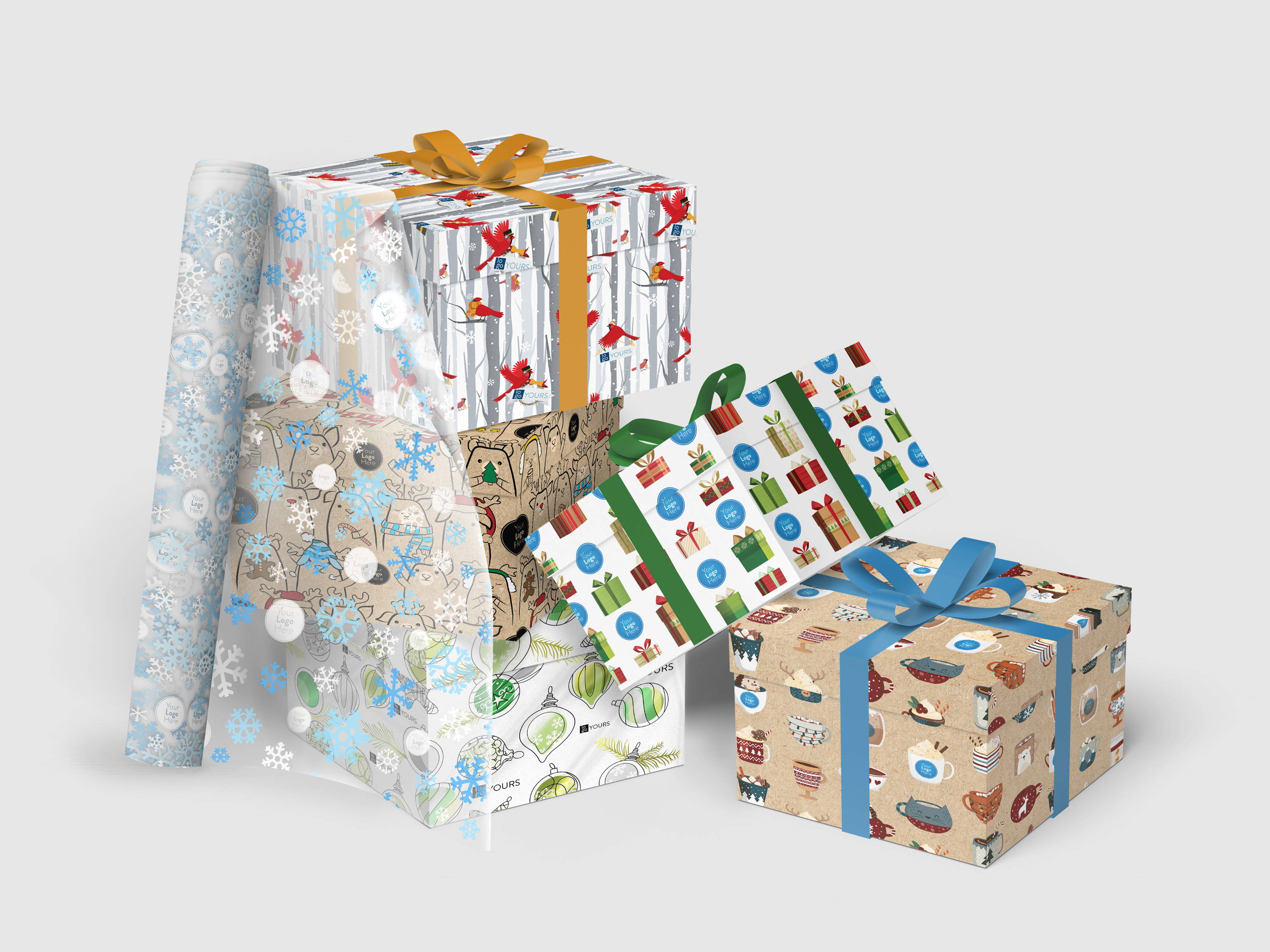 A trio of materials to fit any aesthetic
Available in both kraft and white, paper wrapping comes with certifications like FSC and PEFC. It's a sustainably-sourced option with a natural look and feel. Perfect for that earthy vibe, paper is your friend this holiday season.  
Looking to give your gift-receivers a view of what's inside their beautifully wrapped package? Clear compostable wrap is calling your name. Made from renewable forestry wood pulp cellulose, it's time we give this clear paper wrap a round of a Claus.  
From clear compostable wrap, cellophane wrap to kraft paper, your holiday gift-wrapping game will be on point.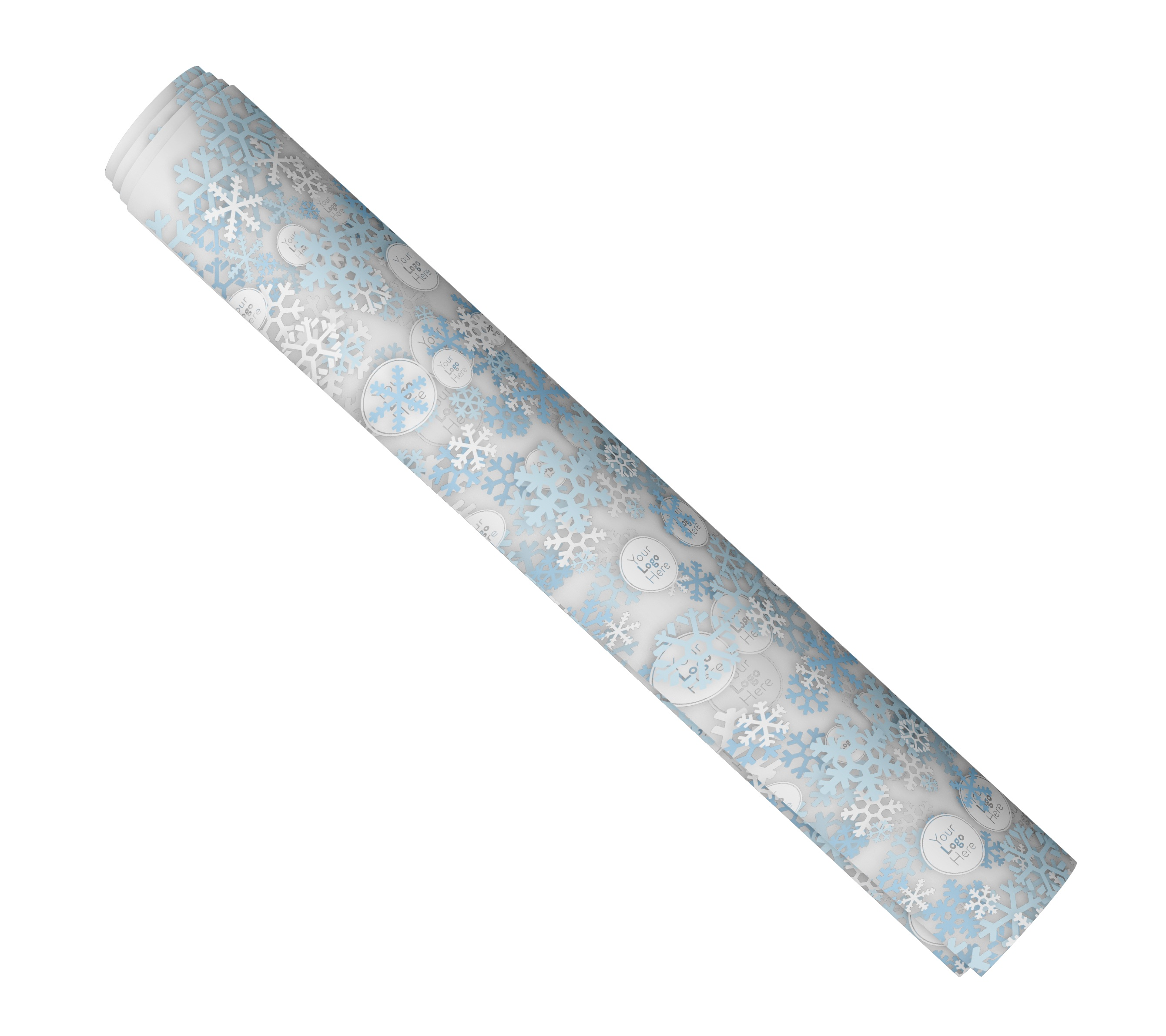 Treat yo' 'elf - everyone loves holiday gift wrap  
Beautifully wrapped packaging will make anyone extra excited to rip open their gift to see what's inside. Custom-branded holiday gift wrap makes unboxing even MORE exciting while helping your brand stand out. It's time you show off your style and personality with custom-branded holiday wrap.
It's no secret that customers love showing off fun and exciting packages on social media. Decorative branded custom gift wrap is EXTRA shareable, and your brand will be front and center. Spreading the holiday cheer and adding that personal custom gift-wrapping touch will brighten up anyone's day. 
We're happy that you are just as excited for the holidays as we are. October is the new December, right? It's never too early to start preparing your seasonal holiday wrap, and we're here to help. The early bird gets...ahead of the packaging game.  
Have we piqued your interest? Our sales team LOVES to chat about packaging almost as much as we love the holidays – well, it might be a tie.  
We'd love to speak about how we can help you and your business create the PERFECT customized holiday wrap. Be the gift-giver that everyone is buzzing over this season. Get in touch with our Rootree Sales Team and have your 'elf the ultimate custom-branded holiday wrap.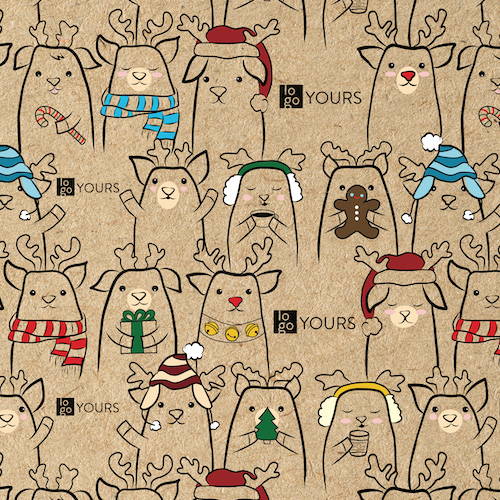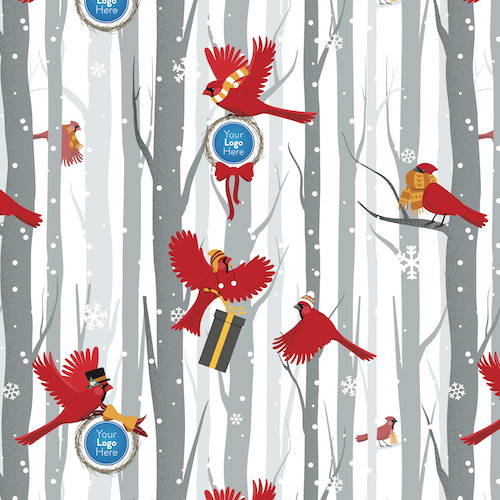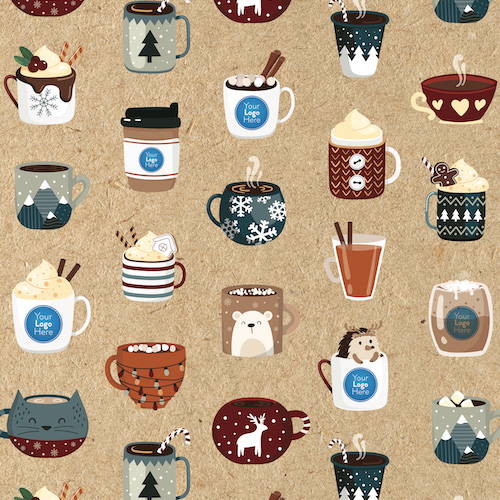 Design your own gift wrap
Hold on for deer life - extremely cute holiday gift-wrapping designs awaits. One thing we love more than packaging? Helping your business create the PERFECT customized holiday wrap. This is snow laughing matter, you're about to be the best gift-giver this holiday season.
---
Les avantages du papier-cadeau personnalisé
Durable et élégant — c'est le plus merveilleux des papiers-cadeaux personnalisables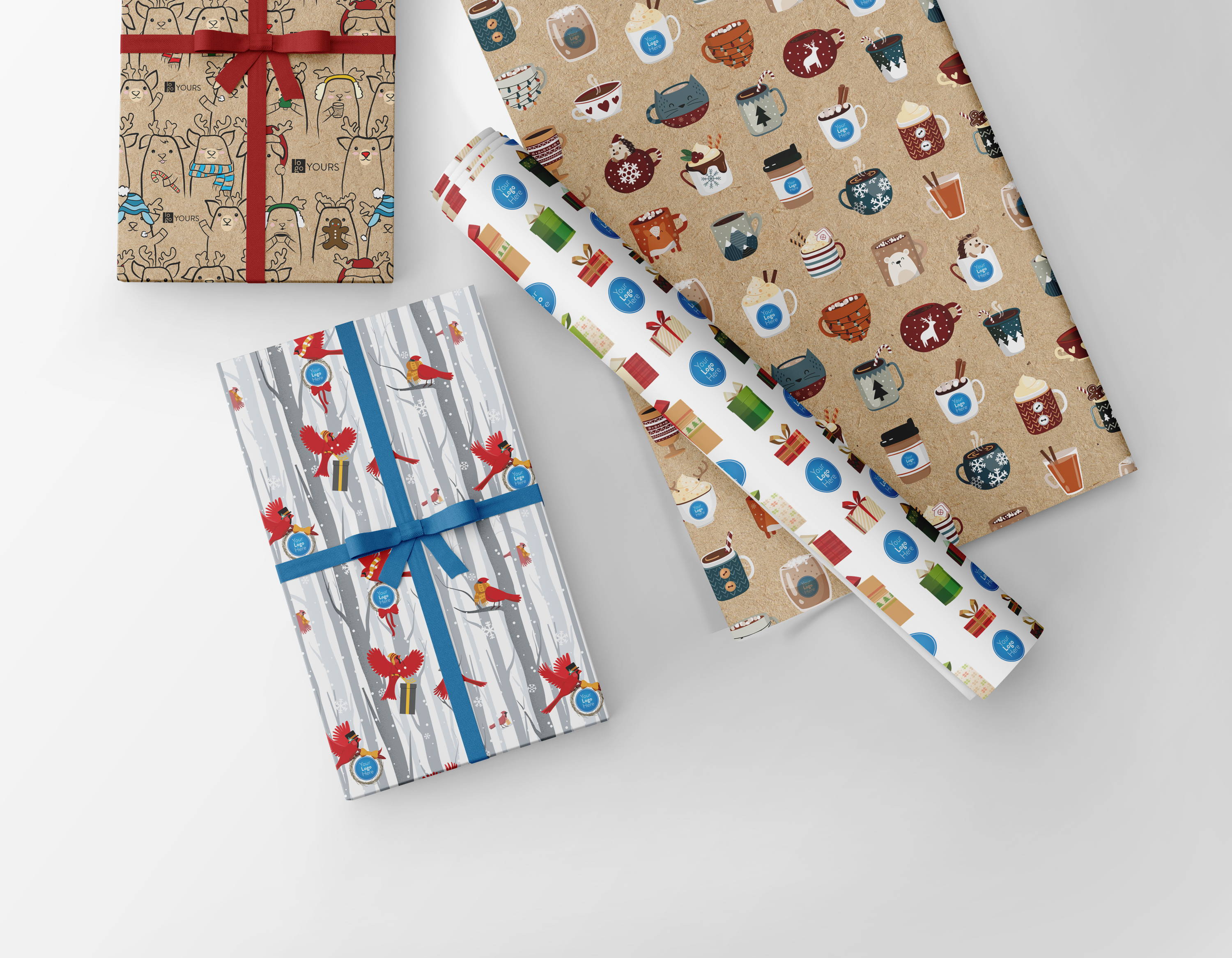 Nous savons que vous êtes à fond dans la saison des citrouilles, mais il n'est jamais trop tôt pour commencer à penser au temps des fêtes! Faites un choix mémorable pour vos cadeaux d'entreprise cette année avec un papier-cadeau festif compostable et personnalisé.
Pour certains, il est plus beau de donner que de recevoir. Offrir des cadeaux nous réchauffe le cœur — pendant les fêtes, il n'y a rien de plus plaisant que d'ouvrir un cadeau parfaitement emballé. C'est là que Rootree intervient pour vous offrir un papier-cadeau festif unique, personnalisé... et durable!
Continuez à lire pour découvrir comment passer maître dans l'art de l'emballage de cadeaux.
Il est temps de faire peau neuve — mais ne vous inquiétez pas, l'impression numérique est là pour vous faciliter la tâche
Tout est possible avec l'impression numérique. Pour les fêtes, nous vous offrons une sélection de modèles faciles à utiliser pour n'importe quel design. Vous souhaitez imprimer un motif particulier ou le logo de votre marque sur votre papier-cadeau des fêtes? Vous disposez également d'une vaste palette de couleurs? Levons notre verre à l'impression numérique, qui nous permet de créer des papiers-cadeaux toujours plus beaux pour les fêtes.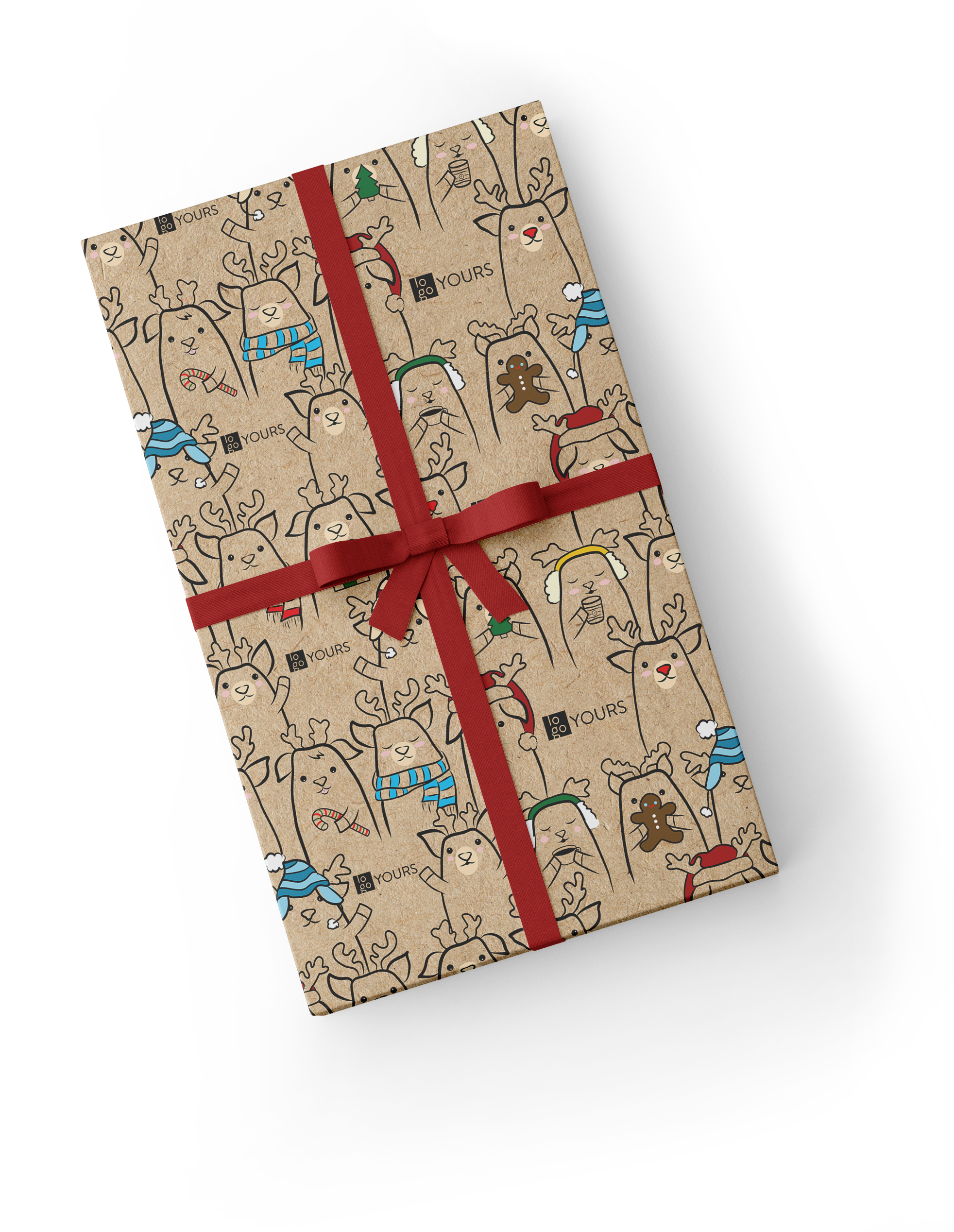 Vous avez bien entendu; ils sont compostables
Tous les cadeaux offerts pendant les fêtes génèrent une grande quantité de déchets. Pendant les fêtes, Rootree ne relâche pas son engagement en matière de développement durable. Ainsi, en plus d'être unique, personnalisable et élégant, ce papier cadeau est également compostable à domicile.
Offrez sans culpabiliser : notre papier-cadeau compostable est fabriqué à partir de matériaux renouvelables, sans OGM et d'origine biologique.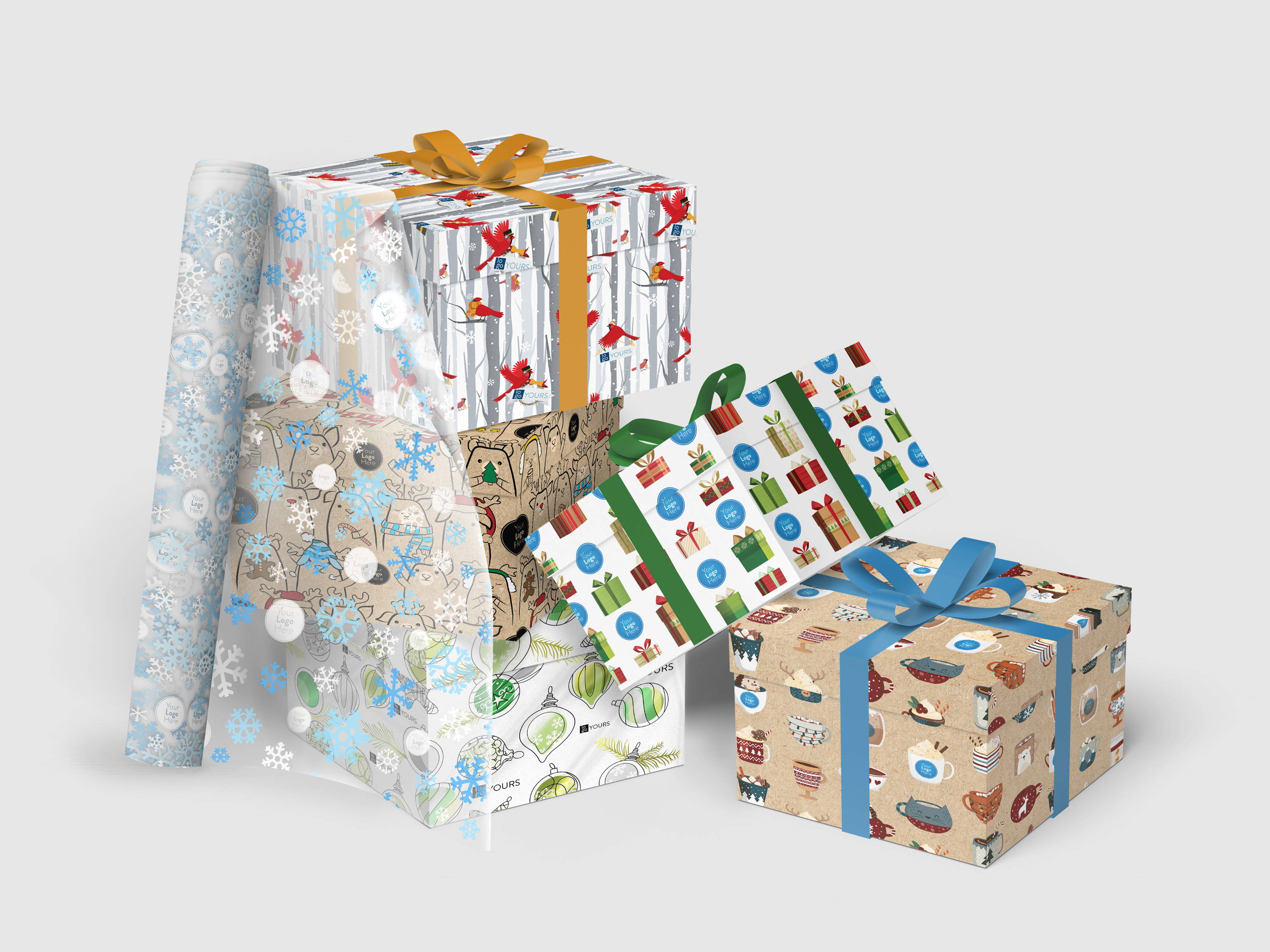 Un trio de matériaux adaptés à tous les styles
Disponible en papier kraft et en papier blanc, le papier-cadeau est certifié FSC et PEFC. C'est une option durable à l'aspect et au toucher naturels. Ce papier, qui rappelle la nature, saura vous accompagner pendant les fêtes de fin d'année.
Vous souhaitez donner à vos destinataires la possibilité de voir ce qui se trouve à l'intérieur de leur beau paquet? Le papier-cadeau transparent compostable est fait pour vous. Ce papier-cadeau transparent fait à partir de cellulose de pâte de bois issue de production durable mérite une salve d'applaudissements.
Papier-cadeau transparent compostable, papier en cellophane, papier kraft... Toutes nos options sont bonnes pour emballer vos cadeaux cette année.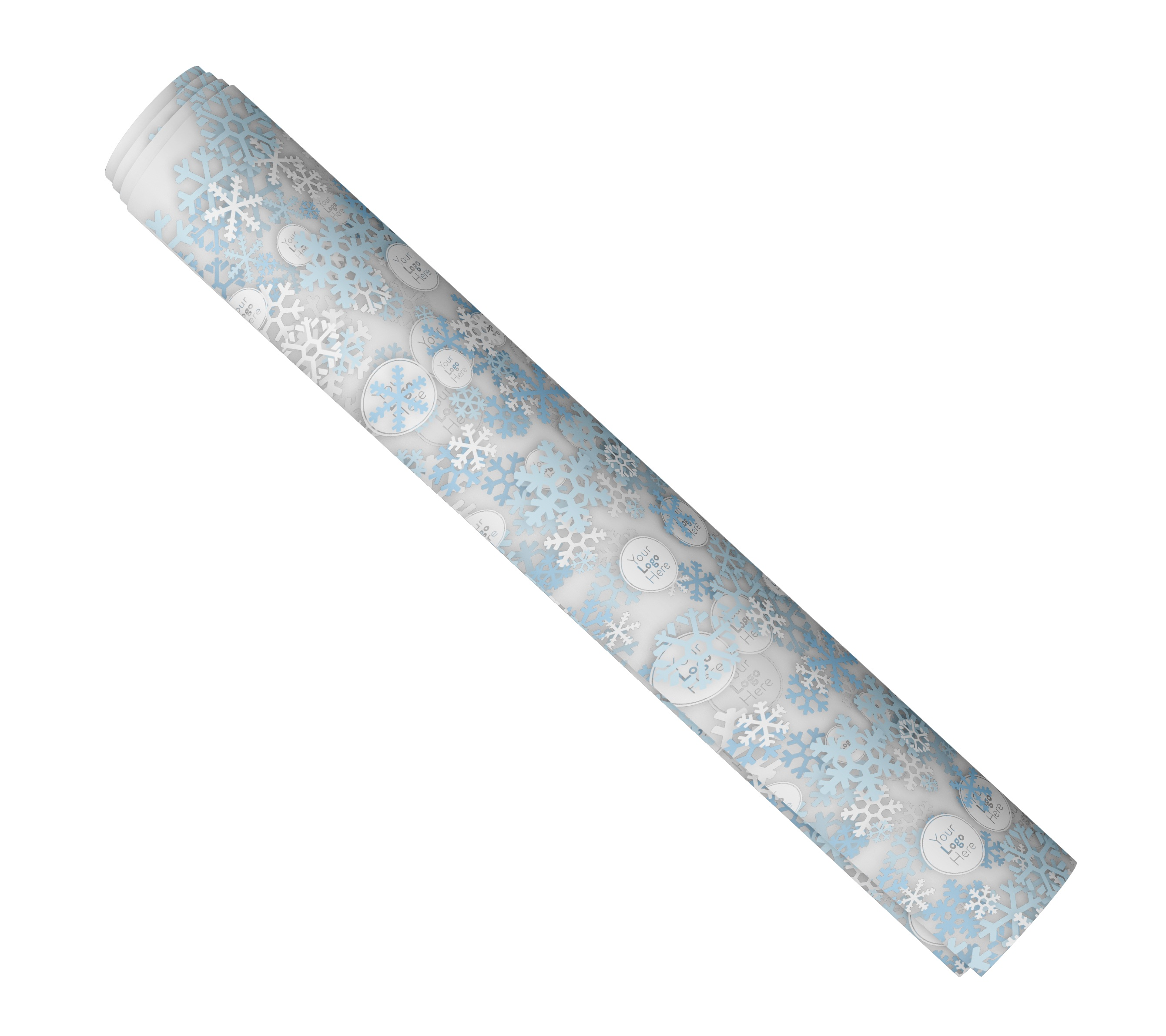 Faites-vous plaisir pour les fêtes — tout le monde adore les papiers-cadeaux festifs
Un cadeau magnifiquement emballé a le don de rendre n'importe qui enthousiaste à l'idée de l'ouvrir. Grâce à notre papier-cadeau personnalisé, suscitez la curiosité tout en vous différenciant des autres marques. Il est temps d'affirmer votre style et votre personnalité avec un papier-cadeau festif personnalisé.
Ce n'est pas un secret, les clients adorent partager leurs cadeaux emballés sur les médias sociaux. Les emballages cadeaux décoratifs personnalisés sont SUPER partageables, et votre marque sera au premier plan. Égayez la journée de tous, répandez la joie des fêtes et apportez une touche personnelle à vos cadeaux grâce au papier-cadeau personnalisé.
Nous sommes heureux que vous soyez aussi enthousiastes que nous à l'approche du temps des fêtes. Après tout, octobre, c'est presque déjà décembre... non? Il n'est jamais trop tôt pour commencer à préparer vos papiers-cadeaux des fêtes, et nous sommes là pour vous aider. Les beaux emballages sourient à ceux... qui s'y mettent tôt.
Avons-nous piqué votre curiosité? Notre équipe des ventes ADORE parler d'emballages autant que nous aimons le temps des fêtes... ou presque.
Nous serions ravis de discuter avec vous pour savoir comment nous pouvons vous aider, vous et votre entreprise, à créer le papier-cadeau personnalisé PARFAIT. Que votre générosité fasse parler de vous cette année. Contactez notre équipe des ventes Rootree pour créer le papier-cadeau personnalisé des fêtes dont vous rêvez.
Choisissez votre emballage cadeau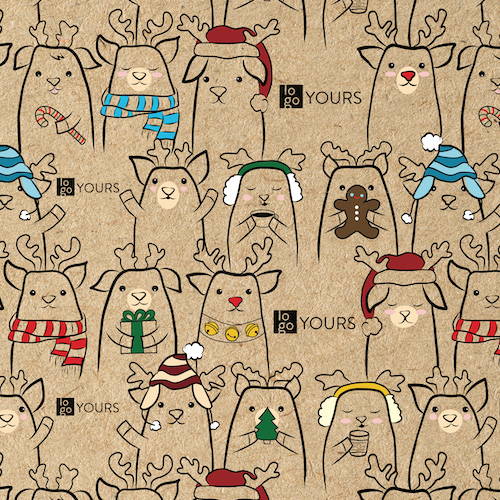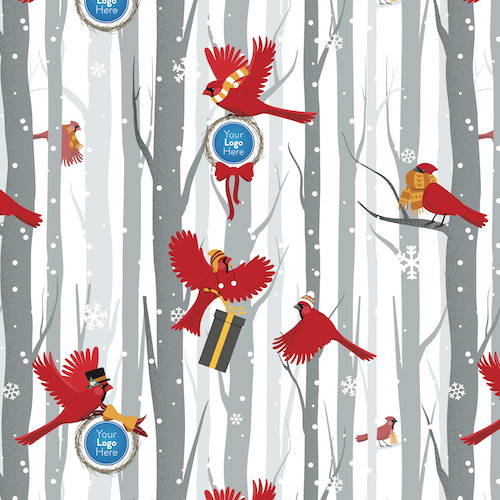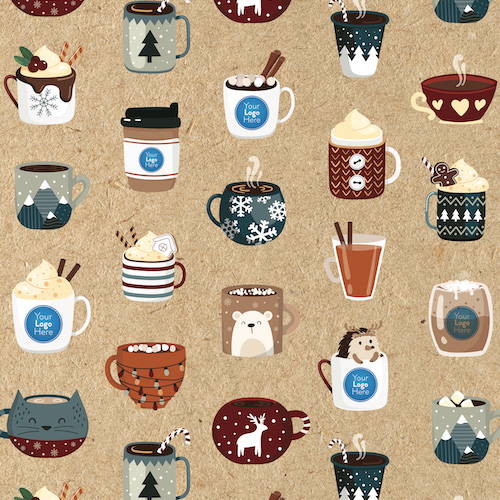 Concevez votre propre emballage cadeau
Accrochez-vous par les rennes - d'adorable emballage cadeau pour le temps des fêtes vous attend. Une chose que nous aimons plus que l'emballage ? Aider votre entreprise à créer l'emballage festif PARFAIT, tout en le personnalisant. Nous ne neigeons pas, vous êtes sur le point d'être le meilleur donneur de cadeaux cette saison-ci.