Nous avons ouvert un bureau au Québec pour répondre à vos besoins en matière d'emballages flexibles et éco-responsables.

Psssst ! On a quelque chose a vous dire ! Nous sommes excités de vous faire part d'un petit secret que nous gardons depuis un certain temps déjà : nous grandissons ! Nous avons ouvert un deuxième bureau afin de mieux servir tous nos clients. Où se trouve ce nouvel emplacement, demandez-vous ? Nous nous sommes étendus à Montréal, au Québec ! Nous avons ouvert ce nouveau point de service pour mieux aider nos clients qui ont des bureaux au Québec, ainsi que dans les autres provinces de l'Est. Dans ce nouveau bureau du Québec, vous pourrez communiquer avec un représentant du service à la clientèle en français et visiter notre salle d'exposition sans avoir à vous déplacer jusqu'en Ontario.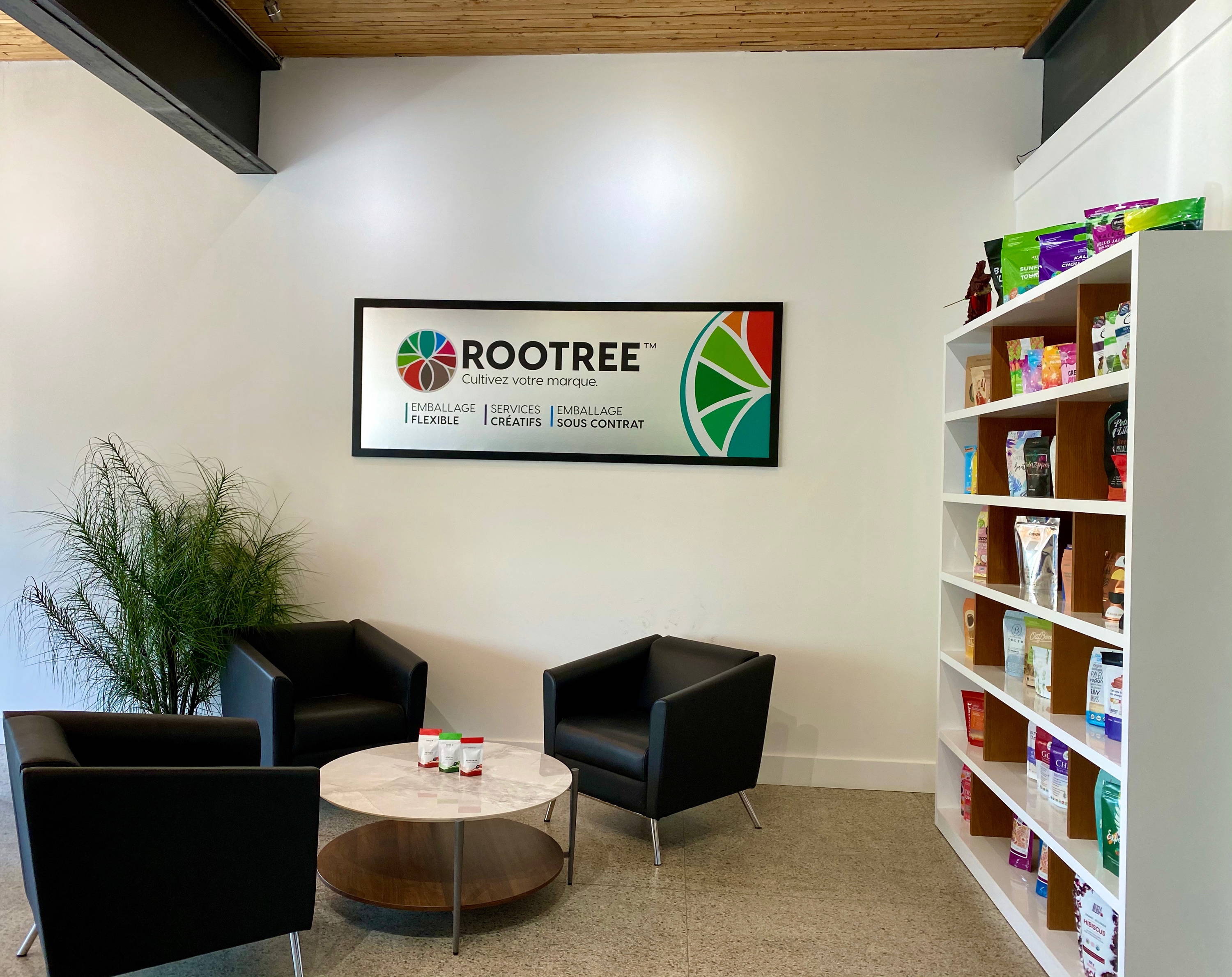 Qu'est-ce que cela signifie pour nos client, nouveaux et actuels ?
Pour nos clients basés au Québec
Cela signifie que vous pourrez communiquer avec notre équipe de vente bilingue, visiter nos bureaux et notre salle d'exposition plus facilement, et que nous pourrons expédier des échantillons à partir d'un endroit plus central, ce qui signifie des délais de livraison plus rapides !
Pour nos clients de la côte Est
Vous aussi, vous en profiterez ! Non seulement l'emplacement est plus proche de chez vous, ce qui signifie que vous n'avez pas à vous déplacer aussi loin si vous voulez visiter une salle d'exposition, mais vos délais de livraison des échantillons seront également plus courts ! Notre équipe à Montréal parle couramment nos deux langues officielles, vous n'avez donc pas à vous soucier de la barrière de la langue lorsque vous êtes prêt à discuter.
Pour nos clients basés aux États-Unis, en Ontario, dans l'Ouest canadien, dans les Prairies et dans le Nord canadien
Continuez à fabriquer vos produits géniaux et à changer le monde !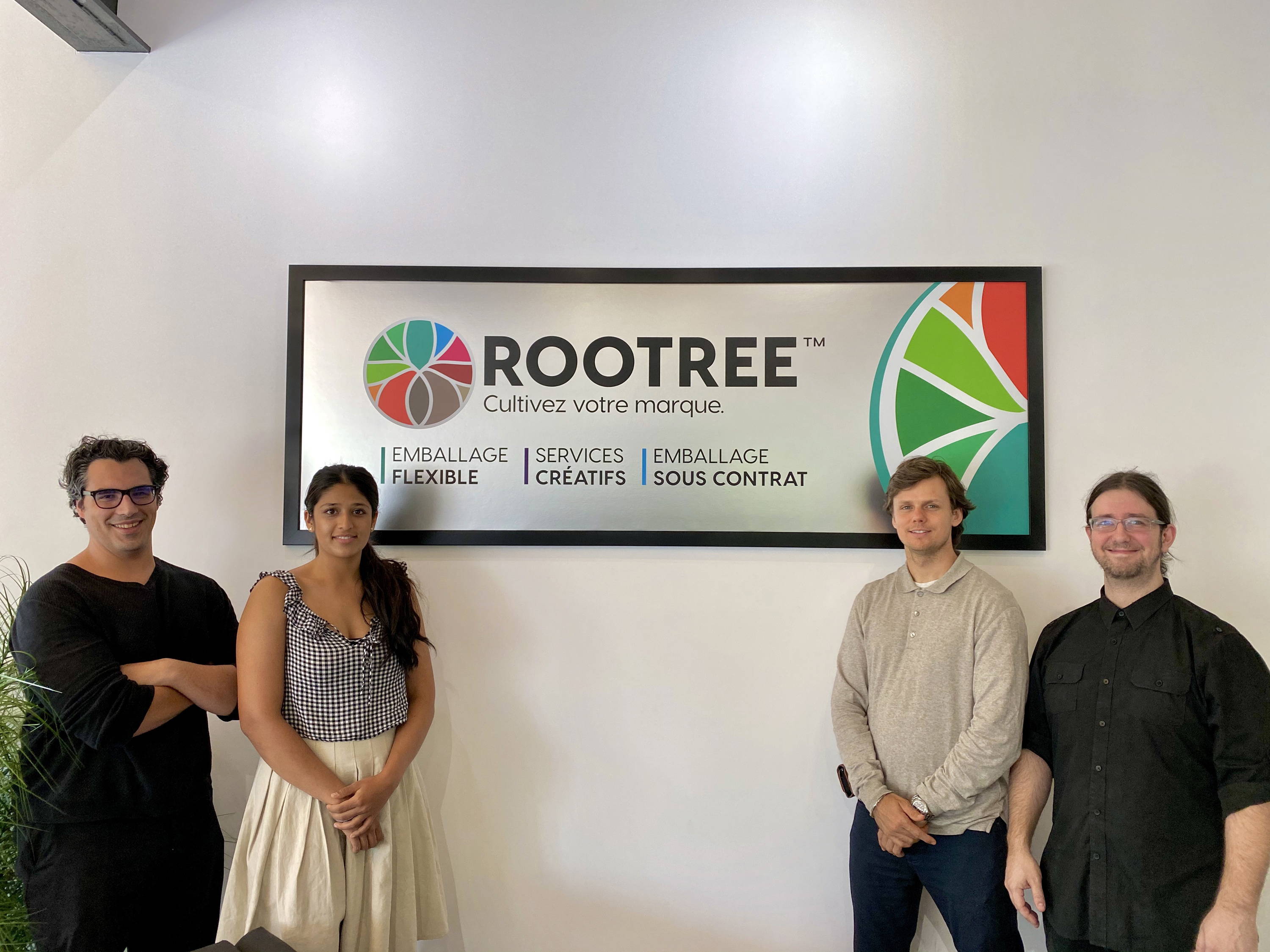 De gauche à droite : Yves-Olivier Martin, Directeur régional du Québec; Pia Dombkowski, vice-présidente des ventes et du développement commercial; Phil St-Cyr, président et directeur général; Vincent Cournoyer Paquin, conseiller aux ventes.
Yves-Olivier et Vincent sont impatients de vous connaître et de découvrir vos besoins d'affaires. Ils ont hâte de vous accueillir dans nos nouveaux locaux à Montréal ! Si vous souhaitez planifier une rencontre avec eux, virtuelle ou en personne, n'hésitez pas à les contacter directement ! Ils sont très sympathiques, et nous vous promettons qu'ils ne mordent pas !
En raison de la COVID-19, nous encourageons les rencontres virtuelles lorsque possible, mais si vous devez venir nous rendre visite, nous avons quelques lignes directrices pour aider à assurer la sécurité de tous les participants :

1. Le port du masque facial est obligatoire au bureau. Nous encourageons chacun à apporter le sien, mais nous en avons plusieurs jetables au cas où vous oublieriez le vôtre
2. Une station de désinfection des mains sera placée à l'entrée principale, vous devez vous désinfecter les mains avant de pouvoir continuer à entrer dans le bâtiment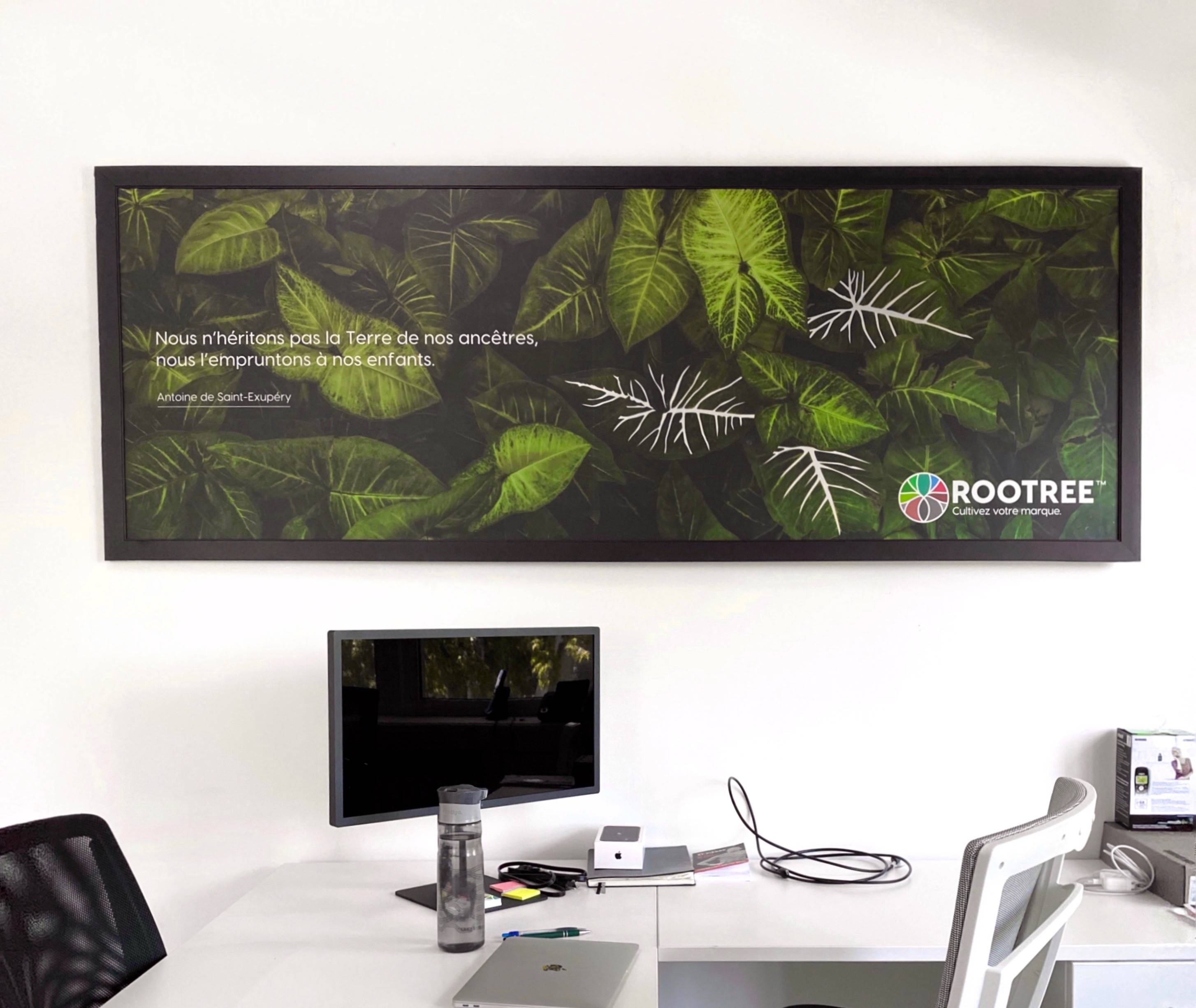 Le bureau de Montréal est maintenant ouvert et notre équipe est prête à répondre à toutes vos questions - sur nos nouveaux bureaux, votre emballage et … tout ce qui vous vient à l'esprit !
Addresse
Téléphone (Québec) : 450-923-8065
SANS FRAIS : 1-833-ROOTREE (766-8733)
Heures d'ouverture
Lundi-vendredi : 10h-16h
Samedi et dimanche : Fermé
---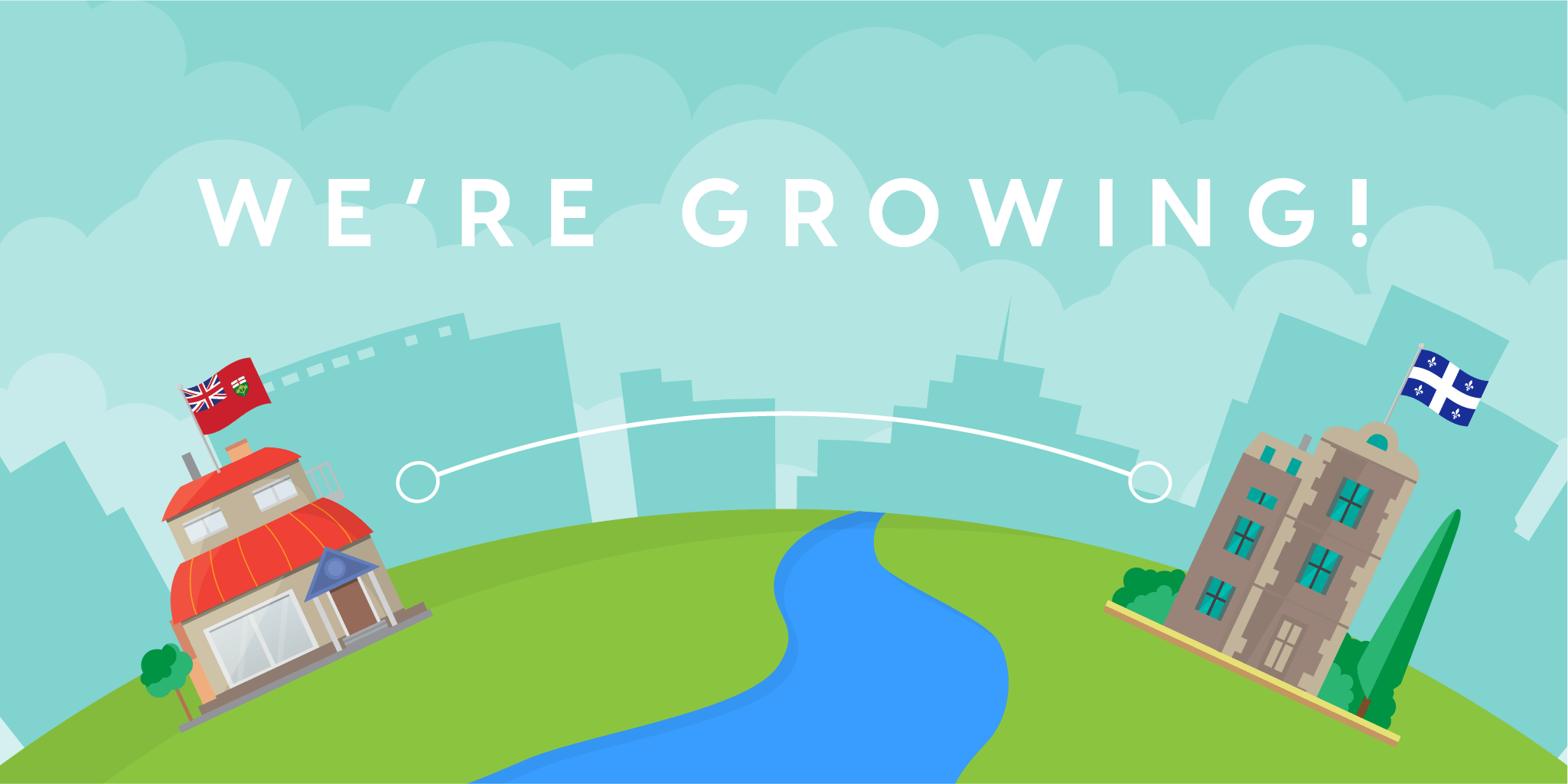 Bonjour! Comment ça-va? We're excited to let you in on a little secret we've been keeping for a while now: we're growing! That's right, we've opened up a second office so that we can service all of our customers and clients better. Where is this new location you ask? You may have guessed it from our introduction… We've expanded to Montréal, Québec! We've set up this new office to more effectively assist our clients with locations in the province of Québec, as well as the other eastern provinces. In this new Québec location, you'll be able to communicate with a dedicated Customer Service Representative en français and visit our showroom without trekking all the way to Ontario.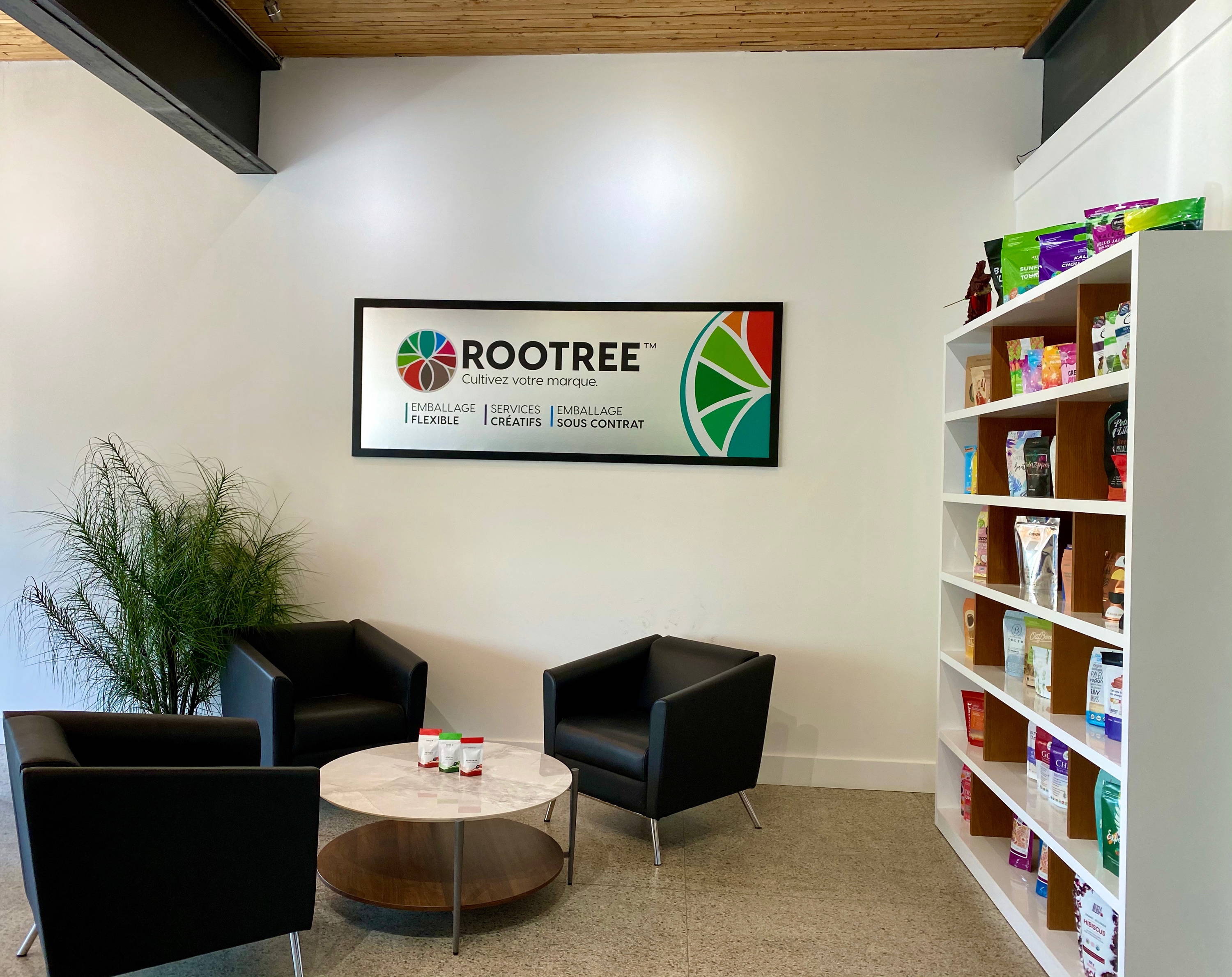 What does this mean for our new and current clients?
For our Québec-based clients
This means that you'll be able to communicate with our bilingual sales team, visit our offices and showroom more easily, and we'll be able to ship samples from a more central location, meaning quicker delivery times!
For our East-Coast clients
This also will benefit you! Not only is the location closer to home, meaning you don't have to travel as far if you want to visit a showroom, but your delivery times on samples will also be shorter! Our team in Montréal is fluent in both of our official languages, so you don't have to worry about a language barrier when you're ready to chat.
For our clients based in the US, Ontario, Western Canada, the Prairies, and Northern Canada
Business as usual - just continue making your awesome products and changing the world!
Pictured Left to Right: Yves-Olivier Martin, Regional Manager - Québec; Pia Dombkowski, VP of Sales & Business; Phil St-Cyr, President & CEO; Vincent Cournoyer Paquin, Sales Advisor.
---
Yves-Olivier and Vincent are looking forward to getting to know you and your business needs, and they can't wait to welcome you to our new Montréal location! If you would like to schedule a meeting with them, virtual or in person, feel free to reach out to them directly! They're the friendliest of people, and we promise they won't bite!
Due COVID-19, we encourage virtual meetings when possible, but if you need to come in and visit, we have a few guidelines to help keep everyone involved safe:
1. Face masks are required in the office. We encourage everyone to bring their own, but we have a number of disposable ones in case you forget yours
2. A hand sanitization station will be placed at the front entrance, you must sanitize your hands before you can continue into the building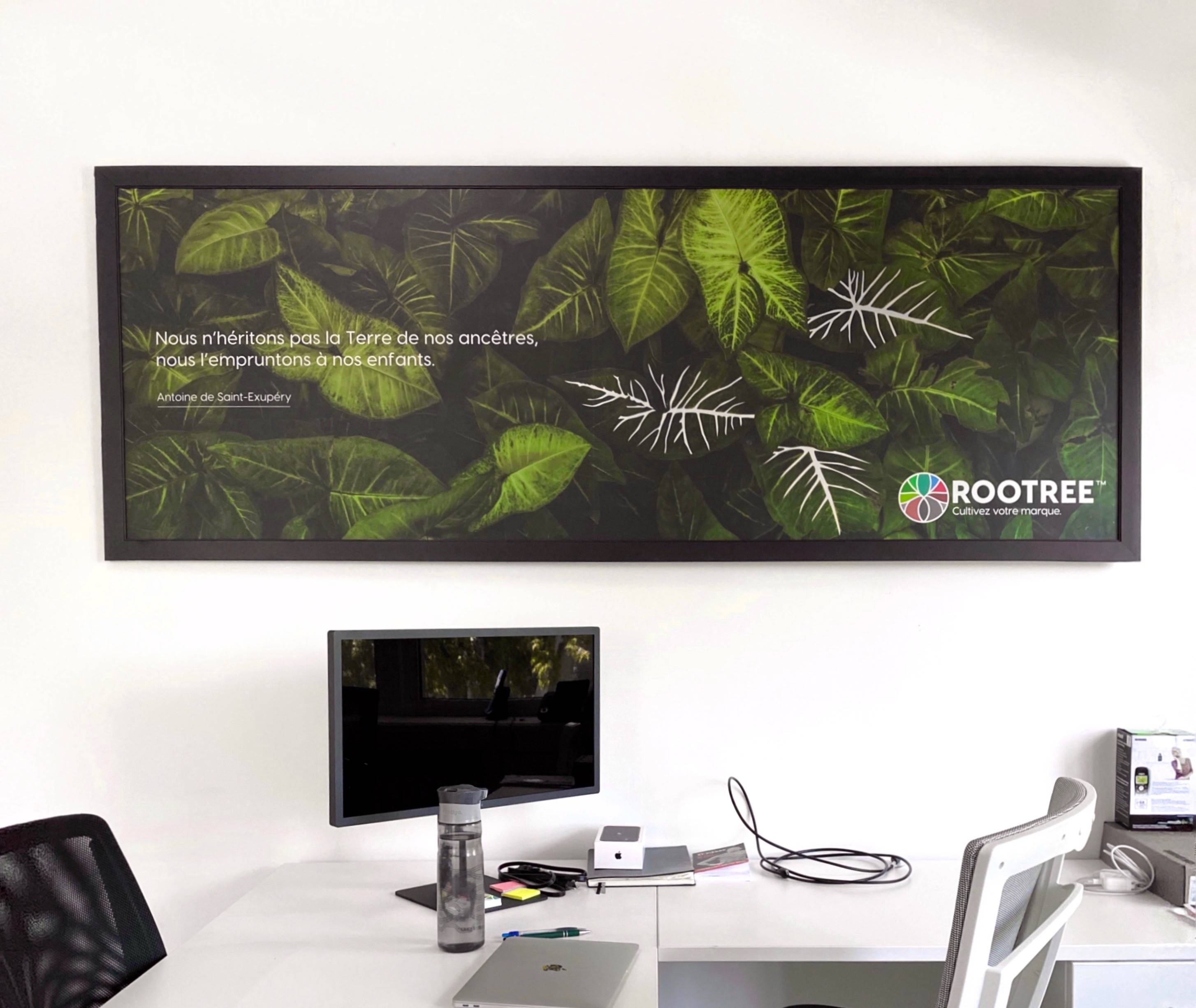 The Montréal office is open now, and our team is ready for any questions you have for them – about the location, your packaging, and anything else you can think of!
Address
Phone (Québec): 450-923-8065
Toll-Free: 1-833-ROOTREE (766-8733)
Hours of Operation
Monday-Friday: 10h-16h
Saturday and Sunday: Closed
---