Cinq raisons de repenser à l'utilisation d'étiquettes pour vos emballages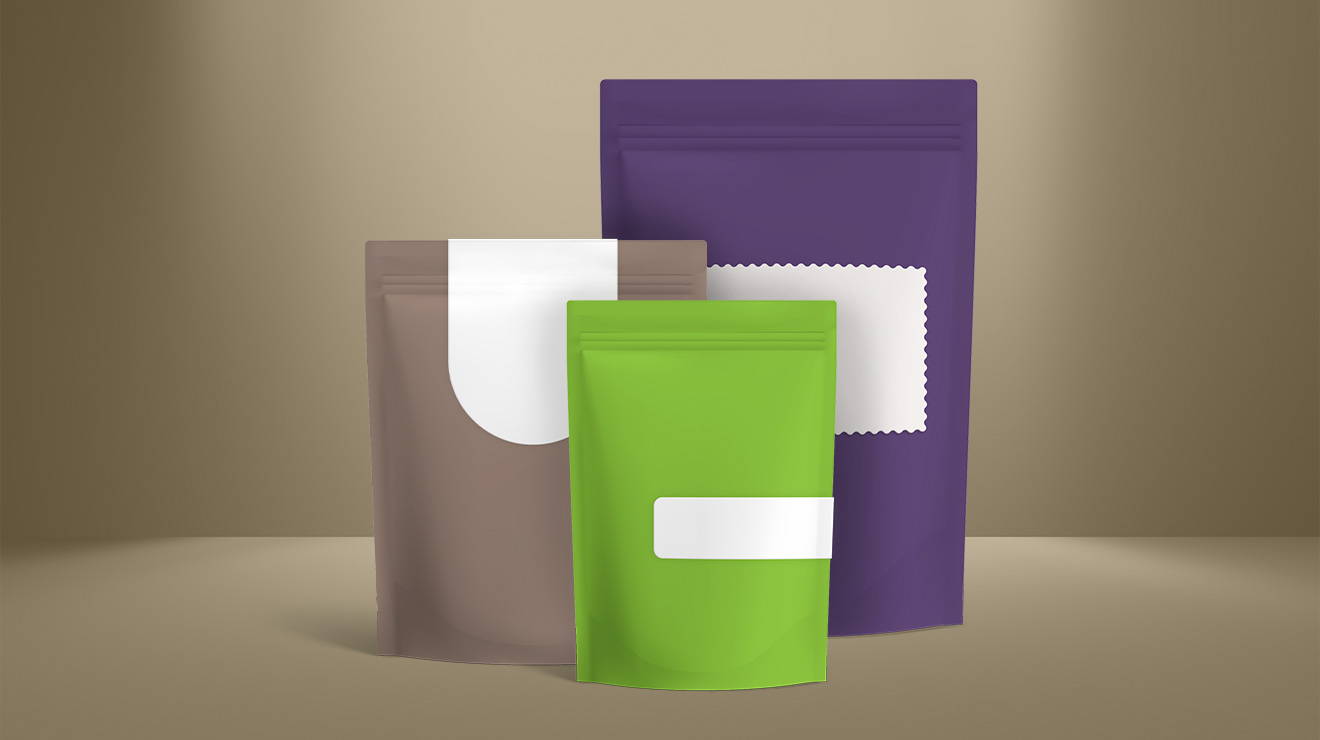 That good packaging flex
Considering labels for your packaging? There are A LOT of packaging options out there. Sometimes it can be so overwhelming, it's hard to know which packaging is best for your brand's product. Wanting to be eco-friendly, yet cost-conscious, and still stand out on the shelves can be a lot of pressure.
Sometimes, you might think the easiest solution is to start with custom labels on blank packaging—however many brands are jumping on the custom flexible packaging trend from the get-go. Have you ever considered the time it takes to apply a label correctly? How are those labour costs affecting your profit margin? How about the number of pouches wasted due to crooked labels, or sales lost for unprofessional-looking packaging? Flexible packaging has been a hot topic for many years and continues to increase in popularity across many product industries.
Unsure of why this packaging solution is getting so much attention? See why this option has become so trendy over the years and discover five reasons why it's more important than ever to seriously consider flexible packaging for your products.
1. Sustainability isn't just a fad
With sustainability attracting so much attention from consumers, brands can no longer ignore the need to be conscientious about their environmental impact and ecological footprint. Even if you don't go with sustainable material options, by choosing flexible packaging, you're still making a difference.
Some sustainable benefits of flexible packaging:
Customize the amount of material needed - minimizes waste by using the least amount of materials possible to package your product.

Consume less energy and generate a fraction of the production-related CO2 emissions of other packaging options.

Reduce food waste by extending the shelf life and freshness of edible products.

1 truckload of unfilled flexible packaging would hold the equivalent product volume of 26 truckloads of unfilled glass jars with custom labels on it. Flexible packaging requires fewer trucks for transportation, using less fuel and creating less air pollution.
2. Convenience is key
Who says packaging can't be functional and cost-effective? We all hate when products leak or go stale on us. If there's one thing we can all agree on, it's that packaging that is convenient to use, store, or travel with is far more likely to be repurchased. Flexible packaging offers some great conveniences, such as:
The ability to reseal

The ability to extend product life

Easiness to store

Easiness to open
With flexible packaging solutions, your products can feature spouts and resealable closures. This is a major competitive advantage for brands to be mindful of convenient packaging—and your consumers will be very pleased. Win-win.
3. Best of both worlds- flexible & strong
Having durable packaging can make or break your brand. You don't want to face #cancelculture over a simple mistake like damaged packaging. Whether you need a solution that will:
resist tears and punctures;

protect perishables;

prevent tampering; or

safeguard against damage during transport
…flexible packaging options are very handy.
Stand-up pouches (SUP), for instance, are a popular flexible packaging option for food products, especially those with high-liquid contents. They are both durable and versatile, featuring a gusseted bottom that expands when filled.
If you were thinking about showing off the product you have inside your packaging, windows are a great and durable option. Windows on flexible packaging are achieved by using clear barrier layers that allow you to showcase your product without having to worry about any leaks. With flexible packaging, you never have to compromise between style and durability.
4. Unleash your unlimited creativity
It's so important to have unique and eye-catching packaging for a variety of reasons. Your package's creative design is one of the first things that will capture (and hold!) consumers' attention while they're browsing.
Flexible packaging offers a variety of properties to choose from such as:
clarity, glossiness, or matte finishes;

unlimited colour choices and combinations;

pops of metallic designs;

structural components to design a package that stands up, hangs from a display, or sits on a shelf
Luckily, flexible packaging offers the ability to take creativity to the next level. You can design your product packaging in practically any shape or size, as well as print high-quality graphics, brand imagery, and label information.
5. The cost savings are real
Products packed in flexible packaging alone have 70% less primary and secondary packaging than their counterparts. Due to the minimalism of flexible packaging, this allows for a higher product-to-package ratio, as well as the ability to simplify your packaging process. All of this equates to reduced production and materials costs. As mentioned above, the reduced weight and size of packaging saves on transportation which means lower shipping costs. That's music to everyone's ears.
It's really a no-brainer, flexible packaging is one of the fastest-growing segments in the packaging industry. Combining the best qualities of plastic, film, paper, and compostable resources to address unique needs with minimal materials, flexible packaging is an AMAZING solution. Whether you're looking to improve product shelf life, revamp your branding, make your company more eco-friendly, or achieve other profitability and efficiency goals, it's time to give flexible packaging the consideration it needs (and that your brand deserves!)
Have we successfully made you feel a little more *flexible* about digital flexible packaging? If you have any more questions, our sales team loves to chat about our packaging, processes, and all the cool things we can do. Feel free to reach out here to talk to one of them, they love getting all the questions.
---
Cinq raisons de repenser à l'utilisation d'étiquettes pour vos emballages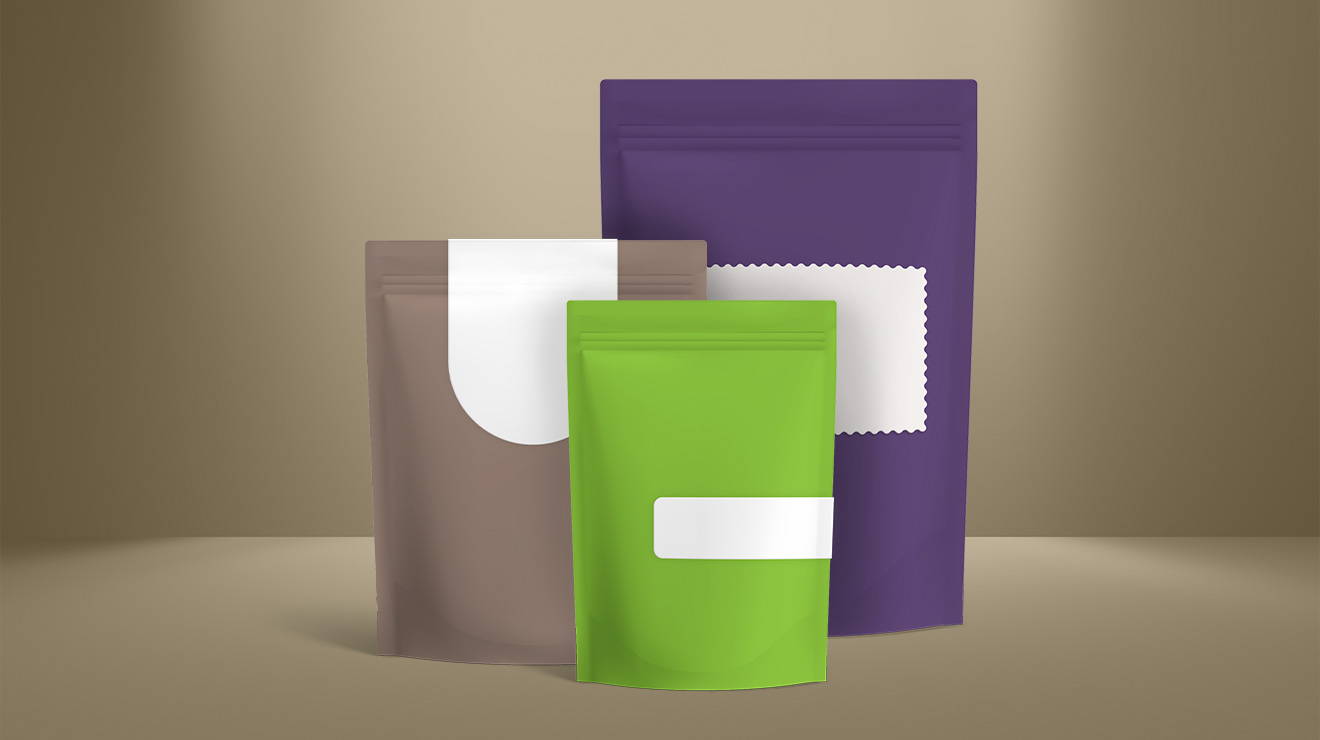 Un bon emballage, ça change tout
Vous songez à utiliser des étiquettes sur vos emballages? Il existe BEAUCOUP d'options en matière d'emballages, si bien que vous pourriez être dépassé et avoir de la difficulté à déterminer lequel est le mieux adapté au produit de votre marque. Vous pourriez ressentir de la pression à vouloir créer un emballage écoresponsable et abordable qui se distinguera des autres en rayon.
Vous pourriez penser que la meilleure solution serait d'opter, dans un premier temps, pour une étiquette personnalisée sur un emballage neutre. Toutefois, de nombreuses marques suivent la tendance et optent directement pour un emballage flexible personnalisé. Avez-vous pensé au temps requis pour coller une étiquette correctement? Ce coût de main-d'œuvre a-t-il une influence sur votre marge de profit? Avez-vous pensé au nombre de pochettes que vous risquez de gaspiller à cause d'une étiquette mal placée ou aux ventes potentiellement perdues à cause d'un emballage de mauvaise qualité? Les emballages flexibles font jaser depuis de nombreuses années, et dans de nombreux secteurs, leur popularité ne fait qu'augmenter.
Vous vous demandez pourquoi ce type d'emballage attire autant l'attention? Nous allons vous expliquer pourquoi les emballages flexibles sont devenus aussi tendance au fil des années et vous donner cinq raisons d'envisager sérieusement cette solution pour vos produits.
1. La durabilité n'est pas juste un phénomène de mode
La question de la durabilité suscitant une telle attention de la part des consommateurs, les marques ne peuvent plus ignorer la nécessité d'être consciencieuses quant à leur incidence sur l'environnement et leur empreinte écologique. Même si vous n'optez pas pour des matériaux durables, en choisissant un emballage flexible, vous apportez quand même votre contribution.
Voici quelques avantages que présentent les emballages flexibles en matière de durabilité:
Vous utilisez la quantité de matériaux nécessaires. Vous réduisez le gaspillage en utilisant le moins de matériaux possible pour emballer vos produits.

Vous consommez moins d'énergie et générez bien moins d'émissions de CO2 liées à la production qu'en optant pour d'autres types d'emballages.

• Vous réduisez le gaspillage alimentaire en allongeant la durée de conservation et la fraîcheur de vos produits comestibles.

1 camion rempli d'emballages flexibles vides peut contenir l'équivalent en volume de 26 camions de bocaux en verre vides avec des étiquettes personnalisées. Les emballages flexibles nécessitent moins de camions pour le transport, ce qui signifie moins de carburant et moins de pollution de l'air.
2. Le côté pratique n'est pas à négliger
Qui a dit qu'un emballage ne pouvait pas être fonctionnel et abordable? Personne n'aime les produits qui fuient ou périmés. Une chose est sûre, c'est que le consommateur aura plus de chances de racheter un produit ayant un emballage facile à utiliser, à stocker ou à emporter. Voici certains des avantages que présentent les emballages flexibles :
Ils sont refermables

Ils rallongent la durée de vie du produit

Ils sont faciles à stocker

Ils sont faciles à ouvrir
En optant pour un emballage flexible, vous pouvez choisir d'y inclure un bec verseur ou un système de fermeture. Les marques qui sont attentives à la facilité d'utilisation de leurs emballages plaisent particulièrement au consommateur et bénéficient d'un réel avantage concurrentiel. C'est gagnant-gagnant.
3. Le meilleur des deux mondes : flexible et solide à la fois
L'emballage flexible peut être un facteur décisif pour le succès de votre marque. Vous ne voudriez pas faire face à la culture du bannissement à cause d'une simple erreur comme un emballage abîmé. Que vous ayez besoin d'un emballage qui :
résiste aux déchirures et aux perforations;

protège les produits périssables;

évite l'altération des produits; ou

protège des dommages dus au transport
... l'emballage flexible est un choix très pratique.
Les pochettes à maintien vertical sont un choix d'emballage flexible très populaire pour les produits alimentaires, notamment pour les produits plus liquides. Elles sont à la fois durables et polyvalentes, et comportent des soufflets sur le dessous qui s'ouvrent lorsque le sachet est rempli.
Si vous avez envie d'offrir un aperçu du produit qui se trouve dans votre emballage, les fenêtres sont la parfaite solution durable. Pour créer une fenêtre, nous utilisons une barrière transparente pour mettre en valeur votre produit sans vous soucier d'une éventuelle fuite. En optant pour un emballage flexible, vous n'aurez pas de compromis à faire entre le style et la durabilité.
4. Laissez libre cours à votre créativité
Il est très important de créer un emballage unique et accrocheur pour de nombreuses raisons. L'apparence de votre emballage est l'une des premières choses à capter (et retenir!) l'attention du consommateur lorsqu'il magasine.
Les emballages flexibles offrent un éventail de possibilités, tels que :
un fini clair, brillant ou mat;

des choix et des combinaisons de couleurs illimités;

des détails métallisés;

• des éléments structurels pour créer un emballage à faire tenir debout, à accrocher à un présentoir ou à poser sur une étagère.
Les emballages flexibles permettent d'élargir le champ des possibilités en matière de créativité. Vous pouvez concevoir un emballage de produit de la taille et la forme que vous souhaitez, avec des détails graphiques, des illustrations de votre marque et des étiquettes imprimées en haute qualité.
5. Faites de réelles économies
Les produits conditionnés dans un emballage flexible comptent 70 % moins d'emballage primaire et d'emballage secondaire que d'autres produits équivalents. Les emballages flexibles sont minimalistes, ce qui permet d'obtenir un meilleur ratio emballage-produit et de simplifier votre processus de conditionnement. Tout ceci permet de réduire les coûts liés à la production et aux matériaux. Comme nous l'avons mentionné, en réduisant le poids et la taille de votre emballage, vous réduirez vos besoins en transport, et donc en coûts d'expédition. Ça ne se refuse pas.
On le sait tous, les emballages flexibles sont ceux qui connaissent la plus grande croissance dans l'industrie de l'emballage. En effet, ils représentent une INCROYABLE solution. Ils combinent les meilleures qualités du plastique, du film, du papier et des ressources compostables pour répondre à des besoins uniques, en utilisant un minimum de matériaux. Si vous souhaitez améliorer la durée de conservation de votre produit, repenser votre stratégie de marque, faire preuve de conscience écologique ou atteindre d'autres objectifs de rentabilité et d'efficience, il est temps de considérer l'emballage flexible à sa juste valeur (et de penser à ce que mérite votre marque!).
Avons-nous réussi à vous convaincre de faire preuve de flexibilité concernant les emballages numériques flexibles? Si vous avez d'autres questions, notre équipe des ventes sera ravie de discuter avec vous de nos emballages, de nos processus et de tout ce que nous avons à vous offrir. N'hésitez pas à nous contacter ici pour parler à l'un de nos conseillers, ils se feront un plaisir de répondre à toutes vos questions.