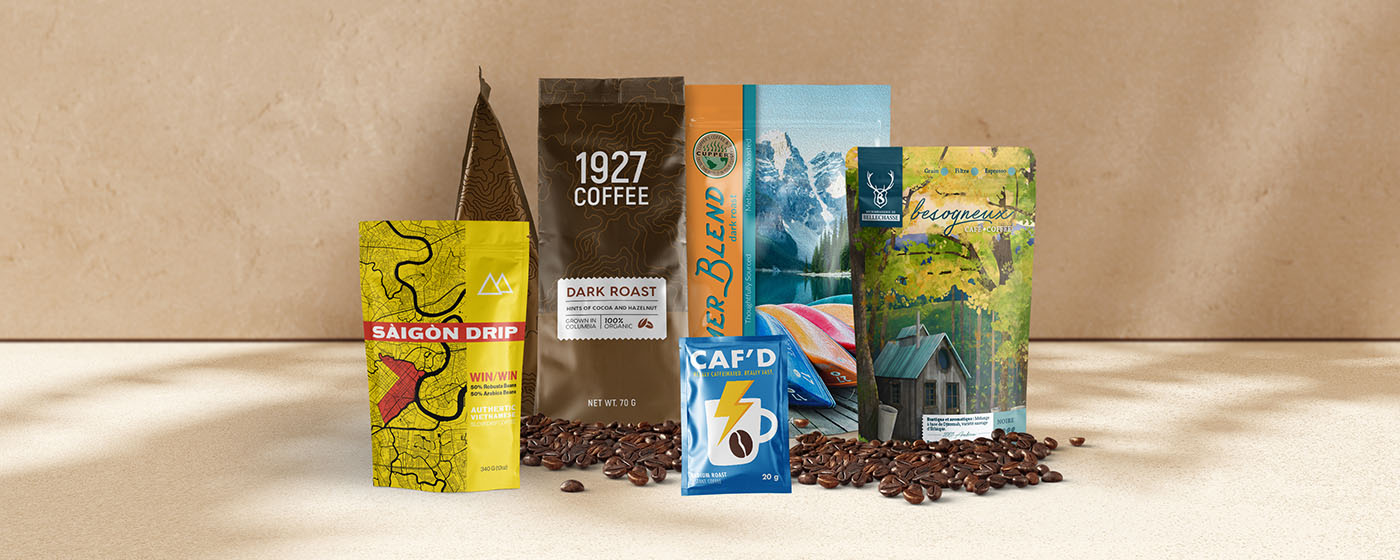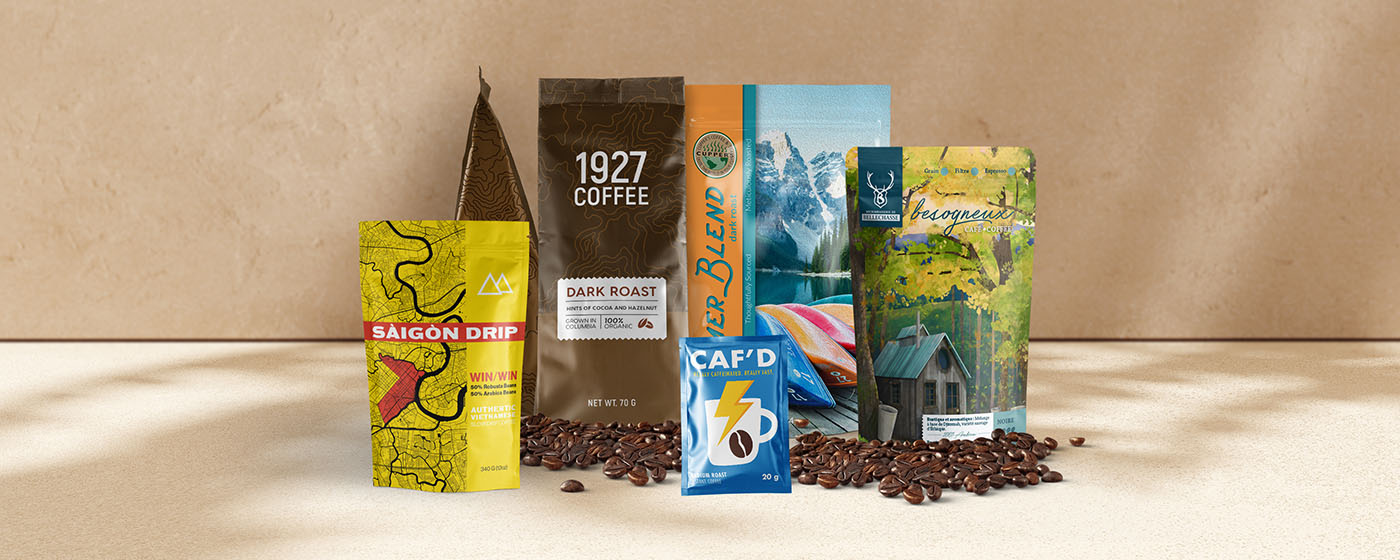 What makes your coffee stand out? It's probably the passion you've poured into creating the perfect blend, and the quality of your beans, but what most consumers will see first and consider is your packaging.
Each product competes with several other options that it shares shelf space with. Short of being able to taste a sample, the only info that consumers can base their buying decision on is what they can see – the packaging. Your packaging can communicate a wealth of information about your product and your company while ensuring the freshness of your product. So, let's talk about your packaging options and how they can help sell your perfect roasts!
Factors to Consider When Selecting Coffee Packaging
When considering your coffee product packaging choices, there are a lot of factors to consider; the package style, material finish, and design all add value to your product and will help grab your customers' attention.
Aside from the look of your product, what are your company's values? Do you want to work with vendors that share your business principles? Do you prefer to work with a Canadian company or a family-owned business? There's certainly a LATTE to think about!
For example, more and more businesses and consumers are choosing to spend their money by purchasing products that are created sustainably, ethically, and locally. In a
study conducted by Asia Pulp & Paper Canada
, 62% of Canadians answered that they were willing to pay more for products that were packaged with sustainably sourced materials.
What type of materials are you looking for when selecting your coffee packaging? There are plenty of options, including recyclable plastics, paper, conventional plastics, or even compostable packaging. Each material not only has its own unique finishes, but also offers different barrier properties to protect your packaging from punctures and your product from oxygen, light, and moisture.
If your product is sold in a larger serving size and needs an extended shelf life, you'll need to ensure that you select a material with high barrier properties. If you're selling smaller quantities and the time between packing and consumer consumption is fairly short, perhaps a medium barrier packaging material will work for you. Our knowledgeable sales team would be happy to review all of these details with you to help you determine the perfect material for your use.
The exterior finish of your packaging (glossy, matte, soft-touch, kraft, metallics, or white paper), can affect how your customers perceive your brand, while the internal barrier properties protect the freshness of your coffee to ensure that your customers are getting your product at its best. The look and the material that you choose can convey whether your coffee is premium, organic, fun, or all of the above!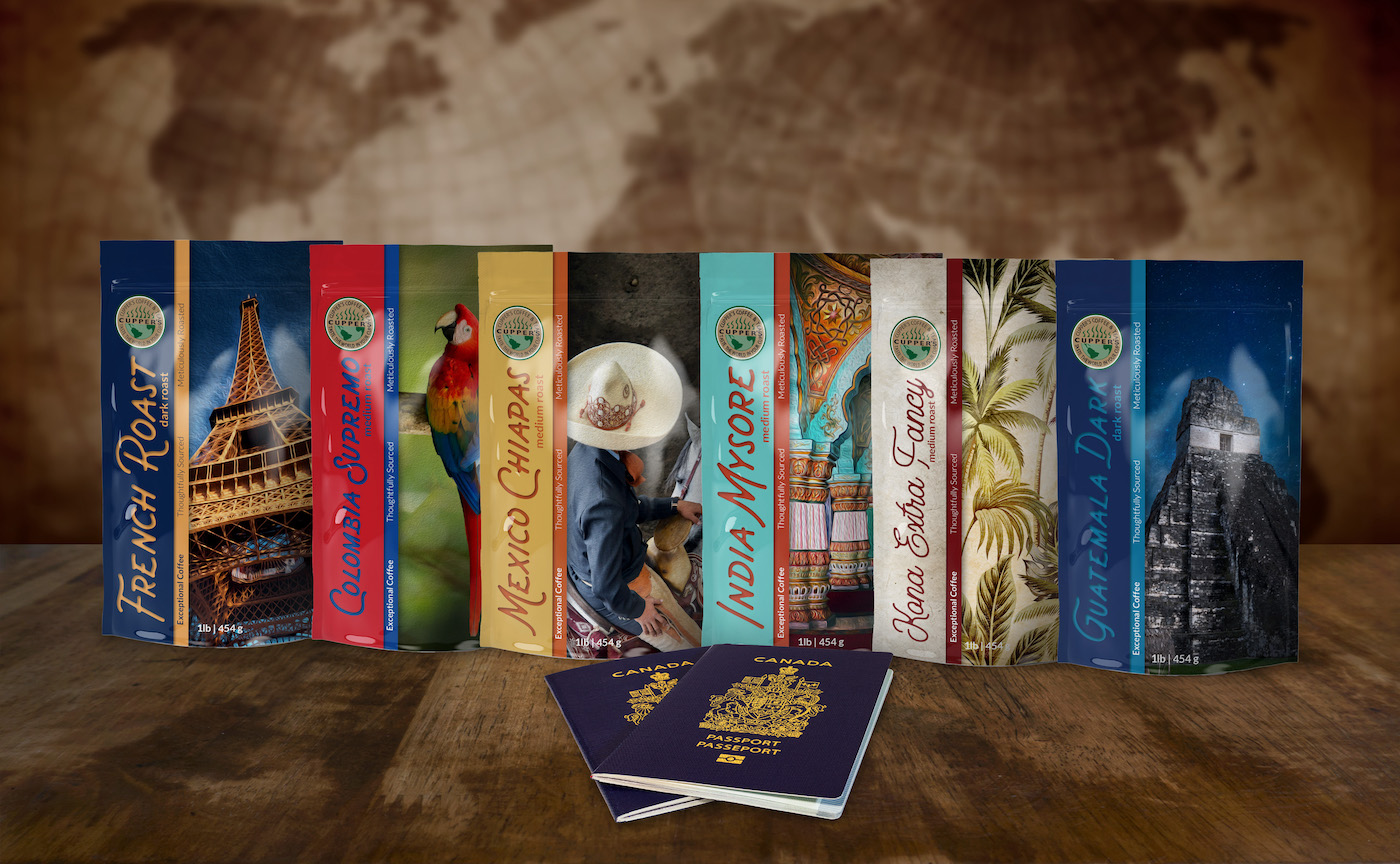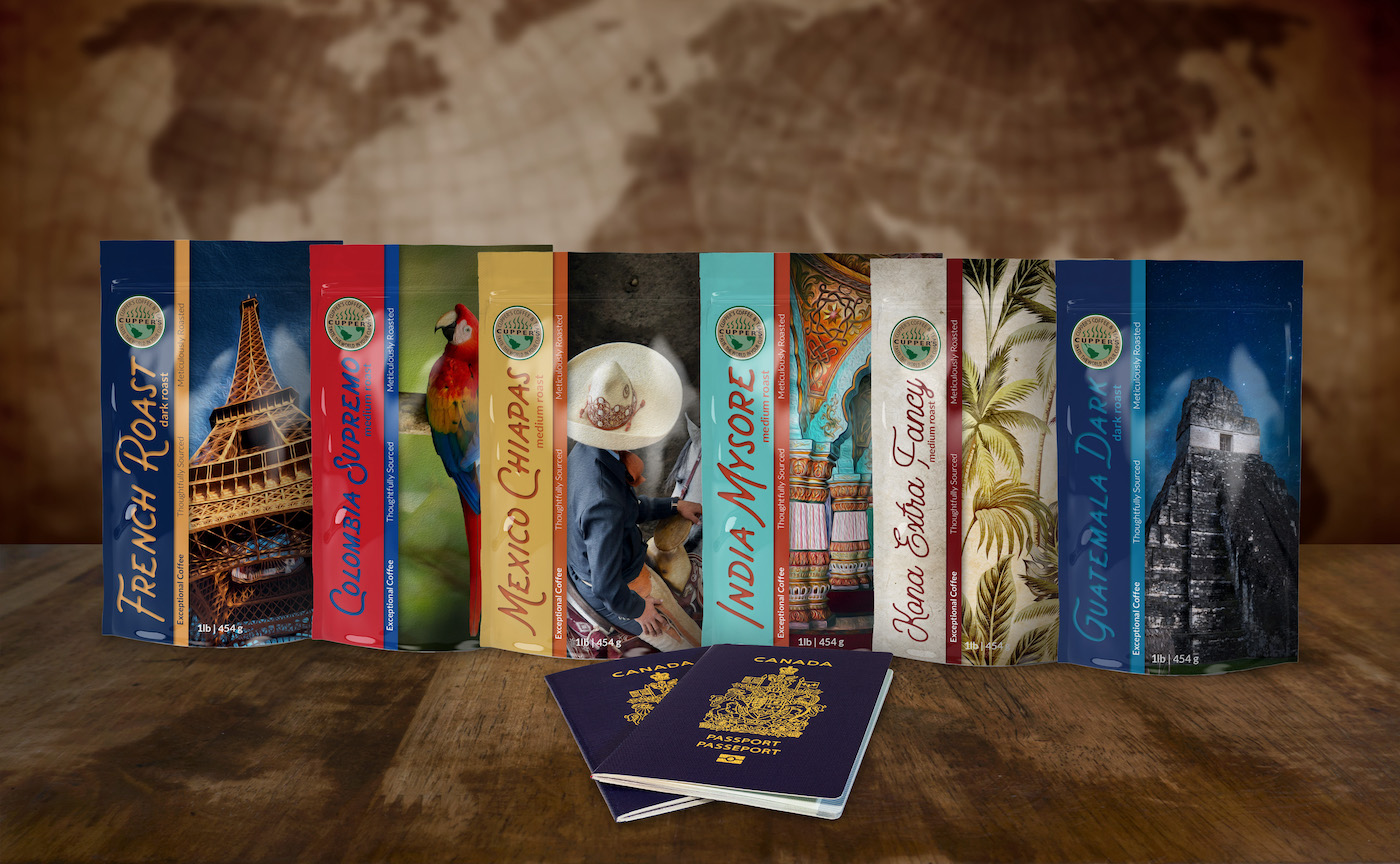 When you choose a packaging style, you also have to consider which features add value to your product. Do you need a closure to maintain the freshness of the coffee? Will the package be displayed for sale on a shelf or a hook? And will your products be sold on eCommerce sites and need to be strong enough to meet Fulfilled by Amazon requirements?
There are many flexible packaging options for coffee roasters that you can mix and match with features such as degassing valves for freshly roasted beans, metalized barriers, resealable zippers, or tin tie closures. These all affect how long your coffee stays fresh, from the time that's spent awaiting fulfillment, sitting on a retail shelf, and after it's been opened by your consumer. For example, either a tin tie or a zipper will help your package maintain freshness, but the zipper might do a better job of keeping a tight seal, so this is something you'll want to consider when deciding on a package style.
An experienced package producer may also advise you to avoid adding product-viewing windows to your packaging. Although people love being able to see the roasted beans, letting the light through the window could actually affect the flavour and freshness of your coffee.
Some of the most popular coffee packaging styles that our customers choose are stand-up pouches, classic quad seal bags, and flat bottom pouches – but that doesn't mean that your options end there!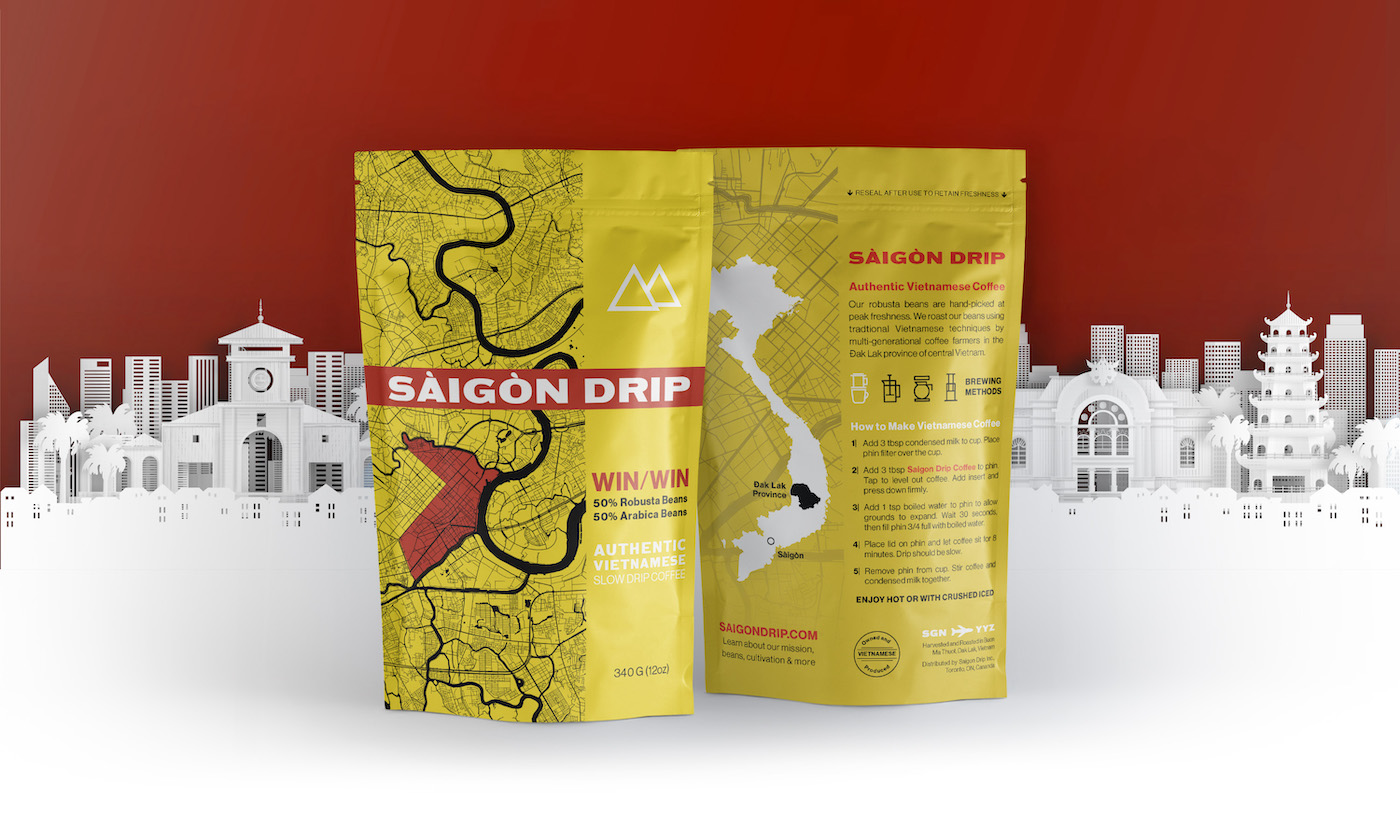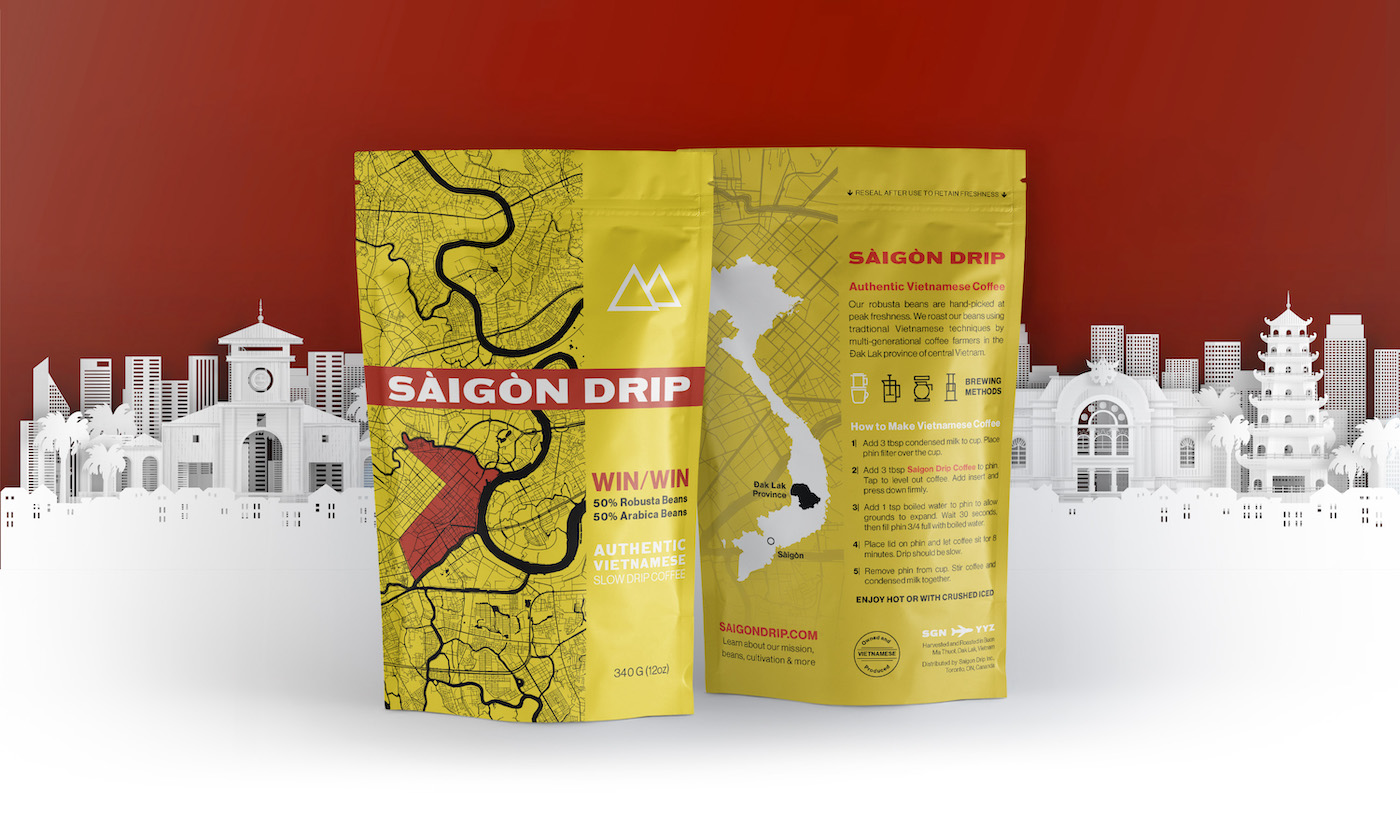 The stand-up pouch is one of the most popular bag styles across all industries. This versatile pouch is often used for food products due to popular features like zipper closures, hang holes, and rounded corners. It's also easy to display when placed on a shelf because it stands up on its own, or it can be hung on a hook with a hang hole. Rootree offers this style in compostable, recyclable, and conventional materials.
While this may not be the first style that comes to mind when you think of coffee packaging, we are seeing a trend in the industry where many artisanal roasters are shifting their packaging options to stand-up pouches due to their versatility in style and functional features. This is your opportunity to really set yourself apart from the crowd!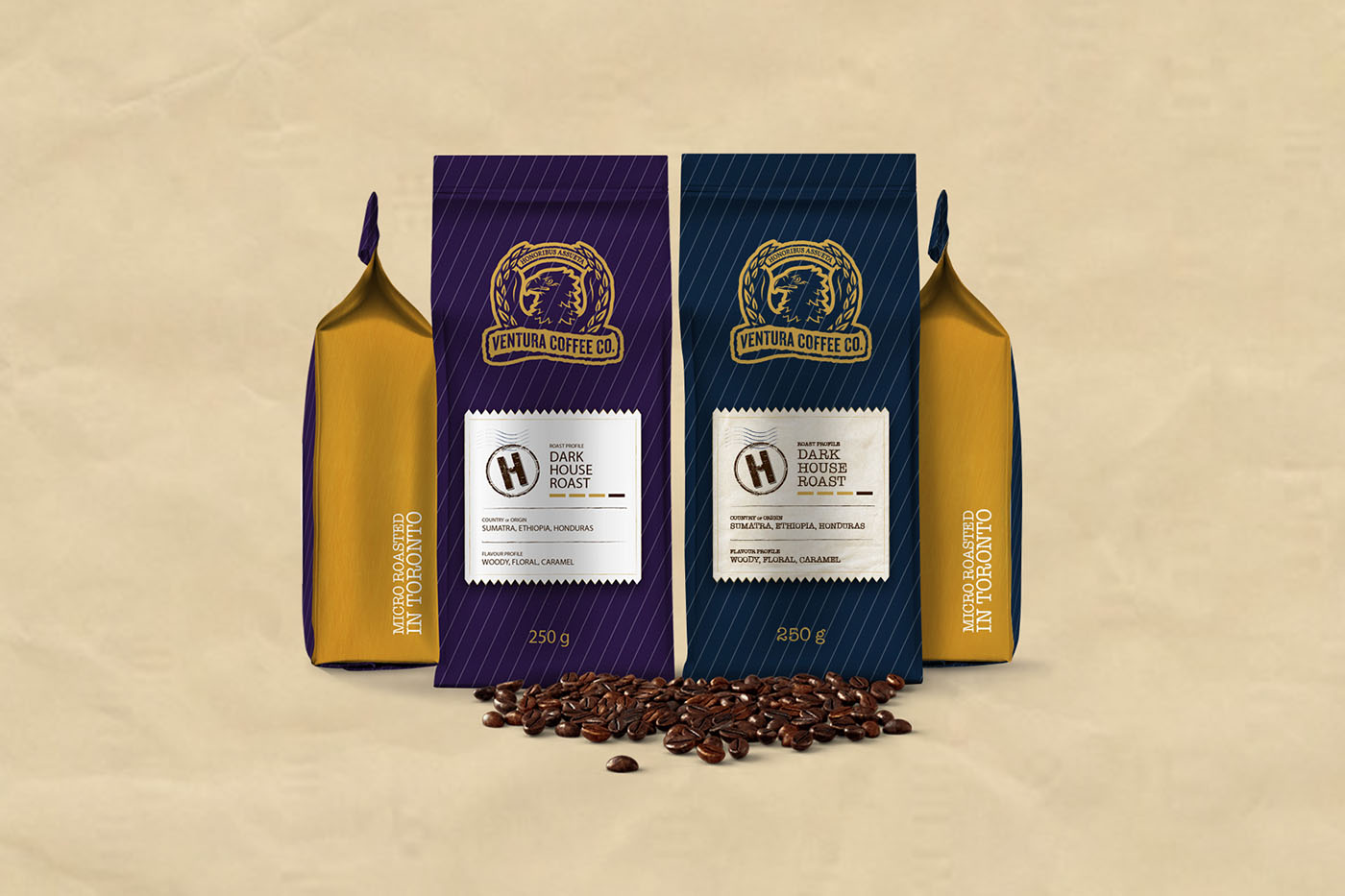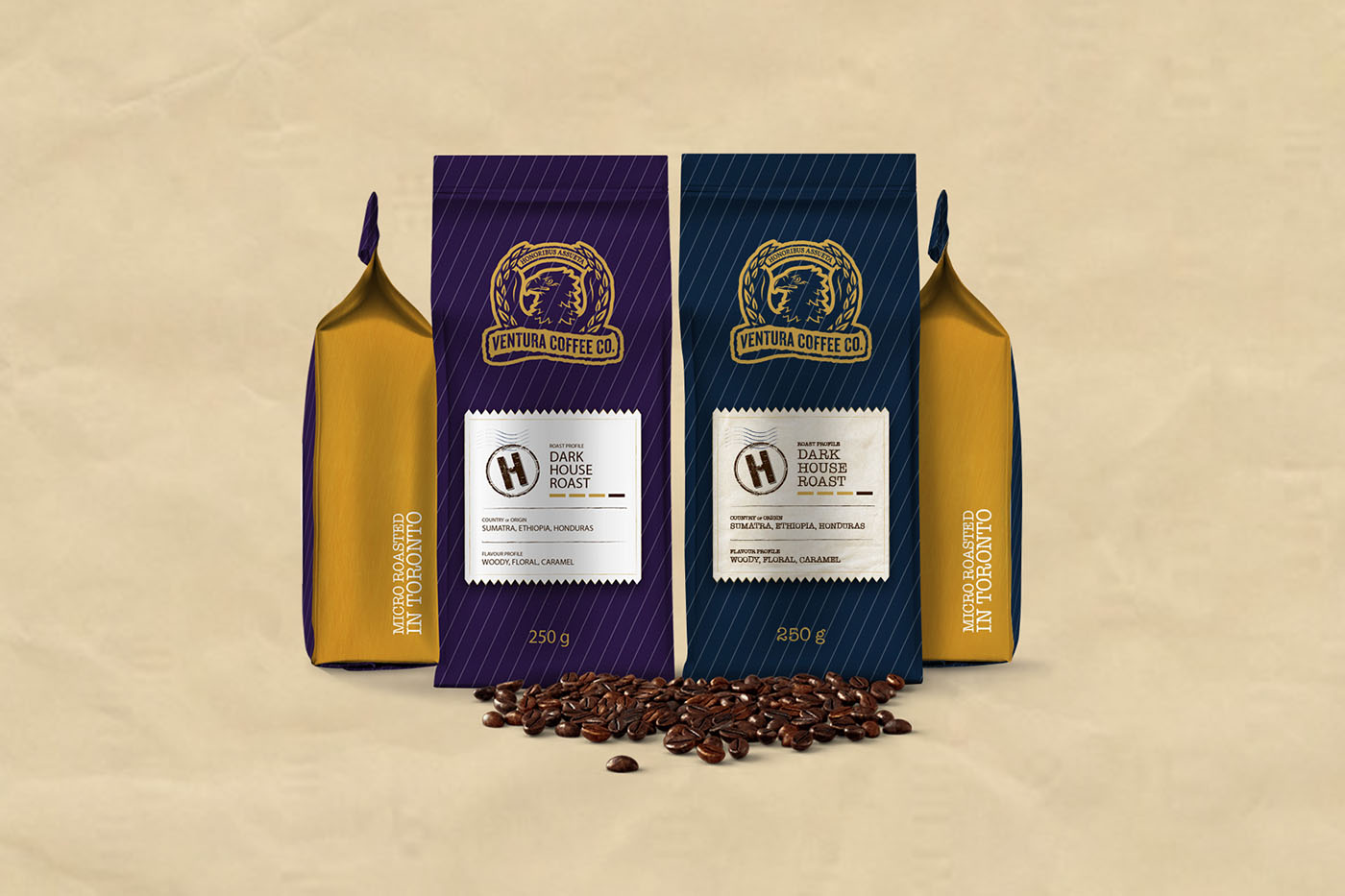 As one of the most common styles of packaging for coffee, a quad-seal bag is an ideal option to pack your coffee products and can be used for whole or ground beans. One of its most valuable features is that a design can be printed on all four sides of the pouch! Many brands are taking advantage of being able to print on the additional side panels and using them to strengthen their branding using cute patterns, special metallic features, or adding fun hidden messages.
A degassing valve is often installed on this style of bag to prevent package rupture due to off-gassing, and a tin tie is used instead of a zipper to reseal the pouch after opening it. Rootree offers quad seal packages in compostable, recyclable, and conventional materials.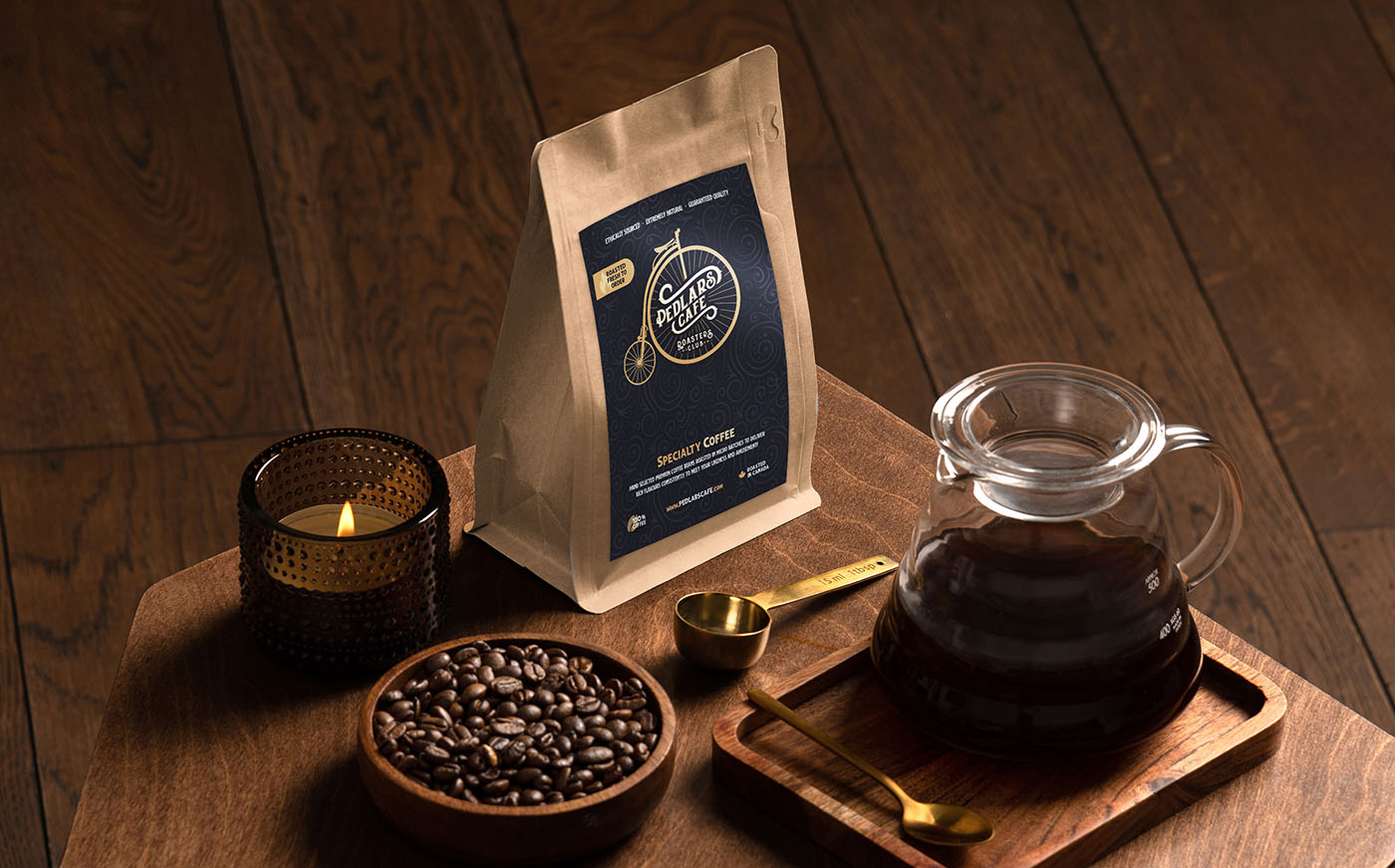 This pouch style has a sturdy bottom to stand up tall on shelves, and you can maximize design potential by printing on all four sides. It's available in many sizes and can come with add-on features such as degassing valves, tin ties, or resealable zippers.
While this is the most requested style of pouch for coffee makers because of its iconic shape, many of our roaster clients are making the shift to other styles as this style of pouch is one of the most difficult to optimize for sustainability.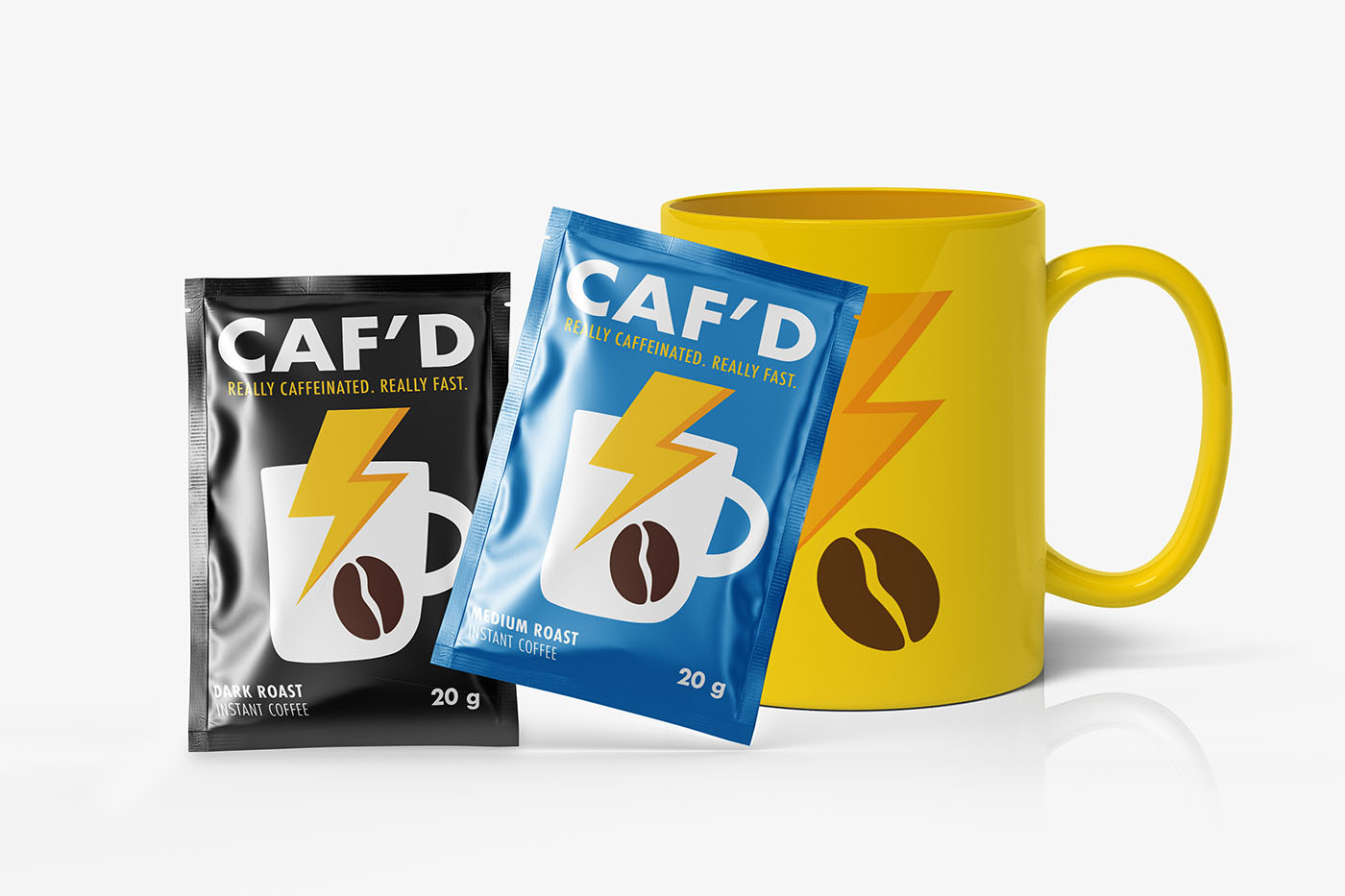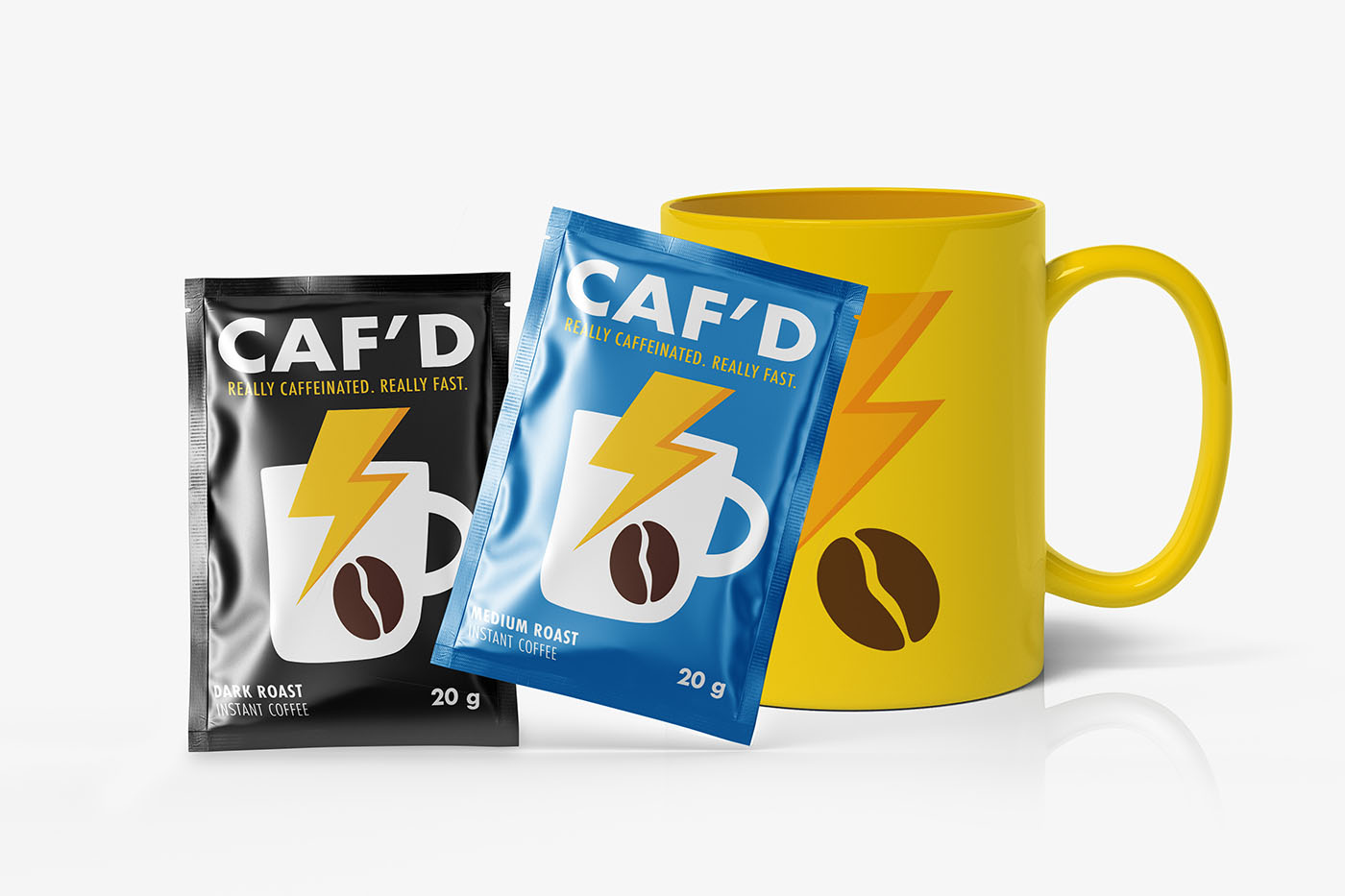 Small sachets are perfect to use as samples and often manufactured with tear notches to open easily, but they can also come with a zipper. Other roasters may be looking to produce stick packs (which start out as roll stock film) as they are easy to fill with powdered or granulated drinks such as instant coffee. They're both great options for on-the-go single serving coffee options!
Whatever style you pick, you should keep in mind that it affects how you
pack your coffee
too! Will it be packed by hand or by an automated system? Some package styles with wider openings are easier to fill and seal manually. If you have access to an automatic line, you'll need to check to see what the machine can accommodate.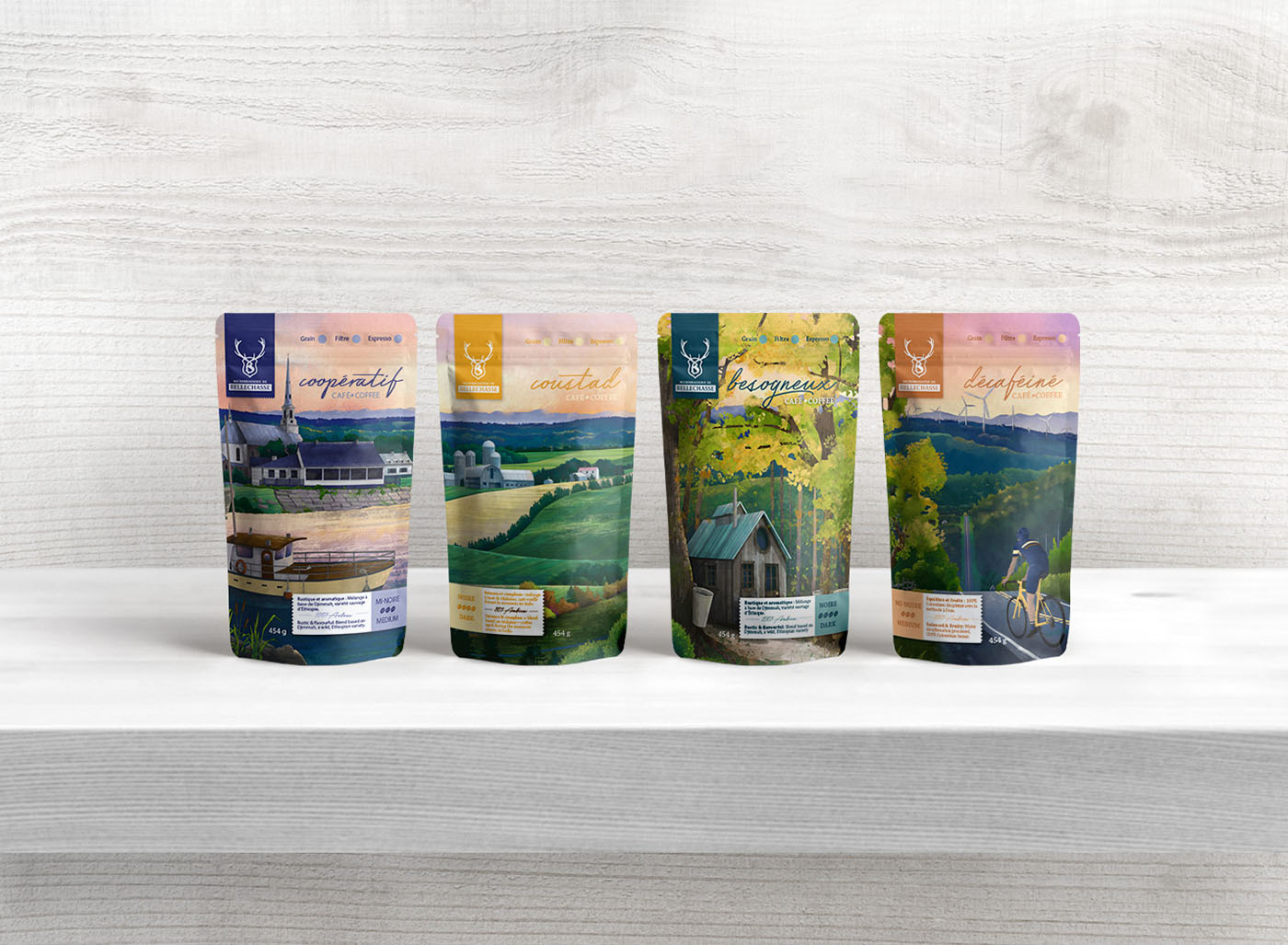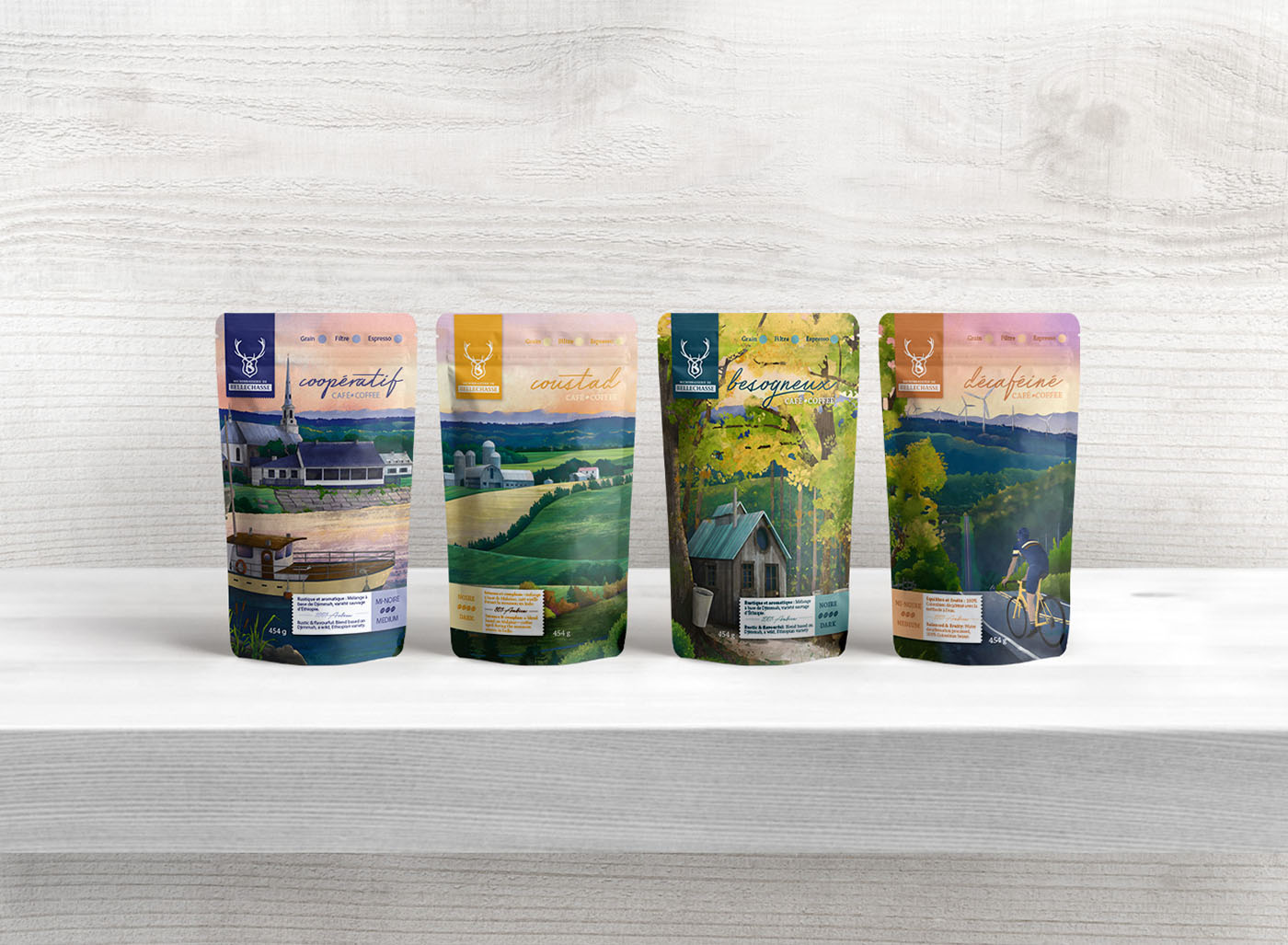 How many flavours or roasts does your coffee business have? If you have multiple SKUs, you must consider the minimum order run for your packaging.
Many traditional packaging producers will require a large minimum order (10,000 units or more per SKU!), which means that it is often inaccessible for small businesses. If you have multiple SKUs but don't need to order tens of thousands of packages, you will probably want to consider digital flexible packaging producers, like Rootree!
At Rootree, we are able to print short runs of multiple designs without any extra fees! This is ideal for smaller businesses with multiple SKUs who aren't ready to place large orders. It's also convenient for large companies that frequently need to update their ingredients or graphics. Our clients love the flexibility of ordering unique packaging for seasonal blends or limited-edition product lines that really make their product stand out!
How quickly can your packaging manufacturer fill your order? Some companies will have incredibly long turnaround times which means that you may be waiting around for packaging while your customers' orders go unfulfilled. The speed at which you're able to pack and fill orders could make a dramatic difference in your sales in this competitive market space.
If you're importing packaging supplies, you will likely have to pay duties on your shipment which will inflate the total cost of your order. Not only is there a matter of cost, but there will also be an increased carbon footprint that comes with shipping materials from overseas.
When you work with an international supplier, there is a risk of running into obstacles due to miscommunication and time zone differences or a lack of familiarity with your local market. A mistake in your order could mean waiting multiple weeks longer so it can be reprinted. Working with a Canadian manufacturer can help you avoid any miscommunication and delays in receiving your product packaging!
Rootree's digital process means that there is no extra waiting time for printing plates or cylinders; once your artwork is ready it can be sent straight to the press. And since we are located right in the GTA with access to quick and reliable shipping services across North America, your packaging ships to you quickly without any logistical delays.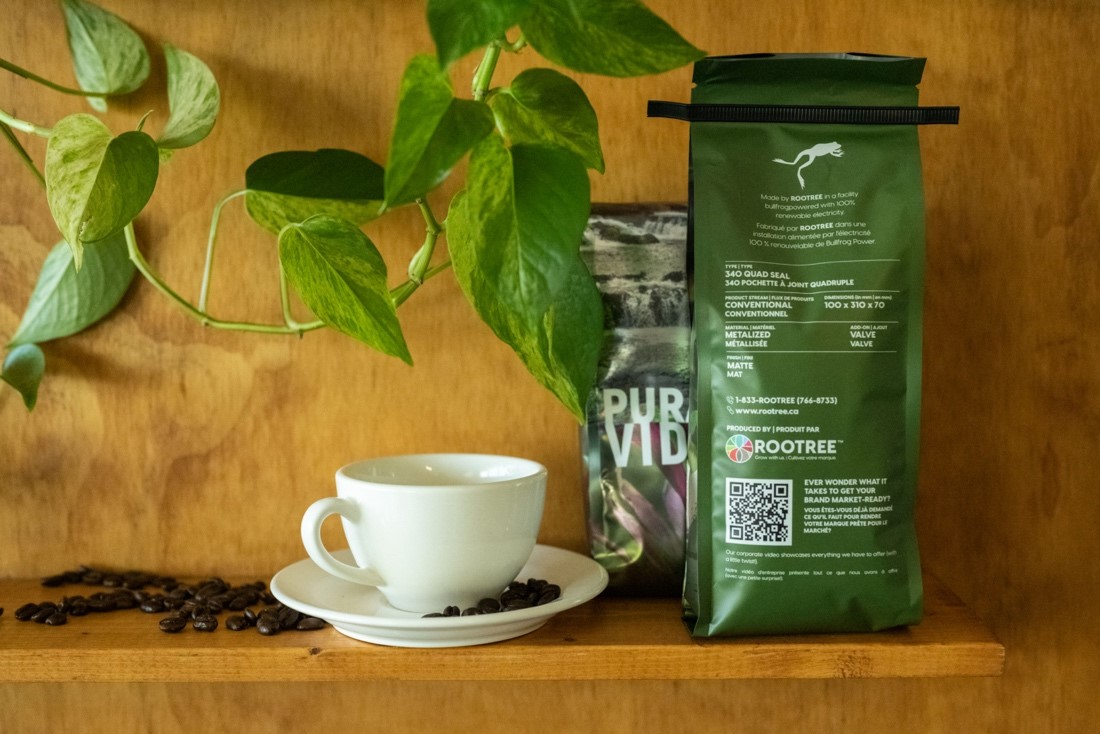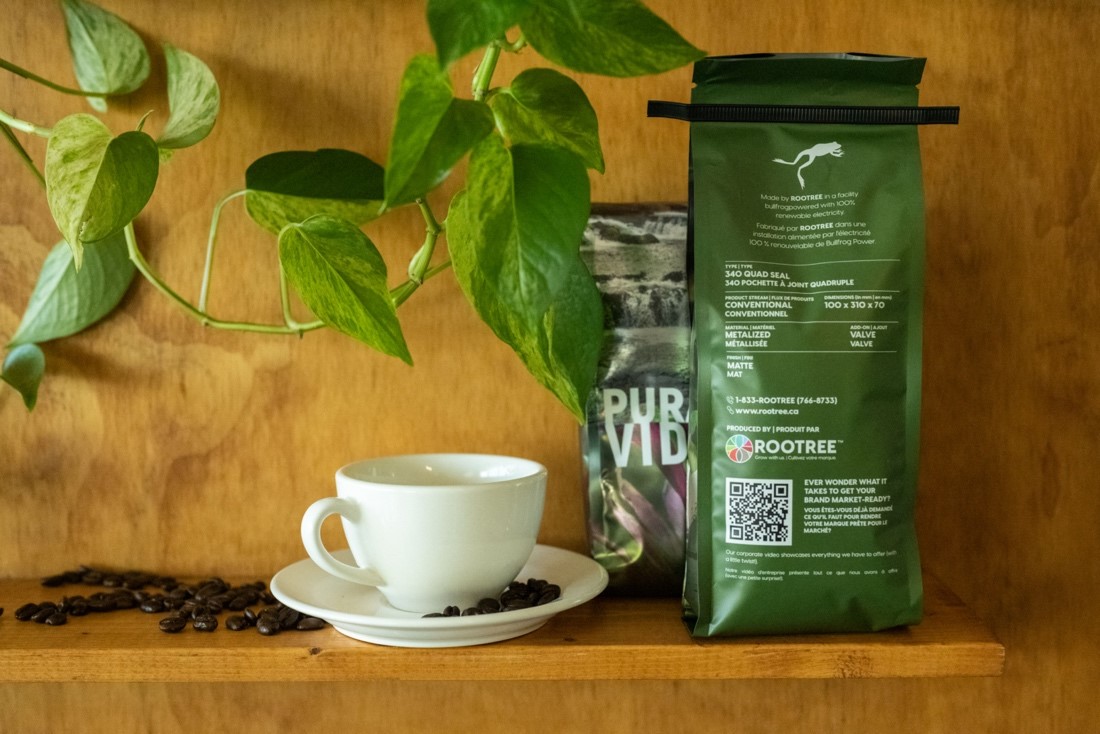 Many coffee companies are aware of and even use the
Rainforest Alliance Certified logo
, a third-party audited certification that signifies that the product was produced sustainably. There are many other certifications and on-product marks that can add value to your product to make it more appealing to consumers, such as the
Canada Organic Logo
or the Bullfrog Power on-product mark.
Rootree is the only flexible packaging producer in North America that's partnered with
Bullfrog Power
. Our offices and production facilities are 100% bullfrogpowered by renewable energy. That means when your company chooses to print their flexible packaging with Rootree, you get access to Rootree's exclusive Bullfrog Power on-product mark. This mark can be integrated into your packaging design and lets your consumers know that they're buying a product whose packaging was created in a facility that is truly committed to environmental stewardship.
It's no secret that Rootree is a Canadian leader in the digital flexible packaging industry and has all the resources to guide your coffee business from start to finish – our sales team is knowledgeable about the North American market, our full-service creative team can provide standout design solutions, our sustainable packaging can be customized and printed with a short turnaround time, and we can even co-pack your products!