Spectacular sustainable superfoods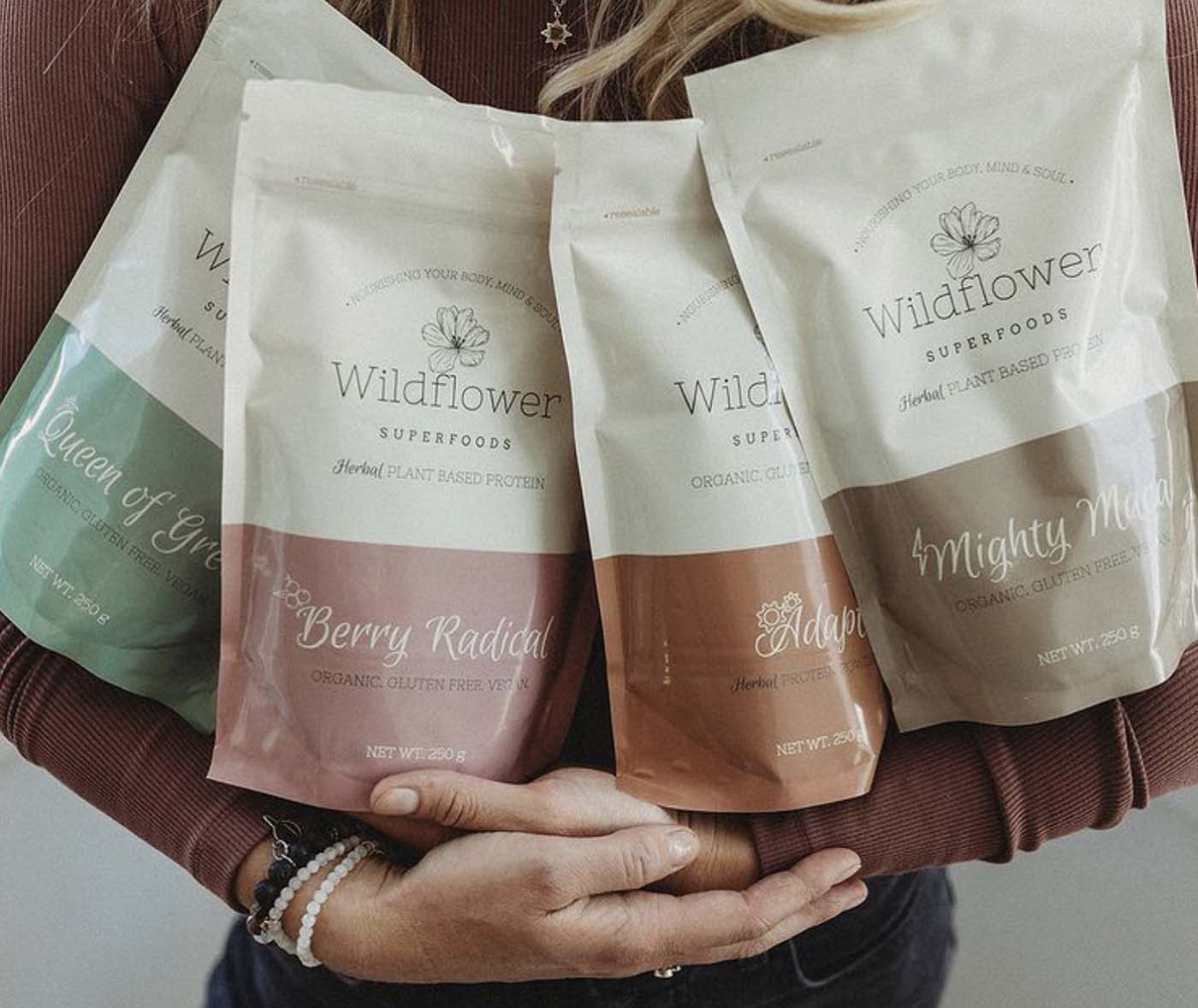 Let's take a trip out to Calgary, Alberta to meet Katherine Portwood, the founder of Wildflower Superfoods. Katherine is an herbalist, a certified nutrition consultant, a mom of two, and an entrepreneur – we're starting to wonder what Katherine can't do!
Having always been an entrepreneur at heart, Katherine's career began when she started her own social media company. After having her first child, her gears shifted and Katherine went back to school to study herbalism. As her passion for wellness grew, she expanded her studies to include holistic nutrition.
Once certified and ready to share her knowledge with friends and family, she started playing around with herbal blends. After her second baby was born, Katherine discovered different ways she could nourish her body and focused on getting all of her nutrients through her herbal protein blends.
Wildflower Superfoods was born because she wanted to share her creations with other mothers to help them nourish themselves and feel well by making plants easy to incorporate into their diet – in the form of herbal blends. With four blends (Queen of Green, Berry Radical, Adapt, and Mighty Maca) and a passion to help others feel their best, Katherine's journey with her new small business began.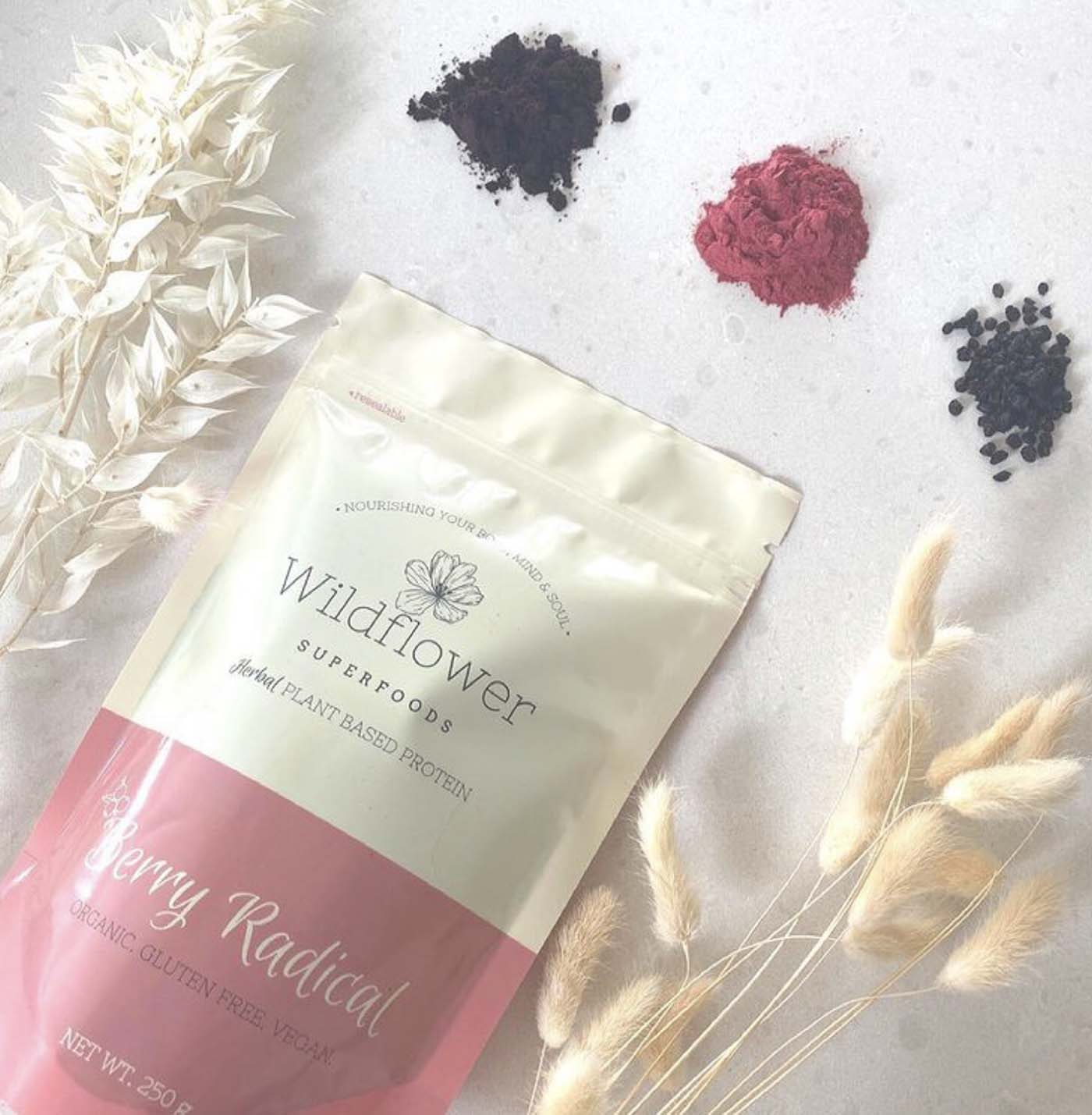 Katherine is devoted to creating a product that is made with natural ingredients. Wildflower Superfoods is unique in the sense that all its ingredients are from the earth. Using only plants and organic hemp, these superfood blends have no fillers or sugars – so you know exactly what you're putting in your body.
Along with having 100% natural ingredients, it is also a priority for Katherine to have packaging that is kind to the planet – with that, Rootree and Wildflowers Superfoods are a match made in heaven.
"When I came across Rootree I was drawn to it because using sustainable packaging options is important to me."
Katherine told Rootree that her family is health-conscious and environmentally responsible, so carrying those values over to her business is extremely important. Together we set out to find the best sustainable packaging option for her plant-based blends.
By making eco-friendly packaging a priority, Wildflower Superfoods' pouches generate less waste, one pouch at a time! In addition to these stand-up pouches being a great eco-friendly option, they are also perfectly suited for storing Wildflower Superfoods powders – the resealable feature helps the powders stay protected and fresh.
"Finding recyclable packaging gave me peace of mind knowing it wouldn't end up in the landfill."
Joining forces with Rootree and opting for recyclable packaging aligned with Wildflower Superfoods' environmental goals to reduce environmental waste. The process in which Rootree's eco-friendly packaging is produced reduces carbon emissions, saves raw materials, and limits energy usage in the manufacturing process – all wins for Wildflower Superfoods and the planet!
"I loved that everything was done within Canada. Nothing was outsourced."
Rootree's facility is located in Canada and all of our services are offered under one roof, including printing and manufacturing of our sustainable packaging. This is a bonus for Katherine who, as a small business owner, is cost-conscious and looking for effective ways to reduce the shipping cost of her pouches.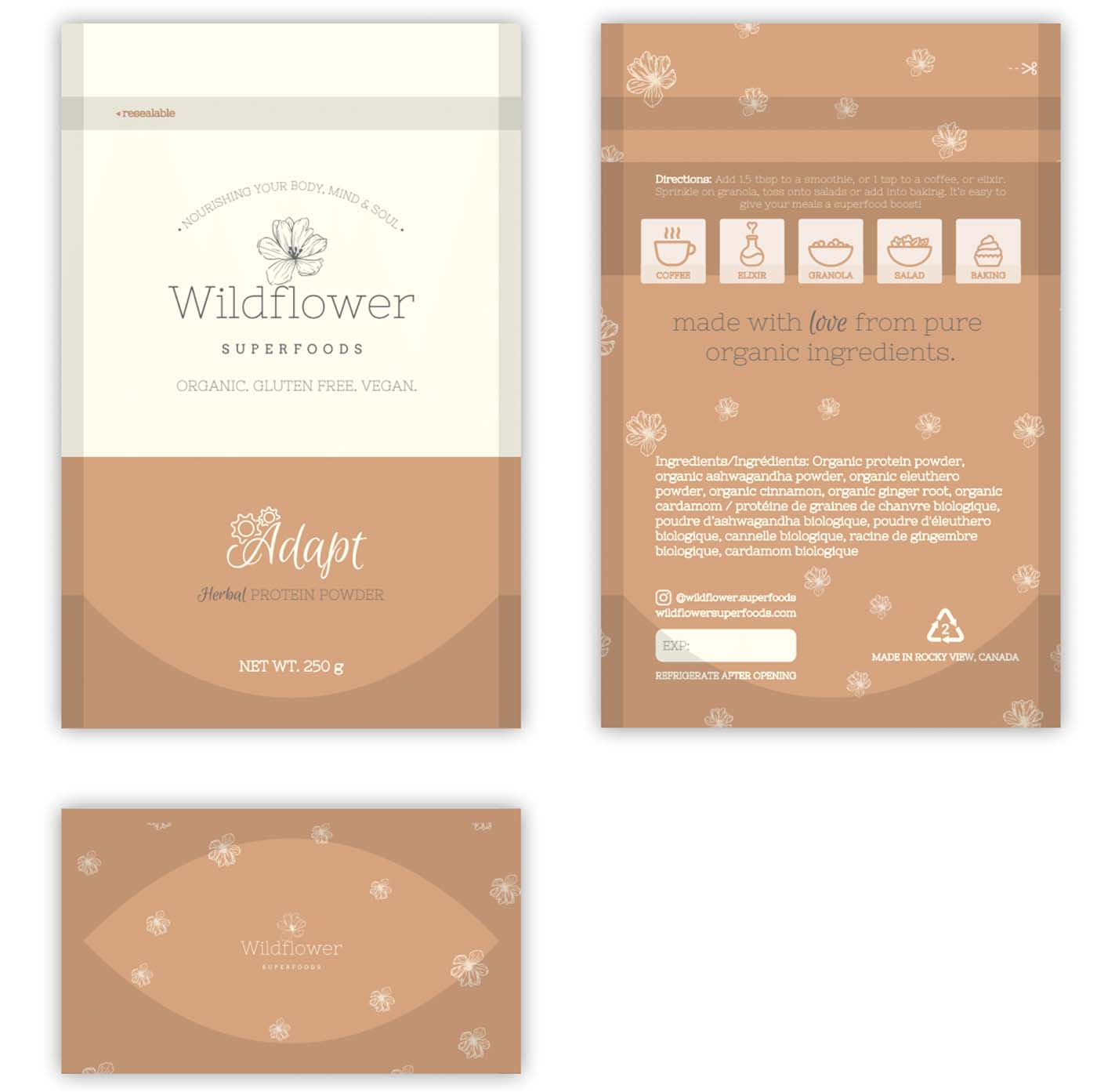 Despite having an entrepreneurial mindset from owning her previous business, Katherine had never had to deal with design and packaging. In fact, before beginning the design process, Katherine revealed: "I was like a fish out of water."
Luckily, Rootree's Creative Services team was there to help and assist Katherine throughout the packaging and design process. From discovery calls to collaborative brainstorming sessions, Katherine was supported every step of the way.
Once communication started with Rootree's design team, Wildflower Superfoods' packaging design ideas came to life for each of her four SKUs.
With lots of collaboration with Rootree's design team, Katherine states: "The design team really took my vision and made it something that I am super proud of. They made it really pretty, but it's also simple at the same time."
After taking the time to settle on a design, Katherine's pouches were ready to be printed and shipped out west. Four beautiful SKUs travelled from Rootree's production facility in Burlington, Ontario to Katherine's doorstep.
Receiving her pouches and holding them for the first time, Katherine recalls being extremely excited.
"While it was great to see the digital PDF proofs Rootree sent, being able to hold the pouches and see the colours come to life in real life was even more exciting."
Helping the planet, one pouch at a time
Success! Another happy client with beautiful, sustainable packaging. At Rootree, we never need to compromise sustainability for a good-looking pouch; using digital printing allows us to have our cake and eat it too!
"Being able to have the recyclable packaging was a really big thing for me. So being able to combine the beauty with the recyclable option was really great."
We are thrilled to be a part of Wildflower Superfoods' journey to being an eco-friendly small business!