Compostable Quad-Seal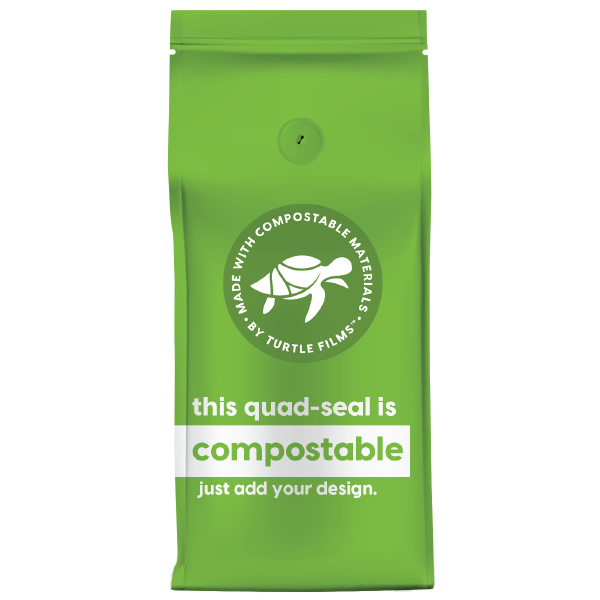 Product Specifications
Overview
Usage
Great for a variety of dry food products:

Product Categories that can be Served with this film

Standard Herbal Teas:
Green, White and Black Tea
Protein Powder
Sugar
Table Salt/Sea Salt
Spices - No Turmeric
Flour
Candies
Coffee
Superfoods
Grains
Nuts/Seeds

Product Categories that are not supported with this film

Chemicals
Bath Salts
Liquids
Refrigerated Items
Frozen items
Products Containing:

Cacao
Matcha
Colorants
Vinegar
Citrus
Ginger
Turmeric

Contact our Sales team to discuss your specific product and/or order samples to test your products' compatibility.
Sustainability
Enjoy the benefits of flexible packaging without the guilt. Rootree™ Compostable packaging is the go-to-choice for our eco-conscious clients.
Pre-determined sizes allow us to reduce manufacturing waste by up to 75%
Inks certified for use in compostable packaging
We also offer our products in Rootree™ Recyclable options
Design
Materials
Clear materials allow for product viewing windows
Capacity
Request a sample pack to determine your product's best fit
It is not recommended to exceed double the indicated pouch weight in product. (Example: a pouch with a max weight of 250g pouch should not be filled with over 500g of product)
It is highly recommended to close the pouch zipper before heat sealing.
Get a personalized quote!
We don't want to waste your time; Packaging can be complicated and we want to get the right answer for your business.

Complete this form and we will contact you ASAP.
Choose Your Options