Compostable Pillow Pouch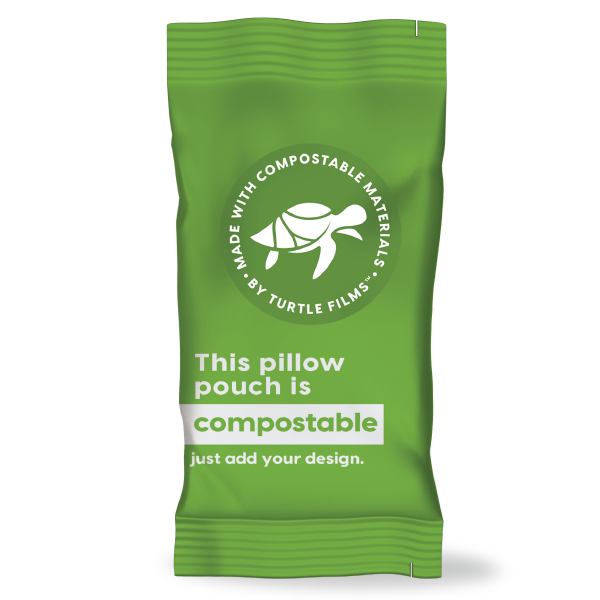 Product Specifications
Overview
The tear slits will be on both top and bottom of the pouch. Depending on the width you choose, the tear slit placement may change, please request a dieline from your sales rep or refer to our dieline page.
Usage
Great for a variety of dry food products:

Compatible with:

Tea: black, green, white, most herbal
Protein powder
Sugar
Table salt/sea salt
Spices (except for turmeric)
Flour
Candy
Coffee
Superfoods*
Grains
Nuts & seed

Not compatible with:

Chemicals
Bath salts
Liquids
Refrigerated items
Frozen items
Products containing:

Cacao
Matcha
Colorants
Vinegar
Citrus
Ginger
Turmeric
Sustainability
Rootree™ Compostable packaging is the go-to choice for our eco-conscious clients. Enjoy the benefits of flexible packaging without the guilt.
Pre-determined sizes allow us to reduce manufacturing waste by up to 75%
Inks certified for use in compostable packaging
We also offer our products in Rootree™ Recyclable options
Design
Download your dieline
Materials
Clear materials allow for product viewing windows
Capacity
Request a sample pack to determine your product's best fit
It is not recommended to exceed double the indicated pouch weight in product. (Example: a pouch with a max weight of 250g pouch should not be filled with over 500g of product)
It is highly recommended to close the pouch zipper before heat sealing.
Get a personalized quote!
We don't want to waste your time; Packaging can be complicated and we want to get the right answer for your business.

Complete this form and we will contact you ASAP.
Choose Your Options