Based out of Burlington, Ontario and a secondary location in Boucherville, Quebec, we are your Canadian source for sustainable, custom, digital flexible packaging. Whatever your product, Rootree is here for you through each step.
That's why we've optimized our printing and manufacturing processes in order to reduce waste, moved to in-house, solventless lamination, and invested in sustainable packaging options. For the planet, for your business.

Rootree chooses green electricity for its operation with Bullfrog Power
At Rootree, we recognize the importance of addressing our environmental impact. We're reducing the carbon emissions footprint of our operations and supporting renewable energy in Canada by choosing green electricity in Rootree offices and facilities through our partnership with Bullfrog Power, a Spark Power company.
Across Canada, Bullfrog's green electricity comes from a blend of wind and low-impact hydropower sourced from new Canadian renewable energy facilities.

Our green energy purchase is also helping to support to new, community-based renewable energy projects in our region and across Canada. That's because Bullfrog Power uses its customers' support to provide funding to these projects. Learn more about how the Bullfrog Power community is advancing these projects here bullfrogpower.com.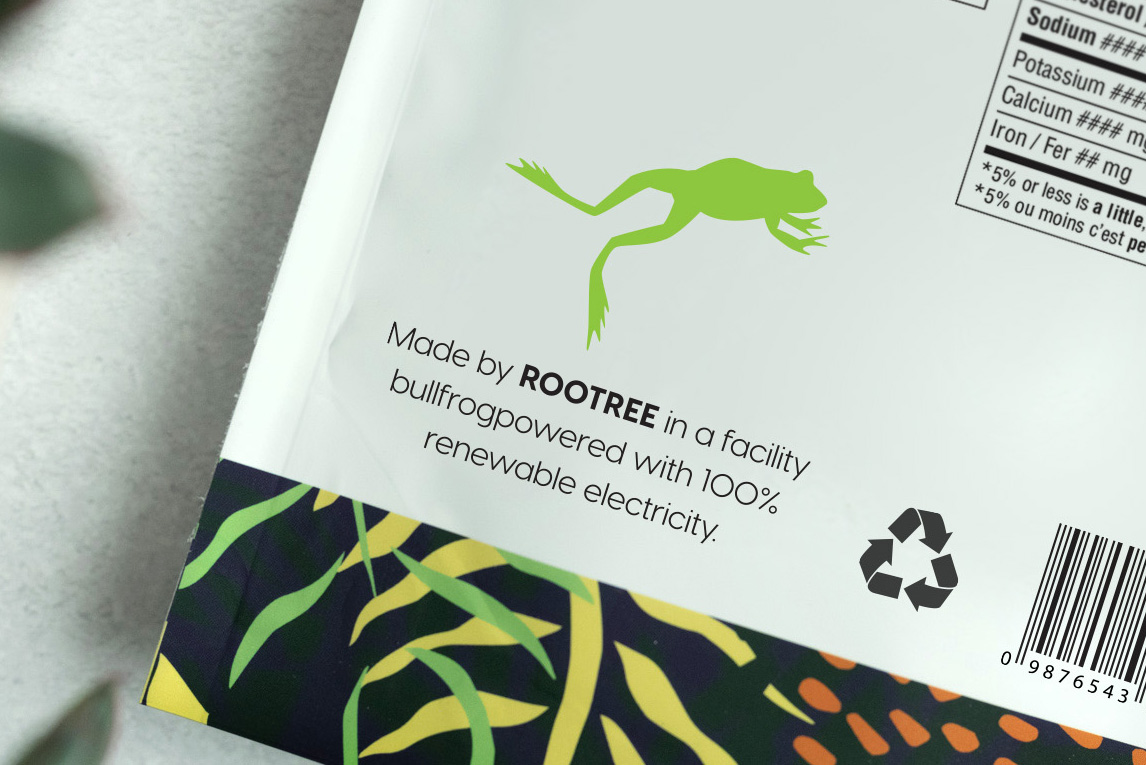 Meet the Bullfrog Power on product mark!
Share with the world that your packages are made by Rootree in a facility bullfrogpowered with 100% renewable electricity, and help customers recognize your brand as a sustainable business that's committed to using renewable energy in its supply chain.
Learn more
about the mark and how we can help you add it to your Rootree packaging.
*Turnaround time can vary based on current order volumes. Always consult with our sales team to ensure we can meet your timeframes.
Creative Services
Whether it's a package design update or the full branding experience, our creative team has you covered.

Flexible Packaging
From your first order to your hundredth, and from stock to custom, we are growing with you and your business.

Co-Packing Services
Our contract packing services offer our clients a stress-free experience to get their product shelf-ready.
Our custom pouches can be made to almost any size and we offer a wide variety of styles.