Check Out Our 2021 Summer Interns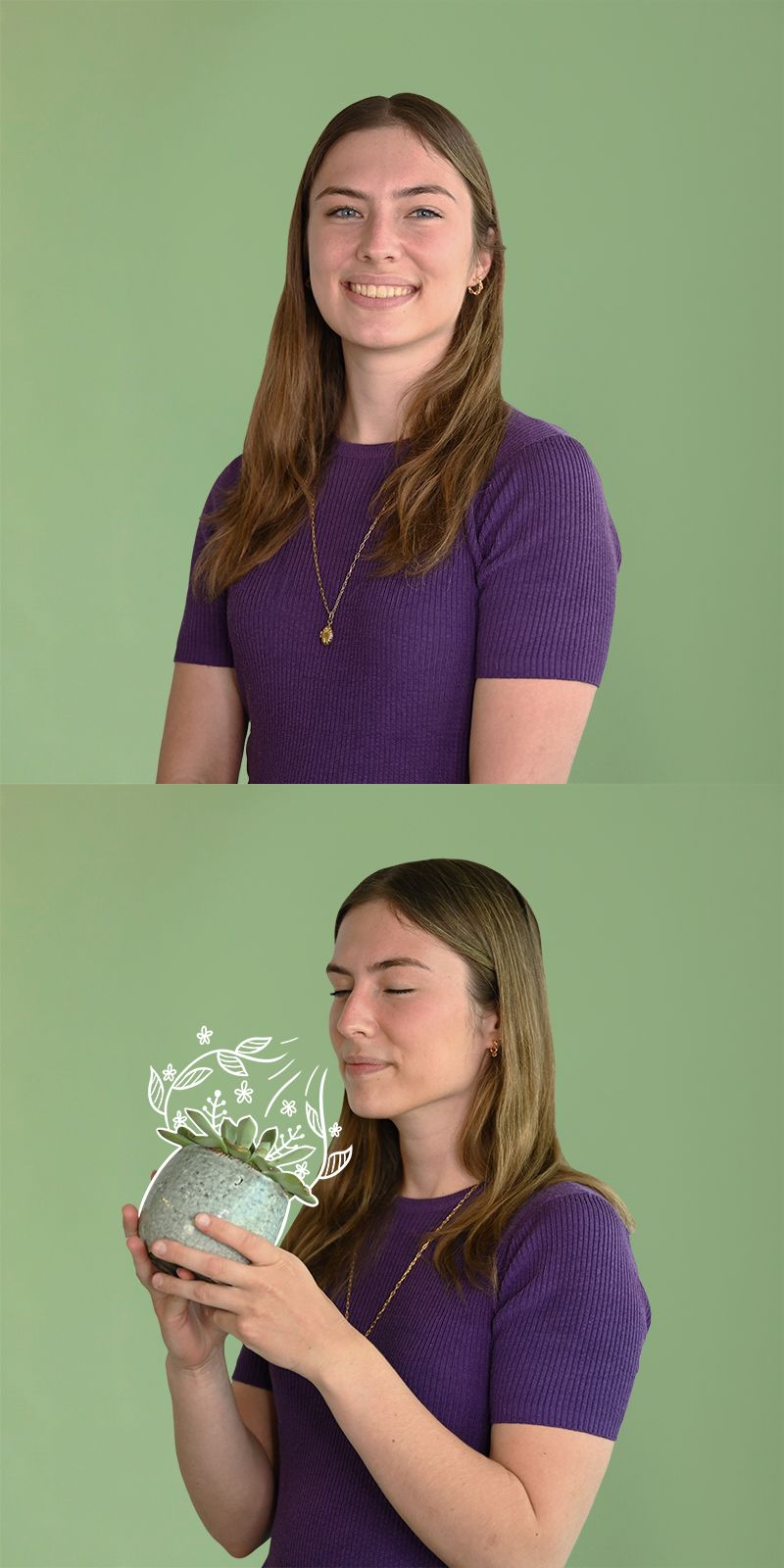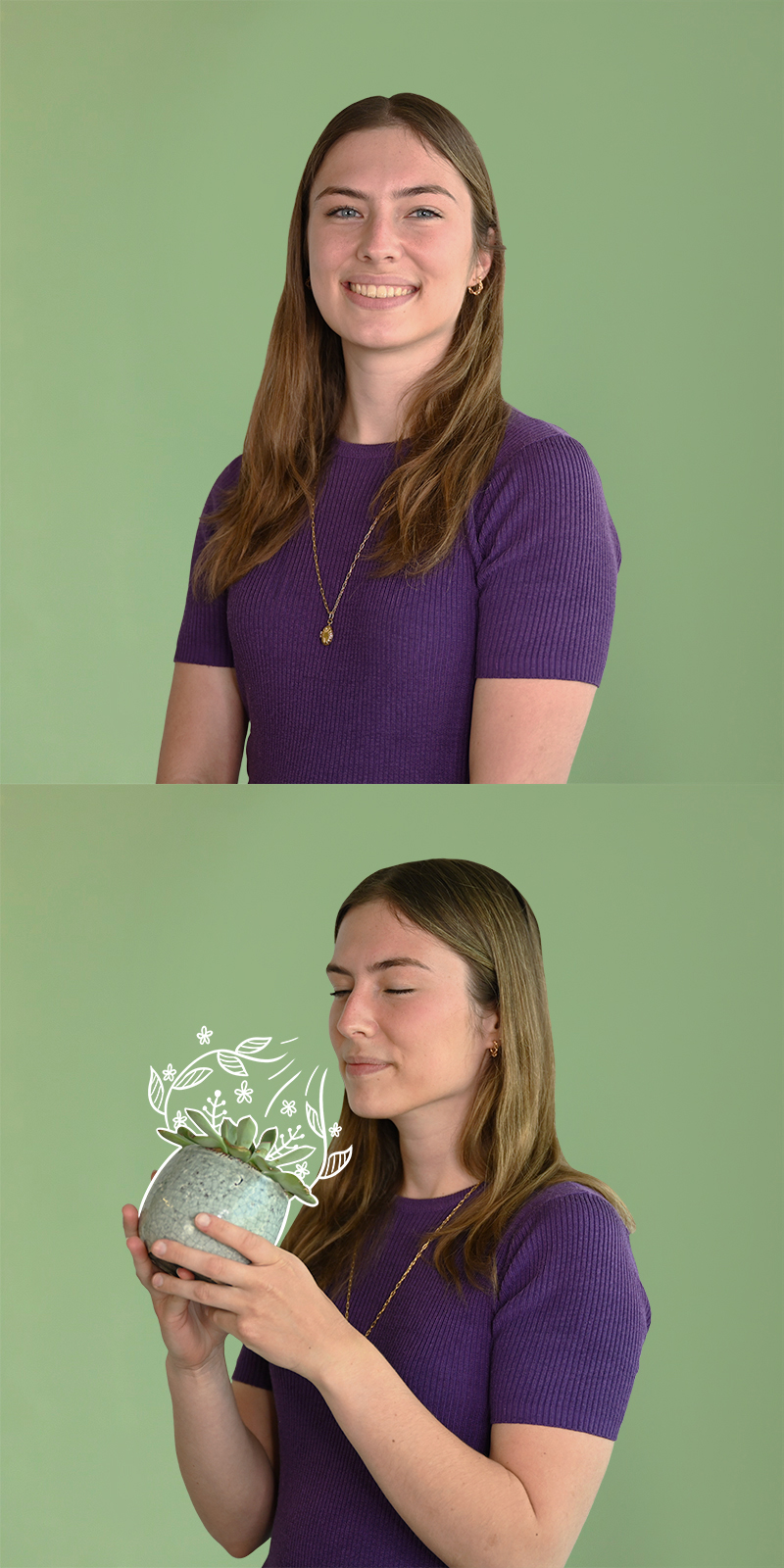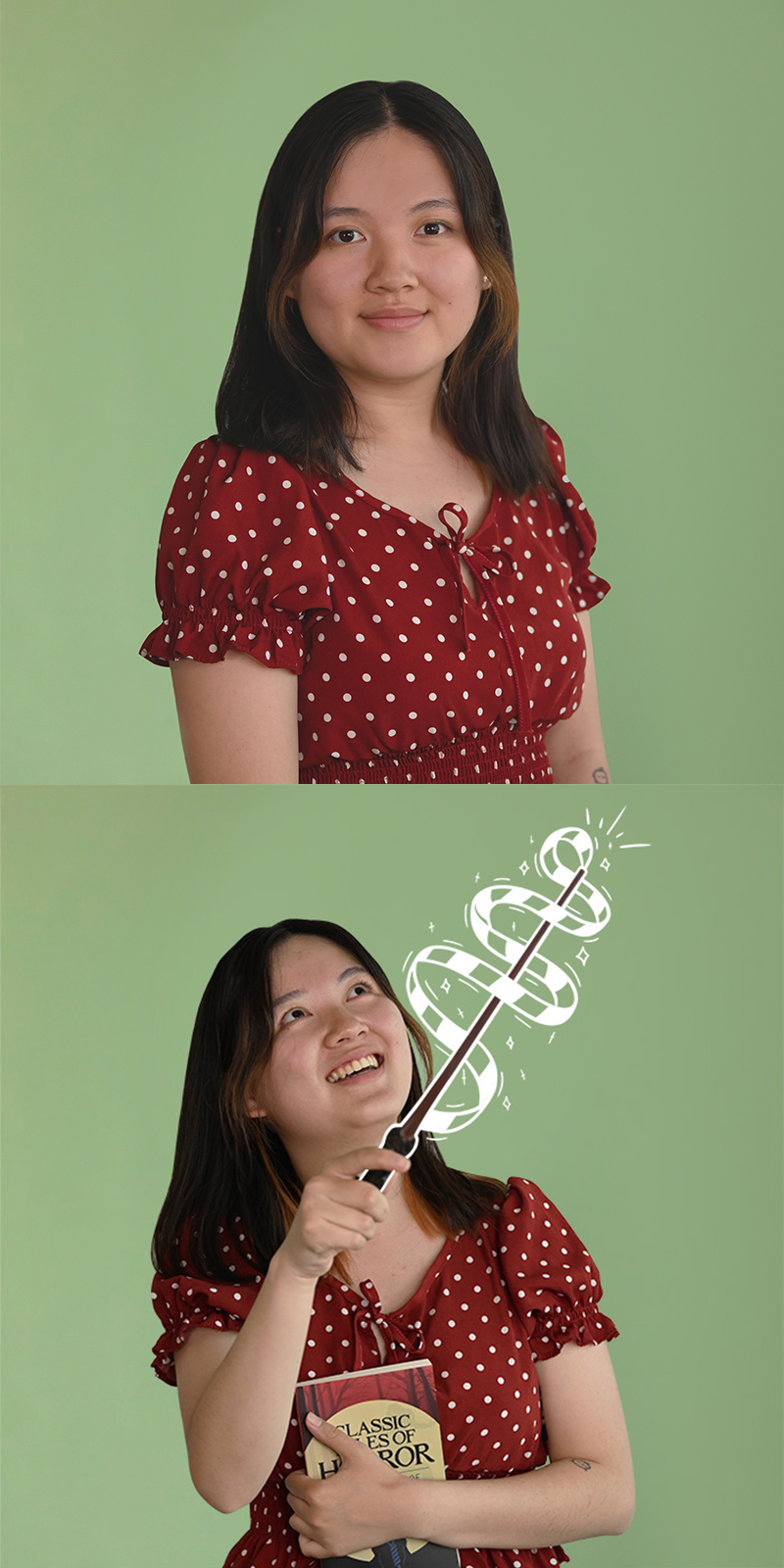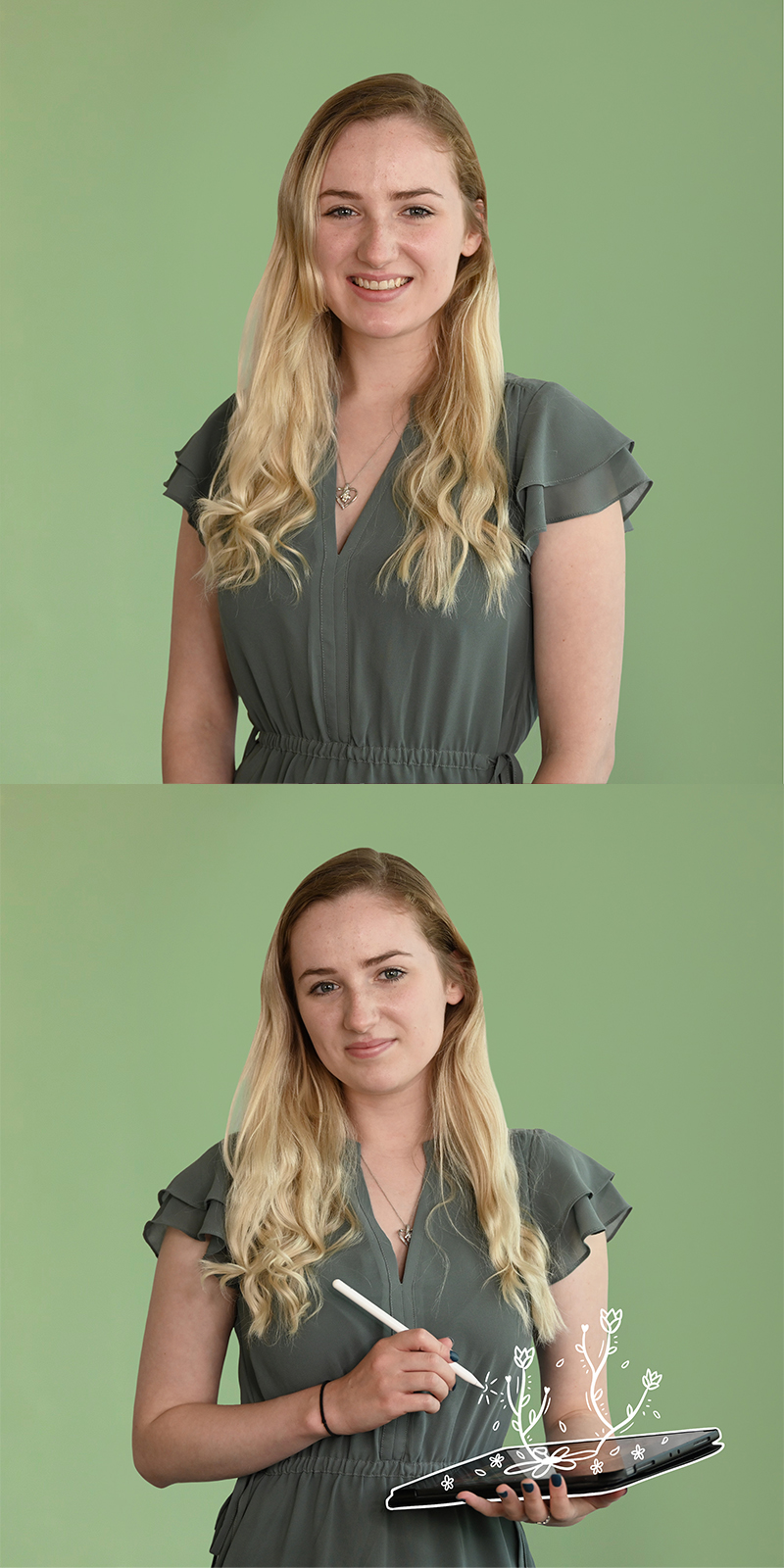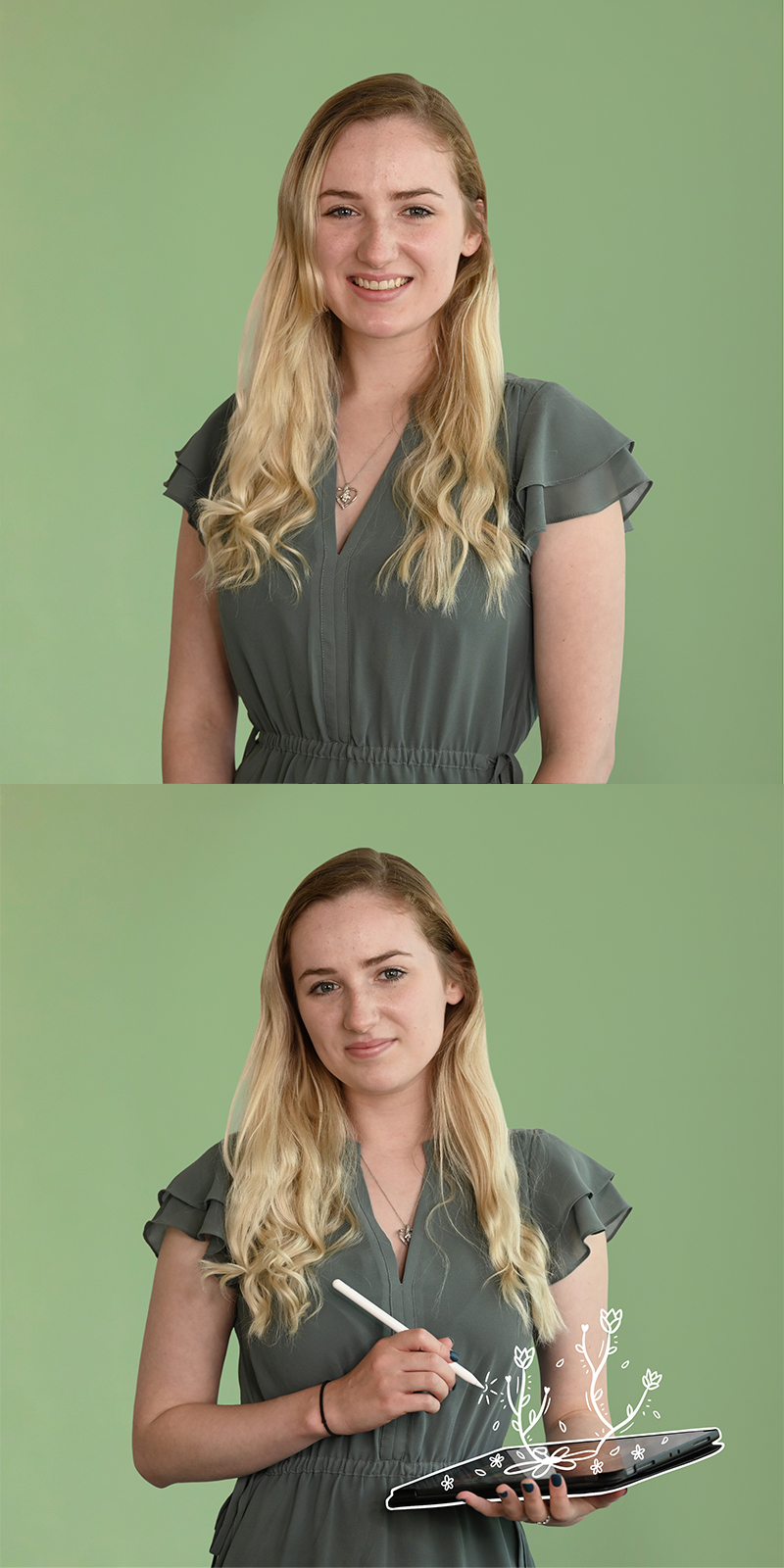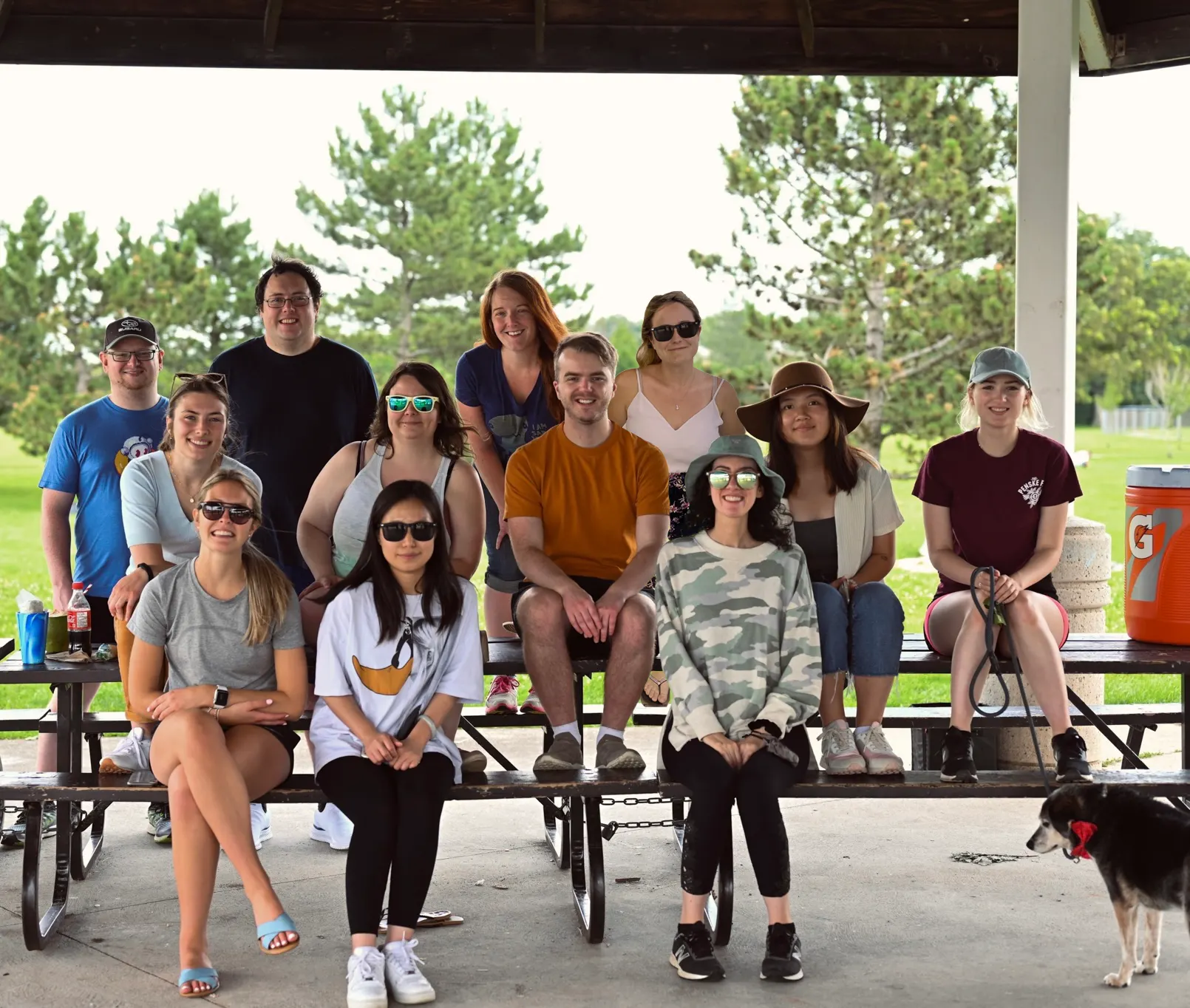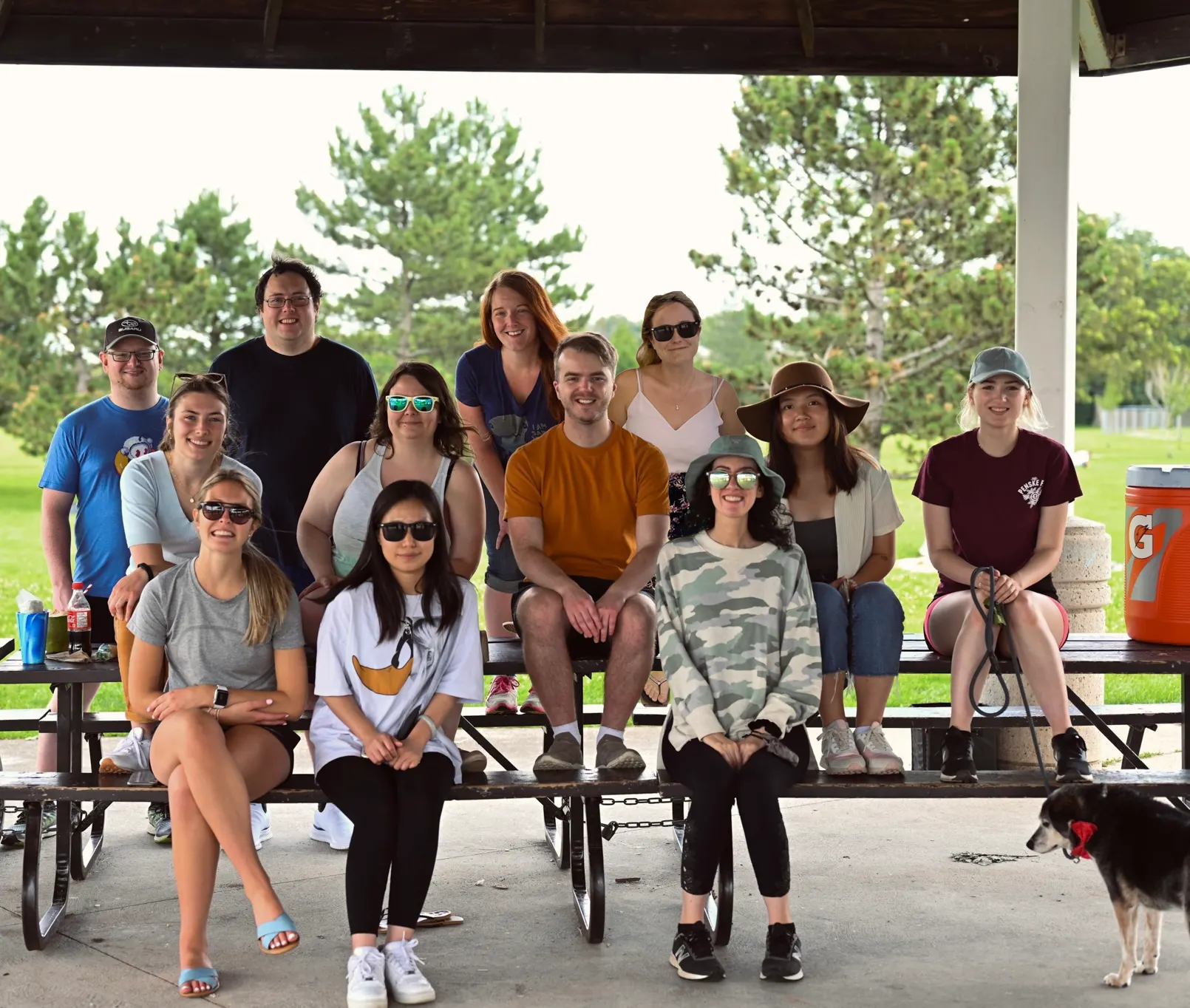 The Rootree Creative Services Team
August 31st marks the end of Rootree's 2021 Creative Services internship program, and wow, what a summer it's been! From various marketing and creative projects to yoga, cupcakes, cricket (in two meanings of the word), and a movement competition—this internship's been nothing short of constant excitement.
Join me (Mia: Social Media Intern), Margaret: Design Intern, and Marina: Design Intern, as I look back on our internship and all of its lessons and good times over the past three months.
On a bright Monday morning at the end of May, Margaret, Marina, and I arrived at Rootree's Burlington office to begin our internship at Rootree. We were eager to meet the friendly faces we'd been acquainted with during our interviews, learn a ton of new skills, and immerse ourselves in the awesome work environment we'd heard so much about. Greeted by Kylie, Rootree's fearless Creative Director and Marketing Manager, we were whisked away on a busy day—touring the building, meeting many new faces, playing icebreakers, and even practicing yoga—before settling down and beginning our training.
Over the next week, we learned loads about marketing and design best practices, packaging and sustainability, and the Rootree brand. Before long, we were ready to dive into our intern projects.
As a Social Media Intern, I began by getting acquainted with Rootree's many clients, sifting through the dockets containing their packages, then engaging with them directly on social media. Throughout the summer, this task was always enjoyable, as I could act on Rootree's behalf and connect with so many amazing brands.
Meanwhile, I began writing copy for our social media channels and blog with the Social Squad: myself, Mel (Social Media & Content Marketing Associate) and Jordan (Jr. Social Media Specialist). Typically sharing "Client Reposts" of our clients' packaging, I had so much fun with my creative freedom to write a blurb about each photo in Rootree's brand voice. Writing engaging and educational copy was a highlight in my internship experience (and my pun game definitely improved). It was so rewarding to see these two ongoing projects pay off in the long run, as Rootree's online brand awareness, engagement, impressions and following grew exponentially. Writing articles, I also had the opportunity to receive feedback on my article from my supervisors, who are amazing writers and creators. Reflecting on work and applying criticism is always an amazing learning experience, and I can honestly say that this opportunity made me a more conscientious, engaging, and thoughtful writer.
As design interns, Margaret and Marina began working on a few internal projects. Their assignments to create promotional pouches and website icons turned out to be some of their favourites of the summer, they say. Like me, they appreciated the creative liberty they were given to execute their tasks. It allowed them the chance to develop their problem-solving skills and discover their own tricks and methods in creating designs—with a helping hand from the other Rootree designers when needed.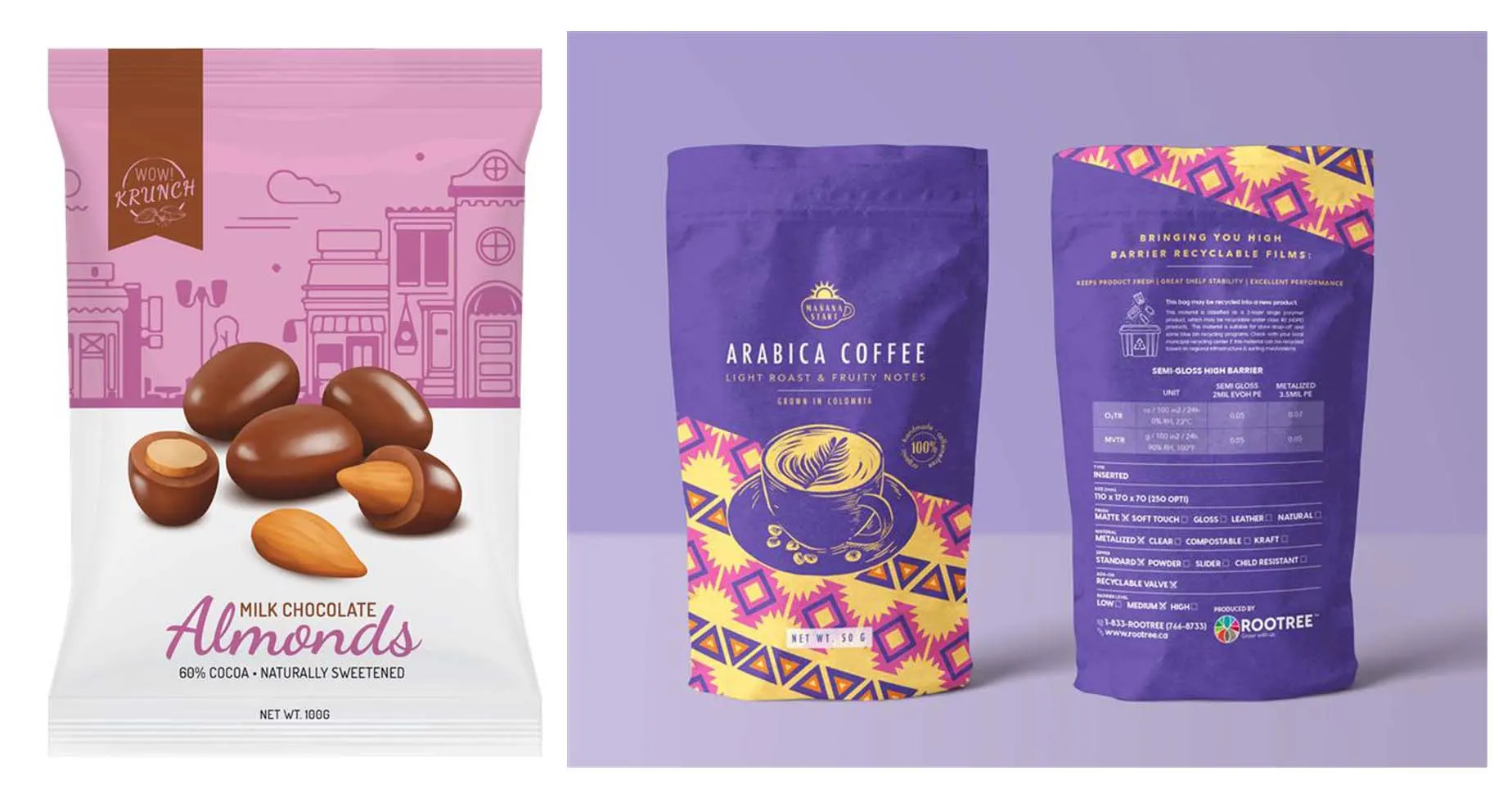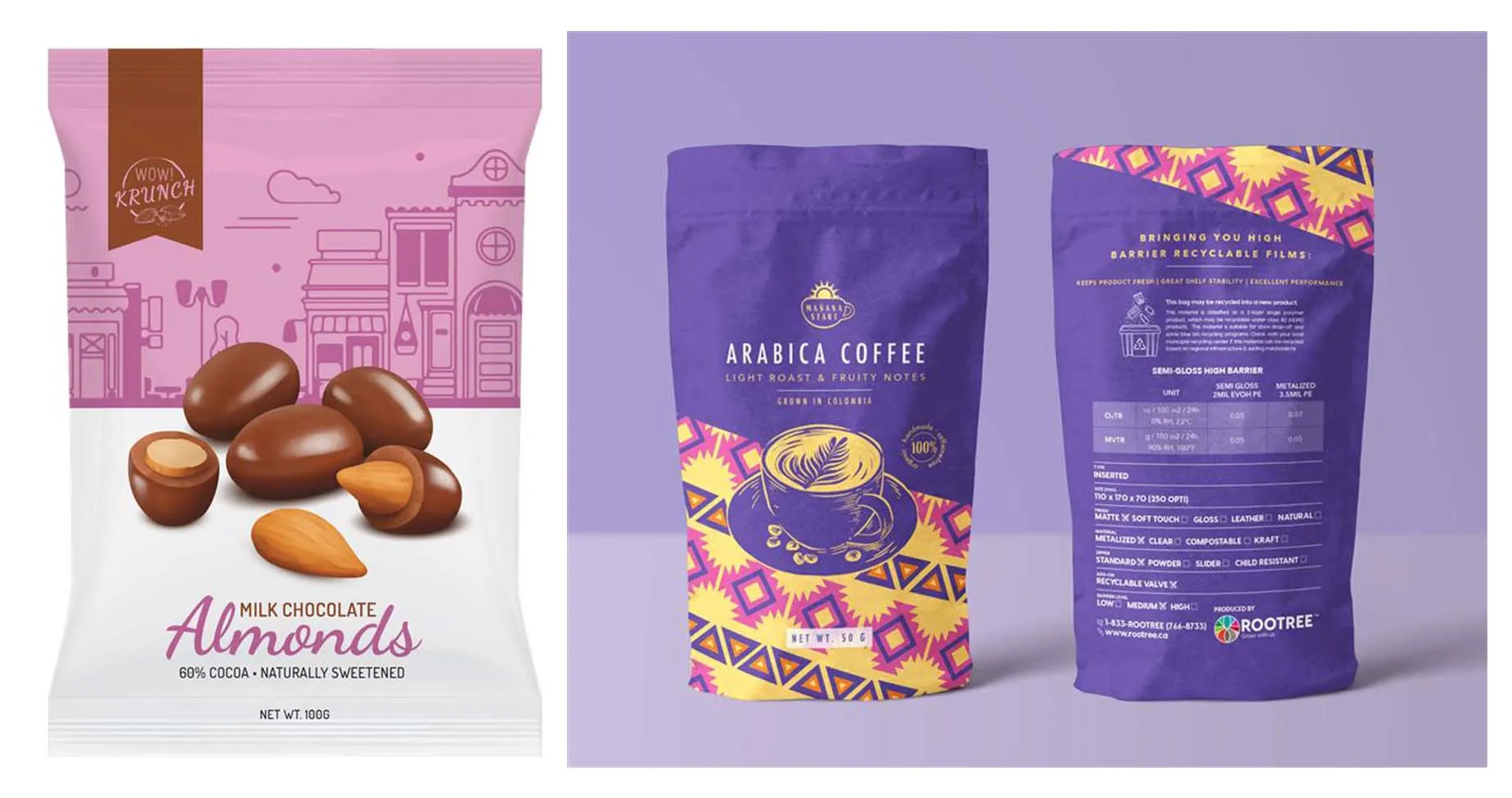 Margaret's promo pouch designs!
"It was fun to come up with my own interpretations of icons that we have. I feel like icons are really standard, so it's nice that Kylie gave me the opportunity to be a little bit creative with those and add my illustrative flare." – Marina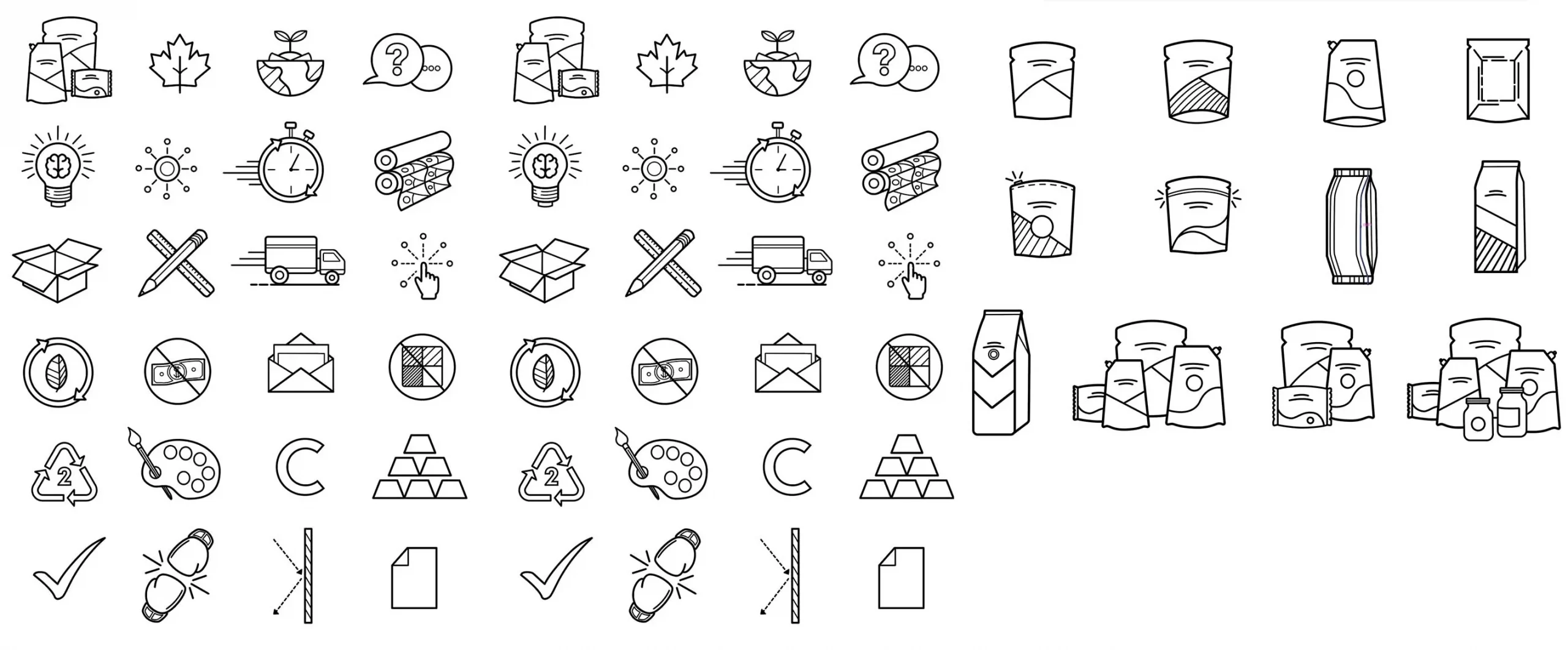 Marina's website icon designs!
But our first month certainly wasn't all work and no play…
The beginning of June brought an interesting and informative tour of the Rootree production facility, followed by a team lunch and celebration of Mel's birthday in the boardroom. This was the first of many cupcakes we had over the summer—the perks of working alongside a professional baker (shoutout Baking by Siana)! Another definite highlight for us interns was regular yoga sessions on Mondays and Thursdays—how many people can say they get to practice yoga at work?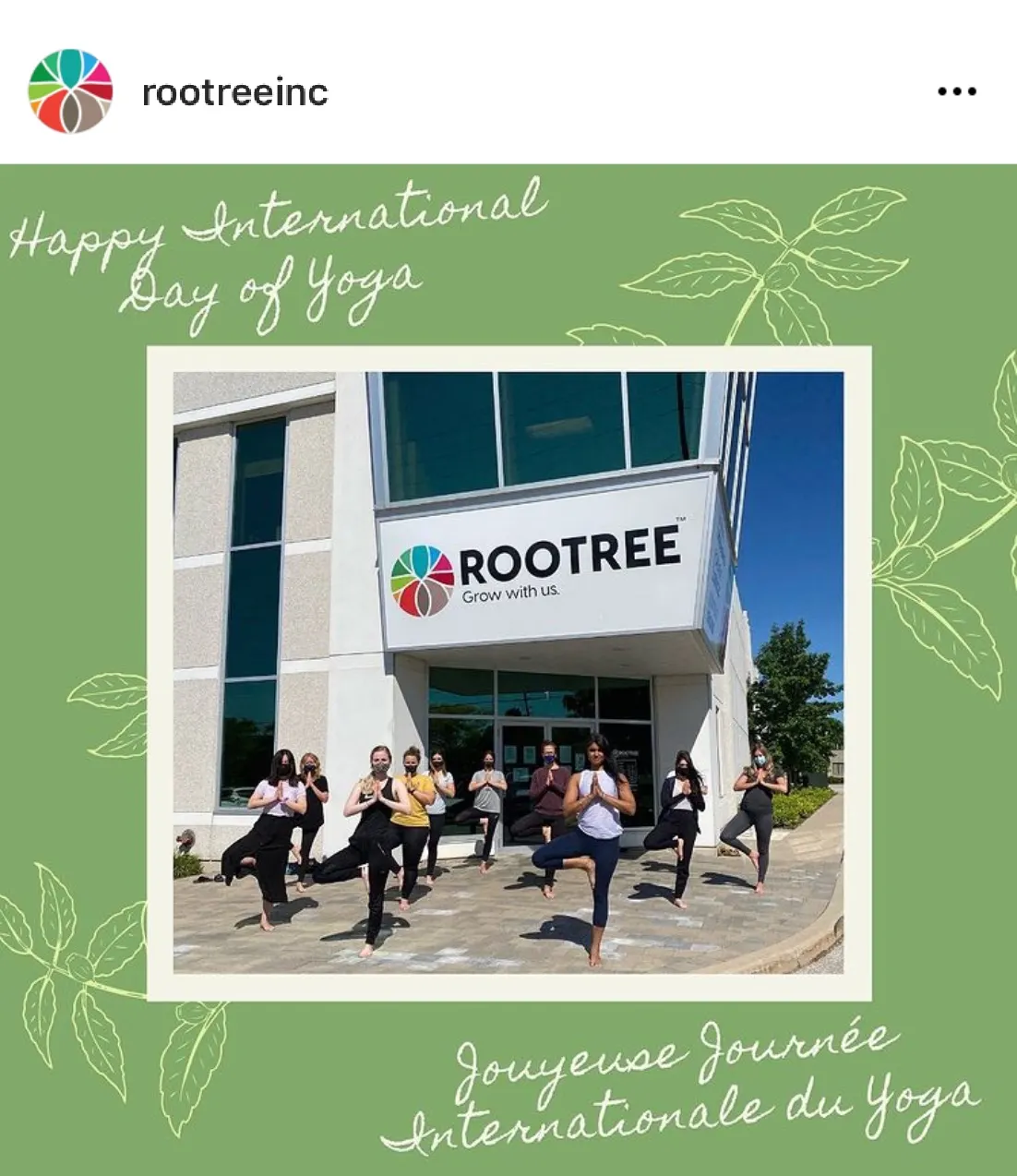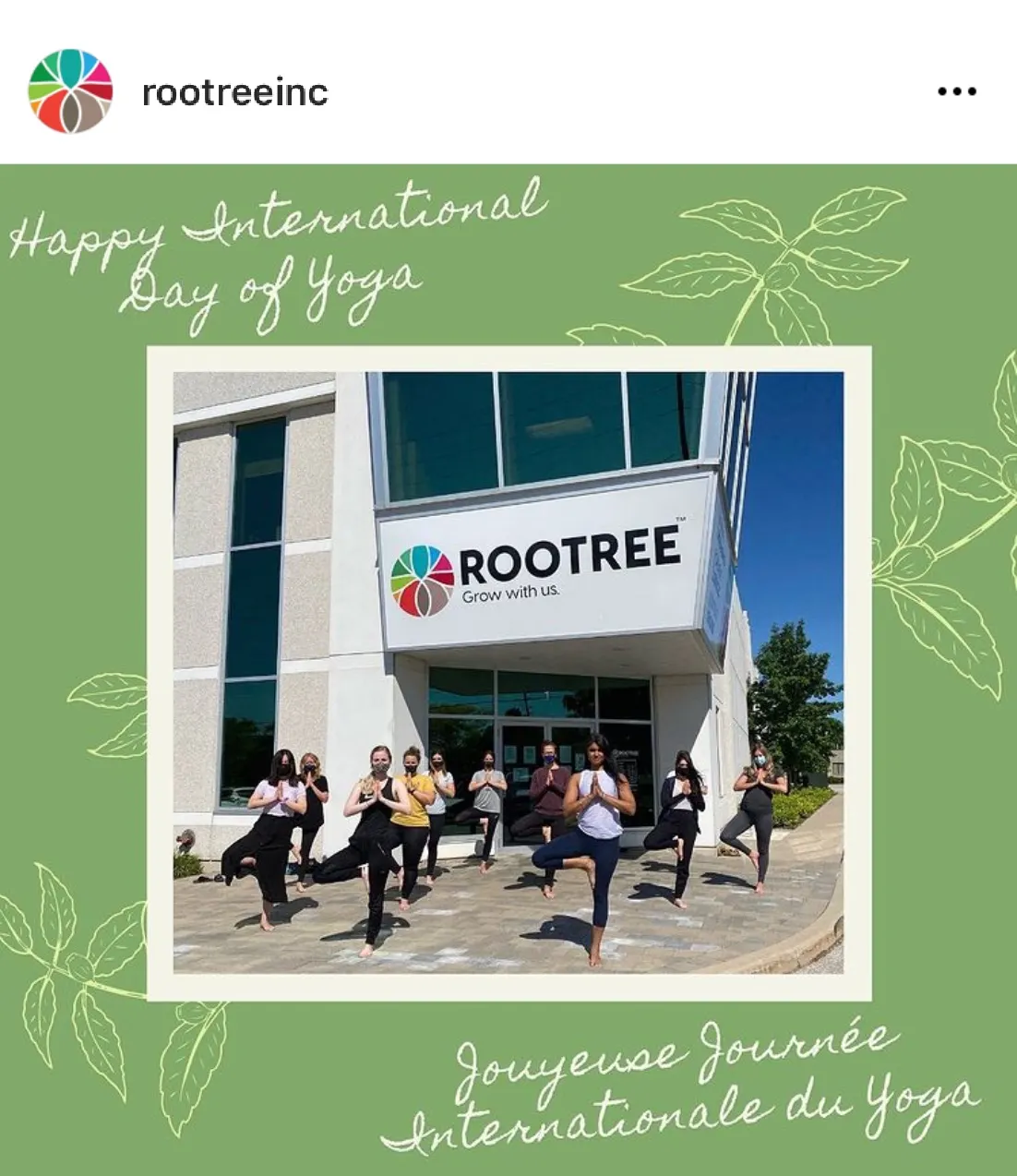 Rootree's Instagram post for the International Day of Yoga, created by me
Throughout our first month, we were welcomed with open arms into the Rootree family. Working in the office was such an amazing opportunity to collaborate and spend quality time with our Creative Services Team. From enjoying music by the Office DJ of the day, to eating lunch outside on the grass, going for team walks (and seeing deer!), and celebrating many summer birthdays; the office was regularly filled with conversation and fun.
"There's a lot of laughter in the Creative Services office! There's always music, which is nice. It's just really positive and friendly." – Marina
Reflecting on our experiences, Marina, Margaret, and I all agreed that Rootree's workplace culture was incredible. Even in our interviews, we got the immediate impression that this would be a great place to work—and the Rootree office and all of its staff did not disappoint!
July brought along more hot weather, exciting new projects, and Rootree initiatives.
For one, Rootree's RESIN program (the Rootree Employee Self-Improvement Network) was introduced. RESIN devotes time to all staff's mental and physical wellness, through half-day Fridays, extended lunches, various Lunch and Learns, and a Movement Challenge.
On Rootree's extended lunches, we took trips to local parks where we participated in outdoor activities and picnics as a company. Staff had the chance to play sports and games like Ladder Ball, KanJam, Frisbee and Salt & Pepper—some of which I tried here for the first time. We celebrated birthdays with cupcakes and drank from fresh coconuts—a day at work or a day at the beach, you tell me…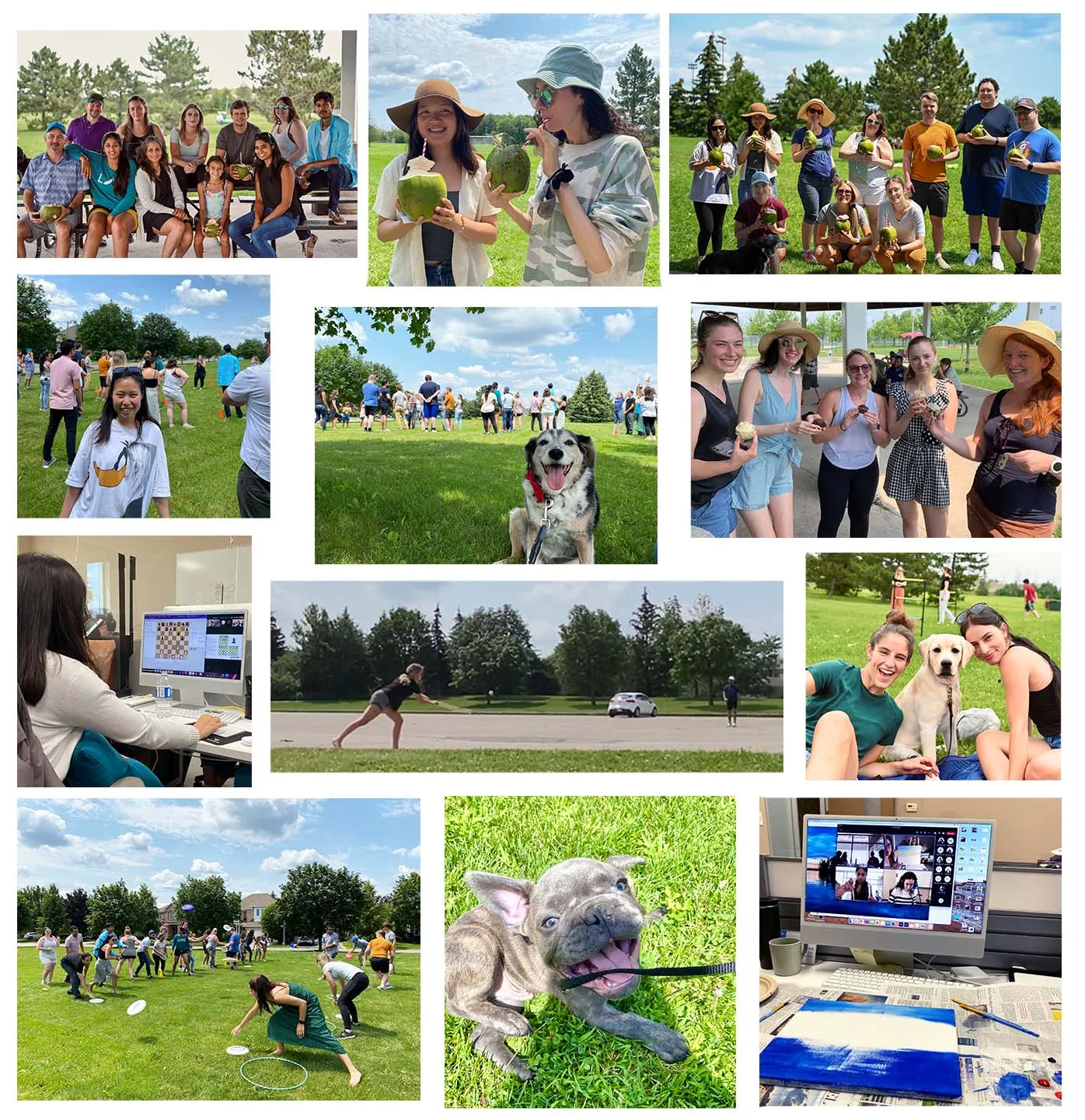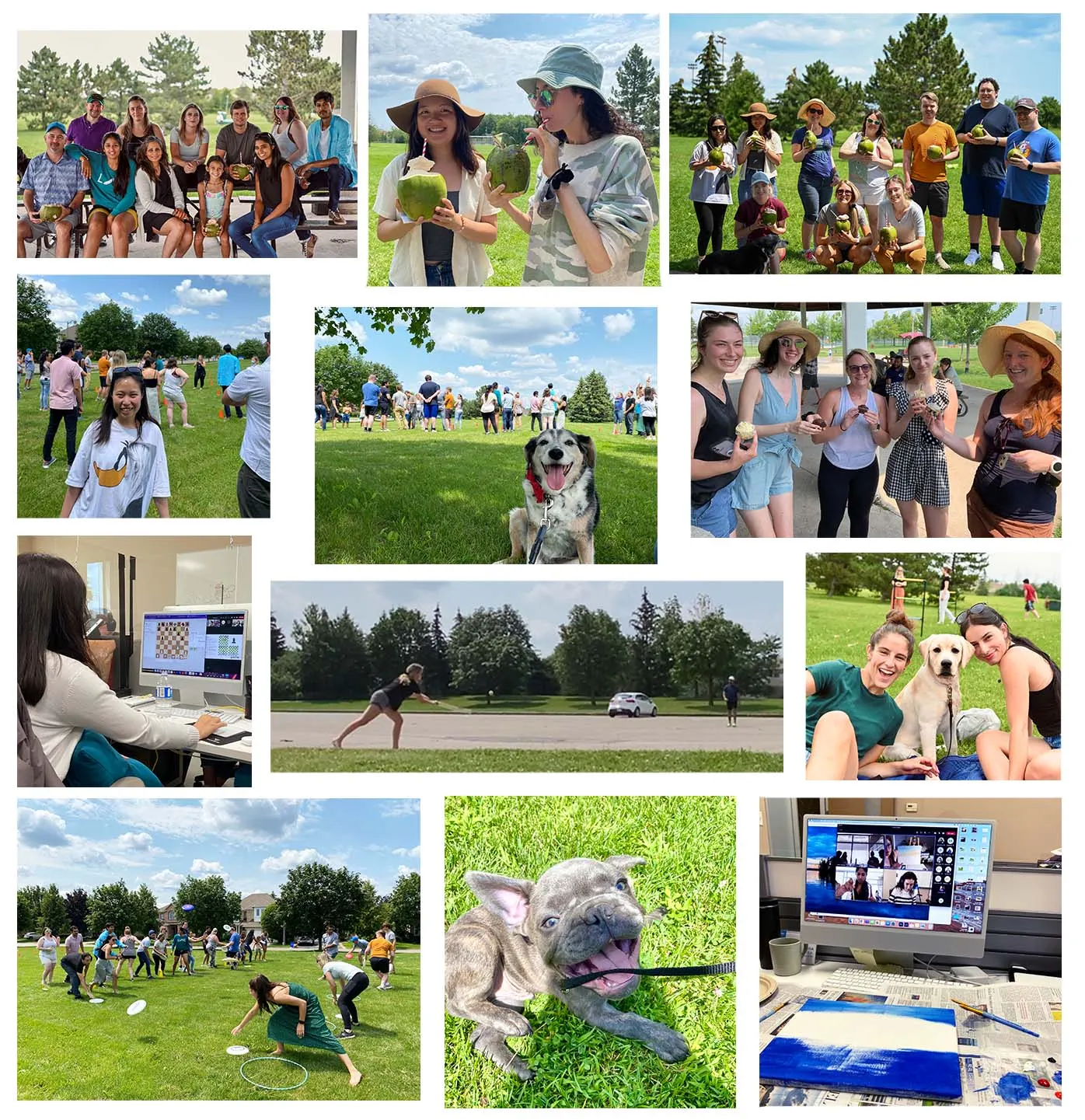 Some fun moments from RESIN extended lunches and Lunch & Learns
Lunch & Learns, hosted by different people each week, taught us new things during the workday. One lunch, we watched a David Attenborough documentary, and for another, our graphic designer, Daniel, taught us how to play chess in a fun tournament.
Meanwhile, outside of work, staff fought to bring home the points for the Movement Challenge. Individuals who wanted to participate were placed onto one of six teams, where they tried to rack up as many steps and active hours as possible, to win a final prize. Team 2 was surely the best team of all (go Holy Fit!). We'll get to the results of the Movement Challenge later…
July also brought many highlights in work assignments. For one, Rootree's Instagram reached 1000 followers—a huge milestone! The Social Squad was absolutely killing it with the Instagram "Sunset" colour theme, pulled from the Rootree logo. Meanwhile, we also created a content calendar for one of our clients, seventree. I loved compiling and editing albums of gorgeous photos from different trips and writing fun captions under a new brand voice.
Another sure highlight of my internship experience was the lifestyle and product photography session for the brand Yes Crickets, one winner of the 2020 RT | Foundation award. The Social Squad took some amazing photos of the four Yes Crickets flavours with various props and staging before the design team polished them up in post-production. Our Creative Services team also got to try the Yes Crickets product—blended up in a mango smoothie! A great first cricket experience, I'd say.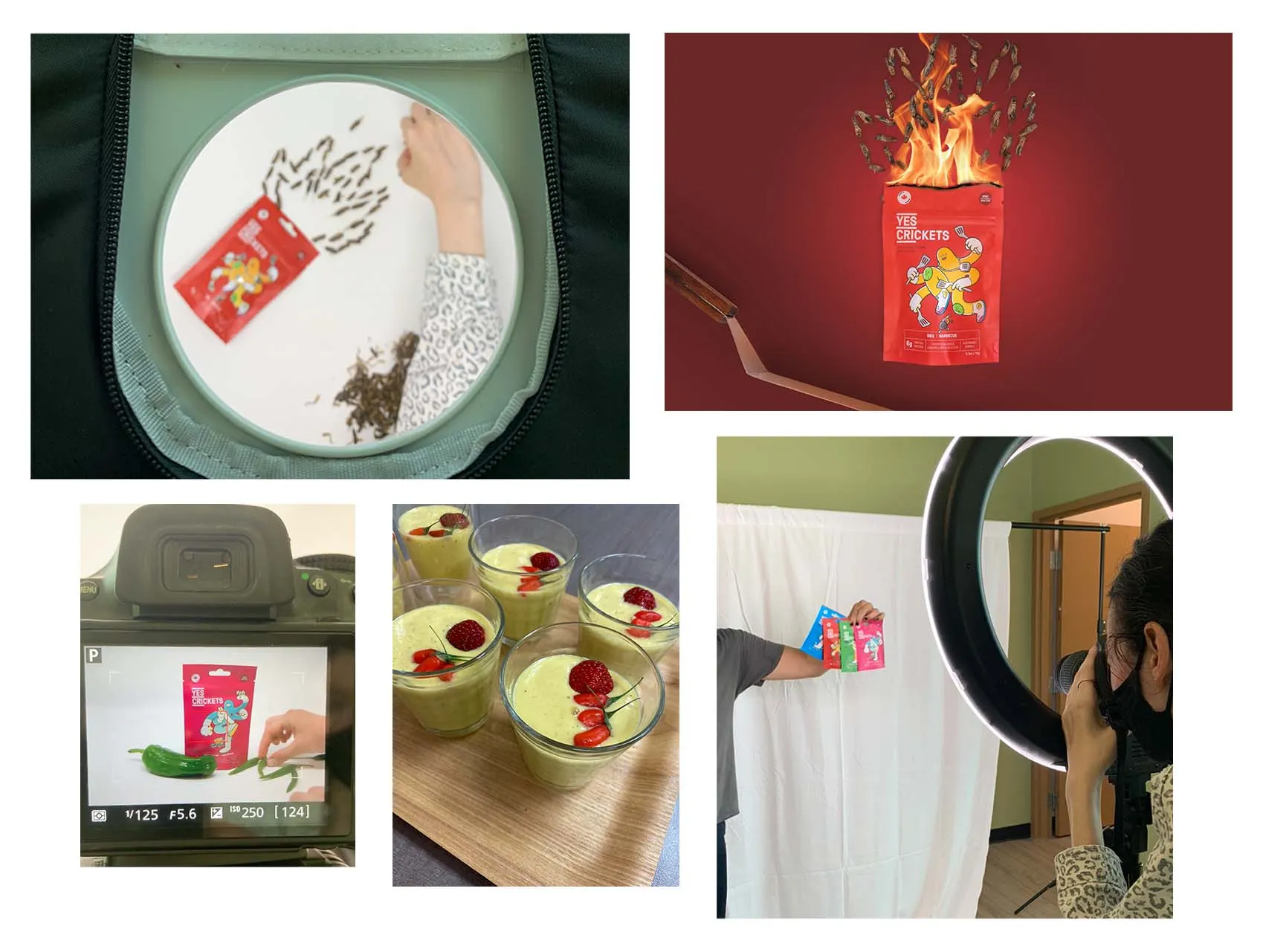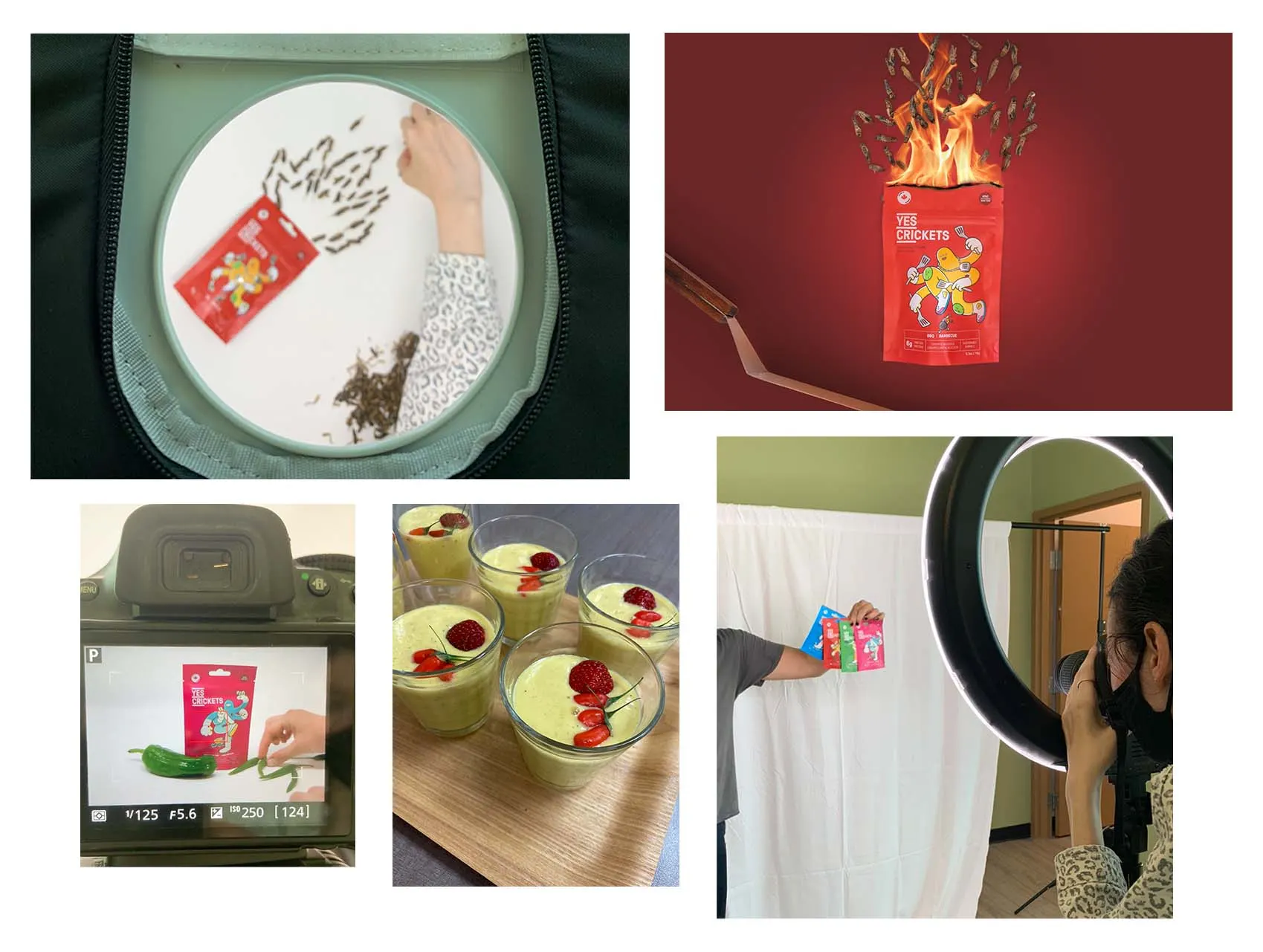 A behind the scenes look at the Yes Crickets photo shoot
Throughout July, I was also responsible for taking new photos of the Rootree stock pouches. I had the chance to use a professional camera and a photography lightbox to capture our many stock packaging options, and then edit them using Adobe Lightroom Classic and Photoshop. I can certainly say that my photography and Adobe program skills are much improved—having taken 750 images in total!
I know I'm not the only one who enhanced their technical skills; Margaret and Marina also found themselves constantly learning more about design. Margaret enjoyed the chance to expand her Photoshop skillset and practice 3D rendering for her portfolio mockups project. Marina also learned how to use clipping masks on Adobe Illustrator for her Quad Seal promo pouch project, and practiced her InDesign skills as she created a sales guide. The two design interns discovered their own ways to execute projects through trial and error, along with some helpful tricks from colleagues.
"Everyone has their own way of designing on Illustrator and Photoshop to produce similar results. […] It was really interesting to see how someone else would approach the same task and maybe use a different type of tool."

– Margaret
The three of us also pulled plenty of learning experience from July's Marketing Meeting with the Creative Services team and the company's directors. During this meeting, each of us created presentation material and introduced projects we'd been working on. The Social Squad pulled quantitative analysis from our social media to review the performance of the past month and create new goals for the rest of the summer. For all three of us interns, this was an opportunity to practice our presentation skills, collaboration, and communication—an invaluable experience!
With such a jam-packed July, we sped into August without hardly realizing it.
August: the final month of our internship that came along way too quickly.
The other interns and I began wrapping up some of our longer, ongoing projects, but also started new ones to be used in the future. Margaret worked on pharma promo pouches and logo concepts for the Rootree material lines, Marina designed welcome pouches and new Rootree boxes, and I continued to write copy and complete new promotional projects.
For one, the Social Squad had a product photography session for Rootree's client, Erica's Authentic Caribbean Foods. I had the chance to try Erica's pholourie and play around with some fun food staging.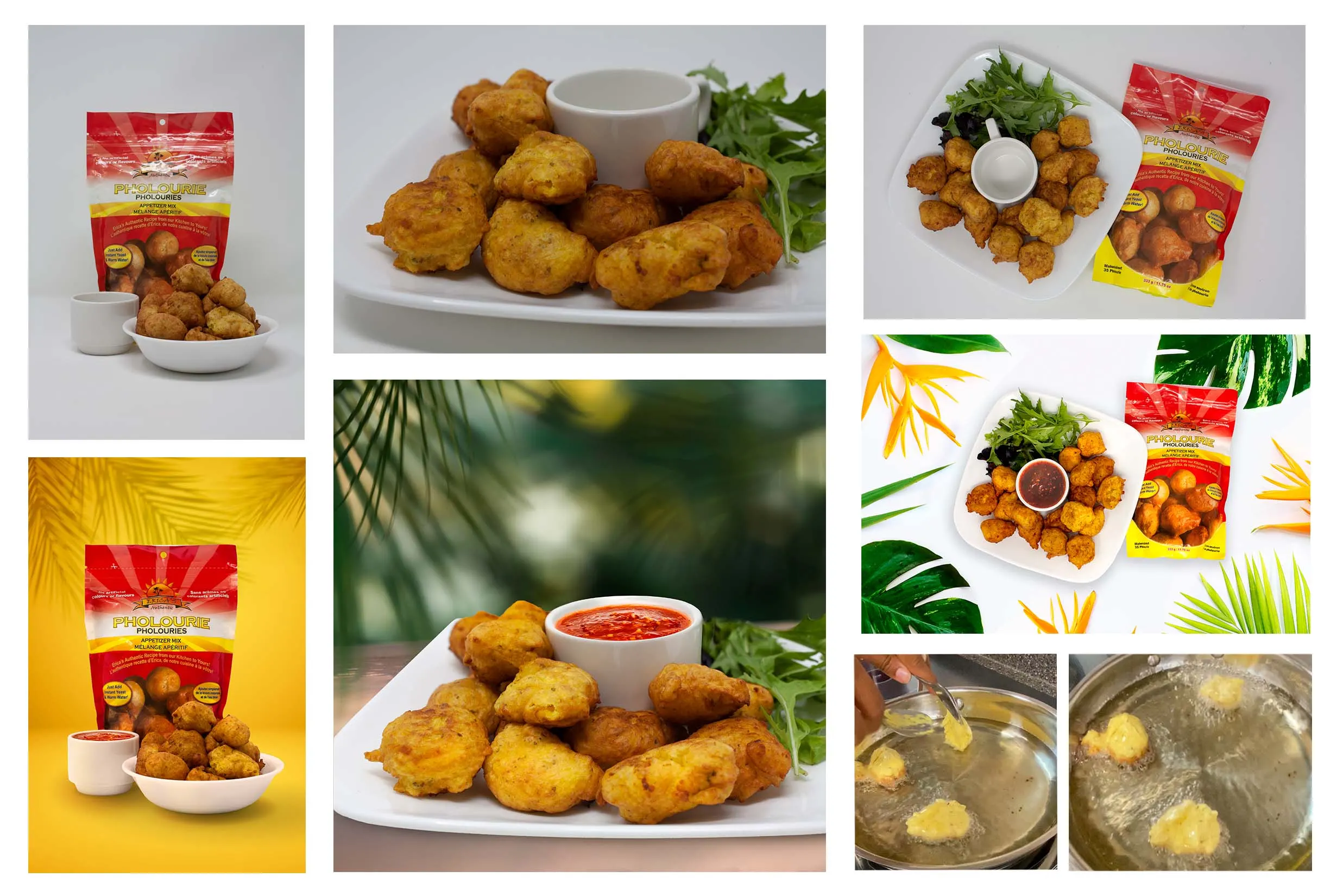 Behind the scenes on Erica's pholourie shoot—shot by me, edited by Kelsey, cooked by Siana
Speaking of product photography, the Social Squad also had a memorable trip to the local Nature's Emporium (this store is Disney World for Melanie). On a mission to take photos of our clients' packaging for a blog article, we found many familiar products on the shelves—and even tried some new health foods.
As part of the RESIN program, we had more Half-Day Fridays, Lunch and Learns, and extended lunches. At the local park, we learned to play cricket, were taught some killer frisbee skills by Heather, and enjoyed Siana's cupcakes for Marina and Alpesh's birthdays (see? I told you there would be more cupcakes). During an August Lunch and Learn, Melanie and Kelsey taught us how to paint landscapes with their Bob Ross painting skills. Our final extended lunch took us to Christie Lake Conservation Area, where we played Spike ball and Hammerschlagen, relay raced, tie-dyed, and swam in the river. It was also revealed that Team 1 won the RESIN Movement Challenge!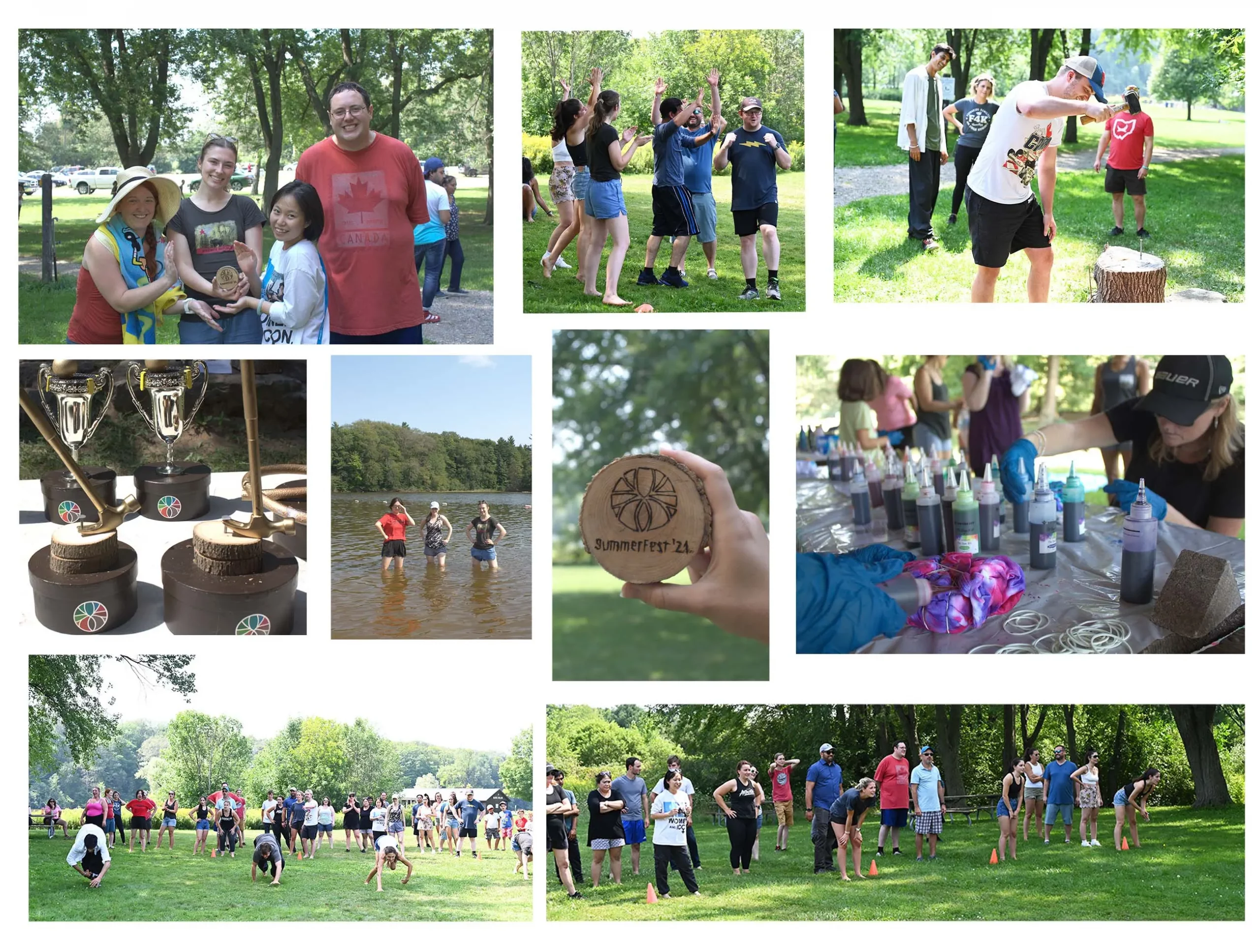 Rootree's Summerfest 2021
August also brought the rest of our Creative Services team into the office from their remote positions. Our room's desks were finally full, and we interns got to spend time with and learn from our other coworkers—if only for a couple of weeks. Margaret, Marina, and I all agreed that collaborating with our team was a key experience—we always felt we had the opportunity to participate, and have our ideas genuinely heard out.
"Interns can feel comfortable conversing with different levels. It's a very comfortable environment; everyone is very open and friendly." – Margaret
We interns were recognized not only in collaborative sessions but as an integral role in all of our assignments. What I really appreciated about working as an intern at Rootree was creating projects that had value. Instead of being assigned to fetch coffee, the other interns and I were given real projects that challenged us. Each task, no matter how small or sometimes tedious, had real significance to the company. Promo pouches would be used for marketing material, stock pouch photos would go up on the website for customers, and blog articles and designs would be published for all to see. To see your work hold value and produce real effects is an unparalleled opportunity—especially as an intern.
Looking back, this was an integral learning opportunity for me, Margaret, and Marina. All three of us had the chance to cultivate our skills and gain practical experience we will utilize for the rest of our education and future careers. We learned essential skills like time management, delegating tasks, and new technical skills and tricks that will surely help us in our coursework. Margaret says she now has a better idea of what sector of design she'd like to work in, and what she likes and doesn't like (illustration and package design are both likes!). Marina looks forward to sharing her newfound knowledge and tips with the first-year students she'll be tutoring and the graphic design club. We all agree that we'd like to keep absorbing knowledge and challenging ourselves to create and problem-solve; the outcomes we've seen over the summer are so worth it.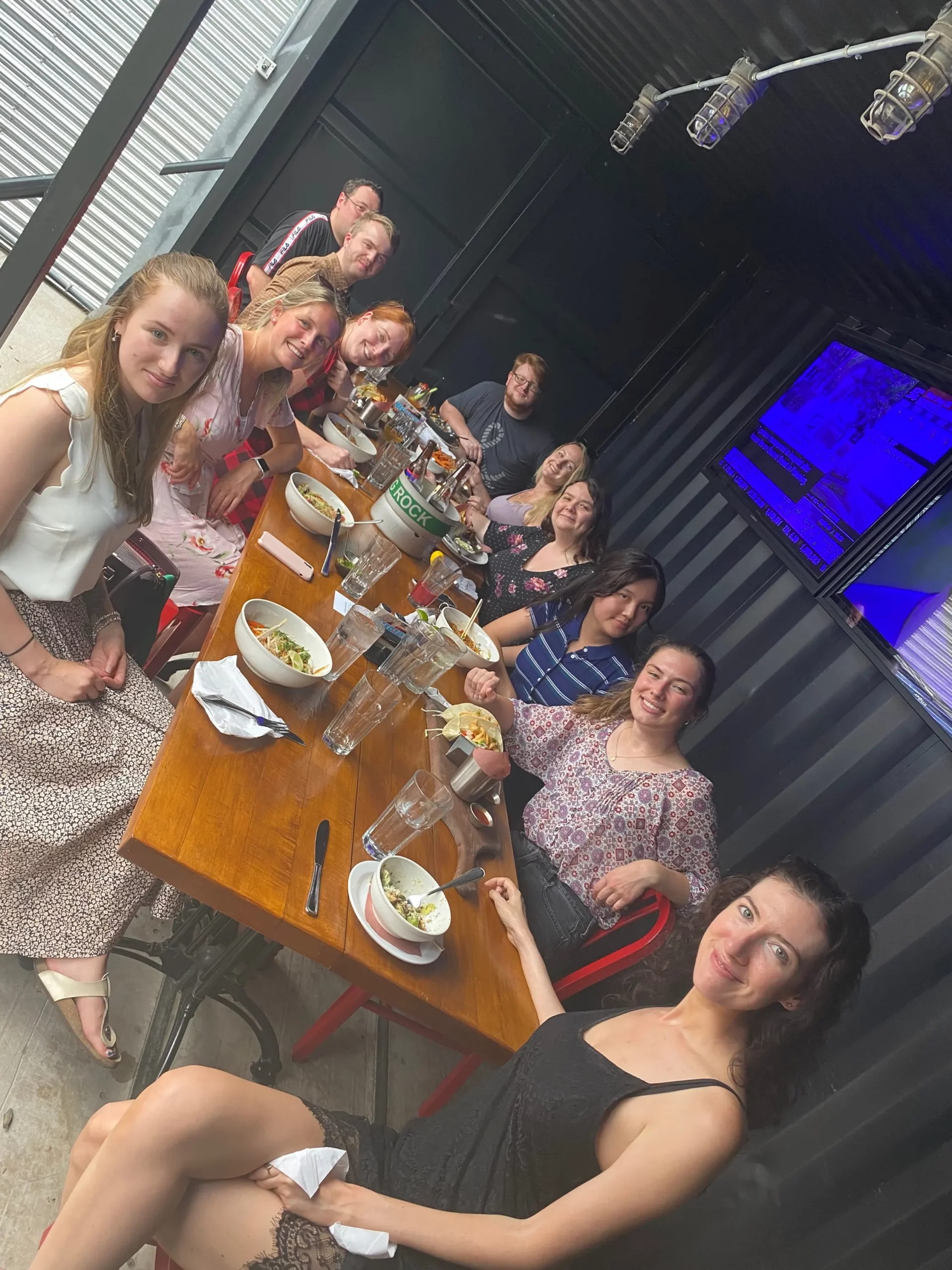 The Creative Services team out for a dinner at Burlington's Beertown
To future interns: boy, do you have a big summer in store! You have the unparalleled opportunity to learn from incredibly talented professionals in action. Not only are they skilled, but also the kindest people you'll meet—this goes for each person on the Rootree family tree, without exception. Enter with a mindset that is ready to learn, grow with feedback, collaborate, and try new things. At the same time, relax; you're here for a reason. Enjoy the ride!
-Mia, Social Media Intern