Our Summer Intern Program at Rootree offers students and young professionals the chance to flourish in the early stages of their careers. Every year, we are always so lucky to be able to have such an incredible group of creative minds join our team for the summer.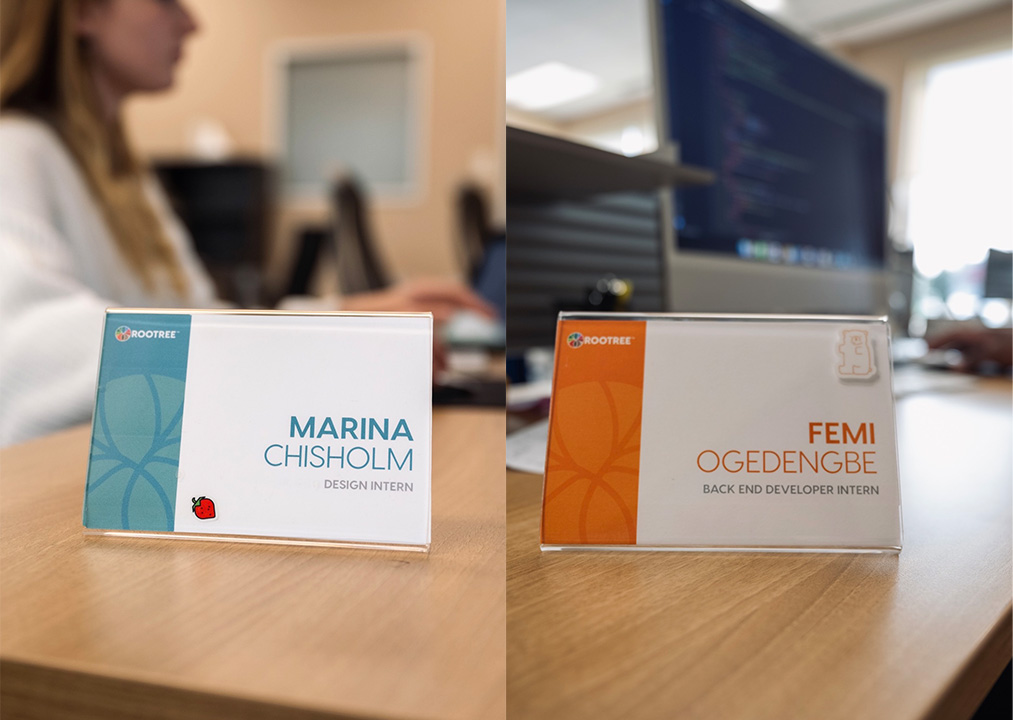 "Challenging, rewarding, fulfilling" are the three words Femi Ogedengbe used to describe his ongoing internship at Rootree. Femi started his 16-month internship as a back-end developer in May, joining us from Wilfrid Laurier University.
Femi has a charming sense of humour and is a master of many accents; a side of him we are lucky to know! He has been thriving in his role, ensuring that web operations are optimized and running smoothly.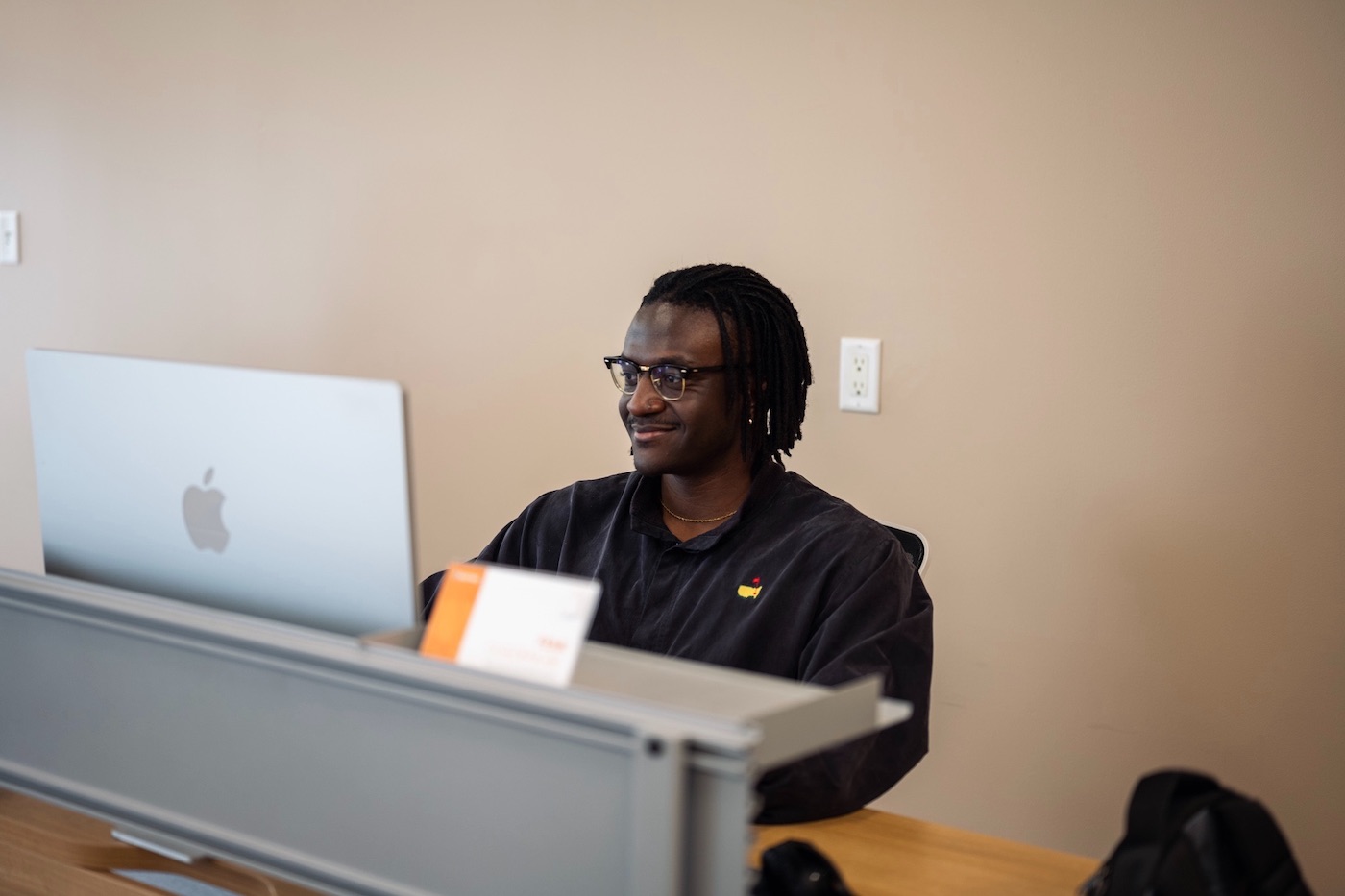 During his time here, he has contributed significantly to the improvements of our French website and successfully integrated into Rootree's Web Wizard family. Aside from doing what he loves while getting to know the team, Femi has most enjoyed our RESIN picnics in the park. Our RESIN program – the Rootree Employee Self-Improvement Network – encourages our staff to dedicate time in their workday to their physical and mental wellness through various initiatives. Femi's most memorable day so far (although there were so many, he felt it was hard to narrow it down) was our Beach Day, where the entire company gathered lakeside and joined in a few rounds of Mölkky – a Finnish lawn game.
But it's not all just fun and games. "My favourite part of backend development at Rootree is being able to work on varying aspects of the companies' endeavours (from internal processes to client and design aspects) and tying it all together cohesively into the one great tree… the ROOTree."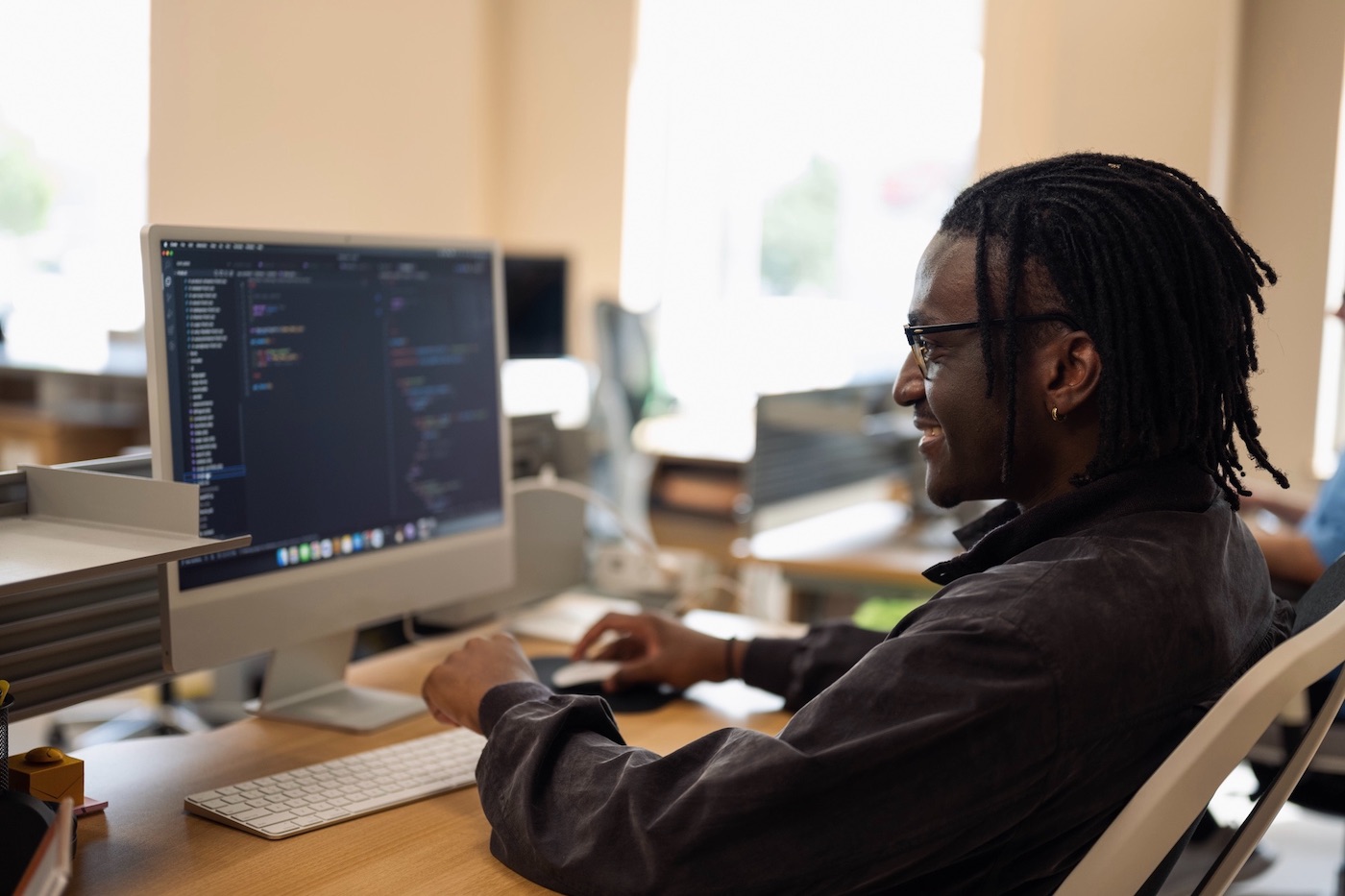 It's been "quite a journey," as he puts it, to go from an online-academic-pandemic environment to a lively and productive office scene – but he has loved every minute of it. His advice for future Rootree interns: "Don't be scared, believe in yourself, feel free to ask for help, and always give it your best effort." Simple as that; back-end developer and poet, if we do say so ourselves.
During his 16-month internship, Femi is most excited and optimistic about becoming really good at what he does, "I am challenged every day, I put my best foot forward and give it a maximum effort and ask for help when needed. I'm always received with open arms and a warm smile, from Jesse, Cory, and Kylie, who are ready to support." We have no doubt that by the end of his internship, he will be able to write code in his sleep.
A huge round of applause for Femi; oh the places he'll go!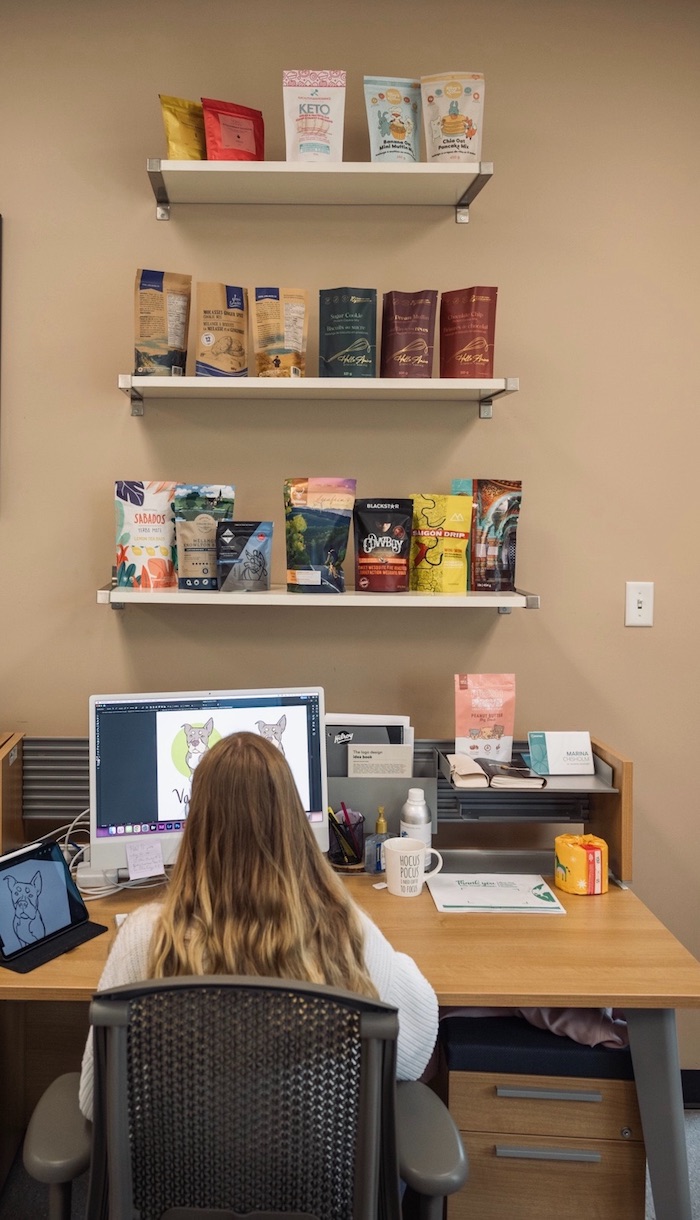 Guess who's back? Back again: Marina Chisholm, for her second internship as a graphic designer (A.K.A. magician). Her smile and warm presence, paired with her incredible creative talent, makes her a force to be reckoned with and an integral part of the team.
Like her intern pal, Femi, Marina would agree that RESIN events are a wonderful time to get to know her colleagues and team, but for her, getting down to business is really what she enjoyed most. "RESIN is fun, but I like the work, and I actually look forward to meetings."
Marina chose to pursue graphic design because she loves to "make things pretty." Moreover, "I've always been an artist; nothing fit me as well as this did. I'm very passionate about this industry… graphic design and illustration doesn't feel like work; it feels like fun in an art form".
One of Marina's most significant achievements at Rootree is her illustrative client work for Presh Paws. "I'm grateful that I've had a lot of my work selected for different projects. I am most proud to have had my custom illustration chosen for Presh Paws; to me that meant a lot, especially since it was my first client job."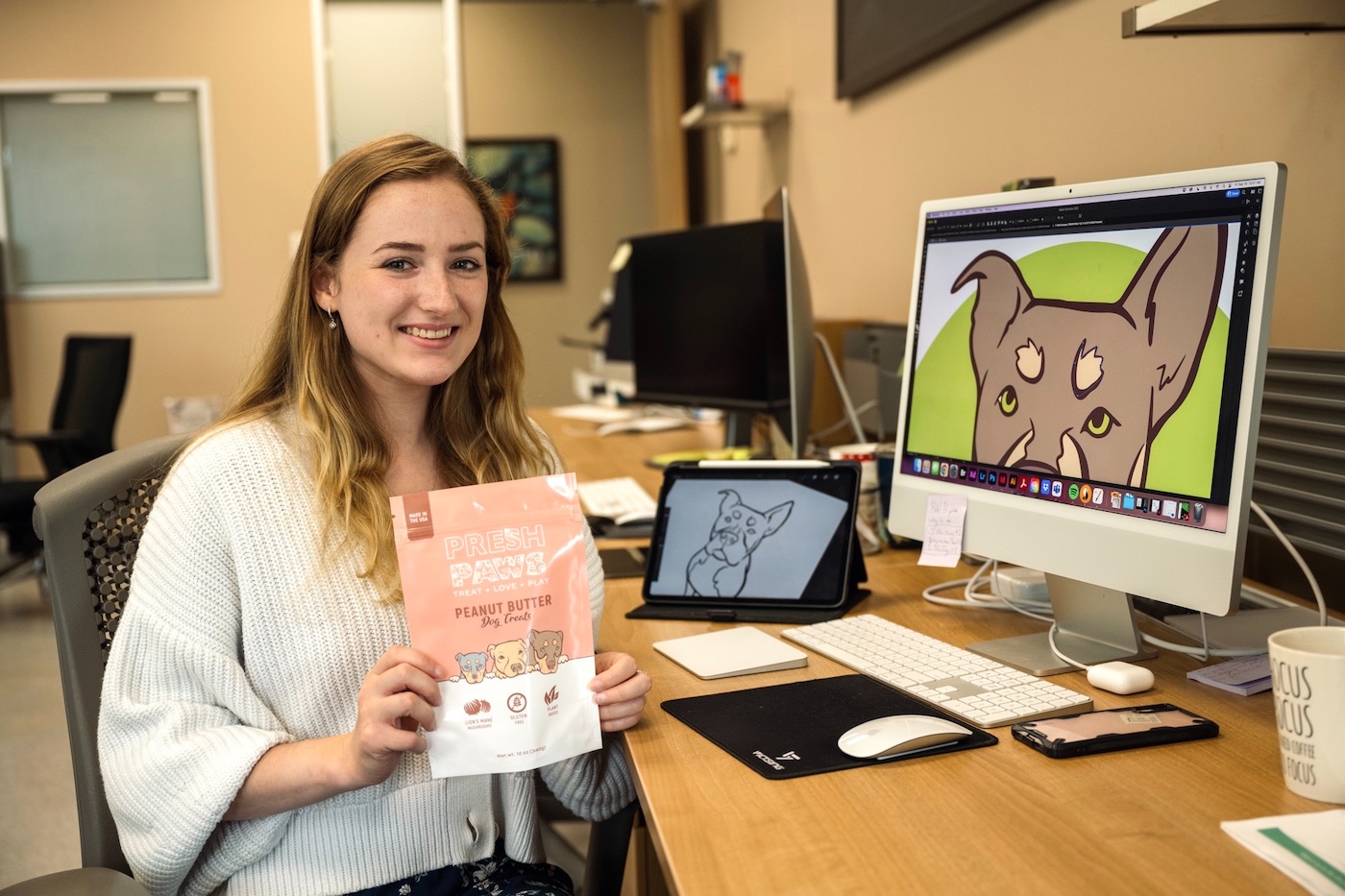 With confidence, Marina stated that "growth, knowledge, and positivity" is how she would describe the environment at Rootree. "It always blows me away to see how positive the atmosphere is; you can hear laughter from down the hallways… I am just so happy that I get to be in a room where it's fun and everyone is so kind; we all get along really well."
For her second internship, returning to Rootree was Marina's first choice: "I'm very proud of the knowledge and experience I've gained here. A lot of my peers don't have the same opportunity to have an internship that really contributes to personal growth."
Opportunities for personal and professional growth are critical when choosing a job, one that Marina prioritizes and values deeply.
"I don't think I was ever treated like what I thought was a 'stereotypical intern'. I was always treated like a real graphic designer; that's helped me grow a lot."
We are excited to have Marina move into a part-time position as she finishes her final school year.
And that's a wrap on our 2022 Summer Interns (who love it so much, they'll also be here for the winter! 😉)