Aperçu des stages de l'année 2021 avec l'équipe créative de Rootree
Check Out Our 2021 Summer Interns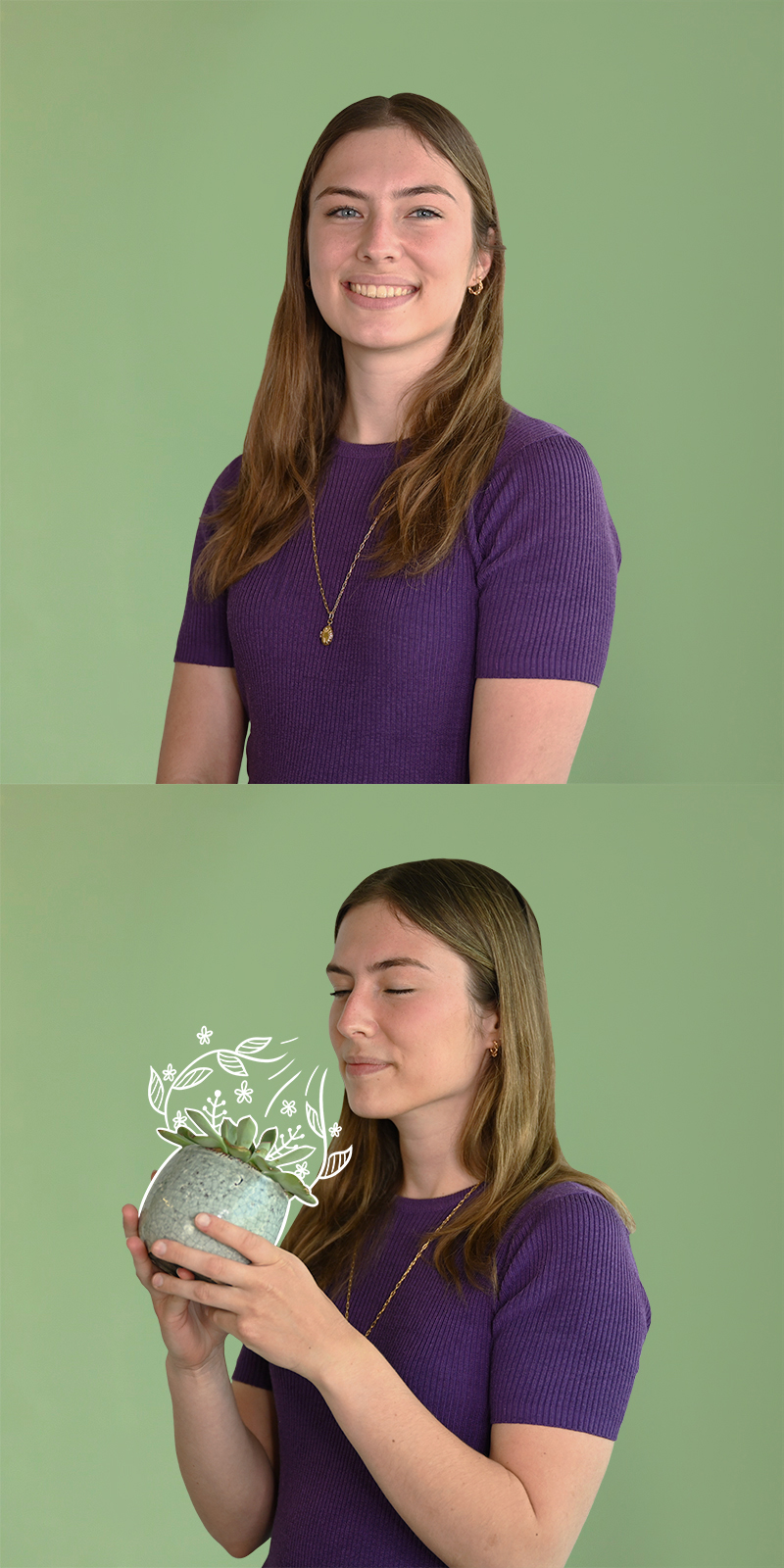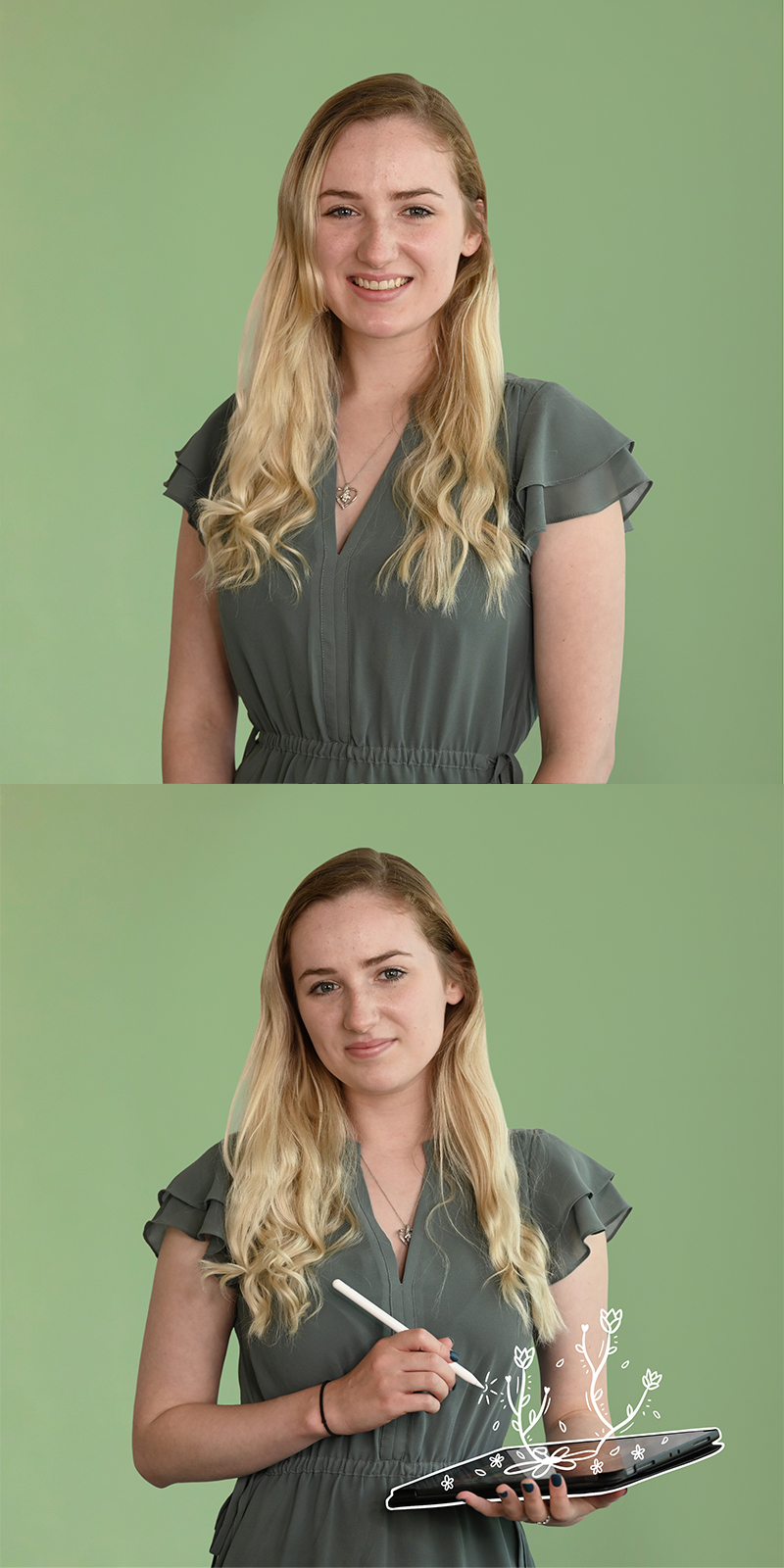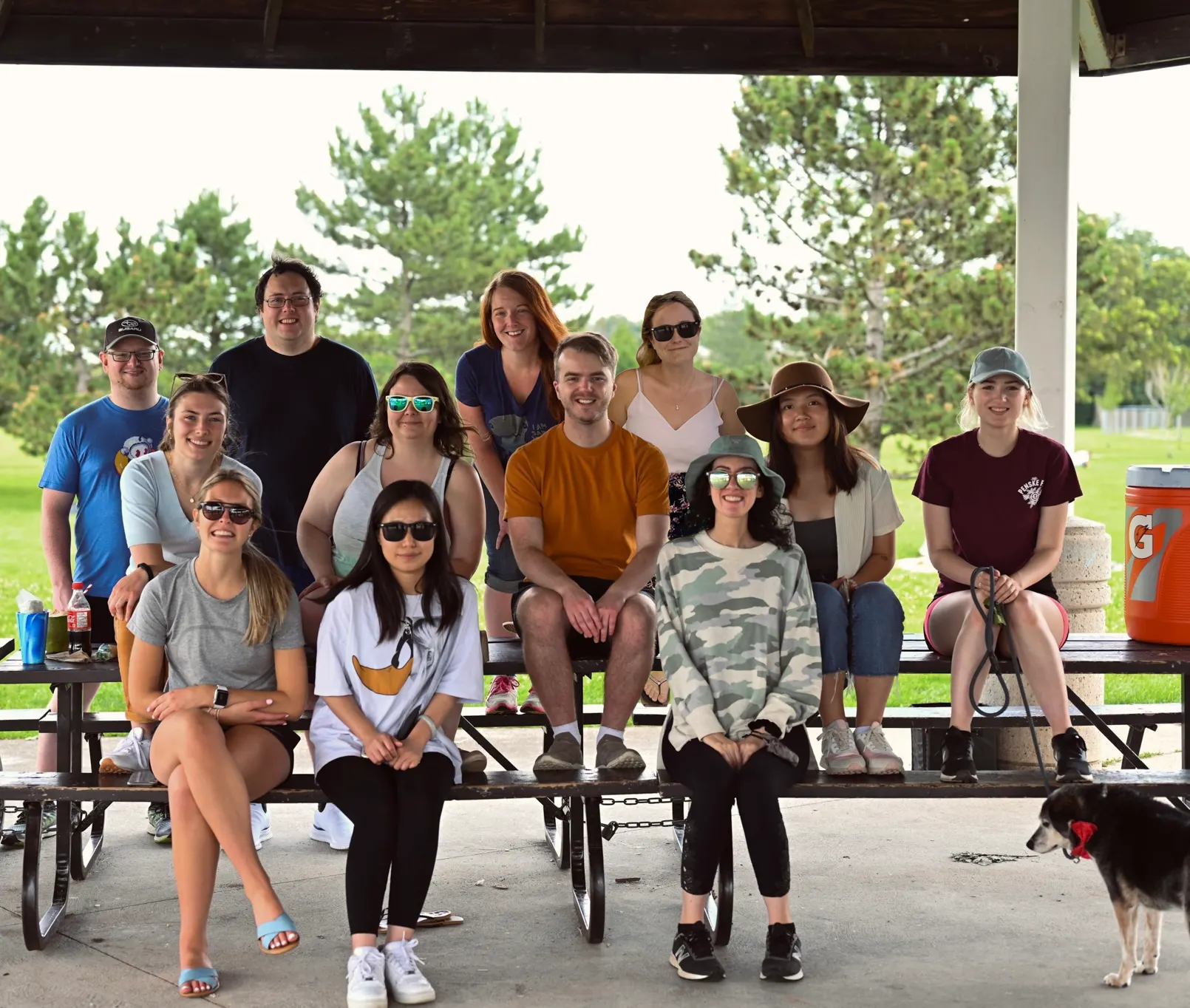 The Rootree Creative Services Team
August 31st marks the end of Rootree's 2021 Creative Services internship program, and wow, what a summer it's been! From various marketing and creative projects to yoga, cupcakes, cricket (in two meanings of the word), and a movement competition—this internship's been nothing short of constant excitement.
Join me (Mia: Social Media Intern), Margaret: Design Intern, and Marina: Design Intern, as I look back on our internship and all of its lessons and good times over the past three months.
On a bright Monday morning at the end of May, Margaret, Marina, and I arrived at Rootree's Burlington office to begin our internship at Rootree. We were eager to meet the friendly faces we'd been acquainted with during our interviews, learn a ton of new skills, and immerse ourselves in the awesome work environment we'd heard so much about. Greeted by Kylie, Rootree's fearless Creative Director and Marketing Manager, we were whisked away on a busy day—touring the building, meeting many new faces, playing icebreakers, and even practicing yoga—before settling down and beginning our training.
Over the next week, we learned loads about marketing and design best practices, packaging and sustainability, and the Rootree brand. Before long, we were ready to dive into our intern projects.
As a Social Media Intern, I began by getting acquainted with Rootree's many clients, sifting through the dockets containing their packages, then engaging with them directly on social media. Throughout the summer, this task was always enjoyable, as I could act on Rootree's behalf and connect with so many amazing brands.
Meanwhile, I began writing copy for our social media channels and blog with the Social Squad: myself, Mel (Social Media & Content Marketing Associate) and Jordan (Jr. Social Media Specialist). Typically sharing "Client Reposts" of our clients' packaging, I had so much fun with my creative freedom to write a blurb about each photo in Rootree's brand voice. Writing engaging and educational copy was a highlight in my internship experience (and my pun game definitely improved). It was so rewarding to see these two ongoing projects pay off in the long run, as Rootree's online brand awareness, engagement, impressions and following grew exponentially. Writing articles, I also had the opportunity to receive feedback on my article from my supervisors, who are amazing writers and creators. Reflecting on work and applying criticism is always an amazing learning experience, and I can honestly say that this opportunity made me a more conscientious, engaging, and thoughtful writer.
As design interns, Margaret and Marina began working on a few internal projects. Their assignments to create promotional pouches and website icons turned out to be some of their favourites of the summer, they say. Like me, they appreciated the creative liberty they were given to execute their tasks. It allowed them the chance to develop their problem-solving skills and discover their own tricks and methods in creating designs—with a helping hand from the other Rootree designers when needed.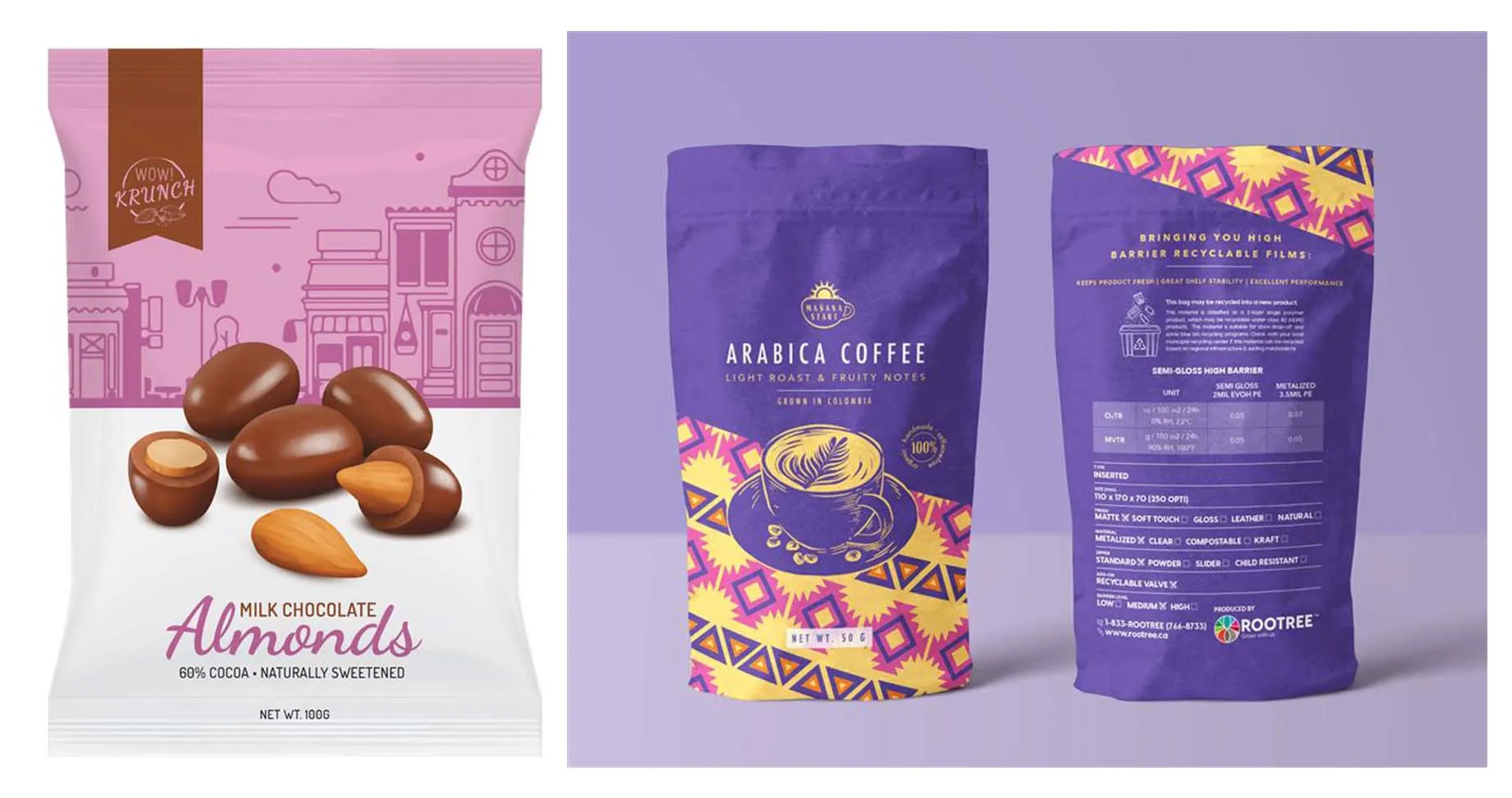 Margaret's promo pouch designs!
"It was fun to come up with my own interpretations of icons that we have. I feel like icons are really standard, so it's nice that Kylie gave me the opportunity to be a little bit creative with those and add my illustrative flare." – Marina
Marina's website icon designs!
But our first month certainly wasn't all work and no play…
The beginning of June brought an interesting and informative tour of the Rootree production facility, followed by a team lunch and celebration of Mel's birthday in the boardroom. This was the first of many cupcakes we had over the summer—the perks of working alongside a professional baker (shoutout Baking by Siana)! Another definite highlight for us interns was regular yoga sessions on Mondays and Thursdays—how many people can say they get to practice yoga at work?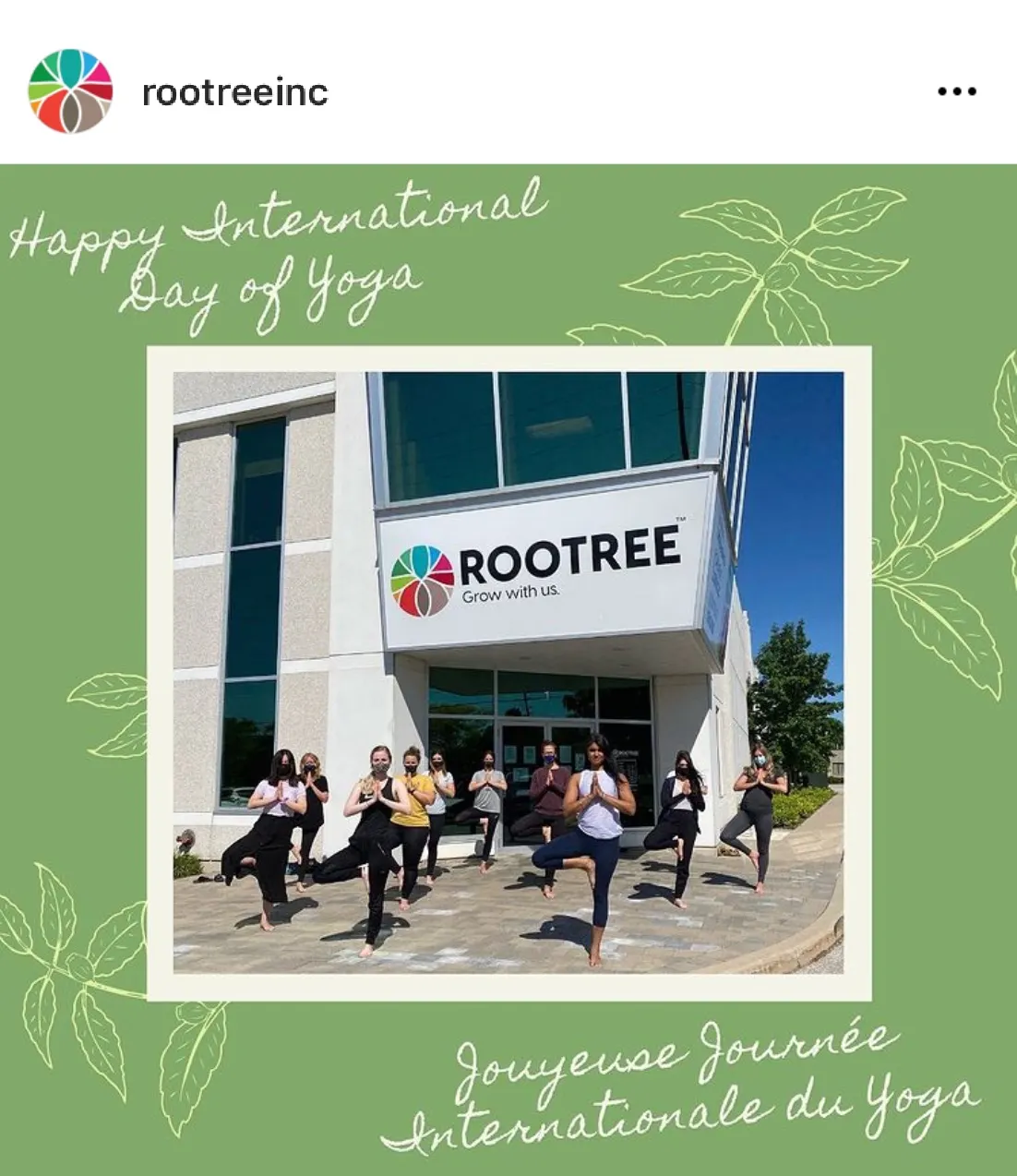 Rootree's Instagram post for the International Day of Yoga, created by me
Throughout our first month, we were welcomed with open arms into the Rootree family. Working in the office was such an amazing opportunity to collaborate and spend quality time with our Creative Services Team. From enjoying music by the Office DJ of the day, to eating lunch outside on the grass, going for team walks (and seeing deer!), and celebrating many summer birthdays; the office was regularly filled with conversation and fun.
"There's a lot of laughter in the Creative Services office! There's always music, which is nice. It's just really positive and friendly." – Marina
Reflecting on our experiences, Marina, Margaret, and I all agreed that Rootree's workplace culture was incredible. Even in our interviews, we got the immediate impression that this would be a great place to work—and the Rootree office and all of its staff did not disappoint!
July brought along more hot weather, exciting new projects, and Rootree initiatives.
For one, Rootree's RESIN program (the Rootree Employee Self-Improvement Network) was introduced. RESIN devotes time to all staff's mental and physical wellness, through half-day Fridays, extended lunches, various Lunch and Learns, and a Movement Challenge.
On Rootree's extended lunches, we took trips to local parks where we participated in outdoor activities and picnics as a company. Staff had the chance to play sports and games like Ladder Ball, KanJam, Frisbee and Salt & Pepper—some of which I tried here for the first time. We celebrated birthdays with cupcakes and drank from fresh coconuts—a day at work or a day at the beach, you tell me…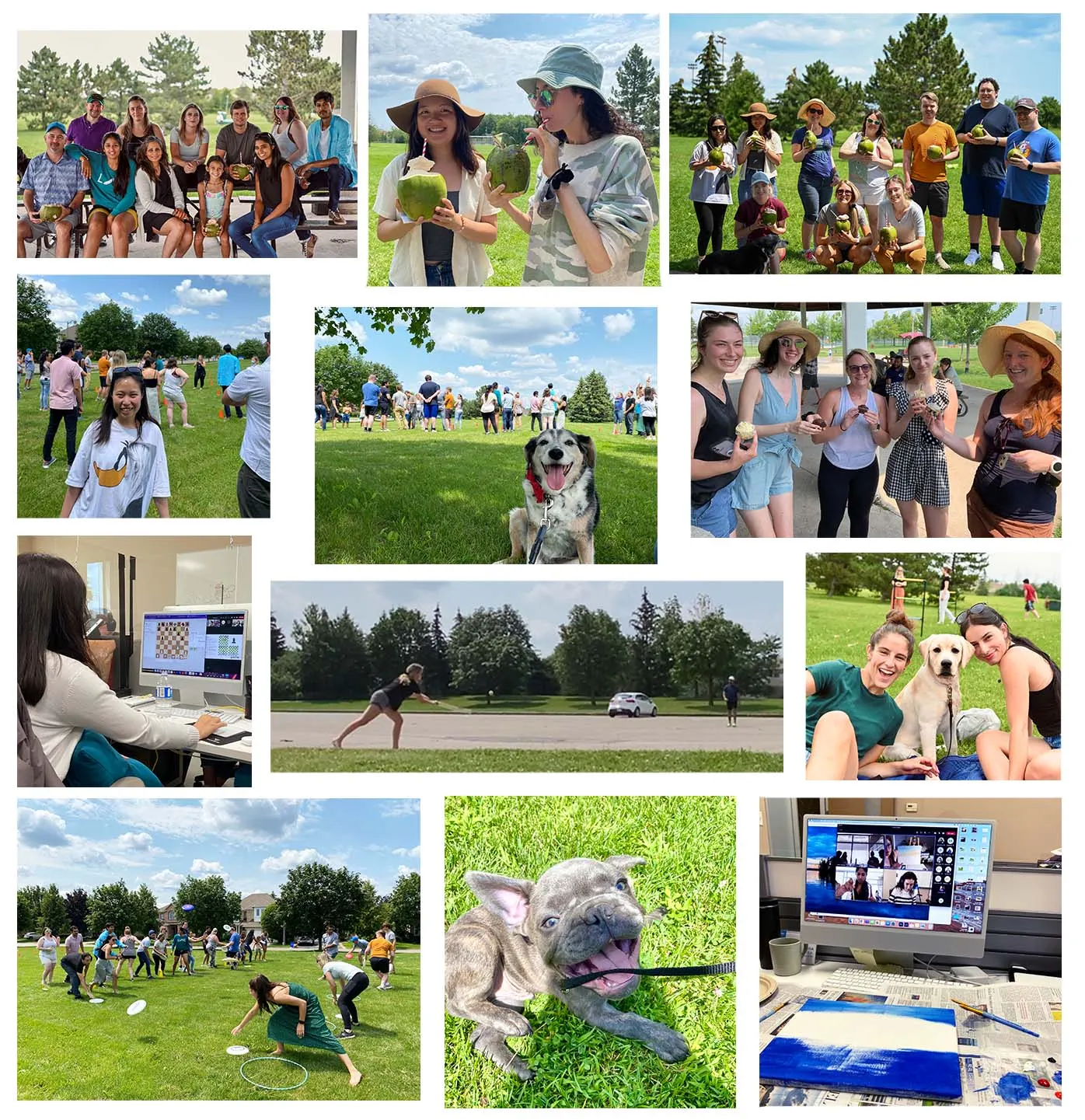 Some fun moments from RESIN extended lunches and Lunch & Learns
Lunch & Learns, hosted by different people each week, taught us new things during the workday. One lunch, we watched a David Attenborough documentary, and for another, our graphic designer, Daniel, taught us how to play chess in a fun tournament.
Meanwhile, outside of work, staff fought to bring home the points for the Movement Challenge. Individuals who wanted to participate were placed onto one of six teams, where they tried to rack up as many steps and active hours as possible, to win a final prize. Team 2 was surely the best team of all (go Holy Fit!). We'll get to the results of the Movement Challenge later…
July also brought many highlights in work assignments. For one, Rootree's Instagram reached 1000 followers—a huge milestone! The Social Squad was absolutely killing it with the Instagram "Sunset" colour theme, pulled from the Rootree logo. Meanwhile, we also created a content calendar for one of our clients, seventree. I loved compiling and editing albums of gorgeous photos from different trips and writing fun captions under a new brand voice.
Another sure highlight of my internship experience was the lifestyle and product photography session for the brand Yes Crickets, one winner of the 2020 RT | Foundation award. The Social Squad took some amazing photos of the four Yes Crickets flavours with various props and staging before the design team polished them up in post-production. Our Creative Services team also got to try the Yes Crickets product—blended up in a mango smoothie! A great first cricket experience, I'd say.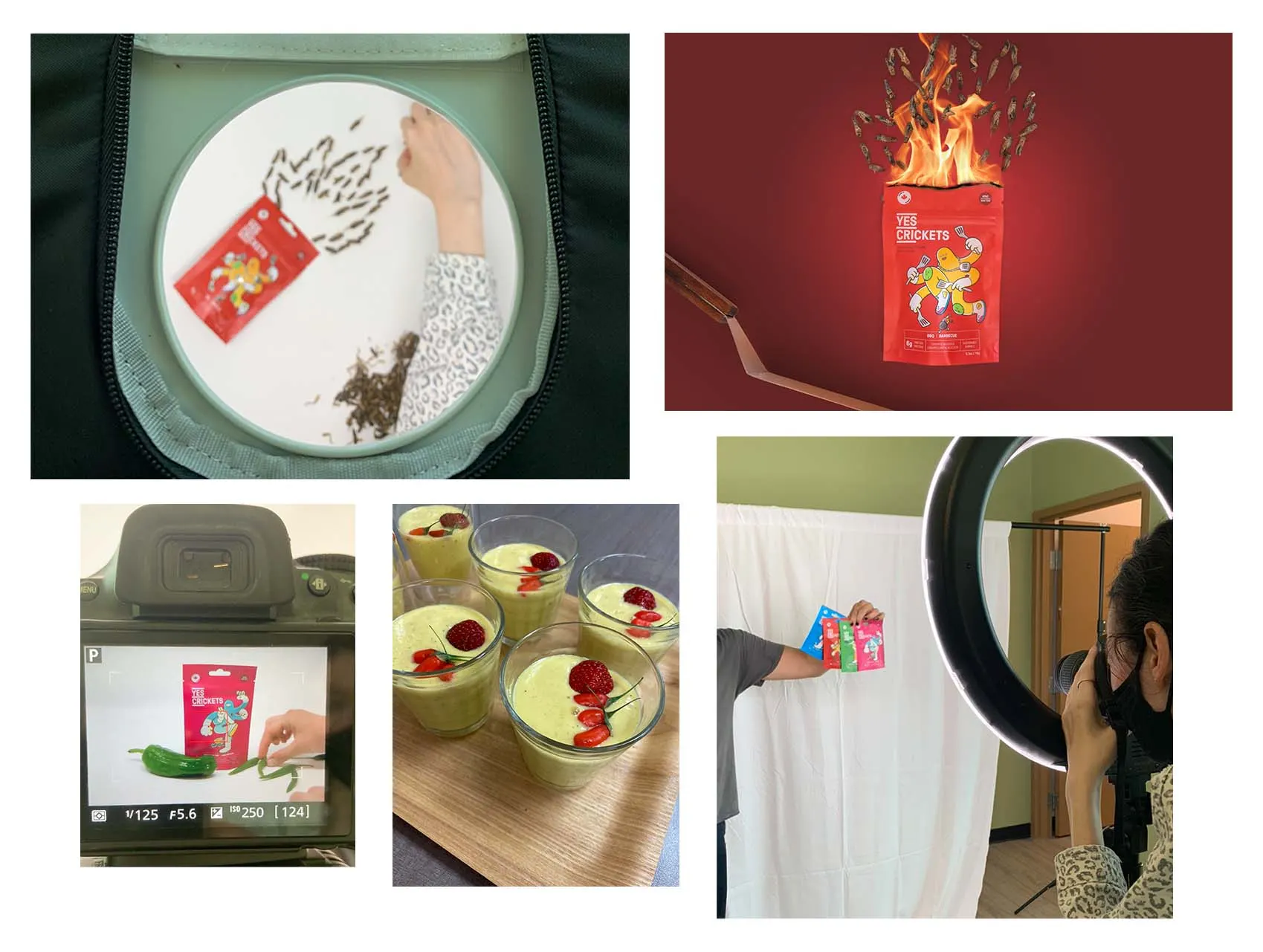 A behind the scenes look at the Yes Crickets photo shoot
Throughout July, I was also responsible for taking new photos of the Rootree stock pouches. I had the chance to use a professional camera and a photography lightbox to capture our many stock packaging options, and then edit them using Adobe Lightroom Classic and Photoshop. I can certainly say that my photography and Adobe program skills are much improved—having taken 750 images in total!
I know I'm not the only one who enhanced their technical skills; Margaret and Marina also found themselves constantly learning more about design. Margaret enjoyed the chance to expand her Photoshop skillset and practice 3D rendering for her portfolio mockups project. Marina also learned how to use clipping masks on Adobe Illustrator for her Quad Seal promo pouch project, and practiced her InDesign skills as she created a sales guide. The two design interns discovered their own ways to execute projects through trial and error, along with some helpful tricks from colleagues.
"Everyone has their own way of designing on Illustrator and Photoshop to produce similar results. […] It was really interesting to see how someone else would approach the same task and maybe use a different type of tool."
– Margaret
The three of us also pulled plenty of learning experience from July's Marketing Meeting with the Creative Services team and the company's directors. During this meeting, each of us created presentation material and introduced projects we'd been working on. The Social Squad pulled quantitative analysis from our social media to review the performance of the past month and create new goals for the rest of the summer. For all three of us interns, this was an opportunity to practice our presentation skills, collaboration, and communication—an invaluable experience!
With such a jam-packed July, we sped into August without hardly realizing it.
August: the final month of our internship that came along way too quickly.
The other interns and I began wrapping up some of our longer, ongoing projects, but also started new ones to be used in the future. Margaret worked on pharma promo pouches and logo concepts for the Rootree material lines, Marina designed welcome pouches and new Rootree boxes, and I continued to write copy and complete new promotional projects.
For one, the Social Squad had a product photography session for Rootree's client, Erica's Authentic Caribbean Foods. I had the chance to try Erica's pholourie and play around with some fun food staging.
Behind the scenes on Erica's pholourie shoot—shot by me, edited by Kelsey, cooked by Siana
Speaking of product photography, the Social Squad also had a memorable trip to the local Nature's Emporium (this store is Disney World for Melanie). On a mission to take photos of our clients' packaging for a blog article, we found many familiar products on the shelves—and even tried some new health foods.
As part of the RESIN program, we had more Half-Day Fridays, Lunch and Learns, and extended lunches. At the local park, we learned to play cricket, were taught some killer frisbee skills by Heather, and enjoyed Siana's cupcakes for Marina and Alpesh's birthdays (see? I told you there would be more cupcakes). During an August Lunch and Learn, Melanie and Kelsey taught us how to paint landscapes with their Bob Ross painting skills. Our final extended lunch took us to Christie Lake Conservation Area, where we played Spike ball and Hammerschlagen, relay raced, tie-dyed, and swam in the river. It was also revealed that Team 1 won the RESIN Movement Challenge!
Rootree's Summerfest 2021
August also brought the rest of our Creative Services team into the office from their remote positions. Our room's desks were finally full, and we interns got to spend time with and learn from our other coworkers—if only for a couple of weeks. Margaret, Marina, and I all agreed that collaborating with our team was a key experience—we always felt we had the opportunity to participate, and have our ideas genuinely heard out.
"Interns can feel comfortable conversing with different levels. It's a very comfortable environment; everyone is very open and friendly." – Margaret
We interns were recognized not only in collaborative sessions but as an integral role in all of our assignments. What I really appreciated about working as an intern at Rootree was creating projects that had value. Instead of being assigned to fetch coffee, the other interns and I were given real projects that challenged us. Each task, no matter how small or sometimes tedious, had real significance to the company. Promo pouches would be used for marketing material, stock pouch photos would go up on the website for customers, and blog articles and designs would be published for all to see. To see your work hold value and produce real effects is an unparalleled opportunity—especially as an intern.
Looking back, this was an integral learning opportunity for me, Margaret, and Marina. All three of us had the chance to cultivate our skills and gain practical experience we will utilize for the rest of our education and future careers. We learned essential skills like time management, delegating tasks, and new technical skills and tricks that will surely help us in our coursework. Margaret says she now has a better idea of what sector of design she'd like to work in, and what she likes and doesn't like (illustration and package design are both likes!). Marina looks forward to sharing her newfound knowledge and tips with the first-year students she'll be tutoring and the graphic design club. We all agree that we'd like to keep absorbing knowledge and challenging ourselves to create and problem-solve; the outcomes we've seen over the summer are so worth it.
The Creative Services team out for a dinner at Burlington's Beertown
To future interns: boy, do you have a big summer in store! You have the unparalleled opportunity to learn from incredibly talented professionals in action. Not only are they skilled, but also the kindest people you'll meet—this goes for each person on the Rootree family tree, without exception. Enter with a mindset that is ready to learn, grow with feedback, collaborate, and try new things. At the same time, relax; you're here for a reason. Enjoy the ride!
-Mia, Social Media Intern
Aperçu des stages de l'année 2021 avec l'équipe créative de Rootree
Découvrez nos stagiaires pour l'été 2021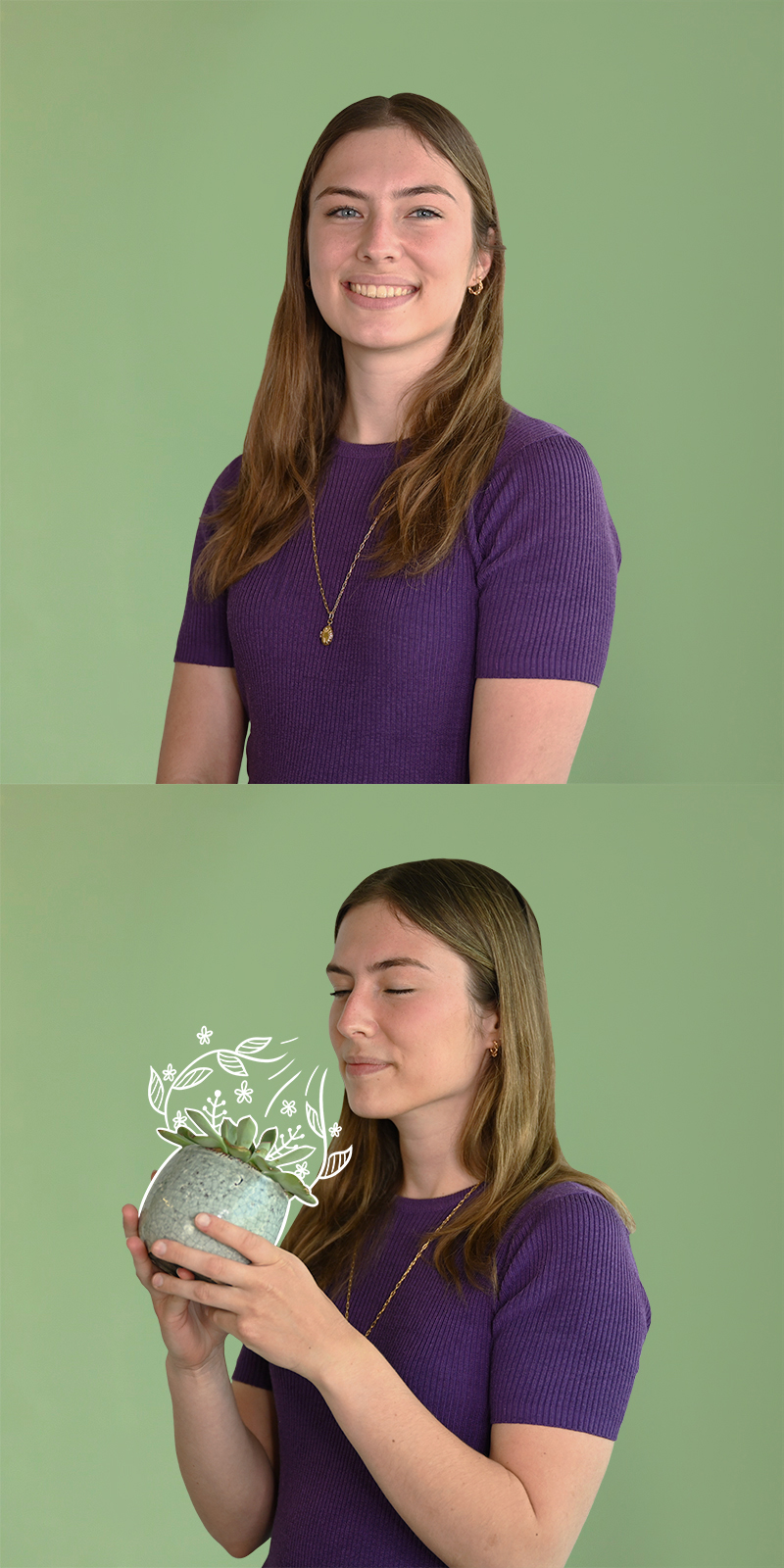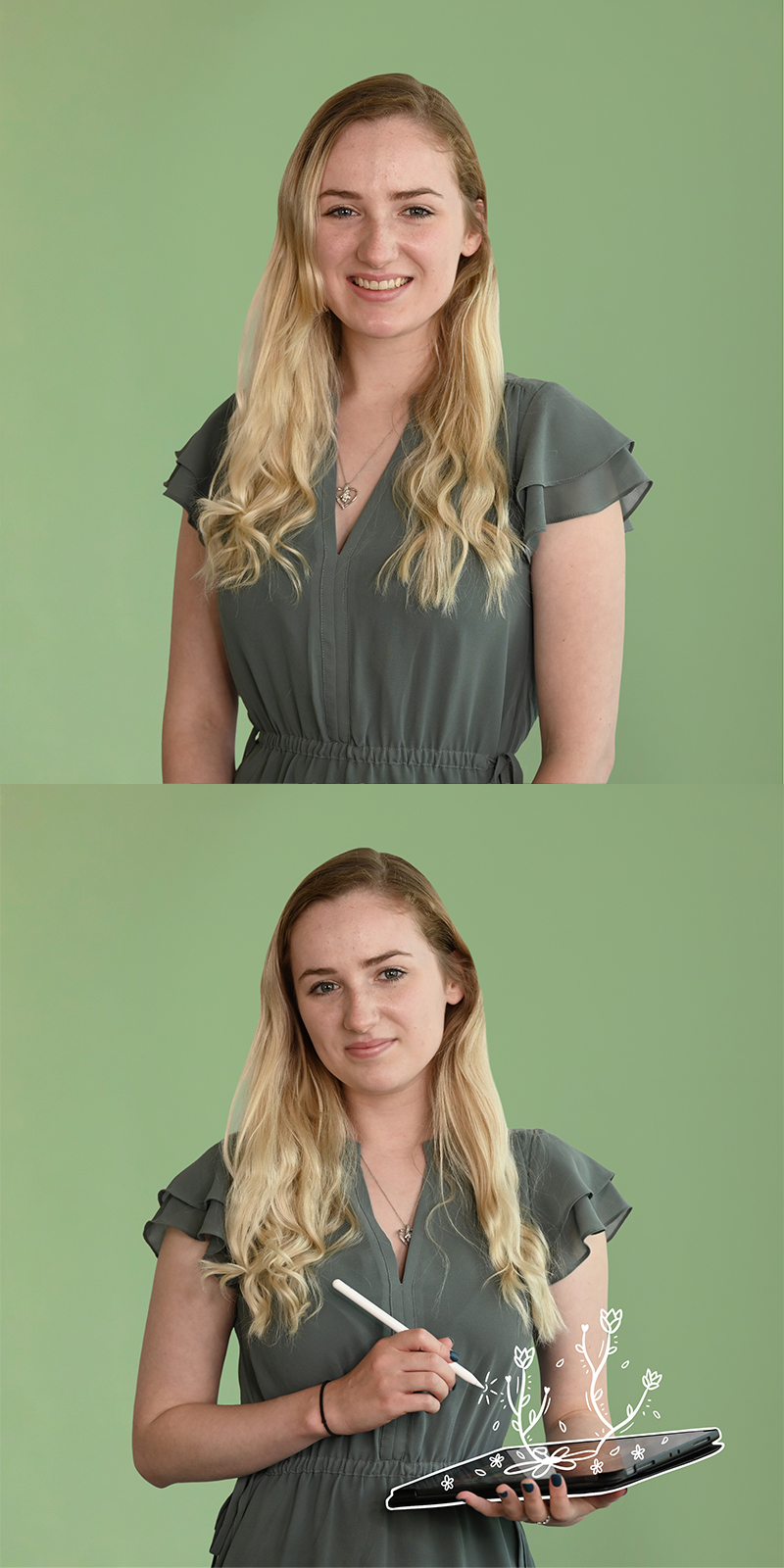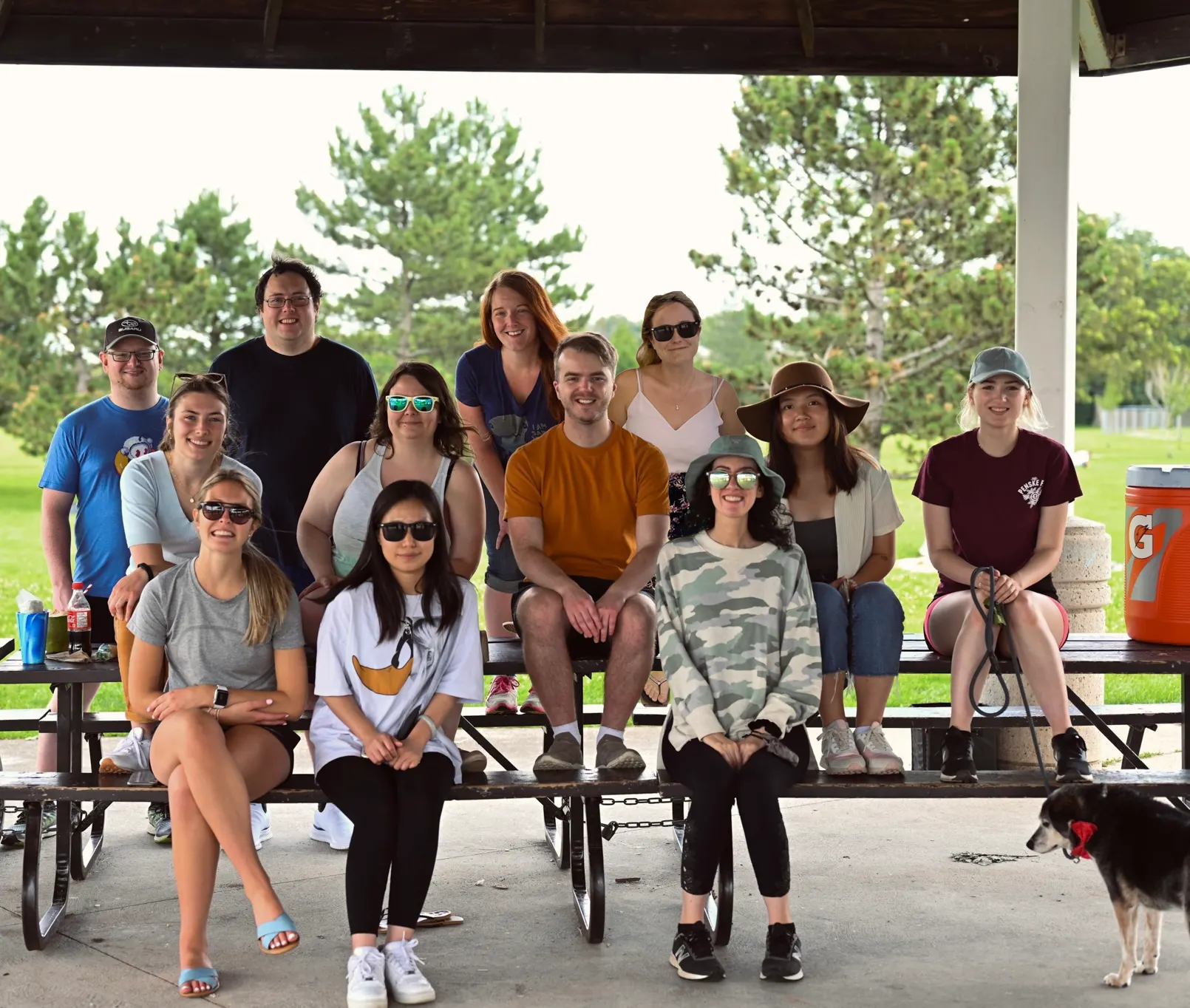 Le programme de stages de l'année 2011 avec l'équipe créative de Rootree s'est terminé le 31 août, et wow, quel été! Entre les projets marketing et créatifs, le yoga, les cupcakes, le cricket (le sport et l'insecte) et notre défi d'activité physique… ce fut un programme de stages mouvementé.
Suivez-moi (Mia : stagiaire en gestion de médias sociaux), Margaret : stagiaire en design, et Marina : stagiaire en design, pour revivre notre stage et tous les apprentissages et bons moments que nous avons vécus ces trois derniers mois.
Un lundi matin ensoleillé à la fin du mois de mai, Margaret, Marina et moi sommes arrivées aux bureaux Rootree à Burlington pour commencer notre stage. Nous avions hâte de rencontrer les aimables personnes avec qui nous avions échangé lors de nos entrevues, d'apprendre plein de nouvelles compétences et de nous immerger dans le super environnement de travail dont on avait tant entendu parler. Nous avons été accueillies par Kylie, l'intrépide directrice de la création et directrice du marketing de Rootree. Nous sommes immédiatement entrées dans le feu de l'action : nous avons visité les locaux, rencontré de nombreuses personnes, fait des activités brise-glace et même du yoga, avant de débuter notre formation.
Cette semaine-là, nous avons appris beaucoup de choses sur les meilleures pratiques en matière de marketing et de design, sur les emballages et la durabilité, et sur la marque Rootree. Nous étions enfin prêtes à nous consacrer à nos projets de stage.
En tant que stagiaire en gestion des médias sociaux, j'ai appris à connaître les nombreux clients de Rootree, à feuilleter les dossiers de leurs emballages et à échanger avec eux sur les médias sociaux. Ce fut un rôle très agréable car je pouvais échanger avec beaucoup de merveilleuses marques au nom de Rootree.
J'ai aussi commencé à faire de la rédaction publicitaire pour nos médias sociaux et notre blogue avec l'équipe chargée des médias sociaux : moi, Mel (adjointe à la gestion des réseaux sociaux et du marketing de contenu) et Jordan (assistant spécialiste des médias sociaux). J'étais surtout chargée de partager les publications des emballages de nos clients, et j'ai vraiment profité de la liberté de création qui m'était accordée pour rédiger des légendes de photos avec le ton de la marque Rootree. La rédaction de textes attrayants et éducatifs a été l'une de mes tâches favorites de mon stage (et je me suis vraiment améliorée en jeux de mots). C'était si gratifiant de suivre la réussite de ces deux projets. La marque a exponentiellement gagné en notoriété, en engagement des consommateurs et en impression, et a séduit de nombreux abonnés sur les médias sociaux. Lorsque je rédigeais des articles, j'obtenais un retour de mes superviseur·e·s, qui sont d'excellents rédacteurs·rices et créateurs·rices. C'était très formateur pour moi de recevoir un retour sur mon travail, et cela m'a permis de devenir une rédactrice plus consciencieuse, captivante et réfléchie.
Margaret et Marina, stagiaires en design, ont commencé à travailler sur des projets internes. Ce qu'elles ont préféré, c'était de créer des pochettes de présentation et des icônes pour un site Web. Comme moi, elles ont apprécié la liberté créative qui leur a été accordée pour réaliser leurs tâches. Cela leur a permis de développer leurs compétences en matière de résolution de problèmes et d'acquérir leurs propres techniques de création de designs; toujours avec l'aide des autres designers de Rootree, au besoin.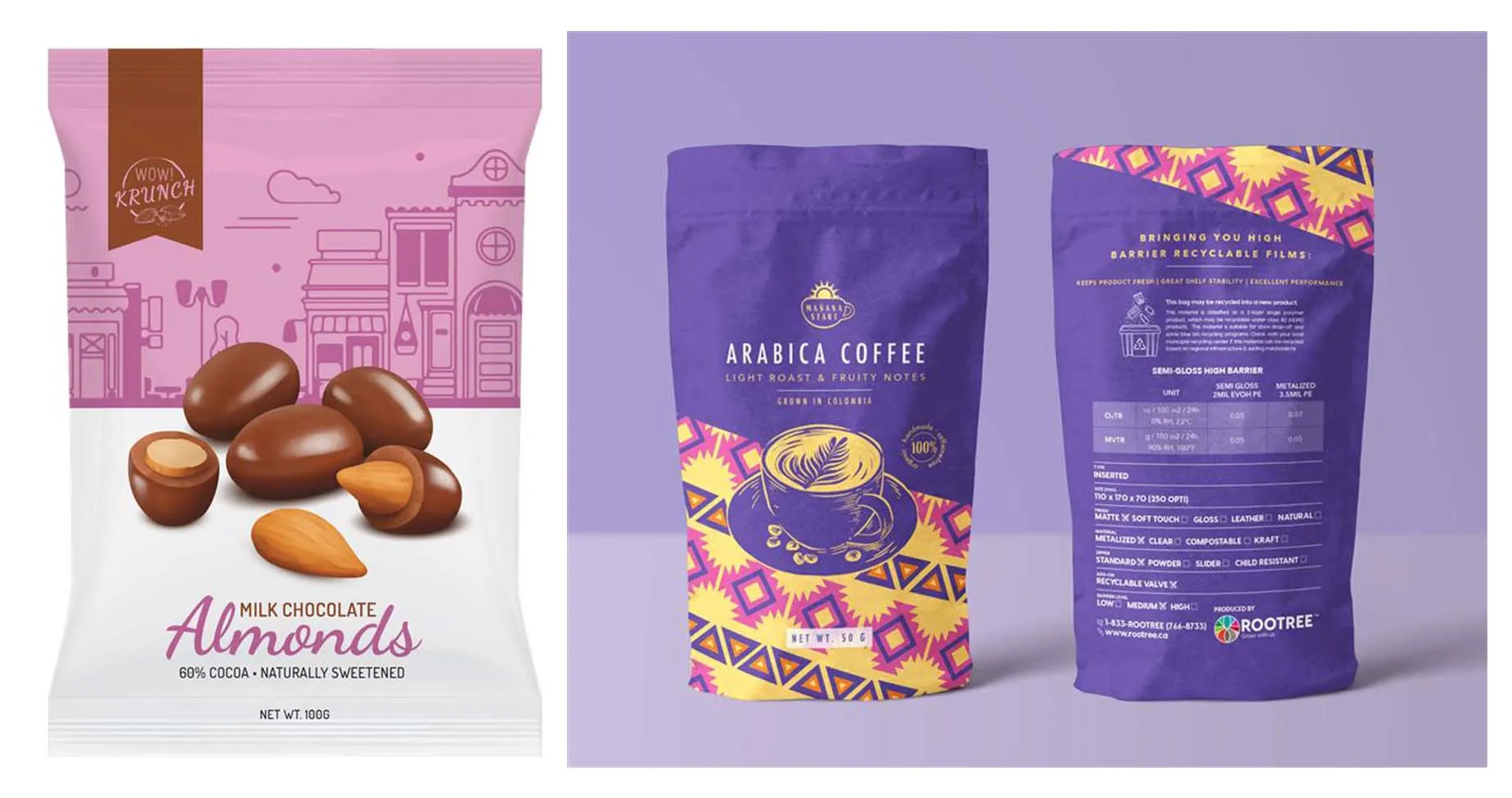 « C'était amusant de créer des icônes à partir de mes propres interprétations. Je trouve que les icônes sont souvent très banals, donc j'ai apprécié que Kylie me donne la chance de faire preuve d'un peu plus de créativité et d'exploiter mes compétences en illustration. » – Marina
Mais ce premier mois ne s'est pas simplement résumé au travail…
Au début du mois de juin, nous avons eu une visite guidée très intéressante et instructive du site de production de Rootree, suivi d'un dîner d'équipe et d'une petite célébration pour la fête de Mel dans la salle de conférence. Ce fut la première de nombreuses dégustations de cupcakes de cet été; nous avons la chance de travailler avec une pâtissière professionnelle (merci à Baking by Siana)! Nous avons aussi eu la chance de participer à des séances de yoga tous les lundis et les jeudis. Tout le monde n'a pas la chance de faire du yoga au travail!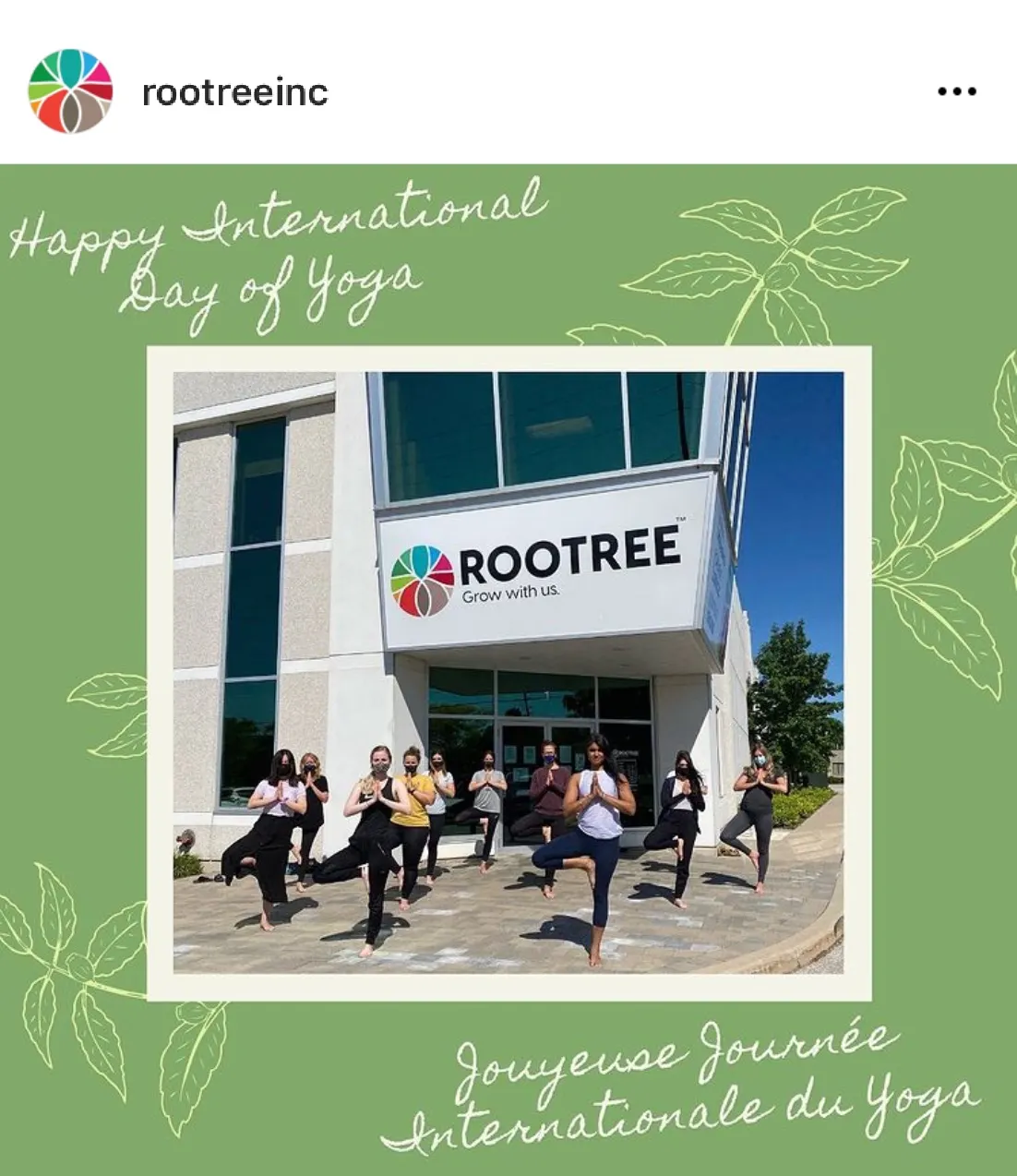 Dès notre premier mois, nous avons été accueillies dans la famille Rootree à bras ouverts. Travailler au bureau nous a donné l'incroyable chance de collaborer et de passer du temps de qualité avec notre équipe créative. Entre la musique du DJ du jour, les dîners sur l'herbe, les promenades d'équipe (et voir les chevreuils!), et les nombreuses fêtes estivales, nous avons pu avoir de belles conversations et passer des moments amusants.
« On rigole beaucoup dans les bureaux de l'équipe créative! Il y a toujours de la musique, c'est agréable. Il y a une ambiance très positive et chaleureuse. » – Marina
En repensant à notre expérience, Marina, Margaret et moi avons toutes trouvé la culture d'entreprise de Rootree exceptionnelle. Même lors de nos entrevues, nous avons tout de suite su que ce serait un très bon endroit où travailler.
En juillet, la vague de chaleur ne nous a pas empêchés de lancer de nouveaux projets et d'entreprendre des initiatives Rootree passionnantes.
Tout d'abord, le programme RESIN de Rootree (Rootree Employee Self-Improvement Network) fut présenté. Ce programme vise à assurer le bien-être mental et physique du personnel avec la mise en place de diverses mesures telles que la réduction des heures de travail le vendredi, des pauses dîner prolongées, des dîners-conférence et un défi d'activité physique.
Nos pauses dîner prolongées étaient l'occasion de nous rendre dans des parcs locaux pour organiser des activités de plein air et des pique-niques d'équipe. L'équipe a eu la chance de faire des activités sportives et des jeux comme le Ladder Ball, le KanJam, le Frisbee et le jeu du sel et du poivre. Je n'avais encore jamais joué à certains de ces jeux! Nous avons célébré des fêtes en mangeant des cupcakes et en buvant dans des noix de coco fraîches, on se serait crus à la plage…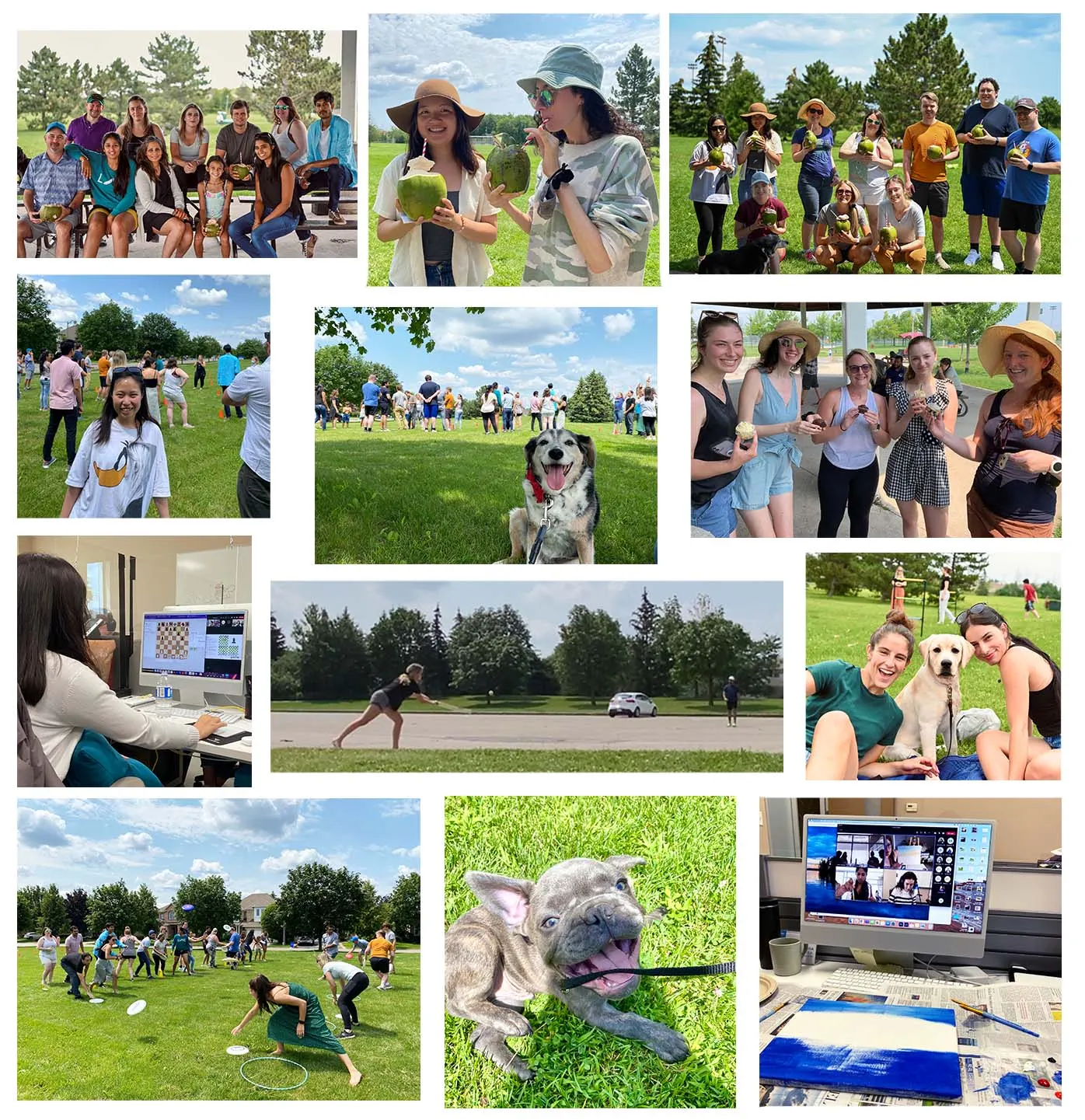 Les dîners-conférence étaient présentés par une personne différente chaque semaine et nous ont permis d'apprendre des choses pendant notre pause. Par exemple, nous avons regardé un documentaire de David Attenborough, et une autre fois, notre graphiste Daniel a organisé un tournoi pour nous apprendre à jouer aux échecs.
Puis lorsque nous n'étions pas au travail, nous travaillions pour gagner un maximum de points pour le défi d'activité physique. Les personnes qui souhaitaient participer furent placées dans six équipes différentes, et devaient cumuler le plus de pas et d'heures d'activité possible, afin de gagner un prix. L'équipe numéro 2 a gagné haut la main (merci Holy Fit!). Nous reviendrons aux résultats du défi plus tard….
En juillet, nous avons aussi travaillé sur de beaux projets. Tout d'abord, le compte Instagram de Rootree a atteint les 1 000 abonnés; une grande étape! L'équipe des réseaux sociaux a fait un super travail en appliquant les couleurs « coucher de soleil » d'Instagram au logo Rootree. Nous avons également créé un calendrier de contenu pour notre client Seventree. J'ai adoré créer et modifier des albums de magnifiques photos de voyage et écrire des légendes amusantes en employant un nouveau ton de marque.
Autre point fort de mon stage, la séance de photographie de portraits et de produits pour la marque Yes Crickets, l'une des marques gagnantes du concours 2020 de la Fondation RT. À l'aide d'accessoires, l'équipe des réseaux sociaux a mis en scène les quatre saveurs de produits Yes Criquets et pris de magnifiques photos que l'équipe de design a ensuite modifiées en postproduction. Notre équipe créative a même pu goûter aux produits Yes Criquets dans un smoothie à la mangue! Ce fut une première expérience réussie.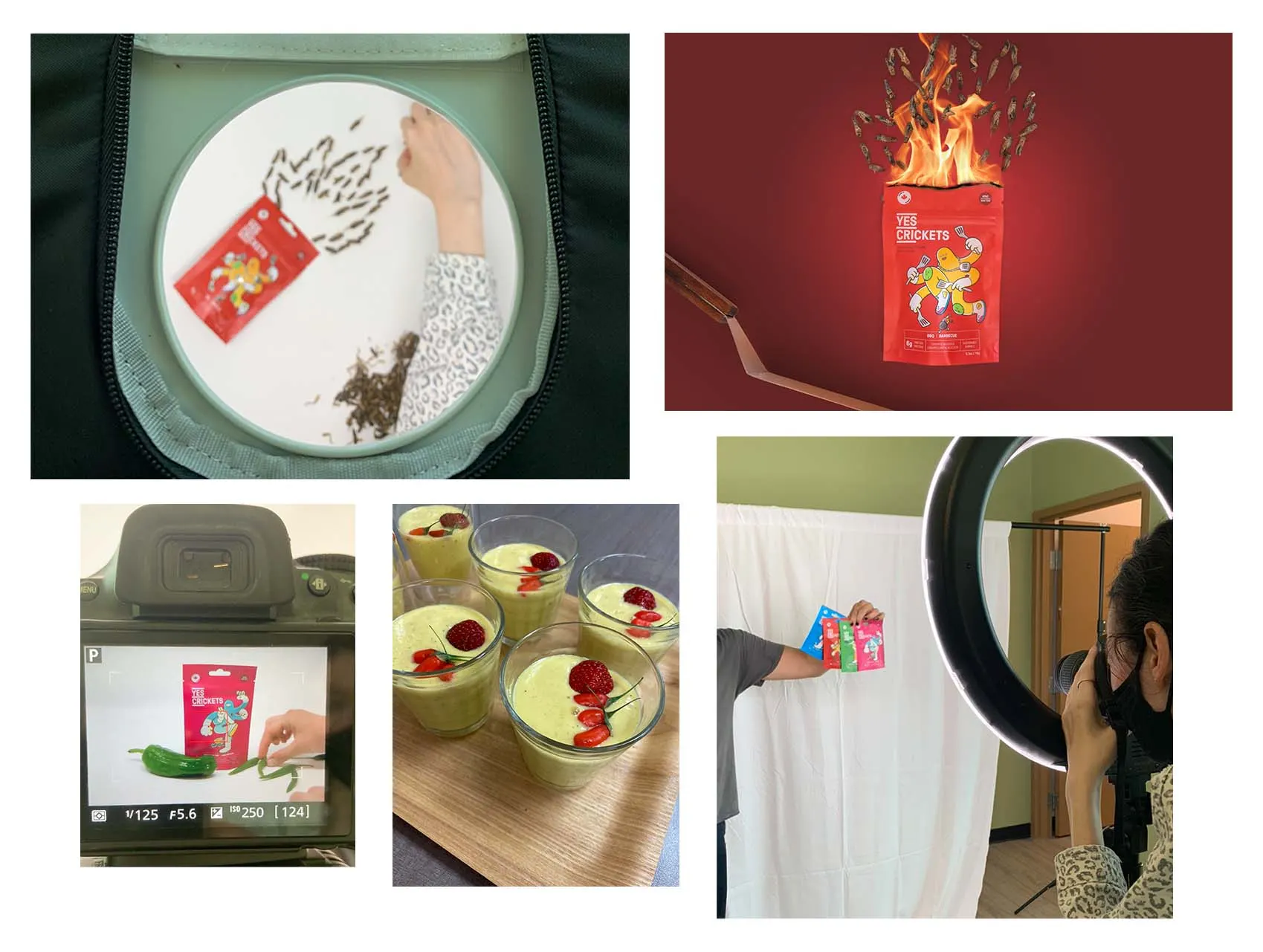 Au mois de juillet, on m'a demandé de photographier les nouvelles pochettes Rootree. J'ai eu la chance d'utiliser un appareil photo professionnel et une table de mirage pour photographier nos nombreuses options d'emballages, et de les modifier avec Adobe Lightroom Classic et Photoshop. Je dois dire que cela m'a permis d'améliorer mes compétences en photographie et ma connaissance d'Adobe, car j'ai pris 750 photos en tout!
Et je ne suis pas la seule à avoir progressé en matière de compétences techniques. Margaret et Marina ont aussi appris beaucoup de choses sur le design. Margaret a eu la chance de développer sa connaissance de Photoshop et de créer des versions 3D des projets des maquettes de son portfolio. Marina a aussi appris à utiliser des masques d'écrêtage sur Adobe Illustrator pour son projet de pochettes de présentation à valve de dégazage quad-seal. Elle s'est aussi entrainée à utiliser InDesign et a créé un guide de vente. Les deux stagiaires en design ont appris à mener leurs projets de leur propre manière par essais et erreurs, mais aussi grâce aux conseils précieux de leurs collègues.
« Tout le monde a sa propre façon d'utiliser Illustrator et Photoshop pour produire des résultats similaires. […] C'était vraiment intéressant de voir comment les autres abordent la même tâche, parfois en utilisant un autre type d'outil. » – Margaret
Nous avons toutes les trois appris beaucoup de choses lors de la réunion marketing du mois de juillet à laquelle ont participé l'équipe créative et les directeurs·rices de l'entreprise. À cette occasion, nous avons toutes et tous préparé une présentation pour parler des projets sur lesquels nous travaillions. L'équipe des médias sociaux a présenté une analyse quantitative de nos médias sociaux afin d'évaluer notre performance du mois précédent et de définir de nouveaux objectifs pour le reste de la saison estivale. Pour nous, les stagiaires, ce fut l'opportunité de nous entraîner à faire des présentations, à collaborer et à communiquer. Ça n'a pas de prix!
Notre mois de juillet était si mouvementé que nous sommes vite arrivés en août.
Août : le dernier mois de notre stage est arrivé bien trop vite.
Nous, les stagiaires, avons commencé à finaliser nos projets les plus longs, mais aussi à préparer nos projets futurs. Margaret a travaillé sur les pochettes de présentation pour produits pharmaceutiques et la conceptualisation de logos pour les gammes de matériaux Rootree. Marina a conçu des pochettes de bienvenue et de nouvelles boîtes Rootree, tandis que j'ai travaillé sur la rédaction de textes et sur de nouveaux projets promotionnels.
L'équipe des médias sociaux a organisé une séance photo avec Erica's Authentic Caribbean Foods, l'un des clients de Rootree. J'ai eu la chance de goûter au pholourie d'Erica et de faire de la mise en scène culinaire.
D'ailleurs, en parlant de photographie de produits, l'équipe des médias sociaux a fait une sortie mémorable au magasin Nature's Emporium (pour Melanie, ce magasin, c'est encore mieux que Disney World). Notre mission était de prendre des photos des emballages de nos clients pour un article de blogue. On a trouvé de nombreux produits qui nous étaient familiers, et on a même essayé de nouveaux aliments santé.
Dans le cadre du programme RESIN, nous avons continué à travailler moins tard les vendredis, à organiser des dîners-conférence et à prendre des pauses dîner prolongées. Au parc local, nous avons appris à jouer au cricket, Heather nous a montré des techniques de frisbee, et nous avons dégusté les cupcakes de Siana pour célébrer les fêtes de Marina et d'Alpesh (je vous avais dit qu'on parlerait encore de cupcakes). Lors d'un de nos dîners-conférence, Melanie et Kelsey nous ont appris à peindre des paysages en suivant les techniques du célèbre Bob Ross. Pour notre dernière pause dîner prolongée, nous sommes allés au Christie Lake Conservation Area, ou nous avons joué au Spikeball et au Hammerschlagen, fait une course de relais, du tie-dye et nagé dans la rivière.
Ce mois-là, le reste de l'équipe créative est revenu au bureau après avoir été en télétravail. Le bureau s'est enfin rempli et nous, les stagiaires, avons pu rencontrer nos autres collègues et apprendre avec eux, même si cela n'a duré que quelques semaines. Margaret, Marina et moi avons trouvé que cette collaboration avec l'équipe était l'une des expériences clés de notre stage. Nous sentions que nous avions toujours l'opportunité de participer et de partager nos idées.
« Les stagiaires se sentent à l'aise d'échanger avec les employés de différents niveaux. C'est un environnement très accueillant, tout le monde est ouvert et aimable. » – Margaret
En tant que stagiaires, notre contribution était reconnue lors des séances de travail collaboratif, mais aussi comme un acteur à part entière pour tous nos projets. Ce que j'ai vraiment aimé en tant que stagiaire chez Rootree, c'était de travailler sur des projets qui ont de la valeur. Plutôt que d'être chargées de servir du café, nous avons travaillé sur des projets avec de vrais enjeux. Chaque tâche, aussi petite ou pénible qu'elle soit, avait son importance pour l'entreprise. Les pochettes de présentation allaient servir de matériel de commercialisation, les photos allaient être postées sur le site Web pour les clients, et les articles de blogue et les designs seraient publiés et accessibles à tous. C'est une opportunité unique que de voir que notre travail a de la valeur et génère un vrai résultat, surtout en tant que stagiaire.
Rétrospectivement, ce fut une expérience d'apprentissage très complète pour moi, Margaret et Marina. Nous avons toutes les trois eu la chance de développer nos compétences et d'acquérir une expérience pratique qui nous servira pour le reste de nos études et notre future carrière. Nous avons acquis des compétences essentielles comme la gestion du temps, la délégation de tâches et de nouvelles compétences techniques qui nous serviront certainement pour nos études. Margaret a désormais une meilleure idée du secteur dans lequel elle aimerait travailler mais aussi de ses préférences (l'illustration et le design d'emballages sont des choses qu'elle aime!). Marina a hâte de pouvoir partager ses nouvelles connaissances et ses conseils avec les étudiants de première année qu'elle va encadrer, ainsi qu'avec son club de design graphique. Nous aimerions toutes continuer d'enrichir nos connaissances et de relever des défis en matière de création et de résolution de problèmes, car les résultats que nous avons obtenus cet été en valent vraiment le coup.
Futur·e·s stagiaires : préparez-vous à vivre un été mouvementé! Vous avez l'unique opportunité d'apprendre directement de professionnels incroyablement talentueux. Tous les membres de la famille Rootree sont parmi les personnes les plus douées et gentilles que vous pourrez rencontrer. Venez avec une soif d'apprendre, de grandir grâce aux conseils des autres, de collaborer, et d'essayer de nouvelles choses. Mais n'oubliez pas de vous détendre, car vous n'êtes pas ici par hasard. Profitez de votre expérience!
-Mia, stagiaire en gestion de médias sociaux