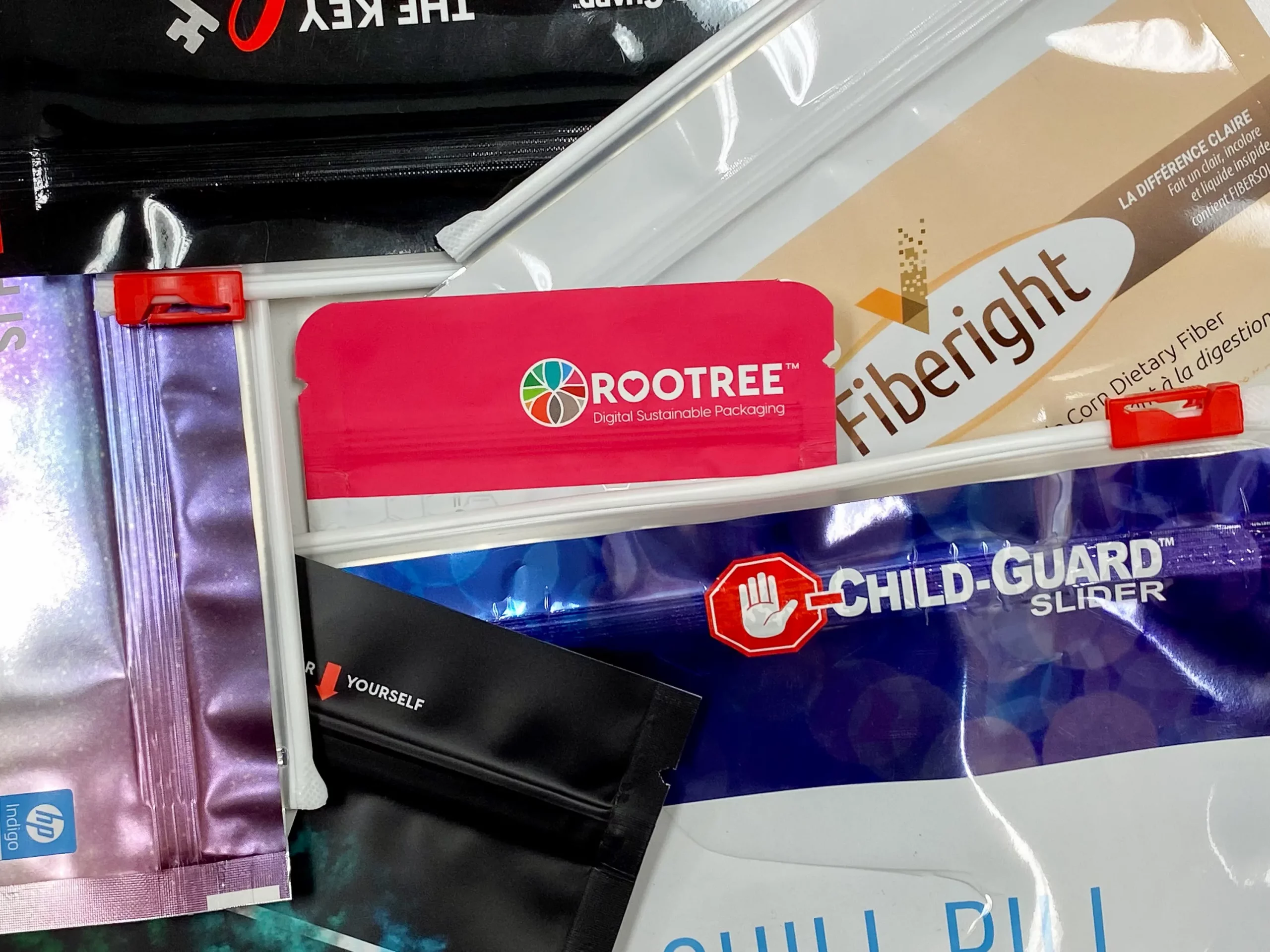 Discover the potential of the zipper!
Your pouch's zipper: it seems like a small piece of the end-product, but it really makes all the difference in function and overall value. Ever thought of elevating your customized flexible packaging with a zipper that will keep your product fresh and looking snazzy, while keeping those tiny fingers out?
You've seen our standard zippers, but perhaps your product calls for another variety. At Rootree, we pride ourselves on offering flexible packaging with an abundance of pouch and zipper options for various sizes and applications. We fulfill the packaging needs of a diverse set of industries with the commitment to find the perfect packaging for your unique product. Different products require varying levels of security, safety, and ease-of-use from their packaging—this is why our zipper options are wide-ranging. Join us in unzipping our top five choices for your flexible packaging: the velcro zipper, powder zipper, Child Guard™, child-resistant, and ergo slider.
It's simple, it's speedy… it's the velcro zipper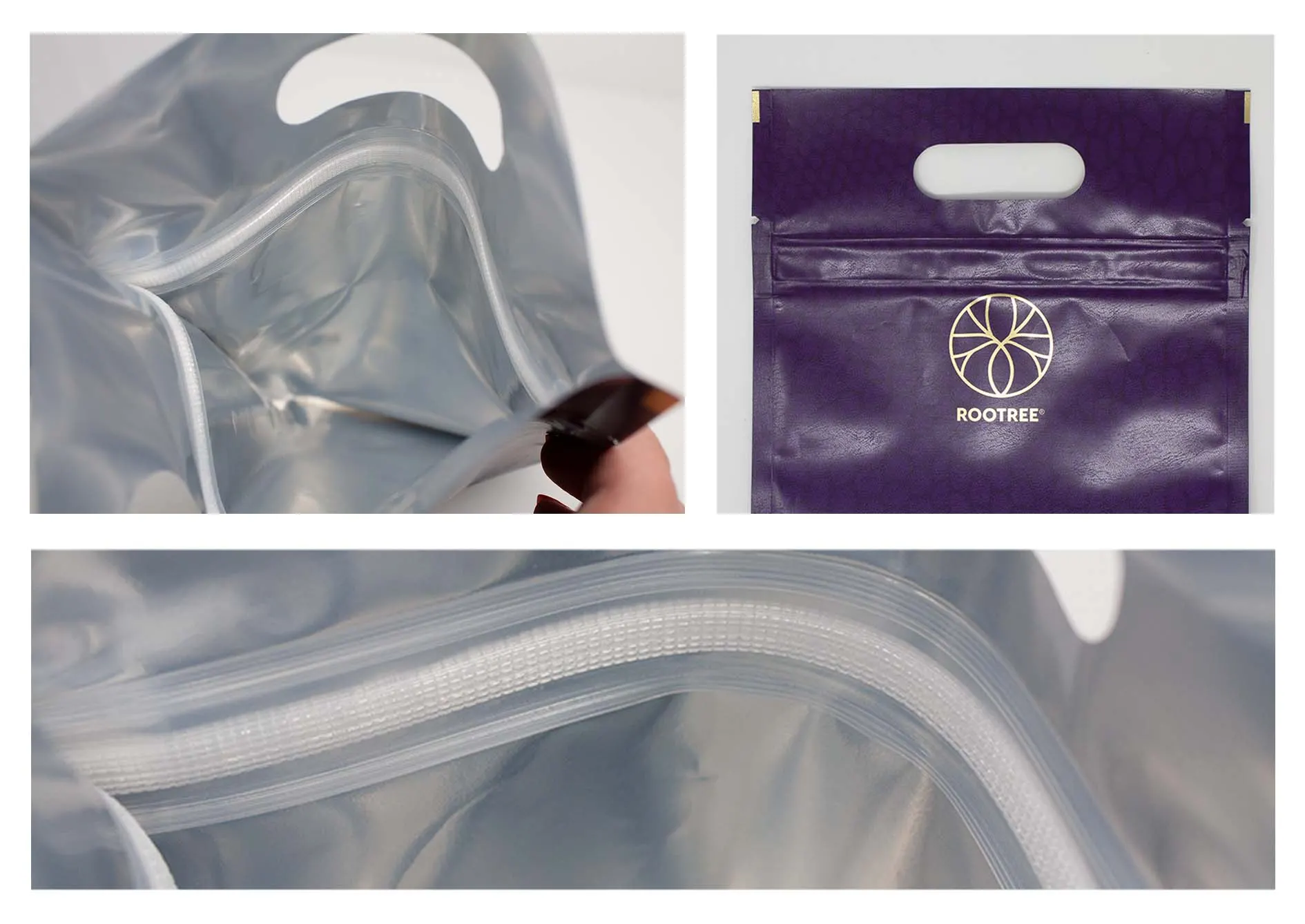 This zipper is a prime choice to create convenience and prevent spillage! Like its name, the velcro zipper consists of two pieces of plastic velcro that easily attach together with only a slight squeeze. Unlike a conventional zipper, the velcro does not need to line up exactly, so your customer doesn't have to be so precise when closing this pouch. The result? An effortless zipper experience.
The velcro zipper is ideal for larger pouches. Ever tried to close a foot-long press-and-close zipper? It's not exactly a walk in the park. Try this zipper on hefty bags of rice, pet food, and more. Of course, small pouches can use a velcro zipper too! Our sales representatives would love to offer your more information on how you can incorporate a velcro zipper into your packaging.
It's slick, it's sure… it's the powder zipper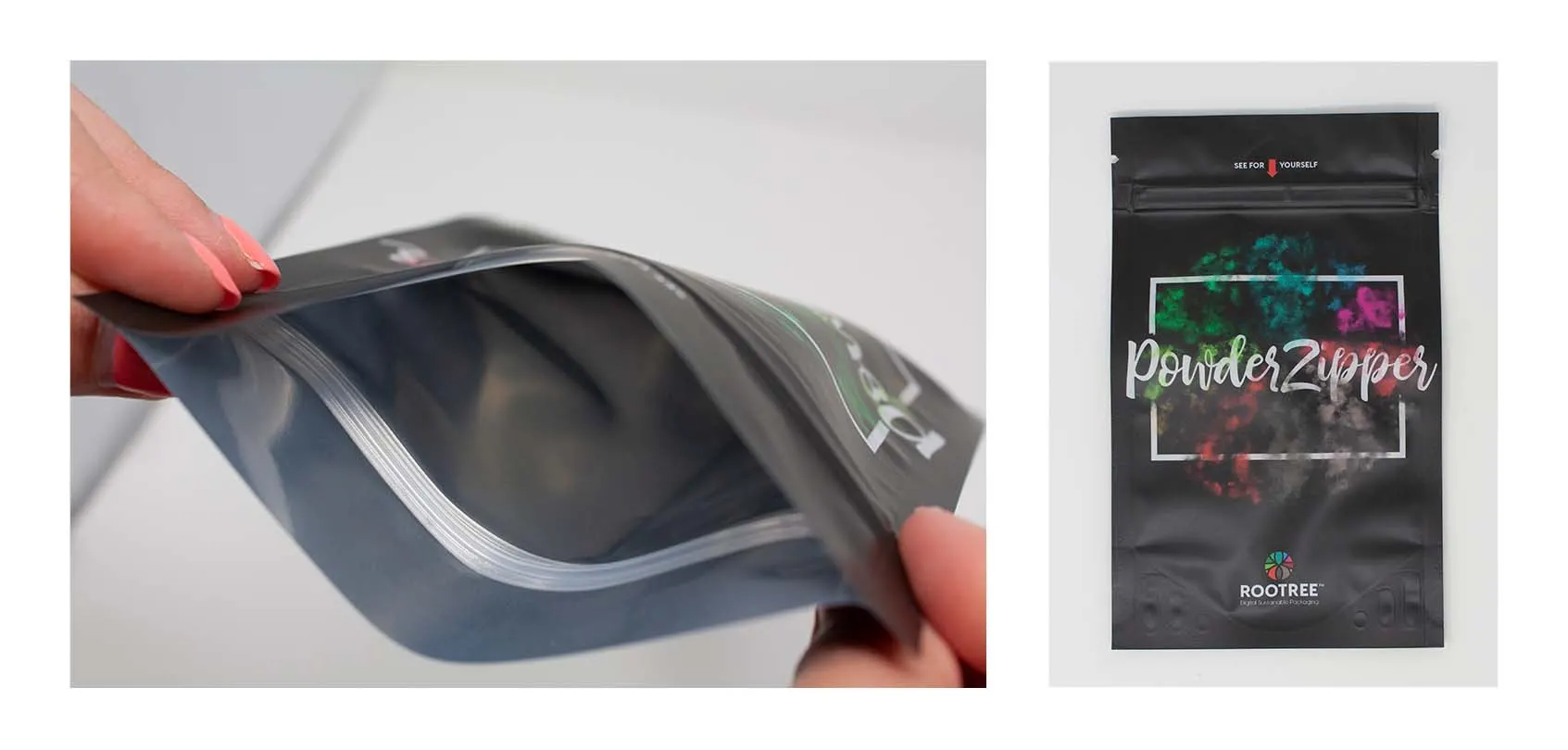 The powder zipper is an innovative solution to the most aggravating of zipper issues. This zipper keeps the pouch's top seal neat and tidy—closing it as you would a regular zipper, the powdered product is pushed out of the zipper track into the bag. The result is a secure, spill-resistant pouch.
There's nothing worse than a clogged zipper that loses its functionality, which happens all too often with powder products. A zipper is a key component in keeping a product fresh and fastened, so it's important to ensure that it has optimal performance.
Apply a powder zipper for fine or particulate products, such as soil, protein powder, or spices. Let your pouch's zipper heighten the customer experience, not tear it down!
It's secure, it's sturdy…it's the Child Guard™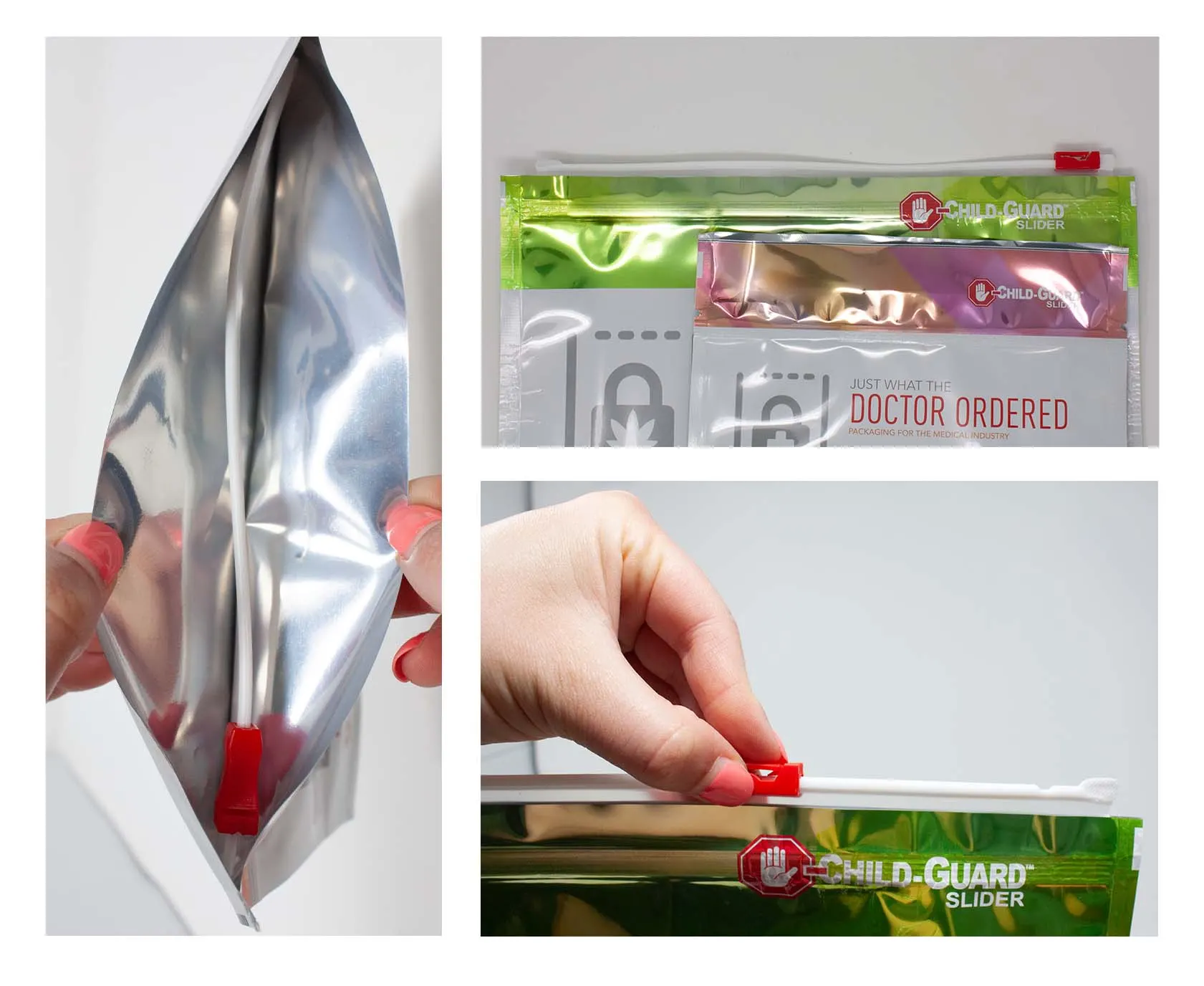 Got a product that needs to be kept away from little fingers? For products like cleaning solutions, pharma, laundry detergent, lawn and garden goods, and those from other new and emerging industries—a Child Guard™ zipper is the perfect addition to keep your little ones safe.
The Child Guard™ zipper pouch is certified in several different sizes, ideal for practically any use you can imagine. These pouches consist of a puncture-resistant material structure along with the Child Guard™ zipper, third-party tested and certified as child-proof. Don't fret if this exact pouch isn't what you're looking for; Child Guard™ zippers are also available on other styles and materials of our Rootree packaging.
Overall, a Child Guard™ zipper is a certified and reliable way to prevent unwanted access to its contents. Just sliding this tab as you would a conventional zipper won't do the trick! Pressing down on the zipper tab and gliding it through the track is the secret to opening this pouch. These zippers provide a high-quality look and feel to your pouch, without interfering with your gorgeous artwork. Customers certainly appreciate a premium feature that will elevate the product's value, security, and functionality! Speak with a sales representative to learn more about the possibilities of the Child Guard™.
It's safe, it's sneaky…it's the child-resistant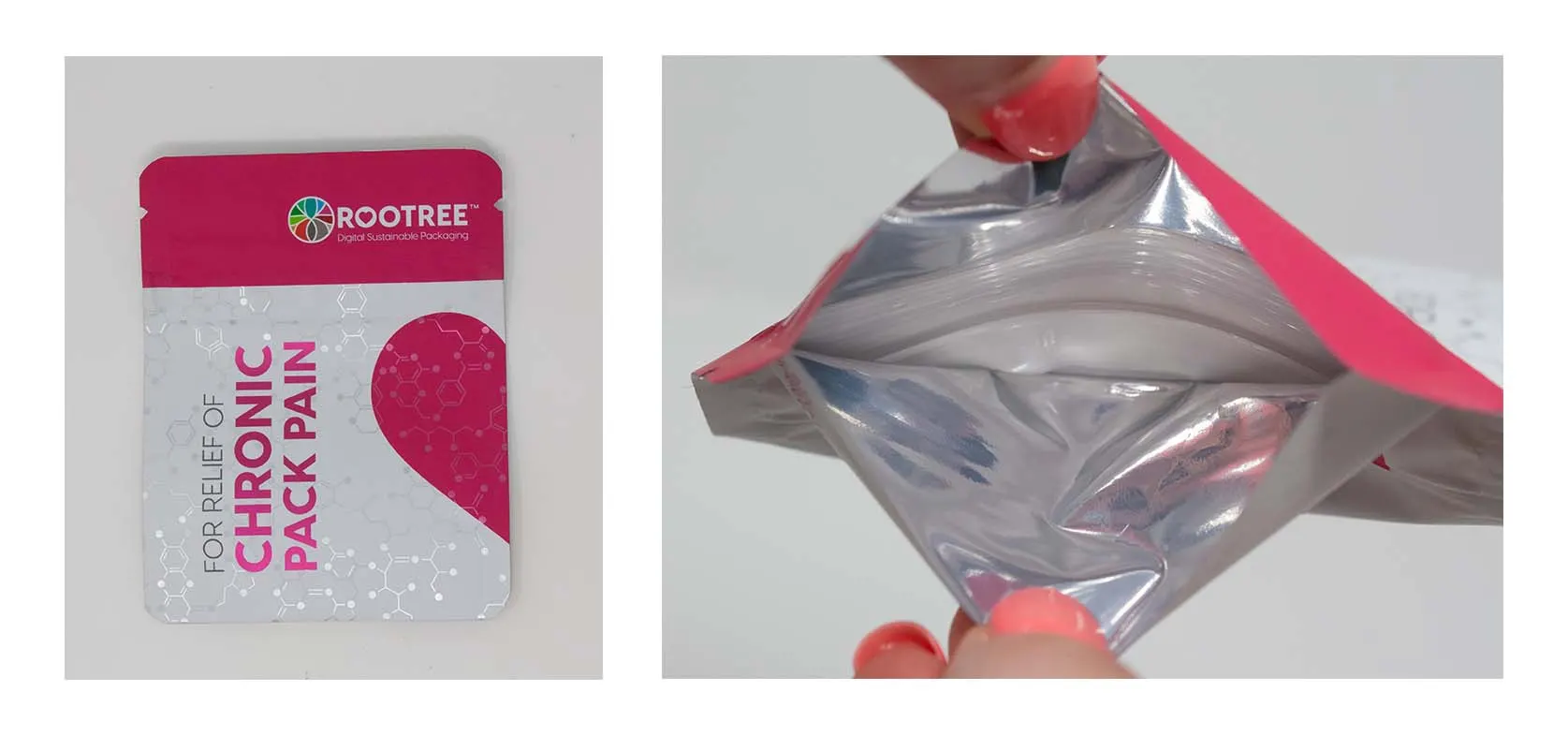 Rootree's child-resistant pouches are a great packaging choice for new and emerging markets, such as pharma, where products must be inaccessible to children. Our child-resistant pouches are available in a wide range of sizes, from large to small, to suit your packaging needs.
Lifting the inner flap, the customer can access the zipper and open the child-resistant pouch. We're excited to say that these pouches will soon carry a third-party certified status, giving you another option for an added security feature. Chat with our Sales Team to learn more!
These child-resistant zippers are also discreet and low-profile—your pouch's artwork won't be distorted by this feature. While it looks unassuming, the child-resistant pouch is a sturdy and reliable option for protecting the goods inside!
It's sleek, it's smooth…it's the ergo slider

The ergo slider is a zipper option that certainly adds value to your pouch on the shelf! This alternative offers a premium feel and high practicality. Customers will appreciate that it closes completely with convenience and little effort each time. Even better, an ergo slider pouch provides security with a tamper-evident seal.
An ergo slider can beautifully complement a range of products. For instance, its easy glide prevents clogging from fine powders like matcha, and provides a simple use for the customer. As small of a feature as a zipper may seem, it's the little things that make all the difference!
Rootree's ergo slider will allow your pouch to stand out visually, as well. These zippers can be very low profile; you could even extend the height of the pouch material to hide the zipper and accentuate your artwork.
Elevate your product from a standard zipper and feel the premium difference!
We're happy that you've decided to become better acquainted with our spiffy and secure zipper options! A high-quality, reliable zipper adds value to your product in the eyes of your customer—it's a feature that should not be overlooked. Have we piqued your interest? We'd love to chat some more or provide you with a sample pack to try it yourself. Get in touch with our Rootree Sales Team and unzip the possibilities of custom flexible packaging!