"When you're selling something you truly believe in, it makes it so much easier," says Dimitri Manousos, Founder of Formula Raw.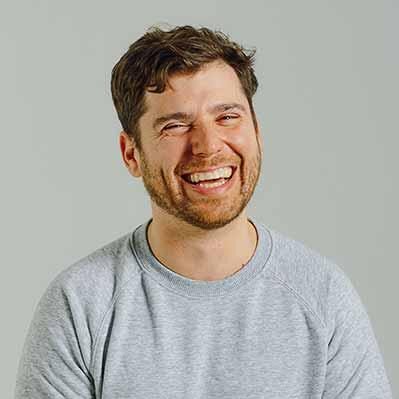 Dimitri – one of the nicest people we have ever met – studied psychology at Concordia University and thought, "wait, is this really something I want to pursue?"
So, he did what any logical person would; he started to forge his own path, adopted two lovable huskies, and kickstarted his entrepreneurial journey.
Conventional kibble wasn't cutting it for Kilo and Naya, his two dogs. Along came Formula Raw – his brainchild – a nutrition-focused pet food company based in Montreal, QC.
Their business model starts with using raw, natural ingredients. All their meats are antibiotic, preservative, filler, and hormone-free to ensure the utmost quality. Their carefully designed formulas are for dogs and cats of all breeds, sizes, and ages.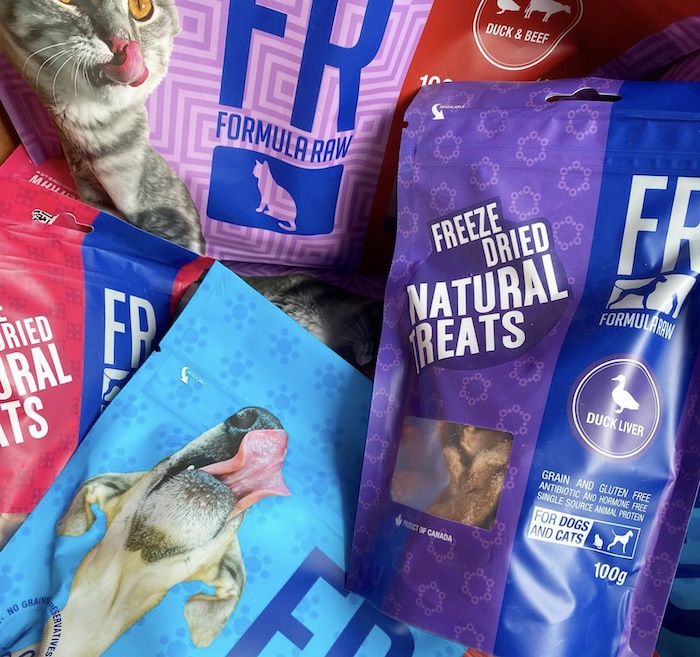 Dimitri's family owned a chain of grocery stores in the Montreal region. As a kid, he spent a lot of time working in every single department of the grocery store; from the deli to bagging groceries, he always found himself interested in the service industry. Despite being part of the family business since he was young, Dimitri's mother encouraged him to pursue what made him feel good; something on his own path.
After taking home some ingredients from his family's grocery store and experimenting with raw foods to make something delicious for his dogs, using meat, organs, fruits, and vegetables – he found the perfect recipe, soon known as the magic of Formula Raw.
In the beginning stages of his business, he worked out of his family's grocery store in the middle of the night, after hours.
Dimitri had the great advantage of teaming up with the grocery store to use ingredients for his products. He could use animal organs that would typically contribute to food waste, such as pancreas, kidneys, and spleen.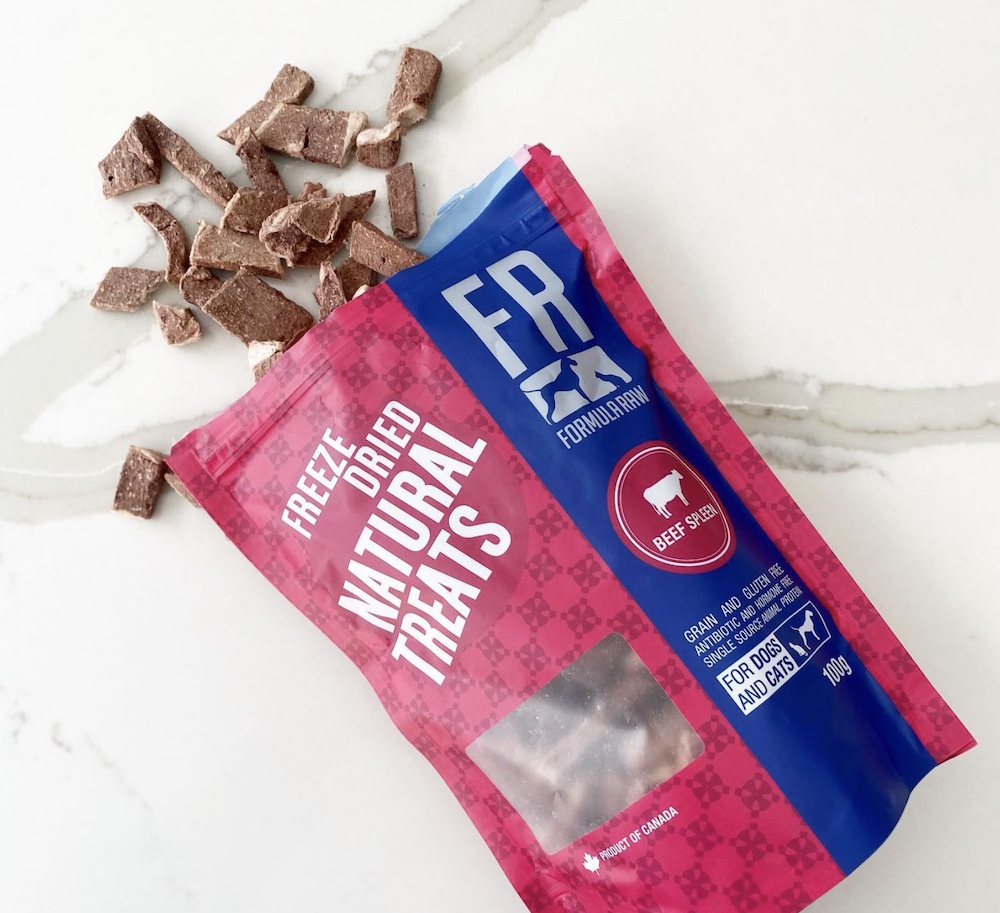 It's not just organs that they prevent from ending up in the garbage; they use overripe and imperfect fruits and vegetables to make nutritious food for pups. Apples with dents and those that aren't as crunchy are apples that Formula Raw treasures.
After diligent R&D, they can effectively keep nutrients intact by freeze-drying their product – all the consumer has to do is add water.
Formula Raw, previously known as Formule Raw, is truly dedicated to providing excellent quality pet food that is raw and dehydrated, with nutrients intact, and in its most natural state. While many conventional kibble companies need to add preservatives to keep their product fresh, Formula Raw keeps its food frozen and freeze-dried. Their kangaroo strips, beef spleen, duck wings use minimal ingredients and are loved by pets. They pride themselves on having "5 ingredients that you have actually heard of, versus 10 carcinogens disguised as ingredients."
Dimitri started taking the world by storm, literally from North America to Hong Kong, with orders that needed to be fulfilled. After 10 years in this business, he can genuinely say this is where he belongs. He loves the feedback he gets from his clients and knows that he is helping pets everywhere.
Like every entrepreneur and co-founder, he has put his heart and soul into every aspect of his company. "Every step of the way is a new experience for me; it's exciting to develop new products, and it's exciting to have new moments that I get to share."
Dimitri is a proper pet and plant parent. Aside from Kilo and Naya, Dimitri has three salt-water aquariums, snakes, frogs, a cat, and a mini greenhouse in his house – a mini zoo, we could say!
It was impossible not to have an ear-to-ear smile while speaking with Dimitri. His personality is charismatic and kind, and his passion simply radiates. He certainly believes in what he does, and it shows powerfully.
"You don't just want people to work; you want them to be happy to be there." Dimitri prides himself on making a respectful and engaging work environment. "Believe in what you do, you can study how to sell things, but if you don't believe what you're saying, you won't succeed."
You can find Formula Raw's products in many pet food stores around Quebec. They plan to expand globally and become, as Dimitri puts it, "the Windex of dog food" – a household name.
Sometimes it's surreal for him to look back to a decade ago and see how far he and his partner have come. It has been an incredible ride, and he thanks the relationships he has made.
Working with Rootree has been an integral part of Formula Raw's success. Our flexibility and low minimums allowed him to order what he needed, when needed, without committing to crazy large order quantities.
We love to work with Dimitri and his team. He and his business truly symbolize how passion and perseverance lead to success, no matter what field you choose to pursue.