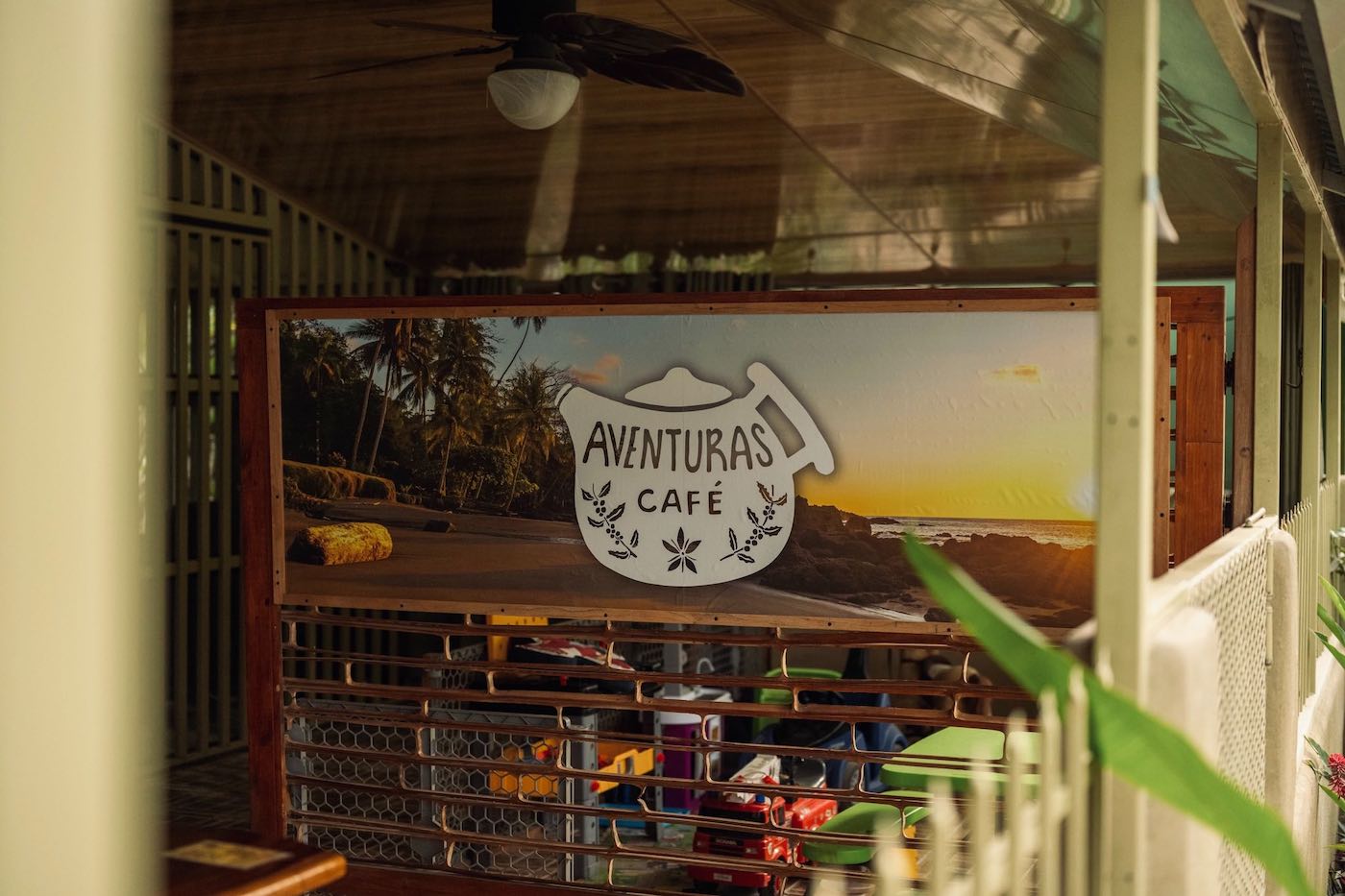 In January of 2022, some of our RT Family had the opportunity to escape the Canadian cold weather and travel to the Osa Peninsula in Costa Rica.
Osa covers over 1,800 square kilometres of the Southern Pacific coast and in 2016 was named by National Geographic as "the most biologically intense place on earth". The unparalleled biodiversity makes Osa a true paradise for nature lovers.
Not only is Osa abundant with stunning marine life, brightly-coloured birds, and lush vegetation, but the people of Osa are the epitome of hospitable and welcoming; upon entering any shop, you find locals who are dedicated to their craft and will share their smiles with you.
Meet Alberto, Marielos, and their daughter, Laura; the owners of Aventuras Café in Puerto Jimenez, a seaside hidden gem run by advocates of adventure, excellent food, and sustainability.
Puerto Jimenez is the largest town on the Osa Peninsula and serves as an attractive destination for avid fishers, bird watchers, kayakers, and nature photographers. It is the main access to the Corcovado National Park and the Golfo Dulce, a pristine tropical fjord. 
Since Marielos was a child, she had dreamt of living near the ocean and being able to promote sustainable tourism and development as well as nature conservation, "Everything started with a vision of creating a way of life in this paradise." she says. "I was born in a coffee-growing area, where my Indigenous grandmother grew coffee, cacao, and tobacco; at home, she processed the beans on the stove and ground them by hand."
Along with the moist carrot cake, tuna burger, chicken fajitas, and the yuca coconut cake, Aventuras Café is known for its iced coffee made with fresh coconut milk; something so exquisite that it alone is worth the flight to Costa Rica. "My father was a small coffee producer who made a name for himself by growing and selling strong and healthy seedlings, highly sought after by other producers. The smell transports me to childhood memories of playing among the flowered coffee bushes and their soft and sweet aroma."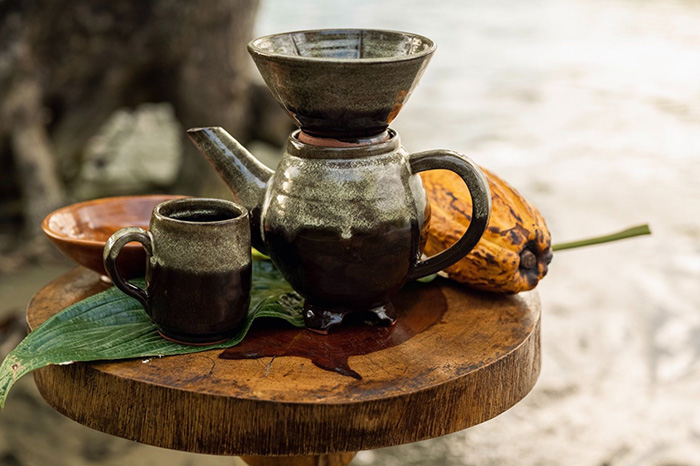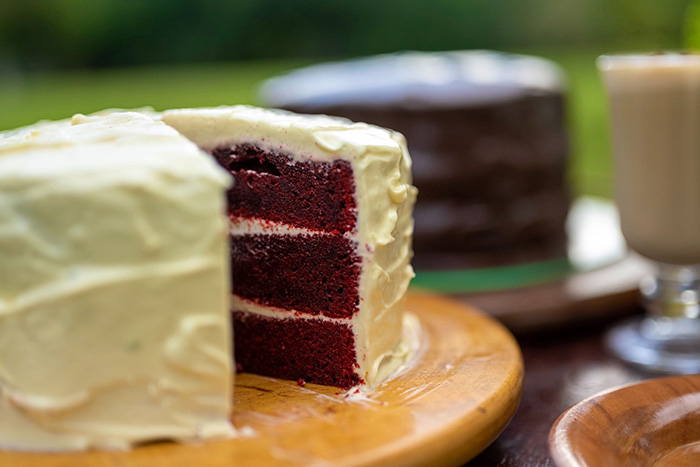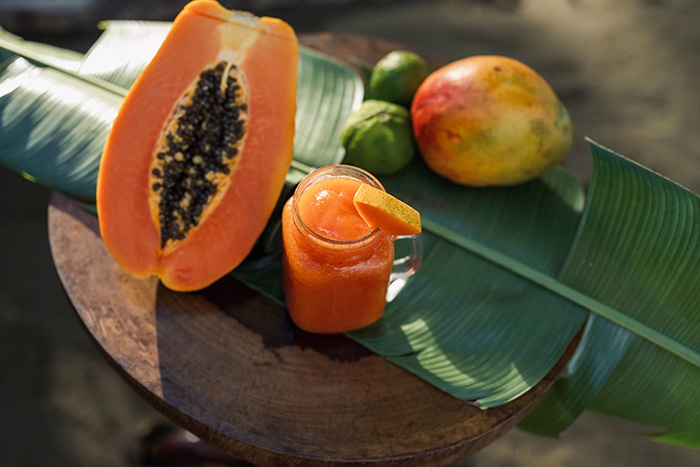 Sustainability is a way of life for Laura's loving family whose family bond is genuine and heartwarming. "Among many other magical powers she possesses, [Marielos] is an active community leader. In the 90's she was part of the hardcore ecologists of Costa Rica known as AECO, she has continued to work for the protection of the environment (dragging me along) and currently, she is the Chairwoman of the Puerto Jimenez Development Association."
As the business owner, Laura believes that the key to success is making sure that the client feels at home, finding the right employees that share the same values, using the highest quality local ingredients, and ensuring sparkling cleanliness within the establishment. If you thought she wasn't ambitious enough, when she is not running her family business, you can find her making this earth a better place in her work as an environmental engineer.
"I love to see happy faces when enjoying the food I have prepared. Being able to interact and serve many people, chat with people, and share their happiness. I love it."
Laura's kindness and passion for hospitality are unrivaled. She believes that the perfect employee is charismatic, responsible, and full of love for what they do.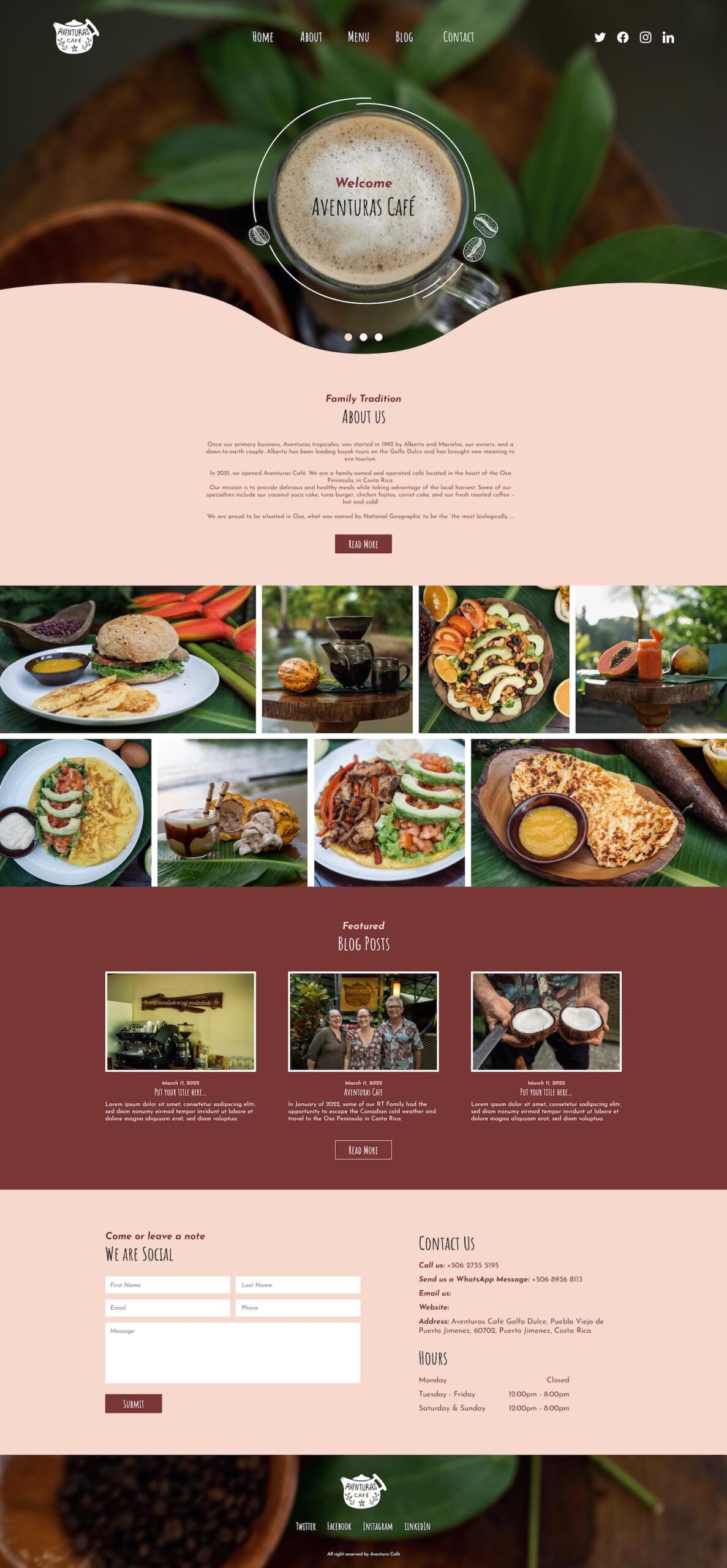 Most of the guests that visit Aventuras Café are foodies looking for healthy and authentic meals in a cozy environment at a fair price. "I am proud of the multiple capacities that I see in my family. We are capable of innovating and creating even with serious limitations. It makes me proud to see the beautiful café we have created; we were able to materialize a vision, taking advantage of the available resources in the middle of the pandemic."
Our team was so impressed with the level of excellent quality food, service, and a welcoming atmosphere… all Aventuras was missing was a website for people to find them and enjoy their place as much as we did.
Thanks to our web team, and a group of people mesmerized by their coconut frappés, we were able to make their dream come true with a bilingual website:
www.aventurascafe.com
Aventuras Café has made an incredible impact on their community and our Rootree Family. They have become a small oasis in a sleepy town known for their delicious meals made with love; food that speaks for itself leaving you rejuvenated and satisfied.  
We are so grateful to have met Alberto, Marielos, and Laura, our new Costa Rican go-to for good eats and good company. Pura Vida!