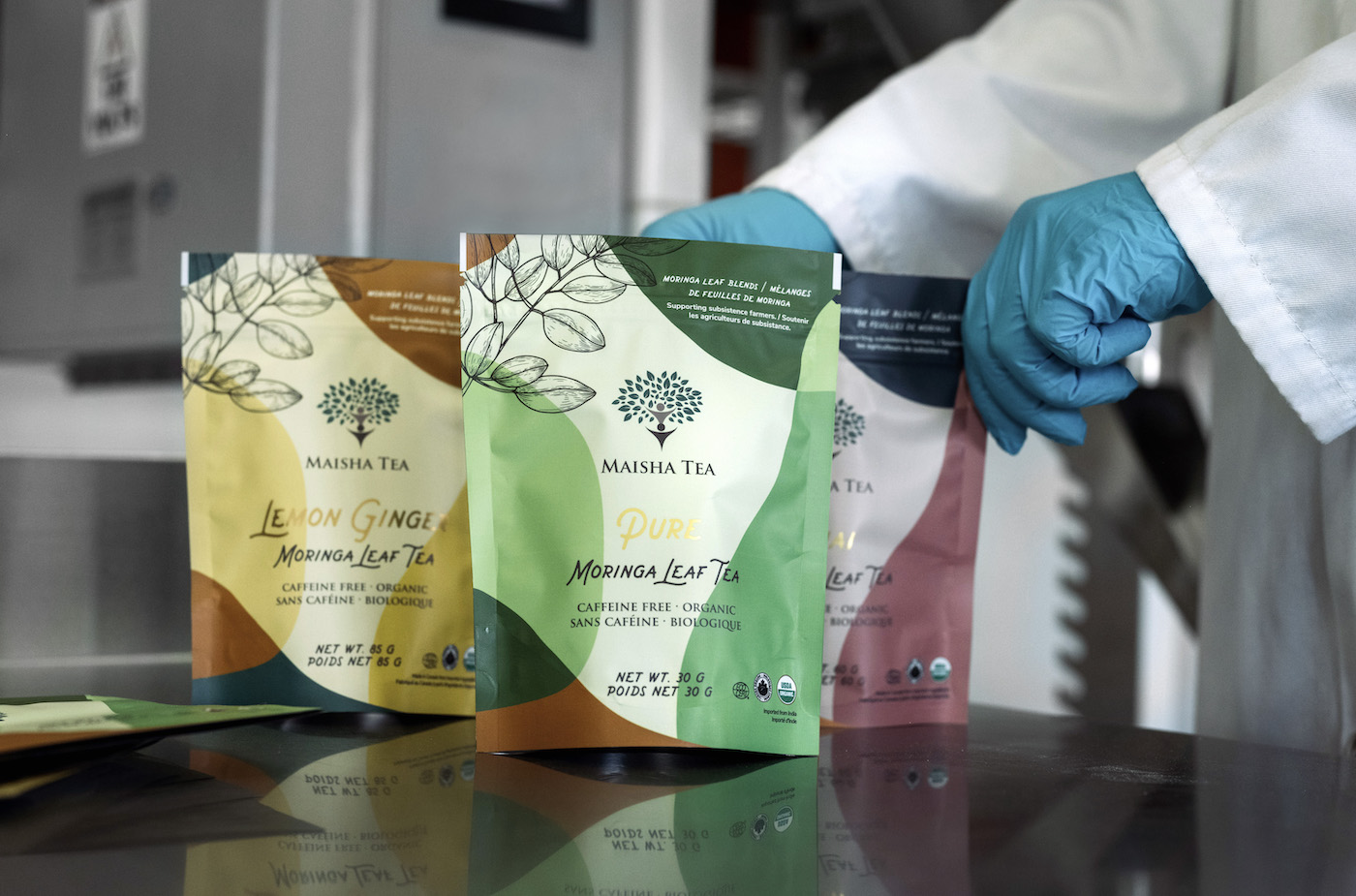 Serving sustainability, nutrients, and deliciousness in every cup.
Let's take it back to 2015 when the idea for Maisha Tea was born. It all began when soon-to-be founder of Maisha Tea, Rachael Otukol, attended the African Innovation Foundation's conference, Innovation Prize for Africa, in Morocco with her father. Upon leaving the conference, Rachael was inspired by the innovations of entrepreneurs.
"I was jazzed after coming home from the conference. There were so many different kinds of people who were working on social enterprise." -Rachael Naula

Fast-forward to the spring of 2015, and Rachael's world was about to change. When attending a business meeting with one of her father's colleagues, an opportunity presented itself that would allow Rachael to use her array of skills and do something beneficial for the world.
One Ingredient. One Amazing Positive Impact.
The African Community Project is a charity founded by a colleague of Rachael's father. This organization travels to different countries in Africa with the goal of teaching farmers how to grow their own crops – one of those crops is, moringa. Over time, with the proper tools and education, farmers have become very efficient in growing moringa, ultimately creating a surplus.
Despite being well-known and loved in South and Southeast Asia, moringa's popularity is just starting to blossom in North America. Looking to put the moringa surplus to good use, bring it into the western market, and pay farmers a better wage, Maisha Tea was born.
What is Moringa and Why is it Good for You?
The moringa oleifera tree, also known as the "miracle tree," is one of the most versatile trees on the planet. Known for its medicinal benefits, moringa has only recently been used in nutritional supplements. Moringa leaves and roots contain essential vitamins and nutrients.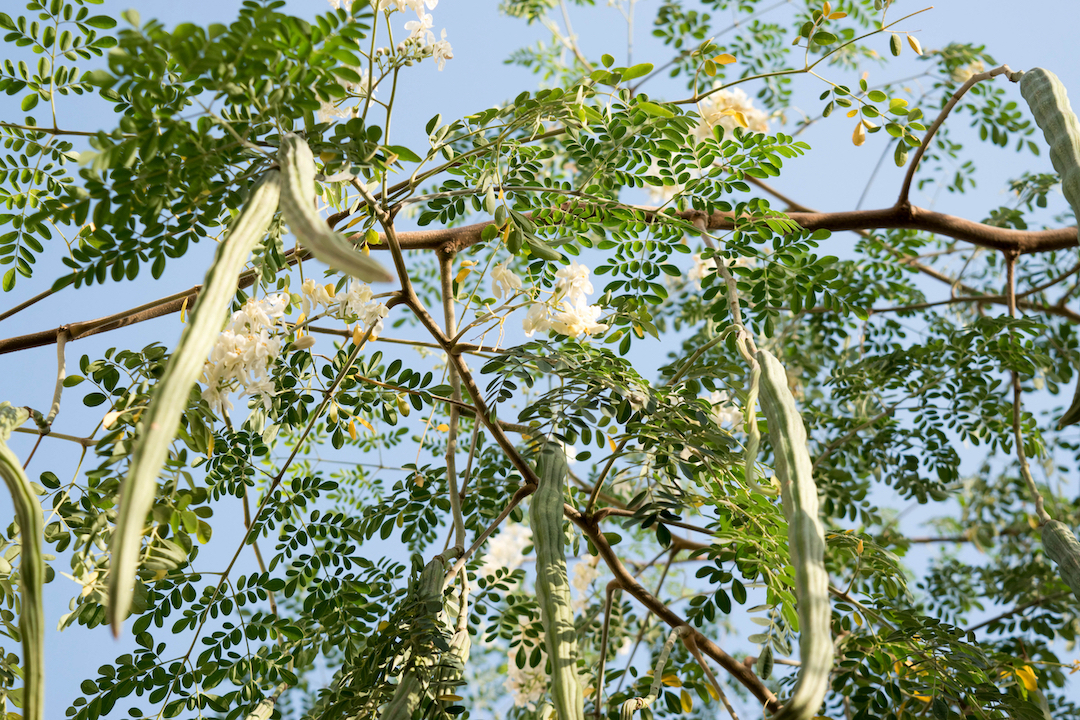 Fresh moringa leaves are extremely rich in vitamin C and hold a high nutrition value. When dried, each gram of moringa leaves contains 24 times the iron content of spinach, 16 times the calcium content of milk, 9 times the vitamin A content of carrots, and several times the potassium content of bananas. Who wouldn't want all this nutrition in one tasty cup of tea? Now that Rachael had found this super-food ingredient, it was time to start creating magnificent tea blends.
We will spill the tea and let you in on a little secret… Maisha Tea is made with natural, authentic ingredients! Curious to see the nutritious moringa in action? Check out this video from @samsfoodtravels on Instagram. Warning, this video will make you want to indulge in a cup of herbal tea.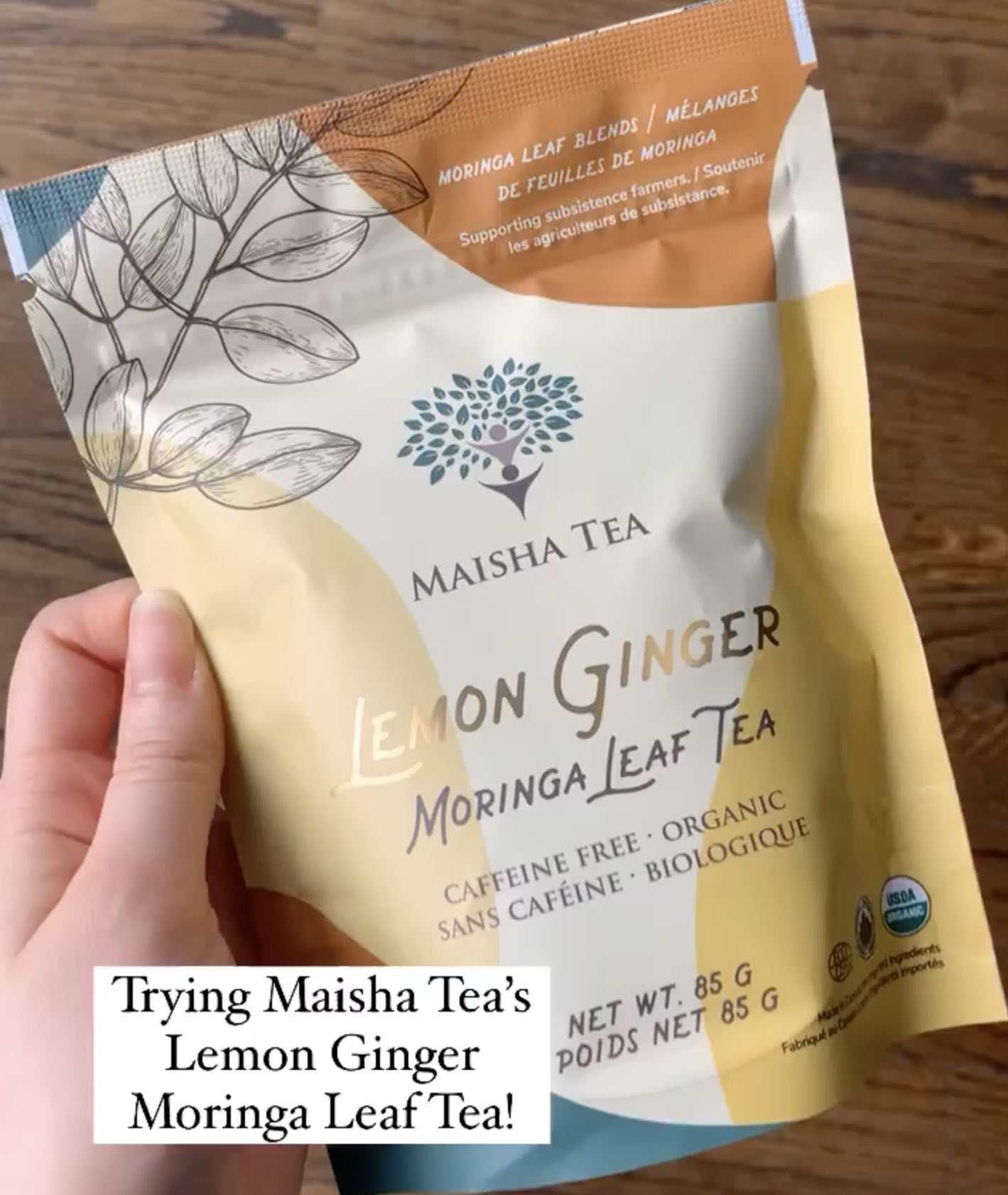 Let the Experiments Begin
With a trip to the grocery store and a large haul of various fruits, Rachael got to it. After some trial and error of dehydrating fruits, Rachael concocted the winning recipes in her own kitchen.
With four blends ready to go — Chai Moringa Leaf Tea, Lemon Ginger Moringa Leaf Tea, Mint Moringa Leaf Tea, and Pure Moringa Leaf Tea —Rachael set out for farmers' markets where her teas were well-received – how tea-riffic!
"That's when I realized I had something amazing."
The only thing making these delicious blends even better is that the moringa ingredient is ethically sourced. Not sacrificing ethics for good-tasting tea is one of the reasons we love Maisha Tea.
"Packaging can last years and is an integral part in creating your brand."
Starting with the design of her pouches, Rachael knew the importance that appearance plays in creating a product that people will gravitate towards. "Before actually tasting the product, [packaging design] is one of the main things a customer will experience."
Once Rachael filled out a simple creative brief for our design team, we were able to understand the look and feel Rachael had in mind for her pouches. In the designs she had originally made herself, Rachael emphasized the importance of each pouch representing a different tea blend. When designing her new pouches, we kept that feature in mind, while adding our Rootree design magic.
Voila, brew-tiful designs for some delicious teas. To ensure we had her vision all covered, Rachael received a few different packaging design concepts.
"It was even tough choosing from the options I was given because they were honestly all really good."

Five concepts our Creative Services team presented to Maisha Tea.
The cherry on top for Rachael was the subtle yet eye-catching detail on her pouches. Now, with elegant gold metallic detailing and vibrant pops of colour, Maisha Tea's pouches stand-out!
"Rootree was able to keep the colour differentiation, but just made it more vibrant. It now pops more… They were able to take that element that was really important to me, and then make it so much better."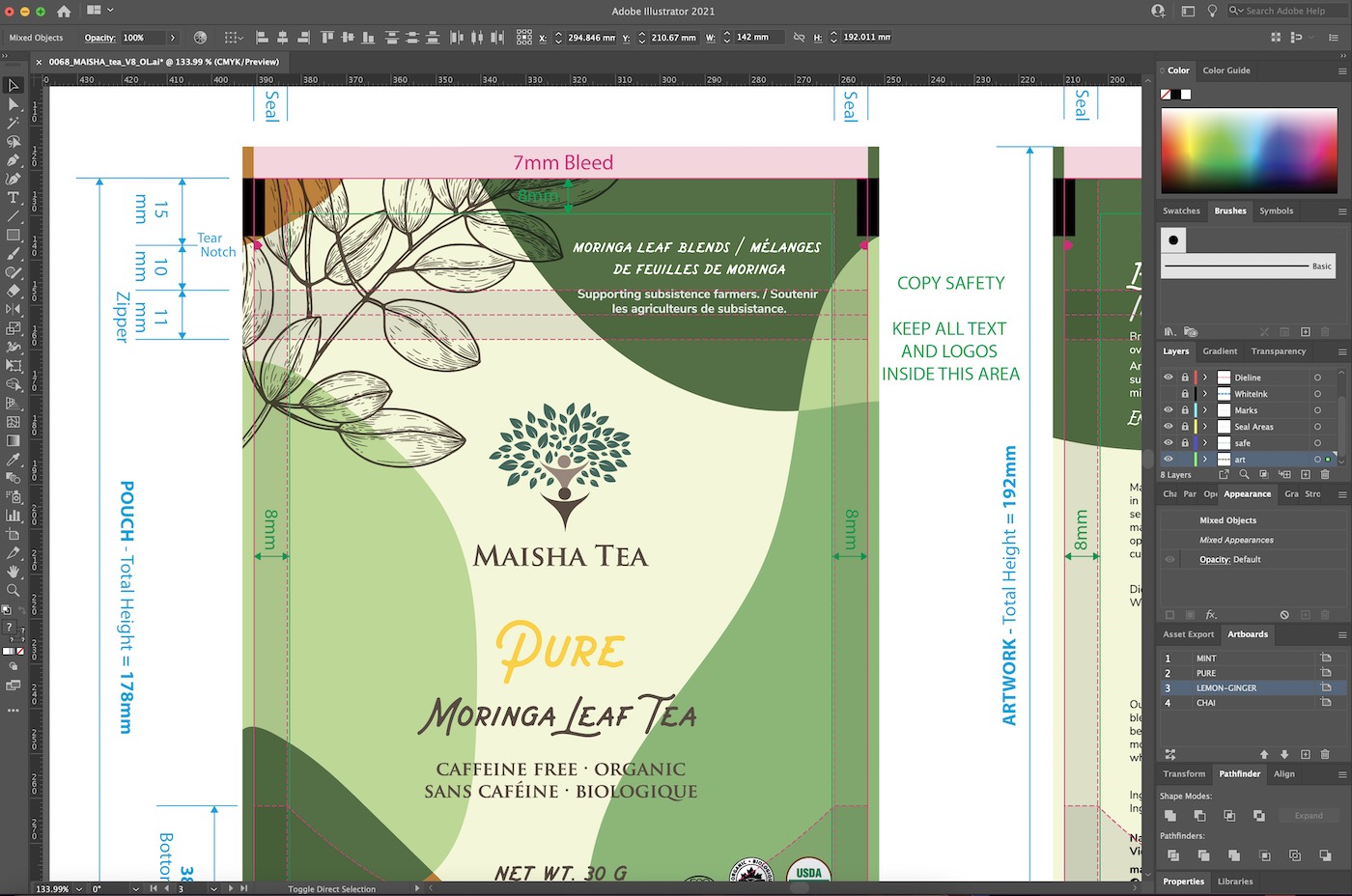 A De-stressor… AKA, Co-Packing
To relieve many stresses, Rootree's co-packing service was perfect for Maisha Tea. When packing her own tea blends by hand, Rachael tells us that her pouches did not have consistent weights. Not wanting to lose the enjoyment and love for her product by taking on the overwhelming task of packing the teas herself, Rachael knew she needed help. Already having her pouches printed with Rootree, the next step to utilize our co-packing services was seamless and alleviated all of her worries.
With Rootree's help in all three departments, package design, manufacturing, and co-packing, Rachael was surprised with how much stress was taken off her shoulders:
"The co-packing frees up so much time and mental energy for me to spend on higher level things like my marketing, getting my social media together, and then making sure that I streamline my processes from start to finish."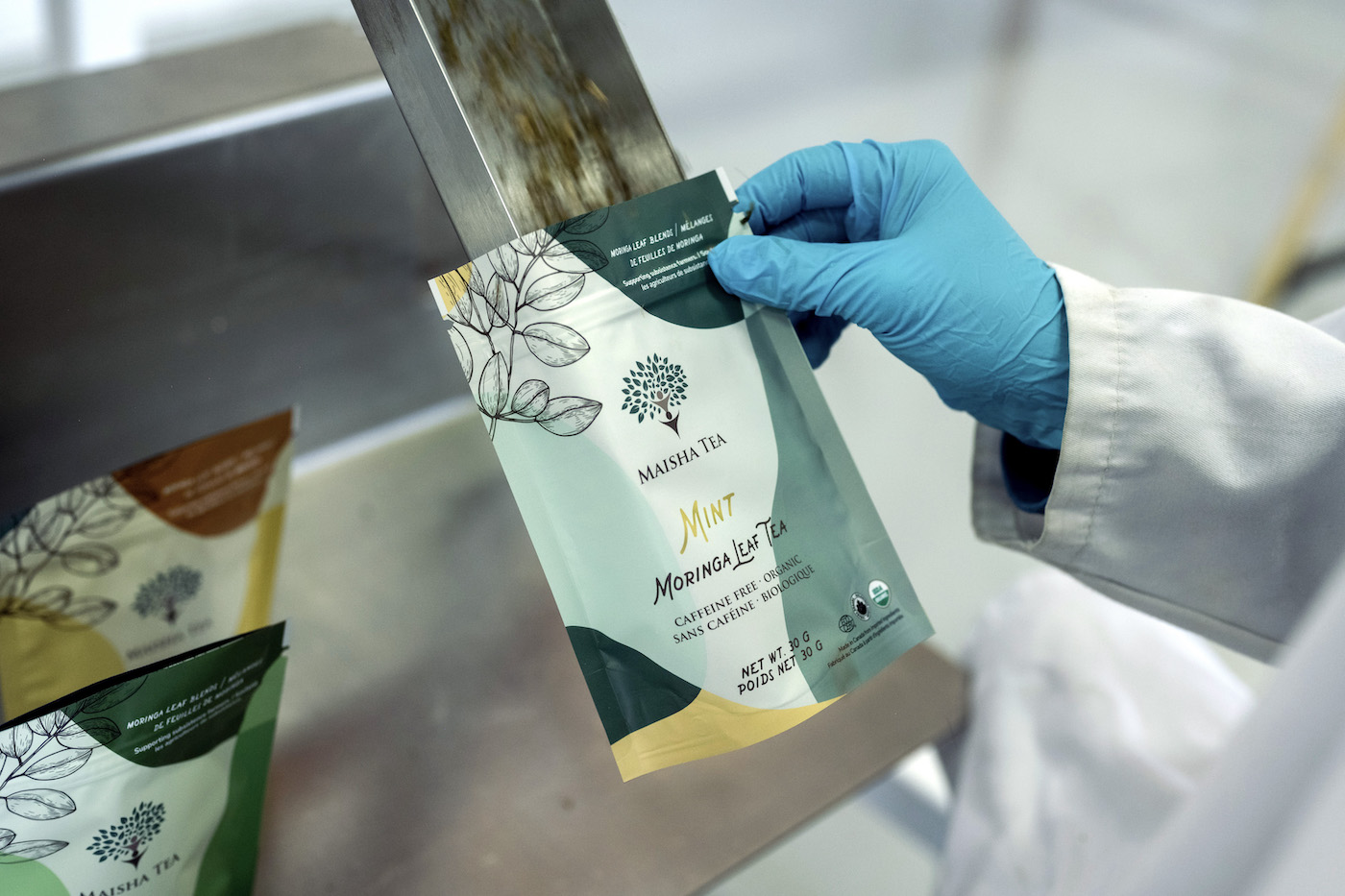 You may be reading this wondering: what makes the co-packing process at Rootree so easy? Rachael reveals that the co-packing process was much easier than she anticipated. Aside from coordinating the delivery of her tea blend ingredients with her manufacturer, Racheal doesn't have to stress about a thing – we've got Maisha Tea covered, every step of the way.
From Beginning to End with Rootree
Rachael expresses how easily she is able to run her business by herself, with the help of Rootree.
"The process has been made so much easier by Rootree doing all three of those things [pouch design, printing, and co-packing] … This was able to make less work for me."
Not only has working with Rootree helped lighten the load for a one-person-run business, it has been able to be done one hundred percent remotely, an aspect that Rachael values highly.
"Everything Rootree has done is in Burlington and I am in Victoria, B.C.. I have never been to the physical location, ever. And I don't need to, which I think is really cool."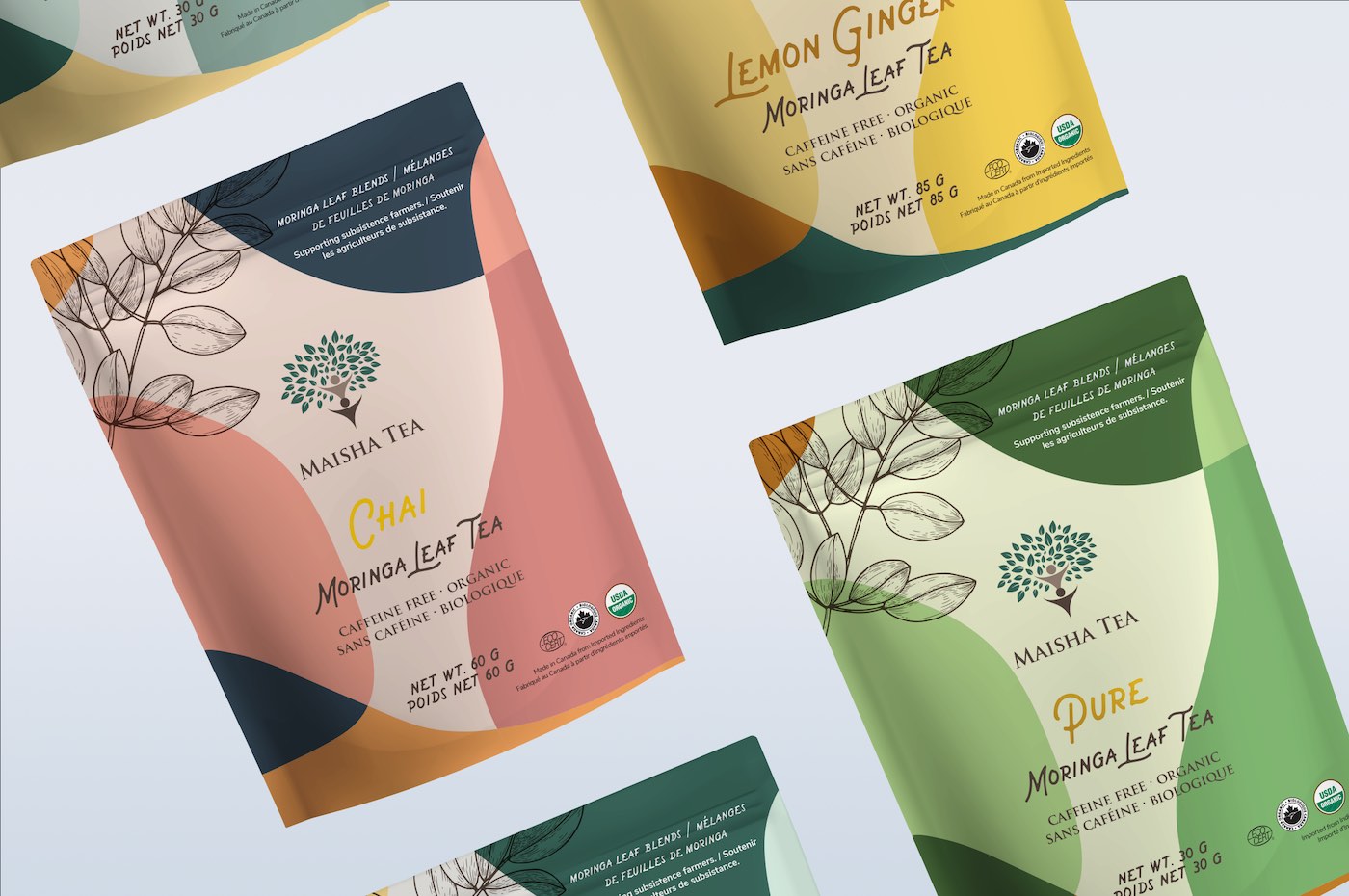 Here at Rootree, we could not be happier to be a part of Maisha Tea's journey. Sustainably sourced, delicious tasting tea and a positive impact on communities are just steeps away. Maisha Tea's four blends are calling your name.