101 judges from 19 countries and 132 talented, creative, and innovative nominees. We are honoured to have won a Best in Class PAC Award for our design work on Microbrasserie de Bellechasse and the Award of Distinction for Pogo Lips.
Best in Class Award
Brand Marketing | Revitalized, Beverage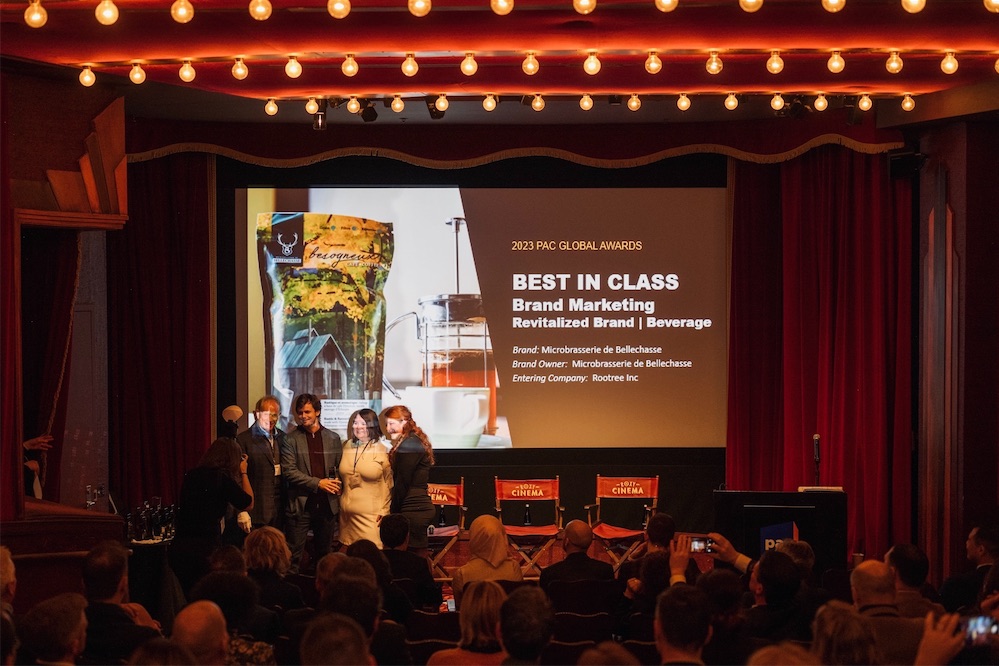 Anabelle Goupil, General Manager of Microbrasserie de Bellechasse dreamed of their pub becoming a local hotspot for the community and for tourists passing through the Buckland area, about 100km east of Québec City. They faced the same challenge as many other passionate small businesses; "how to communicate the essence of their company, their values, and their local pride through their branding?"
They felt that their initial packaging was basic and was their biggest roadblock; simple kraft paper pouches with a white label indicating different roasts of coffee.
Anabelle and her partner, Gabriel, along with their dozen staff, collaborated with the Rootree Design team for their re-brand. Microbrasserie de Bellechasse underwent the redesign process amid the height of the pandemic; all meetings were virtual, which allowed both teams to share and develop a mutual vision on-screen. As a by-product, their new artwork is visually stunning and has a warm and tasteful colour palette, making their pouches an attractive gift with an award-winning design. Anabelle says Rootree "truly listened to what she envisioned for the future of her company"; she described the experience as working "with a group of therapists."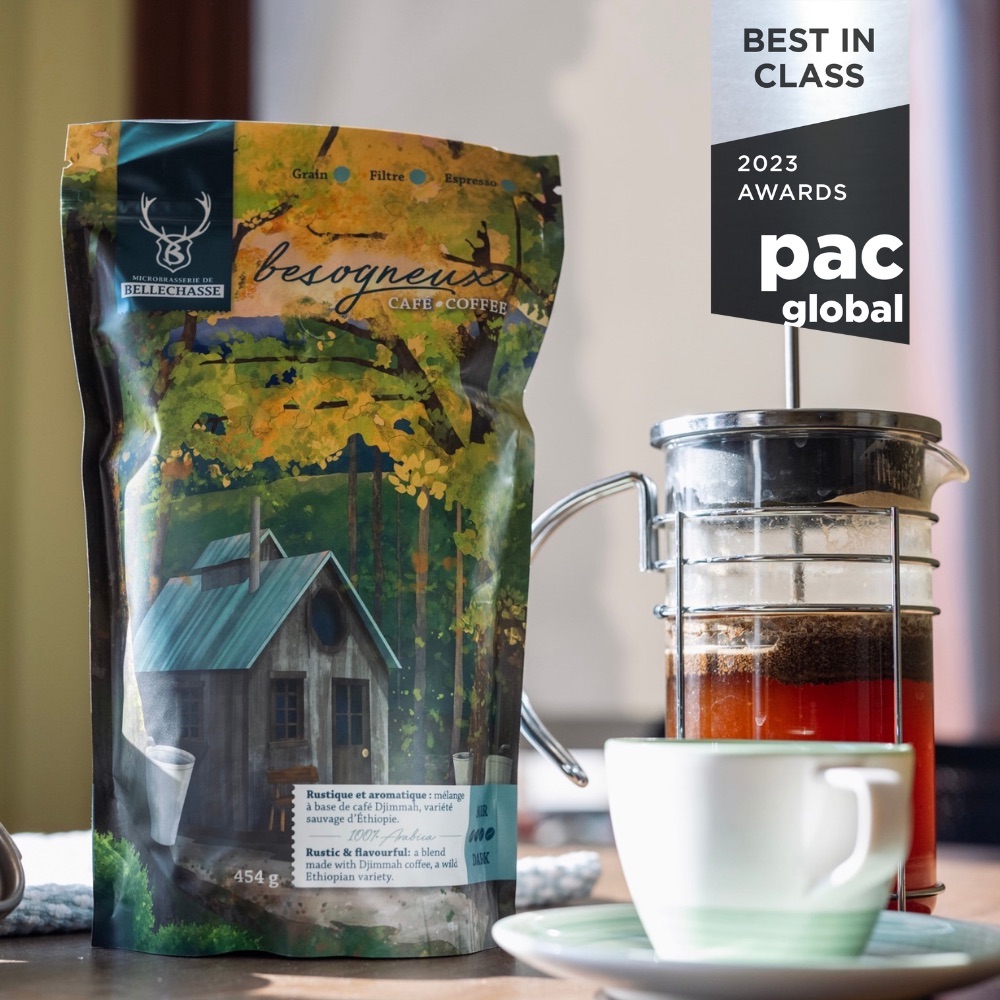 The heart of what Microbrasserie wanted to convey in their messaging is the "magic of the morning". Anabelle endeavoured to have their packaging remind people of the simplicity in the day, to take time for personal moments, and understand that every moment is special. They dreamed that their re-designed coffee bags would be beautiful enough to sit on someone's household countertop all week long and serve as a reminder that life is full of small, blessed moments.
Kelsey Leduc, our talented graphic designer and illustrator, led the team through the process and was the artist behind the pouches. She used watercolour and soft palettes to hand-draw a representation of the villages in Buckland. Each pouch has meticulous attention to detail and beautifully depicts each scene in their town, as they wanted their bag to be something their guests could bring home to re-live a peaceful moment like the one they had at their pub. Microbrasserie is committed to supporting the local economy and sustainable development; their packaging speaks to the essence of locality and small-town pride.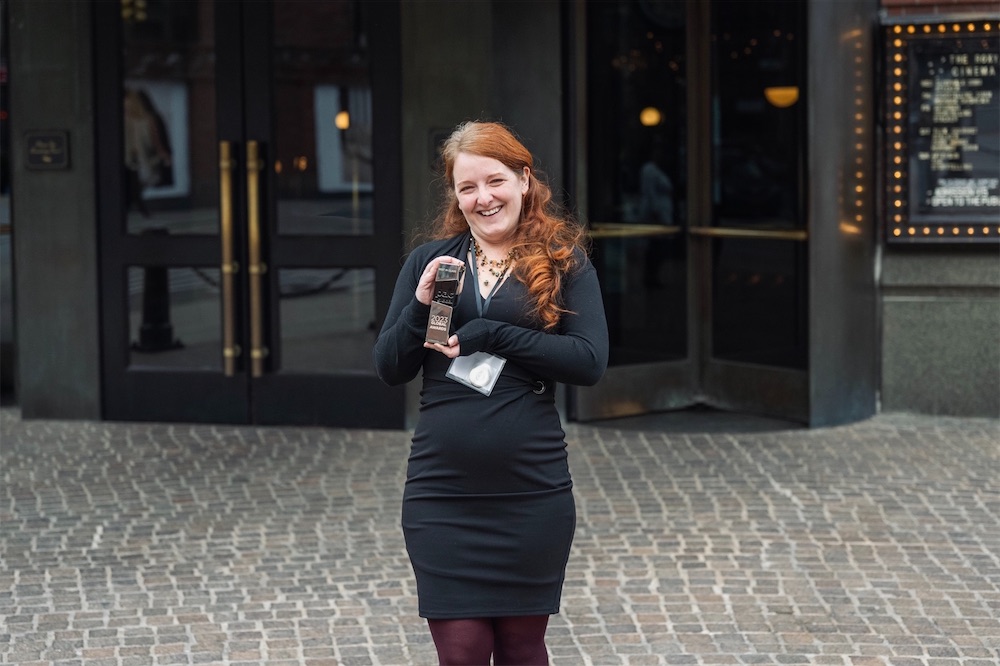 She says, "Our clients at the Microbrasserie really wanted something that would showcase the beauty of the area and be something people would want to take home with them, as a souvenir. I really loved the idea of making that happen with custom artwork. This was a time where stock photos just weren't the right fit. They had four coffee blends and thought each could highlight a different aspect of the region. I had this idea to make this into a polyptych where each scene continues into the other, but also works on its own. I used the same colour palette throughout, but made one colour more prominent in each, to distinguish the different roasts. When placing the pouches together, a unique scenery reveals a glowing sunrise. The amazing colour detail of our HP presses, we achieved that sunrise glow and soft palette I had intended. Right before we went to production, I suggested we add the metallic effect to the shape behind the logo and the script font that describes the blend. It really gave the overall design just a little something extra that I am proud of."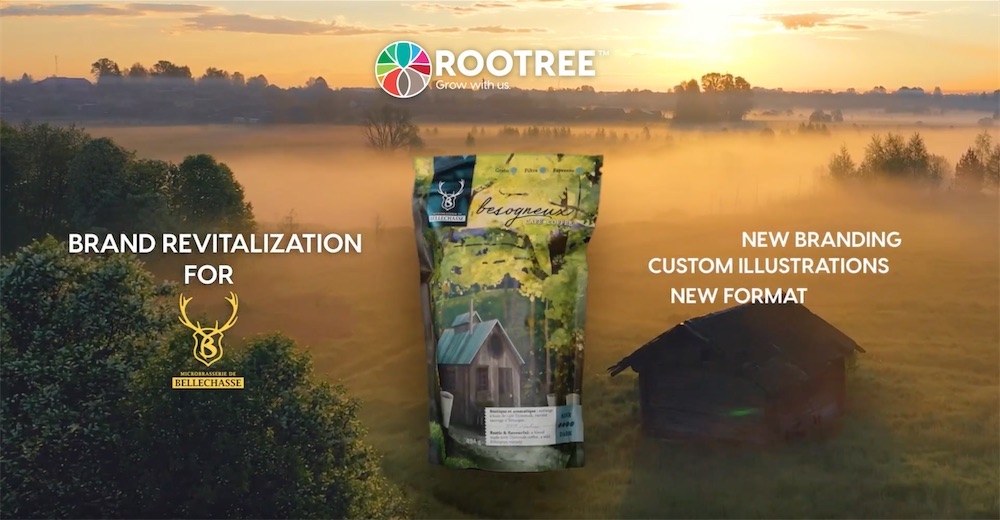 Award of Distinction
Brand Marketing | Specialty – Design for Brand E-Commerce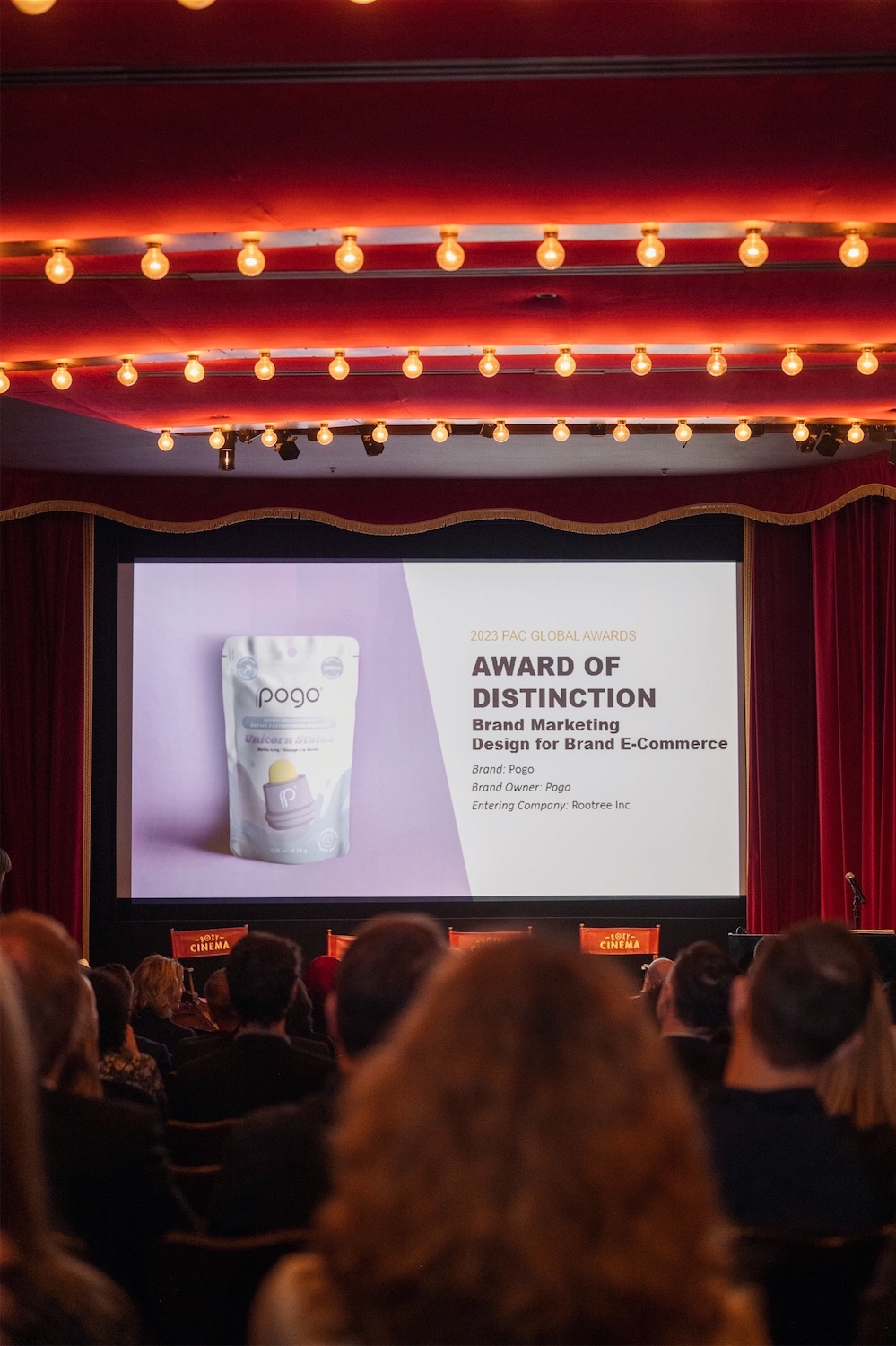 Soft lips & sustainability = Pogo's recipe for success.
The challenge Pogo faced while designing for e-commerce was to ensure they were producing the least amount of waste possible. Pogo did not want packaging that ended up in the garbage and eventually in landfills, nor did they want the standard packing one typically sees lip balms in (i.e. cardboard backing and plastic covering). Their goal was to get straight to the point with their custom-designed mailer boxes and eliminate the need for any extra materials. Knowing that their product was for e-commerce, they wanted to design something trendy and eye-catching. Cue Rootree's design and manufacturing team.
The new Pogo pouch design allowed them to show all the information they needed regarding their lip balms, ingredients, and how to refill them. By designing their pouches and custom mailer boxes with Rootree, they were able to customize their design to fit all their needs and produce recyclable packaging that looks great and does not have to go to the landfill.
The Pogo team worked collectively with our Creative Services department throughout the design process, material selection, and pouch production. They got to see different variations of designs and were able to tweak it for the perfect final product. The members of the Rootree team assessed Pogo's needs and were able to assist by recommending changes and providing valuable packaging insights including sustainable material structures.
Pogo wanted their packaging to represent who they are and what they stand for. Splashes of colour were incorporated and allowed them to stand out in comparison to other competitors in their industry. The designs and the names of each lip balm are targeted toward women of all ages. The design is reflective of their brand positioning and Pogo has noticed in just a few short months that their sales, engagement, and brand interest has increased significantly based on their fresh look.
Pogo's fully recyclable pouches are different than conventional lip balm packaging and fit their product (made from recycled ocean-bound plastics) like a glove!
Pogo's packaging was designed with the circular economy in mind – their product uses Ocean Bound Plastics to eliminate the use of new plastics, and they aim to avoid sending waste to landfills. Their products are designed to be reused and refilled, so using our recyclable packaging option was an easy decision. Pogo only communicates what is necessary on their packaging, which includes sustainability information. The product inside is proudly vegan and not tested on animals.
They are proud of their packaging and the messaging that they communicate on their pouches and boxes. Being known as a sustainable beauty company is a milestone in their industry.
All of the award-winning and nominated Rootree pouches were produced in a facility powered by green energy. We are honoured to be able to be part of these inspirational companies' journeys and success.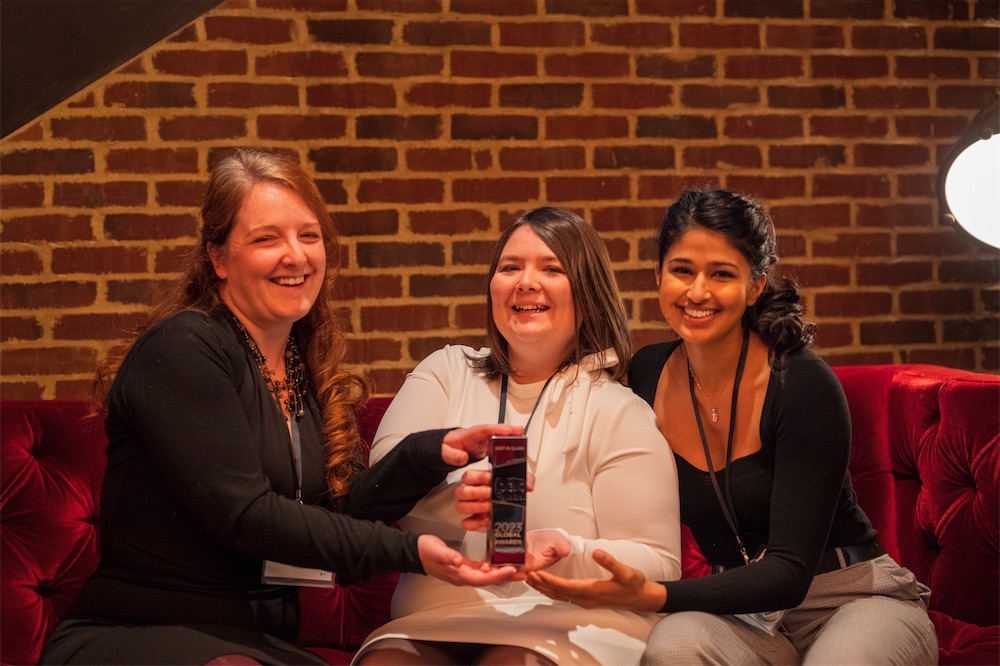 "I am so proud of our team and their endless creative originality. I was blessed with the opportunity to spearhead the creative agency at Rootree just over three years ago. We value our client relationships and aim to seamlessly bring their branding dreams to life. Being recognized for our efforts on a global stage against some of the largest and most successful agencies worldwide is a moment that we as a team will value forever."
It truly takes a village to win an award as prestigious the Global PAC Award; we'd like to express special appreciation to the following staff for having a hand in this huge success.
Kylie Johnson for leading and supporting the Creative Department
Kelsey Leduc for leading the design team through an epic creative journey
Siana Wenzel for writing and submitting the applications including lifestyle photography
Pia Simran and Heather Colterman for their technical insight, project management, and continued product-knowledge support
Phil St-Cyr for being an inspiring and encouraging CEO
As well as all production and QA staff who ensured the top quality of the pouches that come out of our manufacturing plant every day.
Thank you to PAC Global for this outstanding award. We are so honoured to be able to share the stage with such innovative and inspirational companies from around the globe.