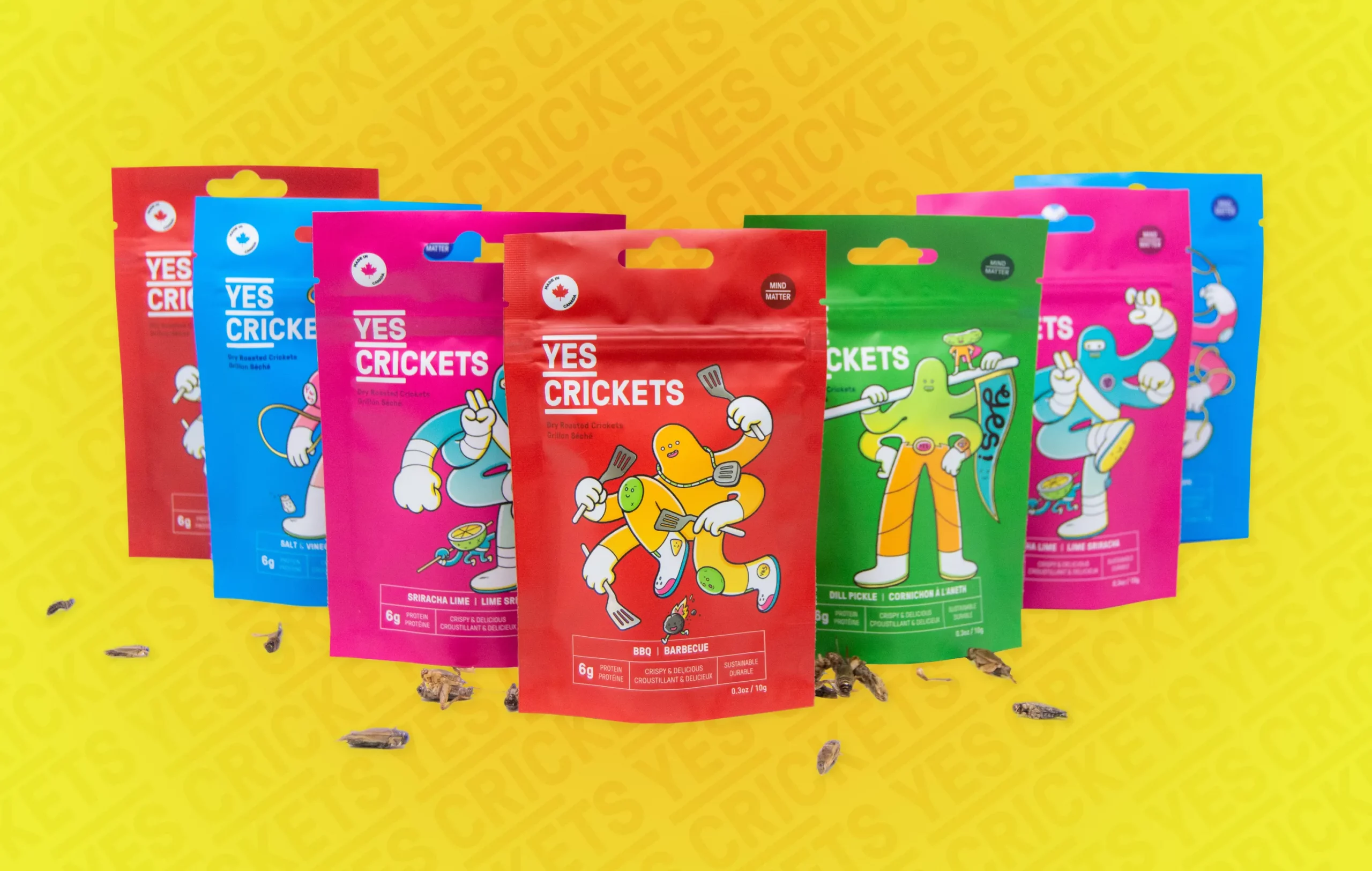 An unexpected snack that's both sustainable and delicious… and did we mention award winning?
Flying Back to the Beginning
The journey that led to crickets becoming a sustainable and protein-rich snack is always bound to be a unique story. We got the inside scoop from Joe, Founder and CEO of YES Crickets.
Starting with a degree in graphic design, Joe sought out something more… protein-filled. In 2017, the 'eating insects' movement began to pick up steam – and thus, an idea flew into Joe's head. Joe recalls reading a report published by United Nations speaking about the ramifications of having seven billion people (and growing) on planet earth. Upon learning about the benefits eating insects can have on the environment, Joe was determined to jump into the snack industry to inspire change – and VOILA, YES Crickets was born.
Eating Bugs is Good for You…And the Planet
Eating insects are a win-win. Not only are they a great source of protein, but they also use significantly less water than traditional sources of protein. How could this get any more eco-friendly? The production of crickets takes up an incredibly small amount of land and emits fewer greenhouse gases. With all these environmental benefits, it may be time you give crickets a try.
"The DNA of the company, the main ingredient [crickets] is the most distinguishing feature." Going a step further, YES Crickets level-up their uniqueness by offering four delicious flavours; Salt & Vinegar, BBQ, Dill Pickle, and Sriracha Lime dry-roasted crickets. YES Crickets also offers their clients Pure Acheta Cricket Protein Powder – perfect for fueling your body with protein, if whole crickets aren't your thing (yet).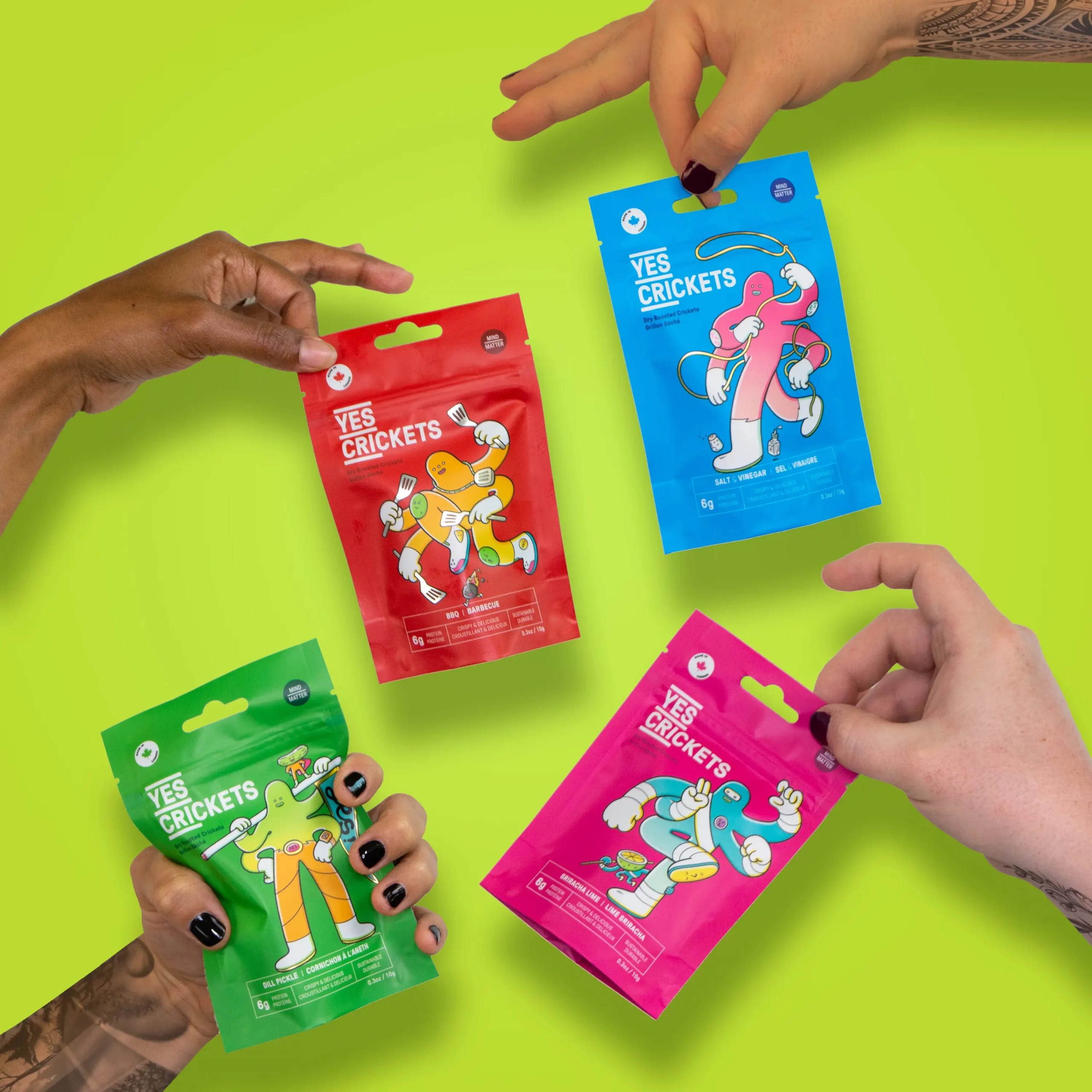 RT | Foundation X New Beginnings
Throughout Joe's YES Crickets career, a number of achievements stand out as particularly rewarding; including the RT | Foundation Award.
What is the RT | Foundation?
As consumers browse the overcrowded grocery store shelves, we all know that packaging can be a game-changer. That is why Rootree created the RT | Foundation Award; to help propel small businesses like YES Crickets on the journey to success. With expertise in packaging and creativity, Rootree has got you covered. We are always willing to give a helping…wing… to our friends at YES Crickets.

Joe takes on many tasks and wears many hats, a juggling act that most small-business owners are familiar with. With so much to do, and so many overhead expenses that come with starting a new business, customized packaging might be a need that can't be fulfilled right away. With the RT | Foundation Award, we take the cost and worry away from designing your packaging – but wait it gets better. We even offer a product and lifestyle photoshoot for your newly packaged products!
Filled with excitement, Joe jumped at the opportunity to apply for the RT | Foundation Award. As a business owner with an environmentally-conscious mindset, he needed to find packaging that aligned with his company's values.
"Rootree's range of environmental products was huge. I had set up [YES Crickets] based on this model of environmentalism and to make a whole bunch of packs that were plastic…really didn't make a whole lot of sense."
RT | Foundation Application – Easy, breezy, no brainer
Eager to apply, Joe was happy to hear about the RT | Foundation. As a small business, it was an obvious decision – simply applying to the RT | Foundation could finally give Joe his dream packaging.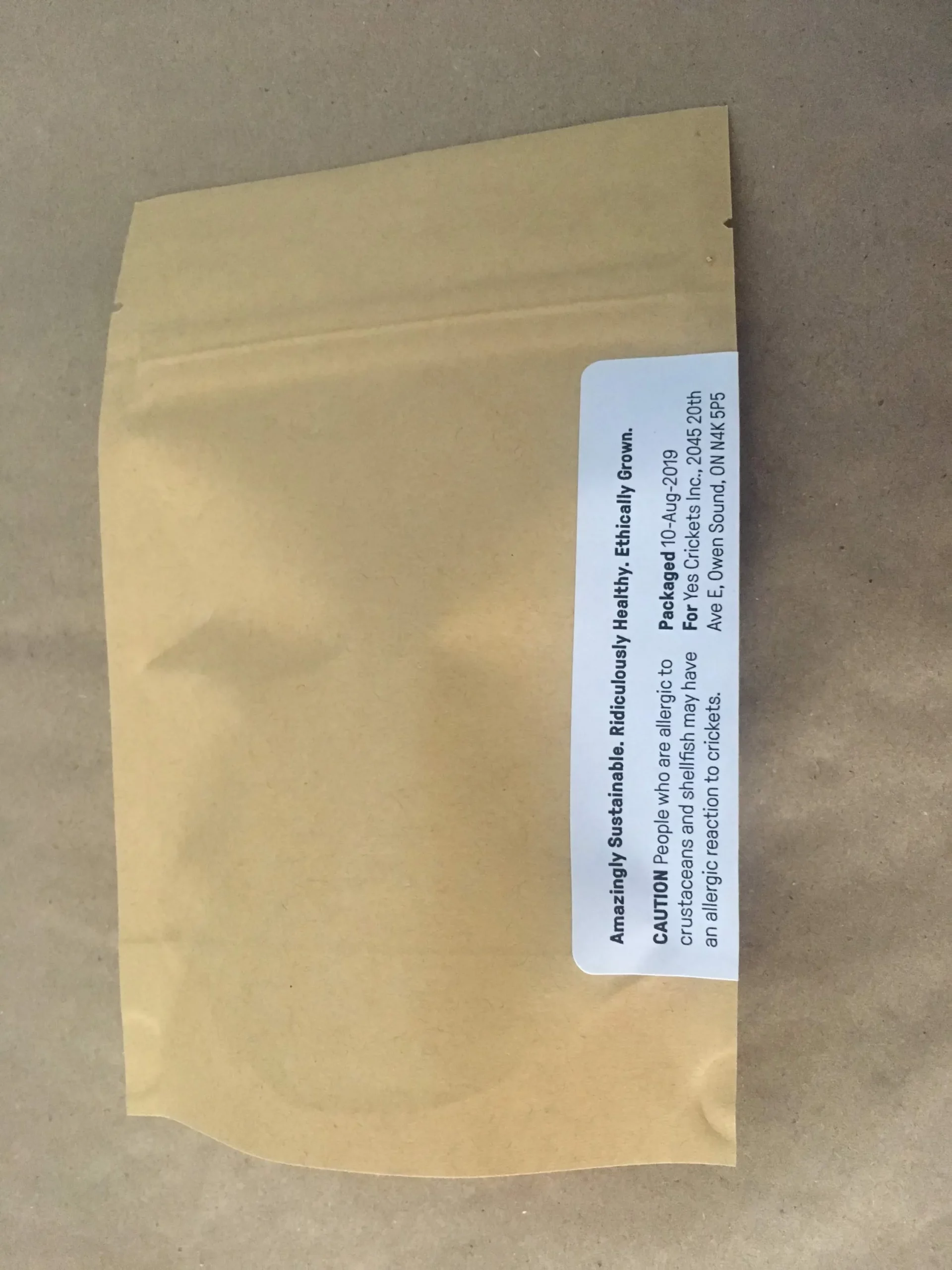 YES Crickets packaging prior to working with Rootree and applying to the RT | Foundation.
"As a small business who is budget conscious in an unproven industry, I was really conscious about price. Changing my packaging was always in the back of my mind. When I heard about the RT |Foundation, I was really keen to apply…I could finally get these new packages that I was so excited about."
As it was difficult to pick just one of the many amazing small businesses that applied, YES Crickets was one of two winners of the 2020 RT | Foundation Award. "That was the moment I knew that my packages would actually become a reality – I was super excited."
Mission accomplished. Rootree was about to give a small business their dream packaging and embark on this journey with YES Crickets.
A Creative Journey with Rootree – All about that package design
After winning the RT | Foundation Award, the excitement doesn't stop there. It's finally time to choose packaging that fits your brand. That's where the fun began for Joe – when YES Crickets was sent sample pouches of various sizes and materials.
YES Crickets got to decide every detail of their pouch – right down to how the pouch would feel and seal… can't you wait to see the reveal?
Knowing the client's vision is key when bringing their dream to life:
"The client was interested in creating a modern, top-notch design focused on a minimalistic, clean aesthetic. Joe wanted to create a brand that would challenge the status quo and change the hearts and minds of consumers to try out a unique alternative to chips" -Jess, Rootree Senior Graphic Designer
YES Crickets brought four fun cricket illustrative designs to us from the amazingly talented Brosmind – how cool? Our graphic designers got to work with their new cricket friends. A touch of metallic here and a pop of colour there (thanks to digital printing), you won't be hearing crickets when you lay eyes on this packaging.
Now YES Crickets' packaging is as unique as their product. Eye-catching six-legged superheroes each champion one of YES Crickets' flavours…these pouches are sure to fly off the shelves.
Pouches in Person? Pure Excitement.
Sustainable packing was just four SKUs away. Made easy with digital printing, YES Crickets was able to get four unique pouches, for their four distinct flavours. The RT | Foundation was able to hook YES Crickets up with bright colours and metallic accents on resealable pouches.
Overtaken with excitement when his packages arrived, Joe says that it was surreal seeing his packaging dream in his hands:
"Being a graphic designer in the past, [seeing the packaging for the first time] feels like an out of body experience. This thing you were staring at on a screen for so long finally arrives in the flesh."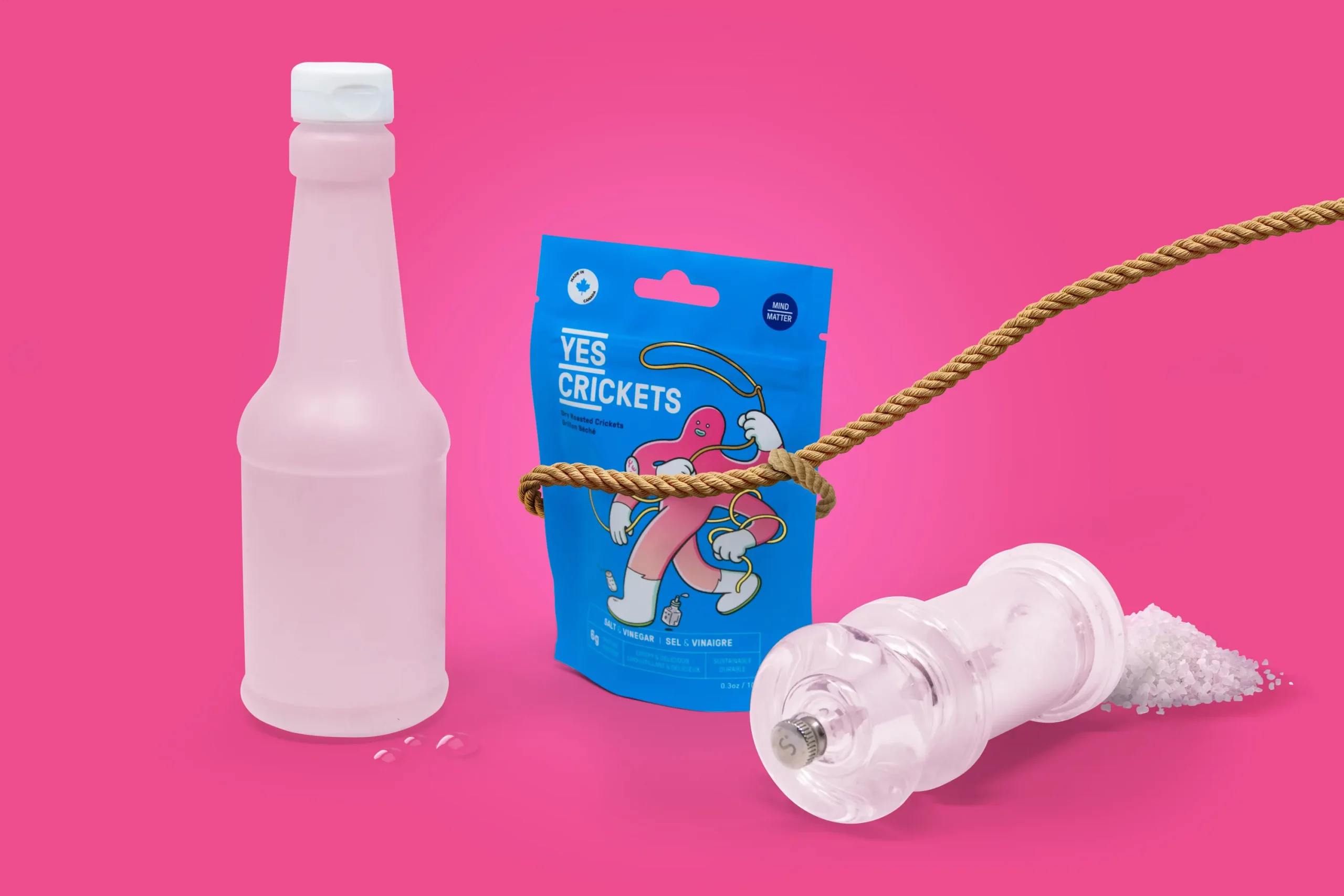 Next step, photoshoot — it was time to capture the YES Crickets spirit. In addition to receiving sustainable packaging from the RT | Foundation, YES Crickets also won a Product Lifestyle Photography session for their new, beautiful, digitally printed pouches. Fun for both Rootree and YES Crickets, the photos from the shoot could not have encapsulated the YES Crickets brand more perfectly.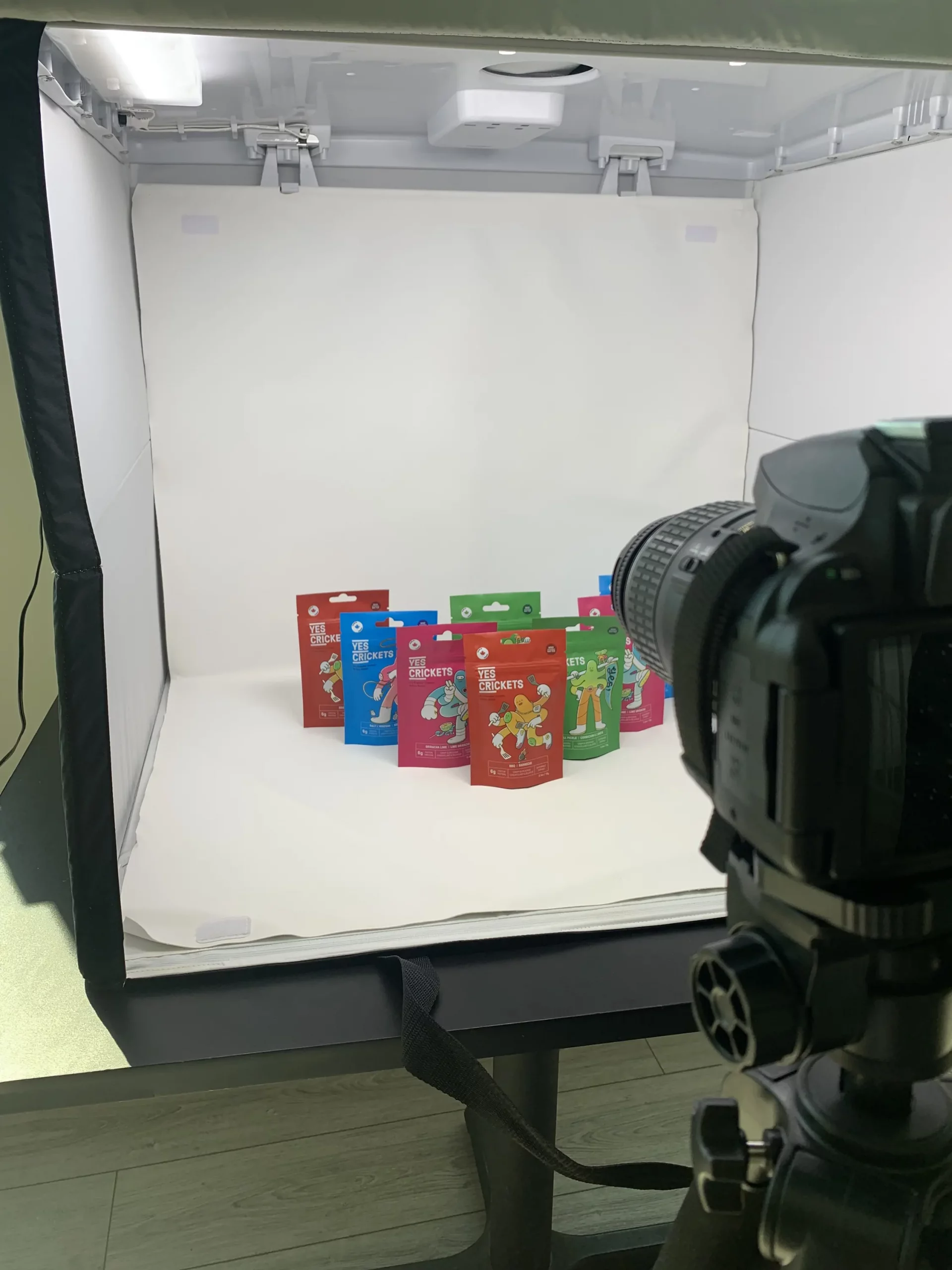 Behind the scenes at Rootree's photo shoot for YES Crickets.
"It was fantastic, the photo shoot was pretty much spot on – it was pure fun and totally effortless."
One of Rootree's objectives of the RT | Foundation is to make the packaging and creative process as smooth as possible. No stress, no worry; just beautiful packaging. Handling all these aspects of a company's brand is what we do here at Rootree.
"If I could describe my interaction with Rootree in three words it would be: effortless, fun, and smooth…the back and forth was off my mind, Rootree was working on it, so I could focus on other things."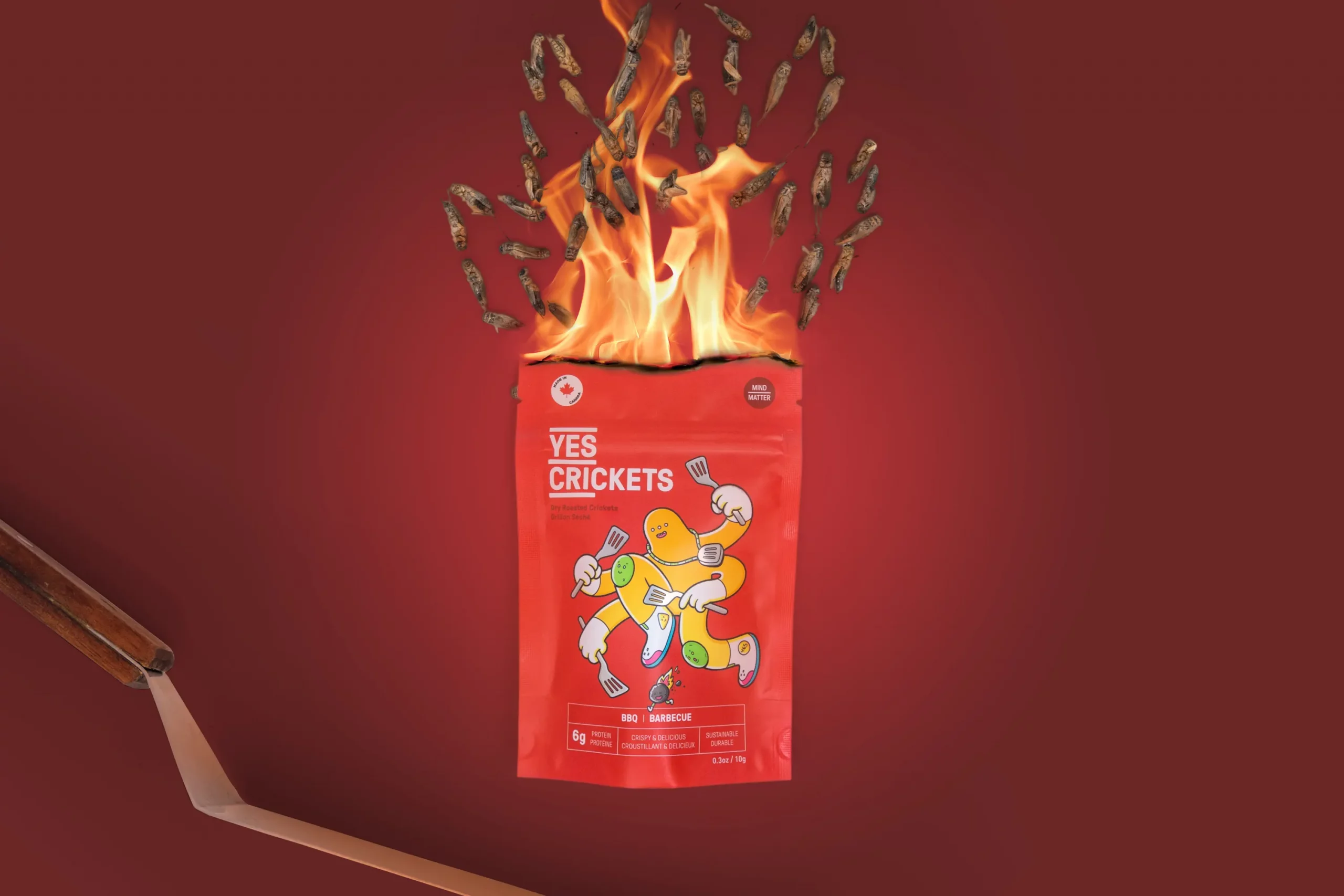 After a photoshoot, and some editing – Rootree's creative team brought YES Crickets BBQ to life – how fire is this?
A Life After the RT | Foundation
Packaging is usually the first contact a consumer has with your product. Beautifully designed and packaged pouches can bring the brand to life; something Joe was hoping for when applying for the RT | Foundation Award. Bringing the YES Crickets brand to life was accomplished through a strong collaboration with Rootree.
"With something that is being put on a retail shelf, the packaging is the most important aspect of it all. Having packages that are super colourful and stand out versus most of the other brands in the industry is the counter culture that YES Crickets embodies."
Removing the stress and cost – the RT | Foundation aims to give small businesses an opportunity to excel their business. Our services await – do you think your brand needs a glow up? Or your business could benefit from the RT | Foundation award? We'd love to hear from you and learn about your business!