Dodjivi
is an alternative beverage company that specializes in mushroom-based coffees, teas, and other amazing health products. The Dodjivi team aimed to provide consumers with a jitter-free coffee option that also helps improve the drinker's immunity, vitality, sleep, memory, and basic functions. Dodjivi came to Rootree looking to rebrand through our Superior Plus Package, creating a new look from the ground up. Let's take a sip of this awesome project.
We're thrilled to announce that we've won an Award of Distinction from the 2022 Global PAC Awards in the Revitalized Beverage Category for our work on Dodjivi. Congrats to Dodjivi and the whole Rootree team for all your hard work in making this happen! It has been an incredible opportunity to have one of our small business clients be globally recognized with this award for innovation in design!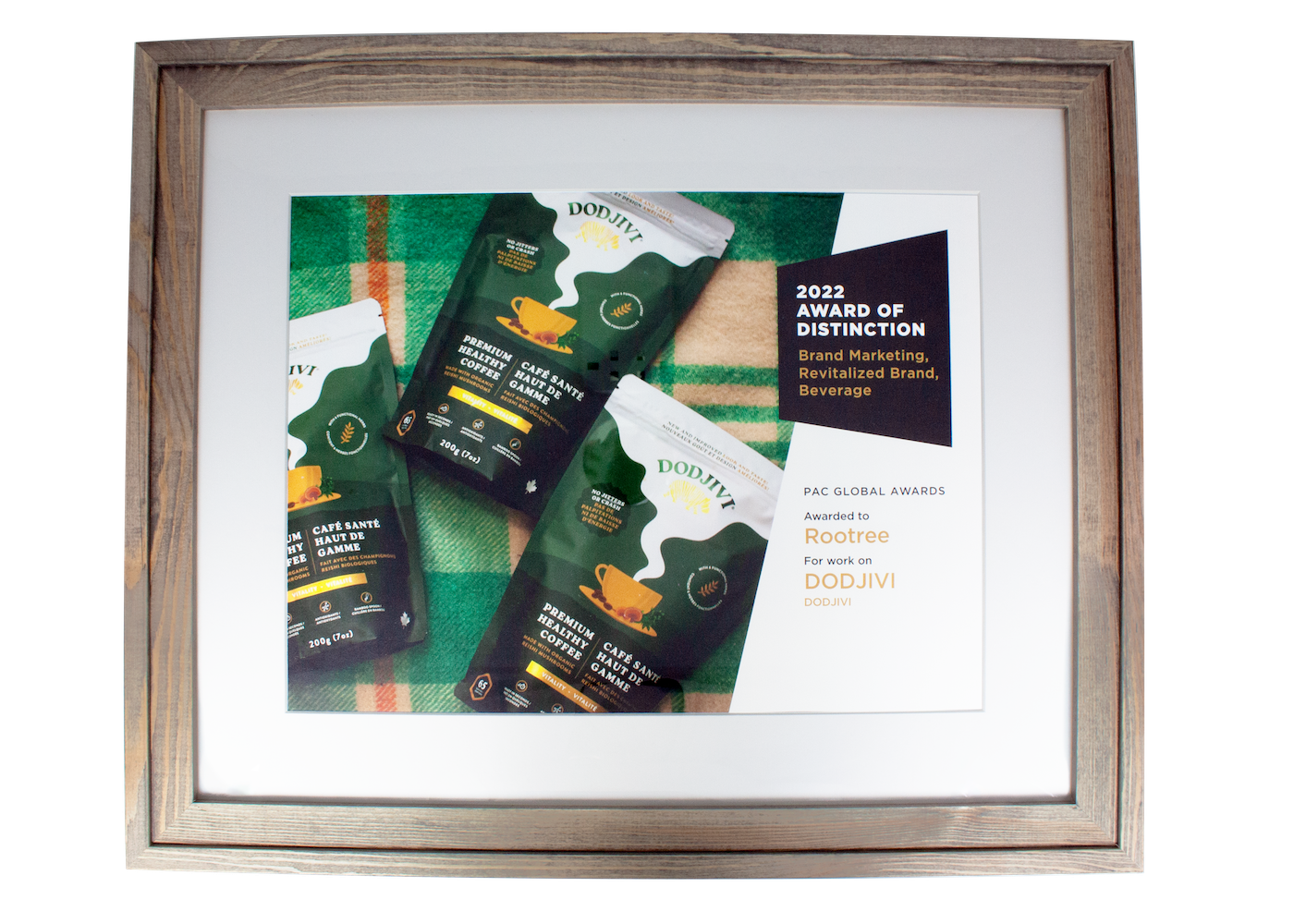 Beginning with brand development, Rootree's Creative Services team sat down with Dodjivi to discuss the company, their products, goals, and creative vision. A brainstorming session, mood board, and a few drafts later, Dodjivi had a new logo and brand guide. Dodjivi's new logo of a mushroom-textured hippopotamus perfectly speaks to their history, values, and mission. The hippo is the national animal of Togo, which is co-founder Komlanvi's homeland. The logo also represents the hippocampus, the part of the brain used for learning, memory, and other key functions; Dodjivi's product benefits this brain component. With a new logo, the Creative Services team was ready to create a refreshed packaging design for Dodjivi's coffee product. The resulting pouch combined earth tones, clean design, and metallic effects to beautifully complement Dodjivi's beverage.
Rootree 2022 PAC Global Award Submission – DODJIVI (REVITALIZED BRAND – BEVERAGE)
With brand new packaging design, Dodjivi's look was ready to be shouted from the roof tops. Rootree's Creative Services team mapped out and executed a product lifestyle photography session for Dodjivi's new look, to be used for website and marketing content. Currently, Rootree's team creates copywriting for Dodjivi's website, blog, and email marketing, as well as social media management to keep a consistent, well-branded online presence.
Why Is mushroom coffee good for you?
Functional, Healthy, Premium cozy coffee recipe – Now that's worth fall(ing) for
New Packaging. New Look. Same road to Wellness.
Start your Day with Dodjivi | Functional Coffee – Vitality Blend
Caffe Misto Recipe – Dodjivi Functional Reishi Mushroom Coffee
On the go With Dodjivi Opening