Dodjivi
is an alternative beverage company that specializes in mushroom-based coffees, teas, and other amazing health products. The Dodjivi team aimed to provide consumers with a jitter-free coffee option that also helps improve the drinker's immunity, vitality, sleep, memory, and basic functions. Dodjivi came to Rootree looking to rebrand through our Superior Plus Package, creating a new look from the ground up. Let's take a sip of this awesome project.
We're thrilled to announce that we've won an Award of Distinction from the 2022 Global PAC Awards in the Revitalized Beverage Category for our work on Dodjivi. Congrats to Dodjivi and the whole Rootree team for all your hard work in making this happen! It has been an incredible opportunity to have one of our small business clients be globally recognized with this award for innovation in design!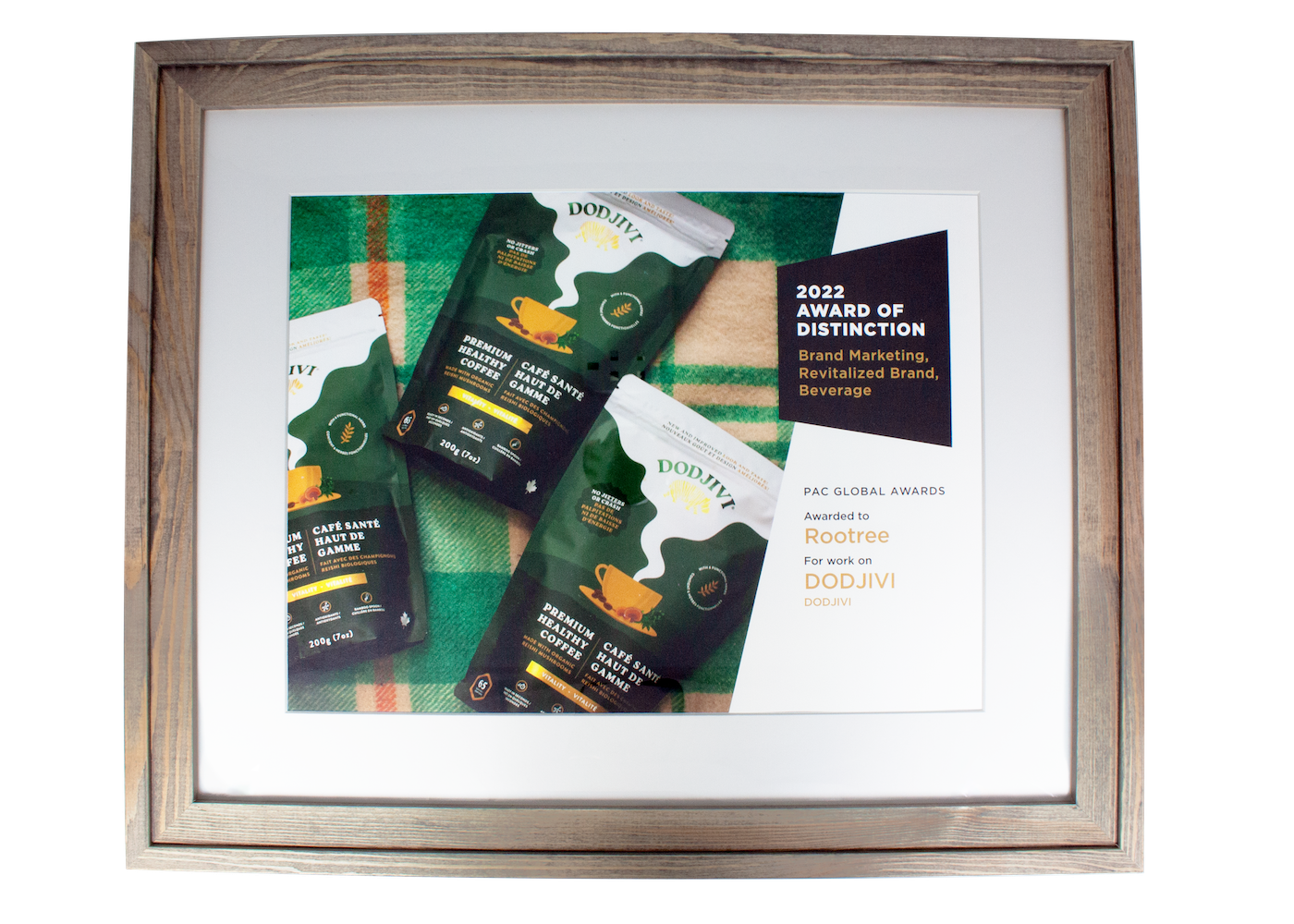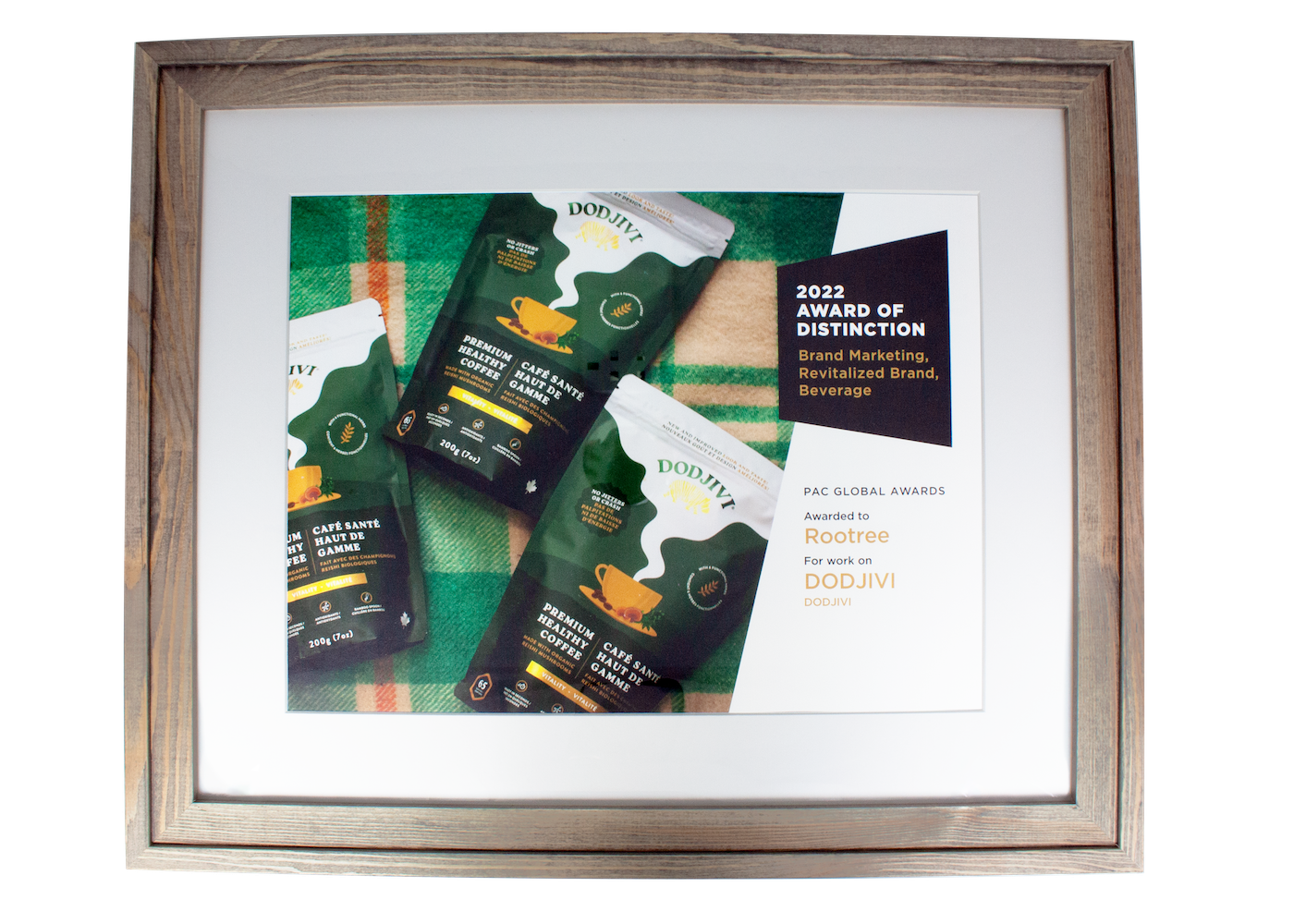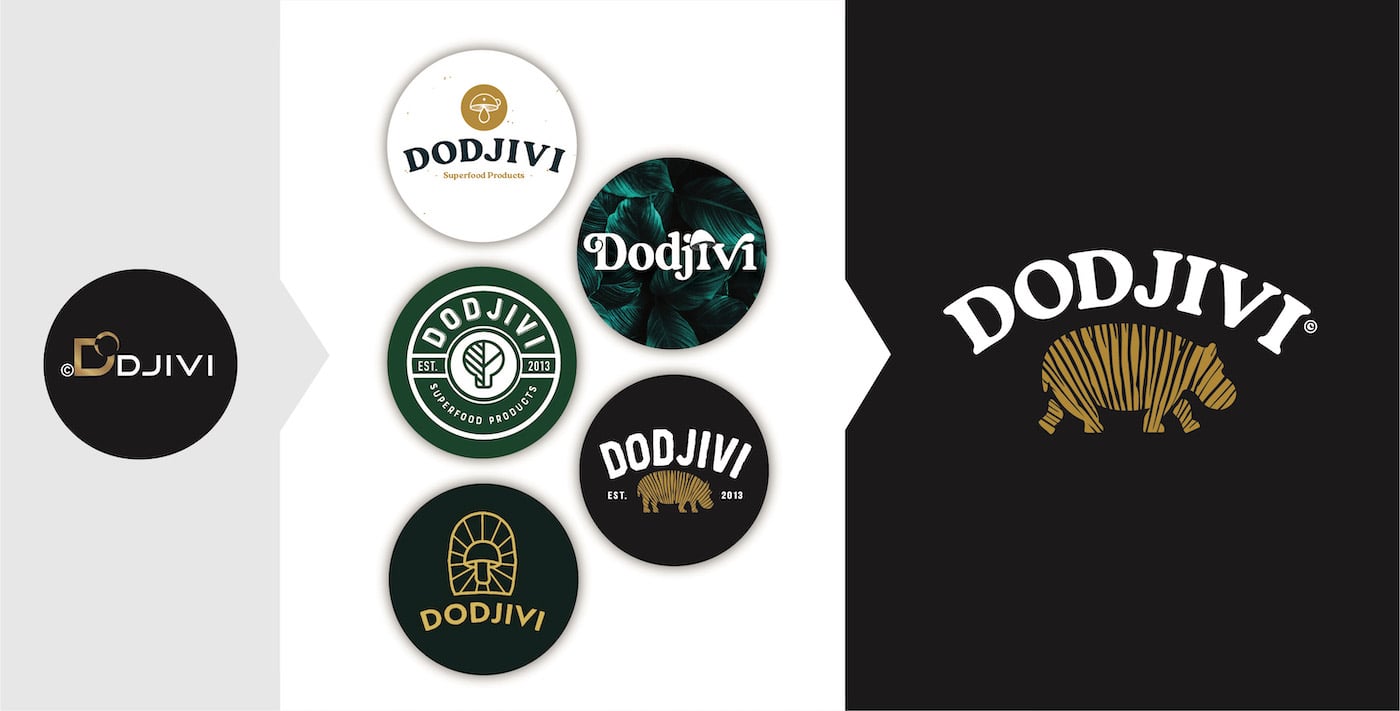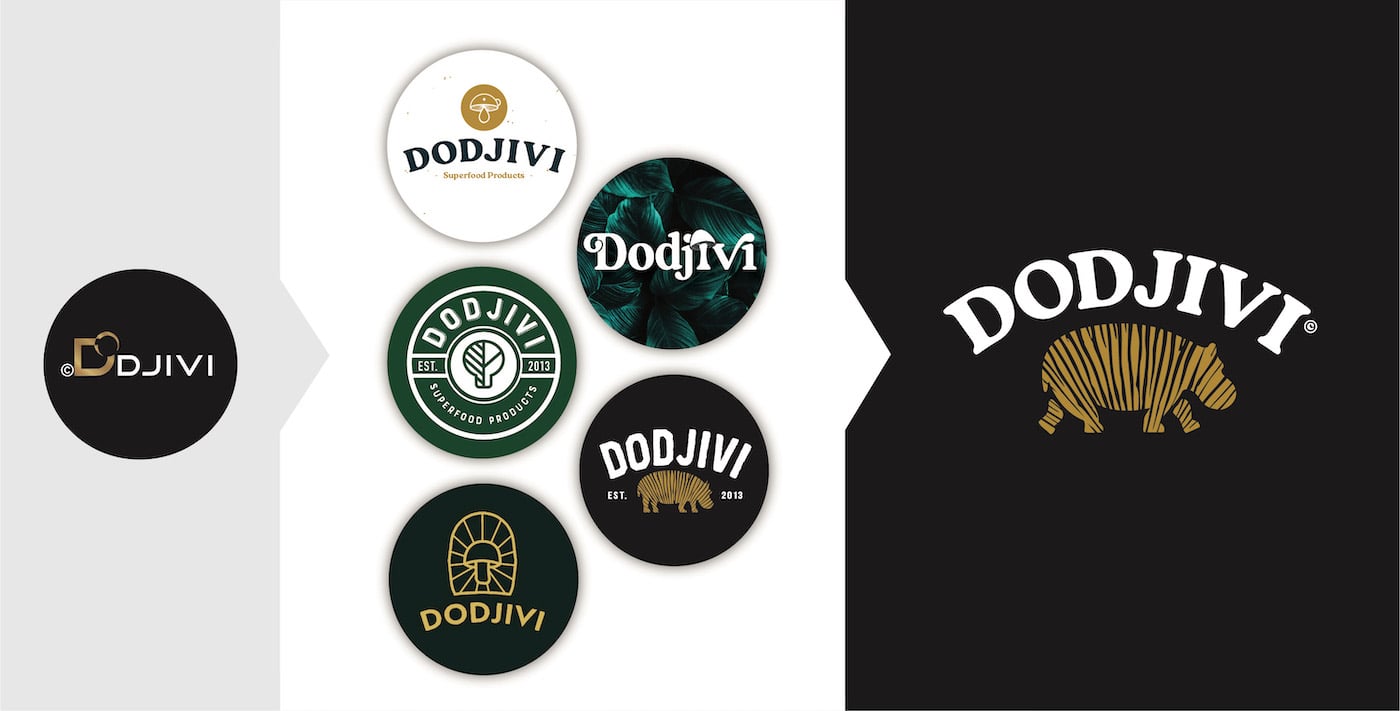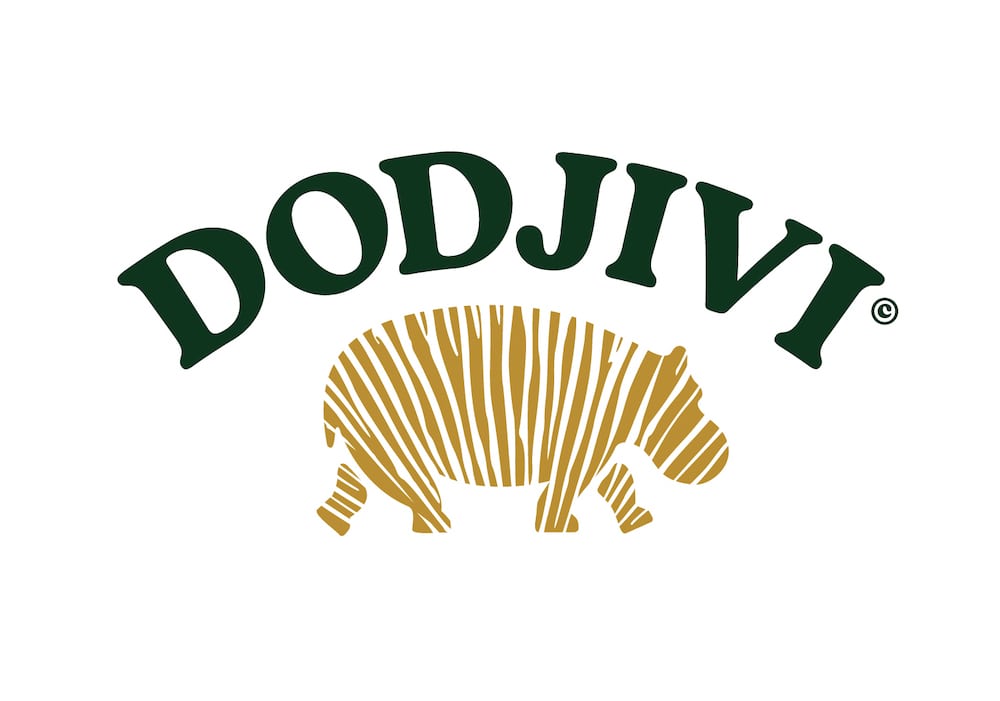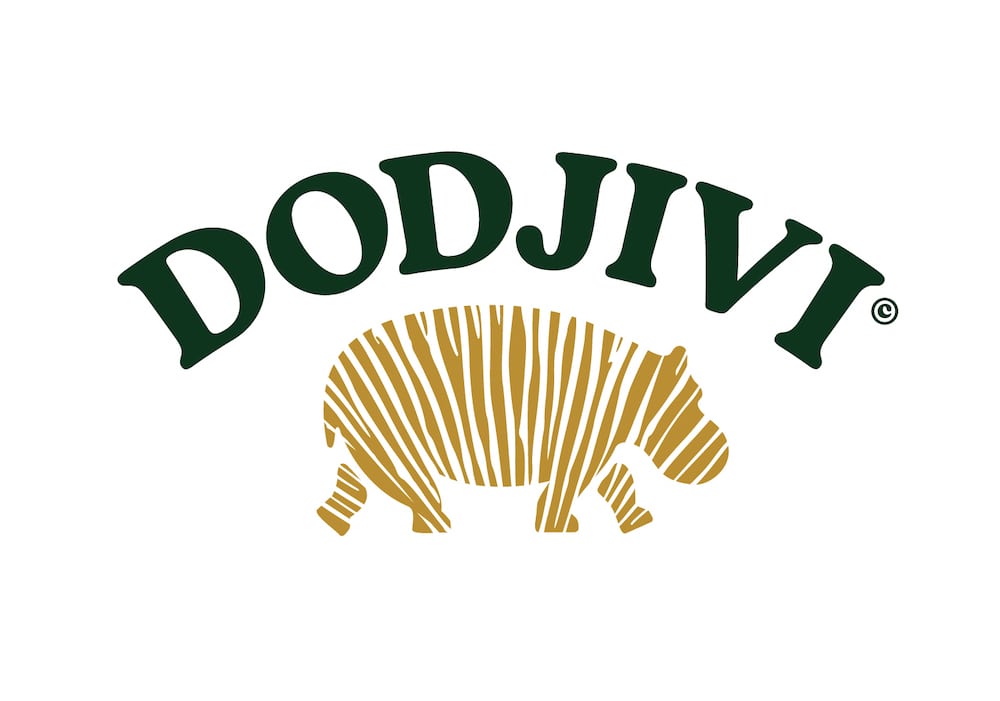 Beginning with brand development, Rootree's Creative Services team sat down with Dodjivi to discuss the company, their products, goals, and creative vision. A brainstorming session, mood board, and a few drafts later, Dodjivi had a new logo and brand guide. Dodjivi's new logo of a mushroom-textured hippopotamus perfectly speaks to their history, values, and mission. The hippo is the national animal of Togo, which is co-founder Komlanvi's homeland. The logo also represents the hippocampus, the part of the brain used for learning, memory, and other key functions; Dodjivi's product benefits this brain component. With a new logo, the Creative Services team was ready to create a refreshed packaging design for Dodjivi's coffee product. The resulting pouch combined earth tones, clean design, and metallic effects to beautifully complement Dodjivi's beverage.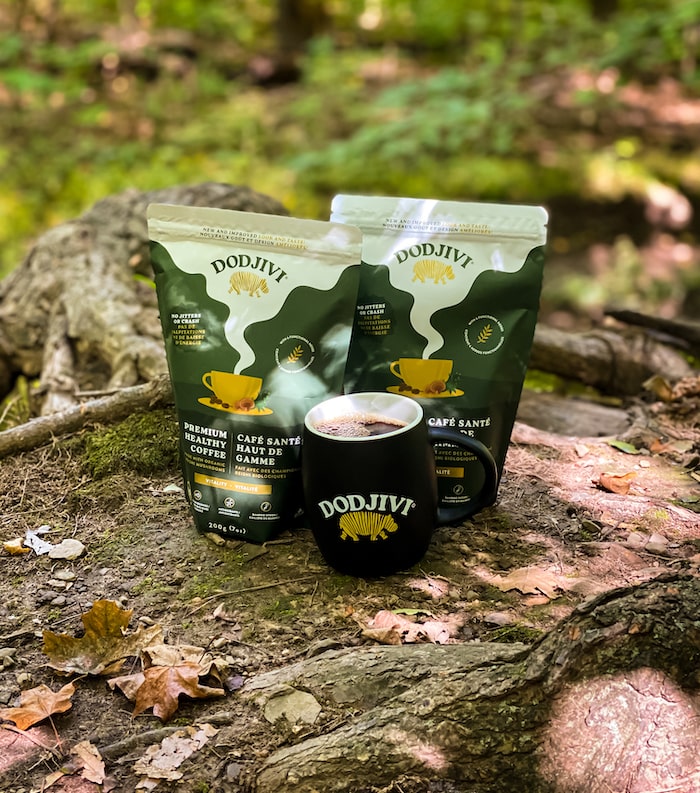 Rootree 2022 PAC Global Award Submission – DODJIVI (REVITALIZED BRAND – BEVERAGE)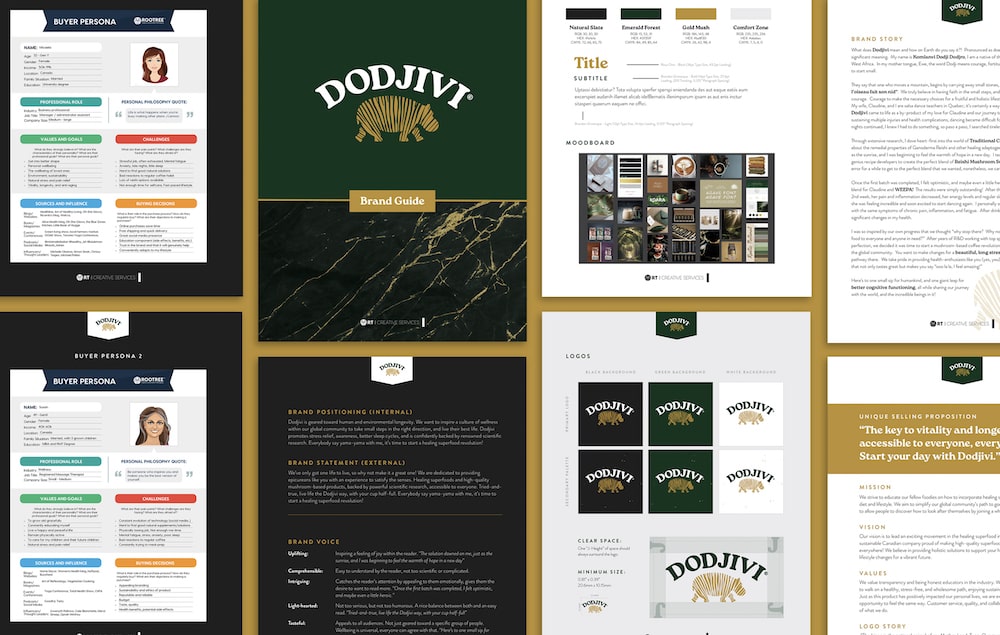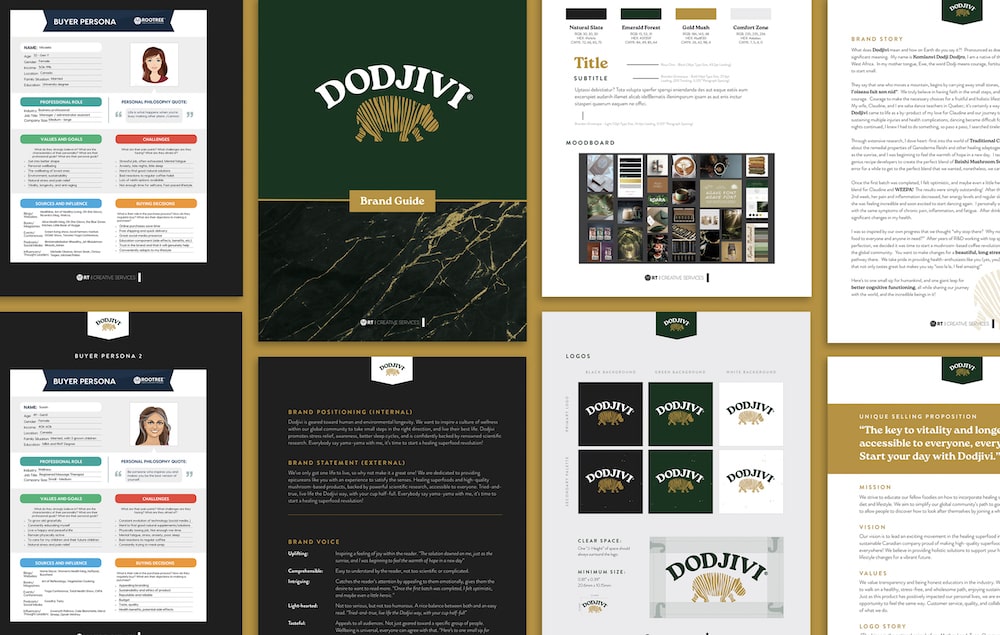 With brand new packaging design, Dodjivi's look was ready to be shouted from the roof tops. Rootree's Creative Services team mapped out and executed a product lifestyle photography session for Dodjivi's new look, to be used for website and marketing content. Currently, Rootree's team creates copywriting for Dodjivi's website, blog, and email marketing, as well as social media management to keep a consistent, well-branded online presence.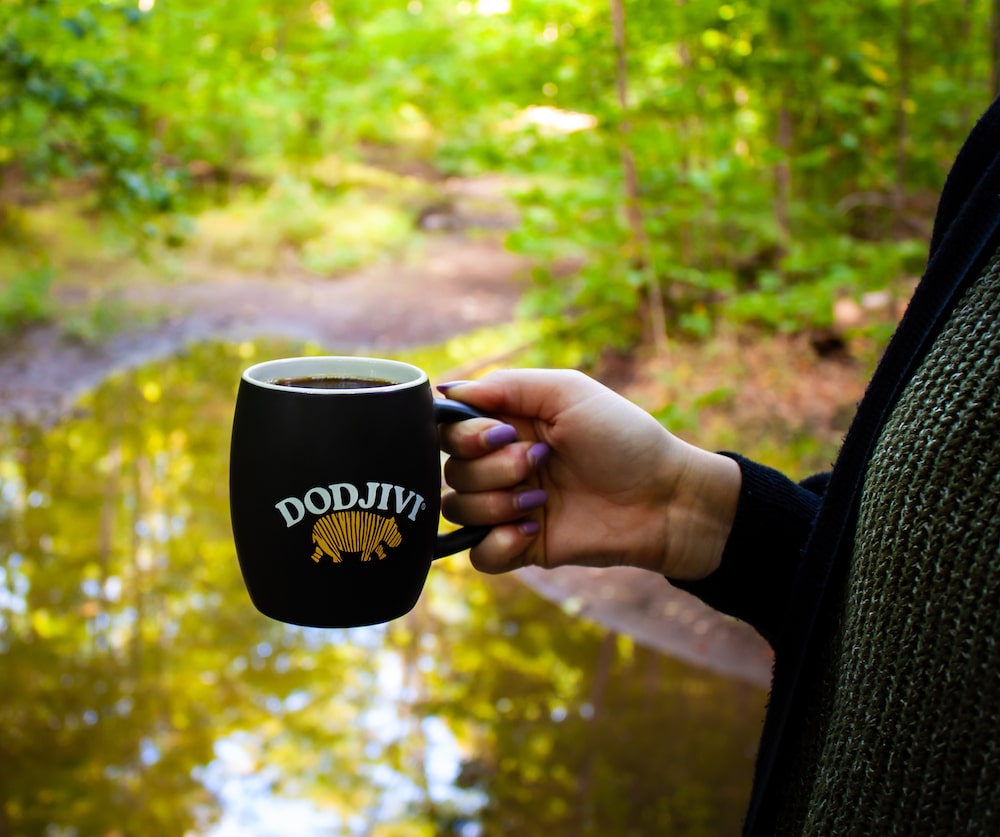 Caffe Misto Recipe – Dodjivi Functional Reishi Mushroom Coffee
From creative collab sessions to storyboard creation to post-production editing, this project got the creative juices flowing from our team!Creating videos that showcased the benefits, usage, and ease of these coffee blends was of utmost importance when crafting these 30-second videos.Rootree's Creative Service Team made each storyboard come to life. With all three products serving a different purpose, each video encompasses a different theme while maintaining brand consistency.With the help of Rootree's Social Squad, Dodjivi was able to showcase its products while visually telling a story. These videos are used for marketing purposes on Amazon, Instagram, Facebook, and
dodjivi.com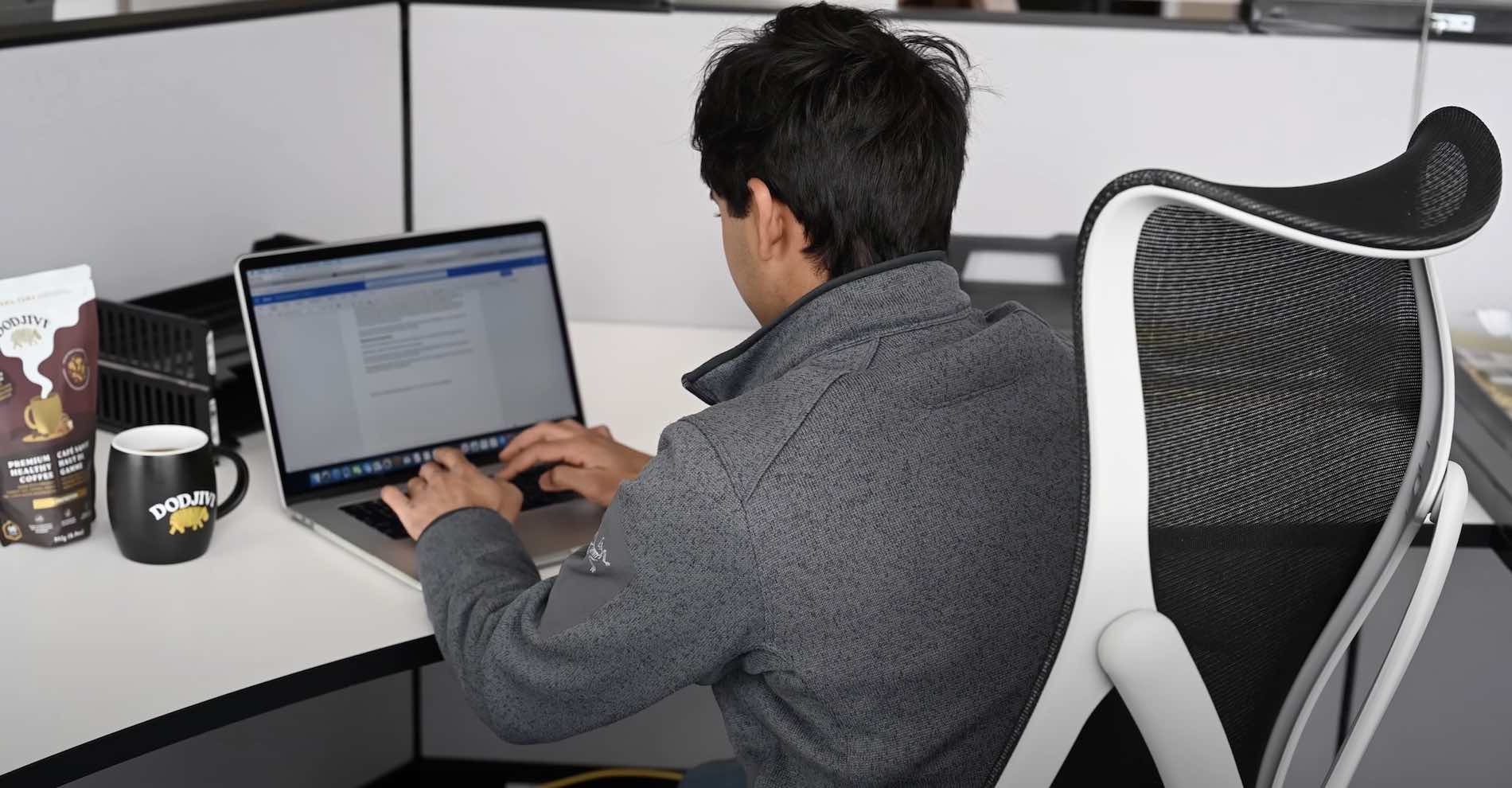 Immune Support Functional Mushroom Coffee | Dodjivi
On the go With Dodjivi Opening
Start your Day with Dodjivi | Functional Coffee – Vitality Blend
Dodjivi later requested that Rootree create a professional sell sheet for them to use to approach major distribution chains across Canada. The project quickly became a booklet concept in order to best represent Dodjivi's full range of amazing projects, and provide enough space to include their newest Global PAC award. Our team worked with Komlanvi to create this booklet in both English and French, using their branding and styles we had developed for them early last year. After presenting two unique concepts to the client, the unanimous choice was a white background paired with gorgeous product and lifestyle photography that had been captured by our team. As this booklet will live predominately within the online space, we created QR codes to direct the viewer to Dodjivi's product videos. This document is clean yet colourful and filled with our good friend, Fafa. Its combination of sleek design and useful technology elevates Dodjivi's professionalism for their prospects. We are so excited for our client to be able to use this as an amazing sales tool to further grow their business!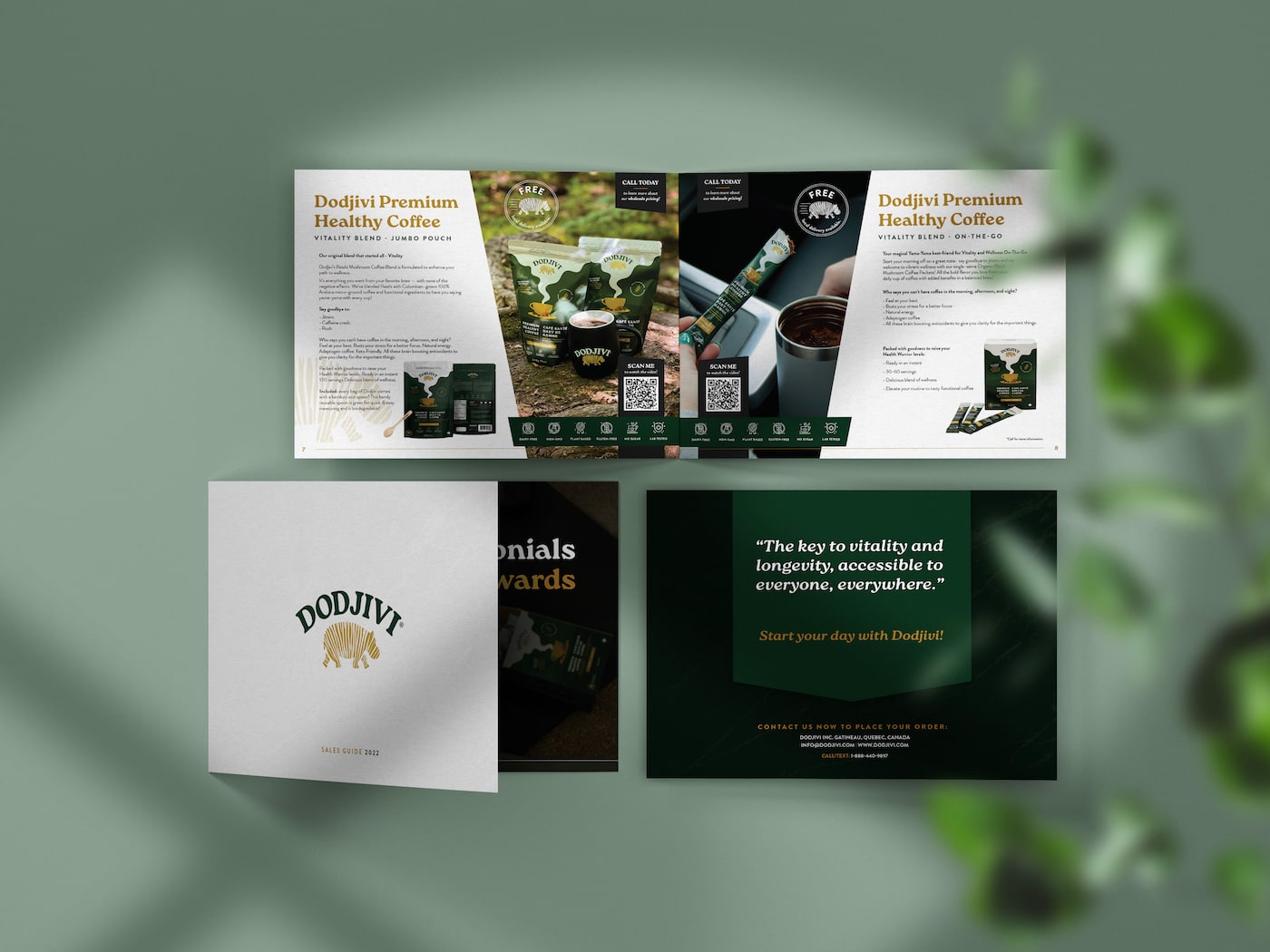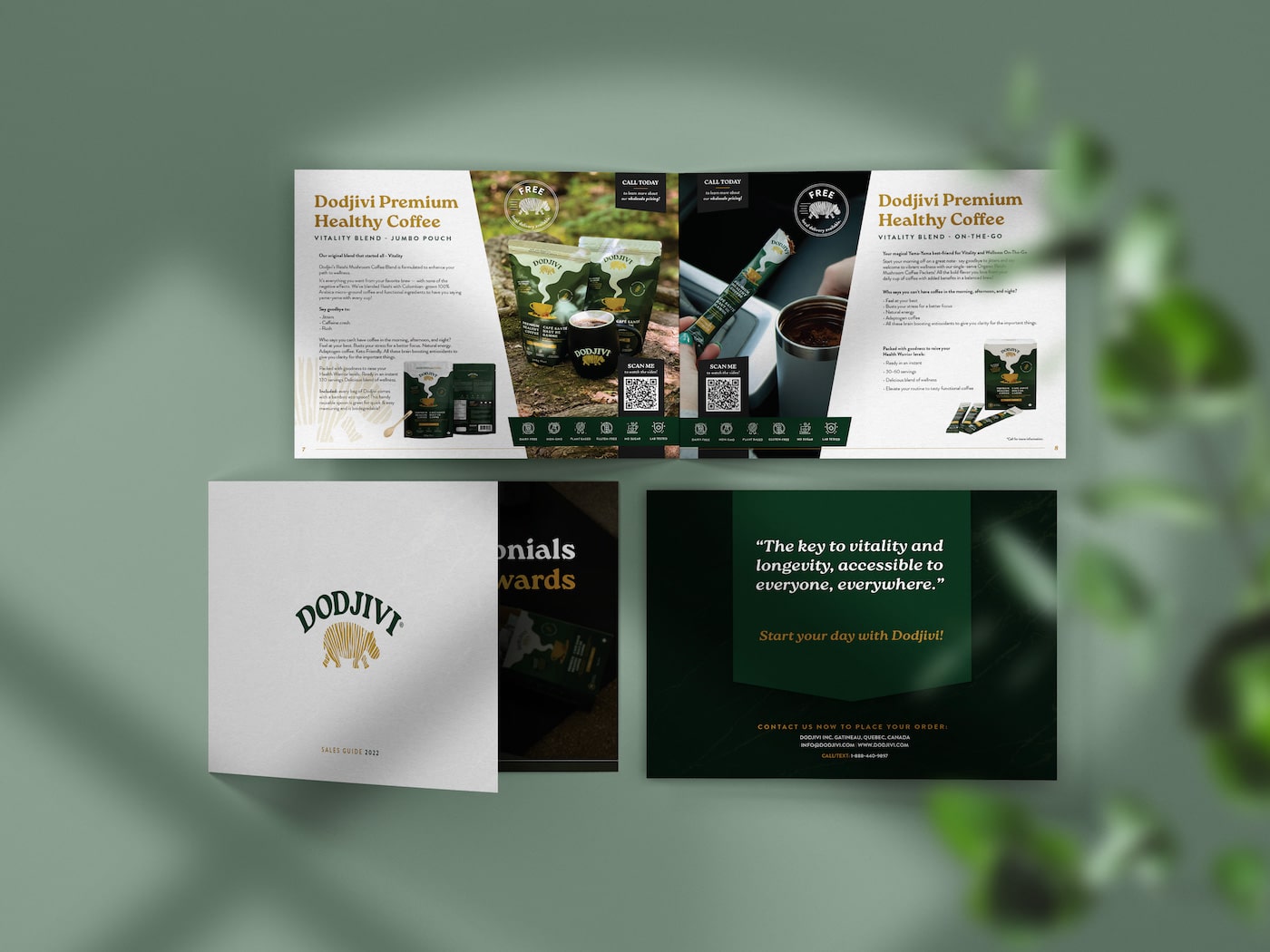 Upon solidifying a brand voice on social media,
Dodjivi
came to us to create three product videos for each of their functional mushroom coffee beverages. Working closely with the client throughout the process, Melanie and Jordan from the Social Squad got to work.