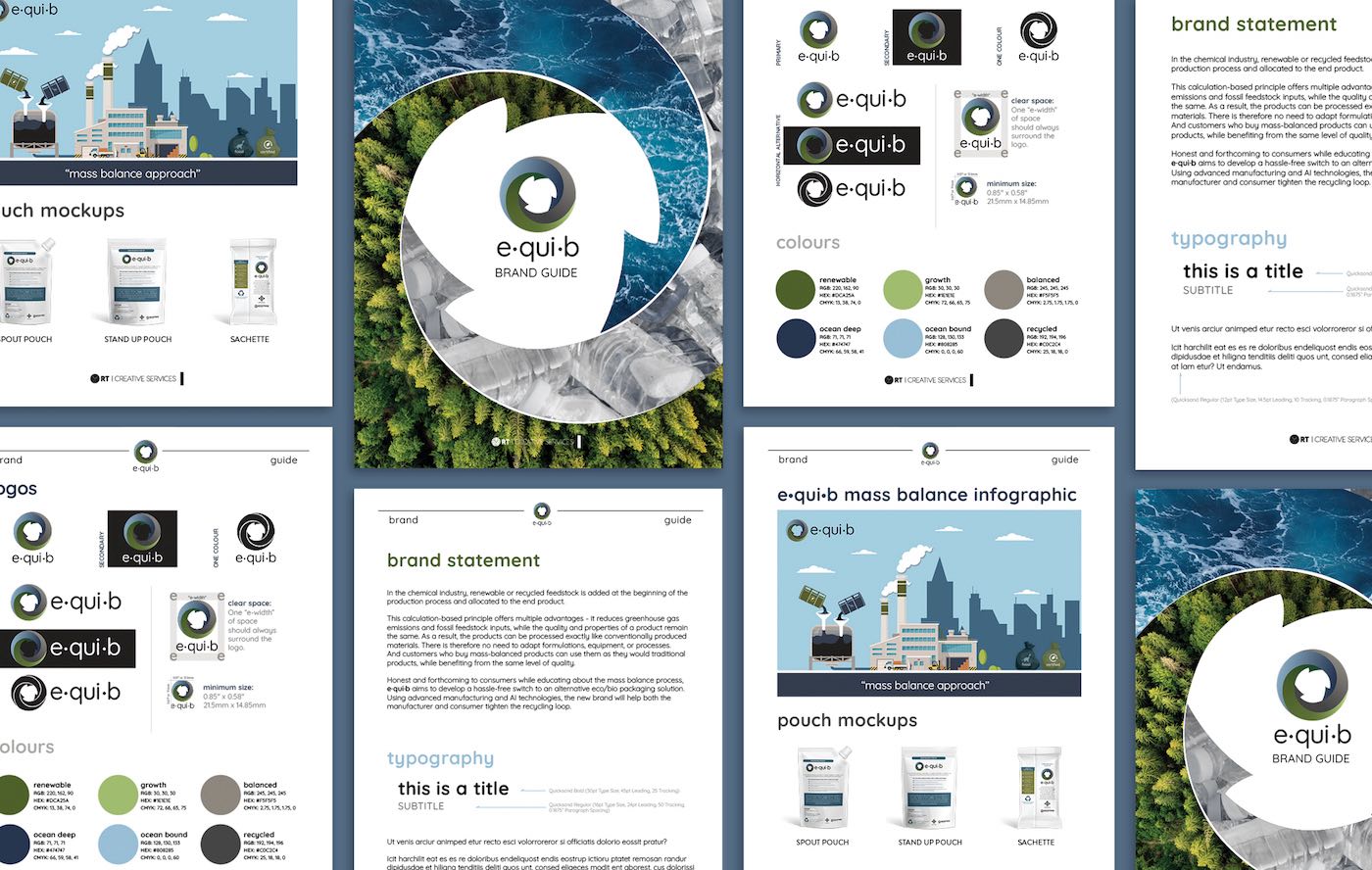 e·qui·b
is a line of environmentally friendly manufacturing materials produced using sustainable technologies like mass balance and reclaimed post-consumer plastics. Honest and forthcoming to consumers while educating about the mass balance process, e·qui·b aims to develop a hassle-free switch to an alternative eco-conscious solution. Using advanced manufacturing and AI technologies, the new brand will help both the manufacturer and consumer tighten the recycling loop. Mitsui came to Rootree's Creative Services team with a concept product, all they needed was branding.

To tackle this project from the beginning, the entire Creative Services team worked together, researching the mass balance concept; the importance of sustainable materials and methods (which we are already quite well versed in!) then created a name, logo, brand colours and fonts, and a brand statement. Many of our concept logos included circles to embody the tightening of the recycling loop and the renewability that mass balance can bring. The final logo was based on an amalgamation of the equilibrium symbol from chemistry and the "impossible circle" optical illusion. The blue and green in the logo represent renewable resources from the earth and water while the grey represents conventional resources. These colours blended seamlessly to create a single loop, with no end and no beginning.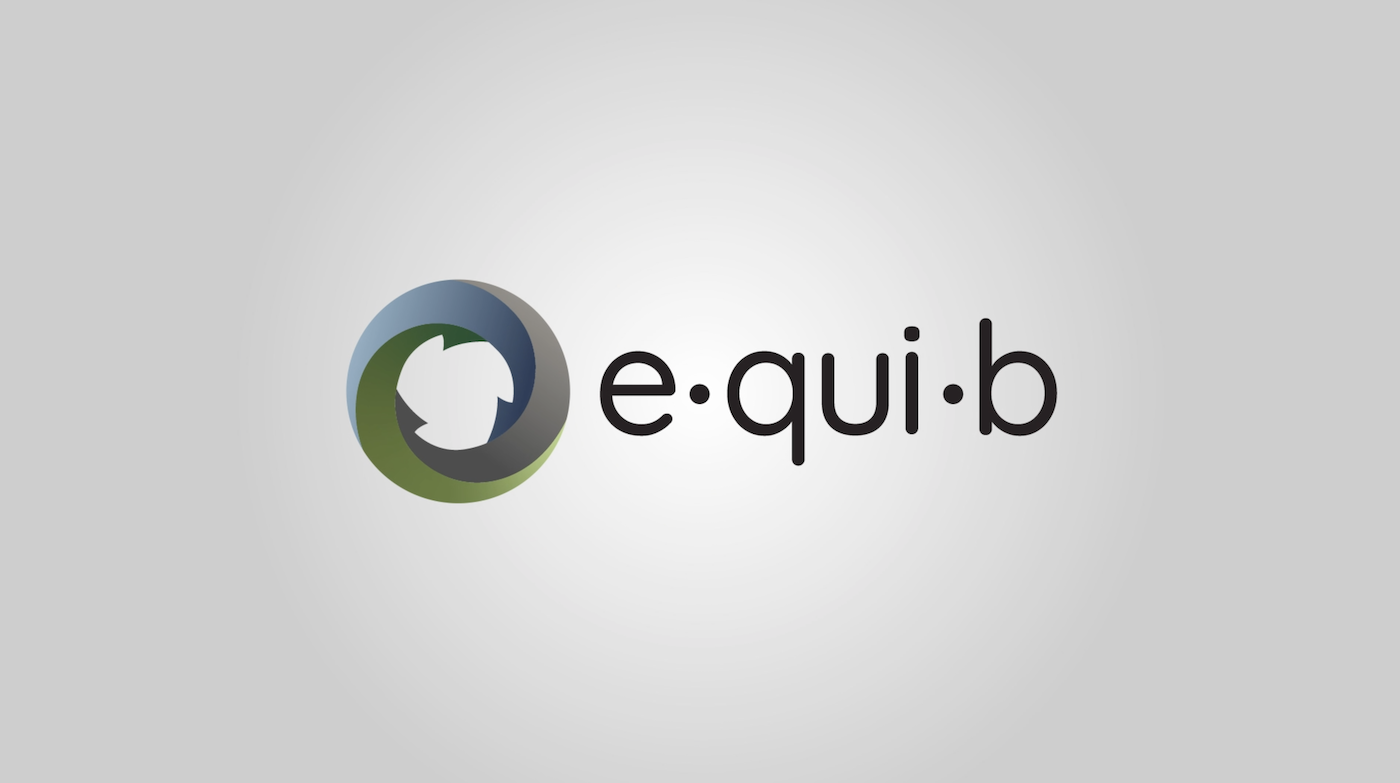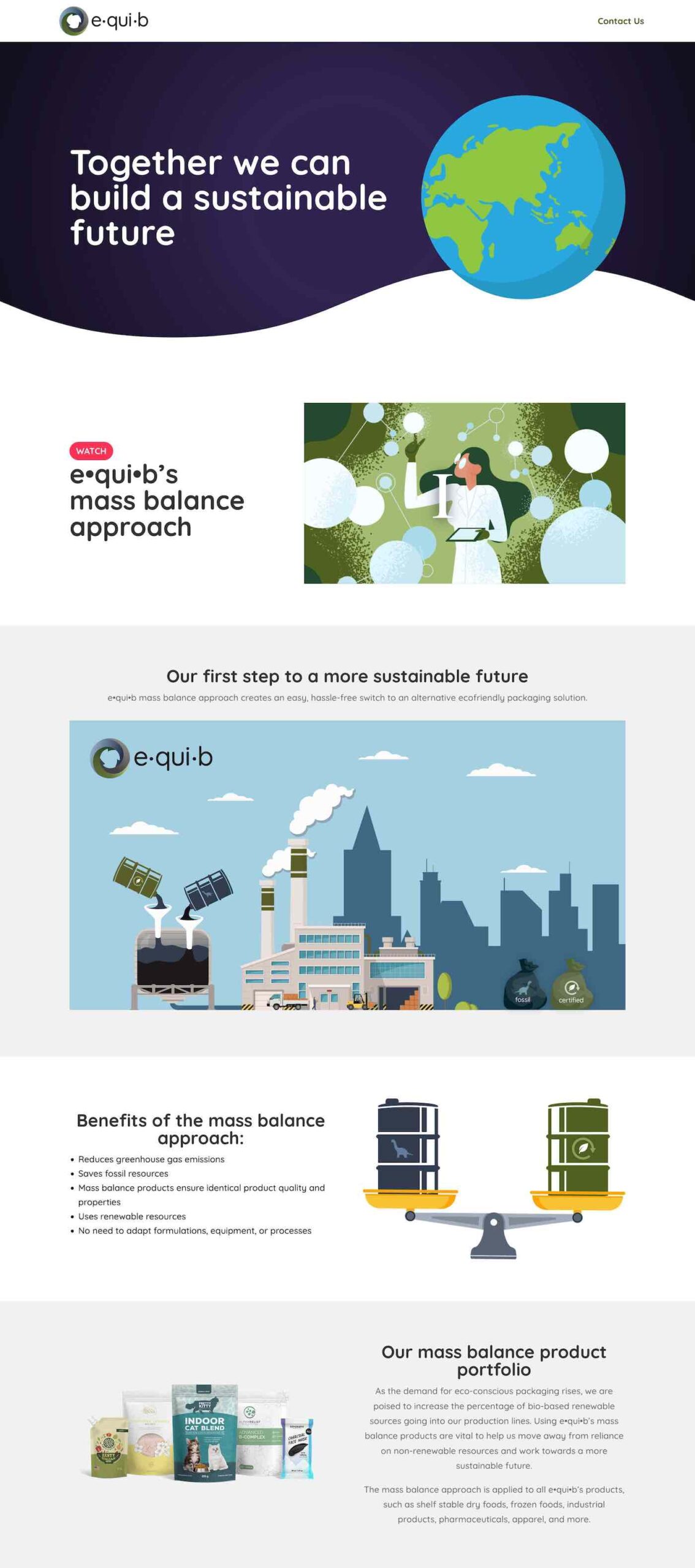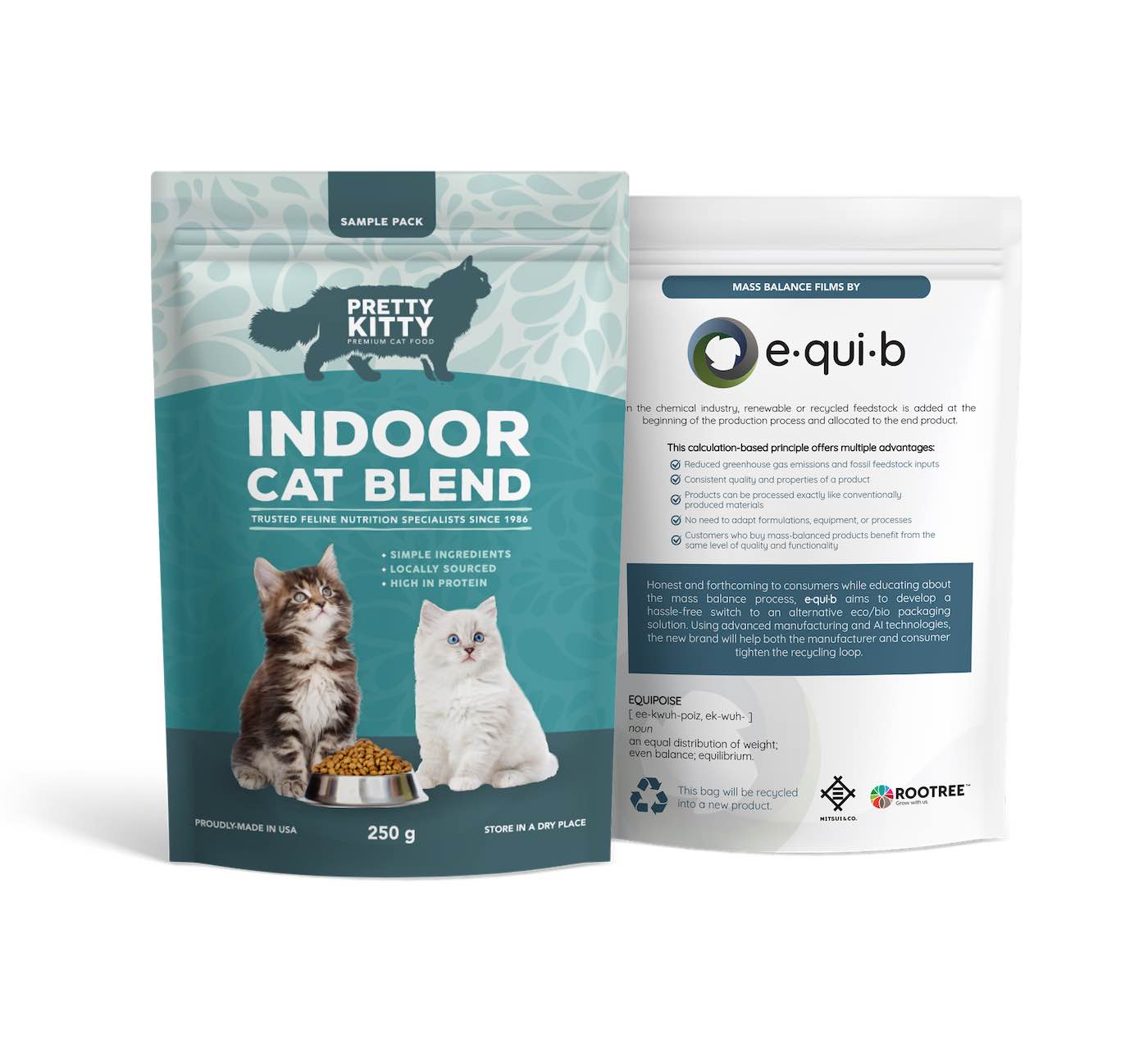 With such a successful experience building the brand from scratch, our team was ready to build their website. This website was built with the purpose of informing clients about what e·qui·b does, the importance of using sustainable materials and methods, and to provide a way for customers to contact e·qui·b about its services. As part of their web content, Rootree's team made a beautiful and informative four-and-a-half-minute animation, explaining mass balance and its role in promoting the transition to renewable resources. The animation was created in a clean, educational style, using After Effects with a professional voiceover. In a style matching the animation, our Creative Services team also created an infographic to inform about the mass balance process.
Yes, we loved working with them on this multi-faceted project!
The team behind e·qui·b came back to us wanting to add an e·qui·b 2 with plans to eventually launch an e·qui·b 3 later. We knew we wanted to add e·qui·b 2 to the existing branding but needed to figure out how we'd approach this addition. Ultimately, we decided that creating a family of logos made the most sense. Without needing to alter the original e·qui·b logo, we adjusted the branding so that each colour would represent a material stream. Mass balance was now represented as green, recycled materials are shown as blue, and forthcoming paper is recognizable as grey. With this clever approach and a minor branding adjustment, the original logo now embodies all materials and new monochromatic logos were added to represent each individual stream.
The look is clean and maintains consistency throughout each visual. For each sub -brand, the darkest arrow in the new logo is the same colour and in the same position as it is in the original e·qui·b logo. Lighter, matching colour gradients were then used for the other two. A tagline outlining which material is represented was also added in the appropriate sub-brand colour to further explain which stream is which.
With over 25 years of experience within the automotive sector, Mistui Plastics, Inc. Automotive division acts as a material solutions provider, supplying a wide array of automotive plastics to North American, Japanese, and European automakers. We were honoured to be able to make an animated video for them to use at tradeshow events that is engaging but also explains the complexity of their processes in a consumer-friendly manner. The video would need to be played on repeat at tradeshow events so that Mitsui could articulate their sustainable offering for both interior and exterior moulds using post-consumer recycled and post-industrial recycled materials to prospective buyers.
After finalizing the key messaging that the Mitsui team wanted to convey, we drafted a script that would clearly express these points. We then created a storyboard that illustrated these points with visuals and movements that would support the dialogue. A talented voice-over artist helped us bring the script to life, we animated the visuals to line up perfectly with the voice and added subtitles in both English and Spanish. Not only did we create a professional and polished, finished product that both the Rootree and Mitsui team were proud of, but we did it in record-breaking time! The Rootree team completed the full video process in under 3 weeks and topped it off with a shorter, 30-second version for easy social media and sharing purposes.