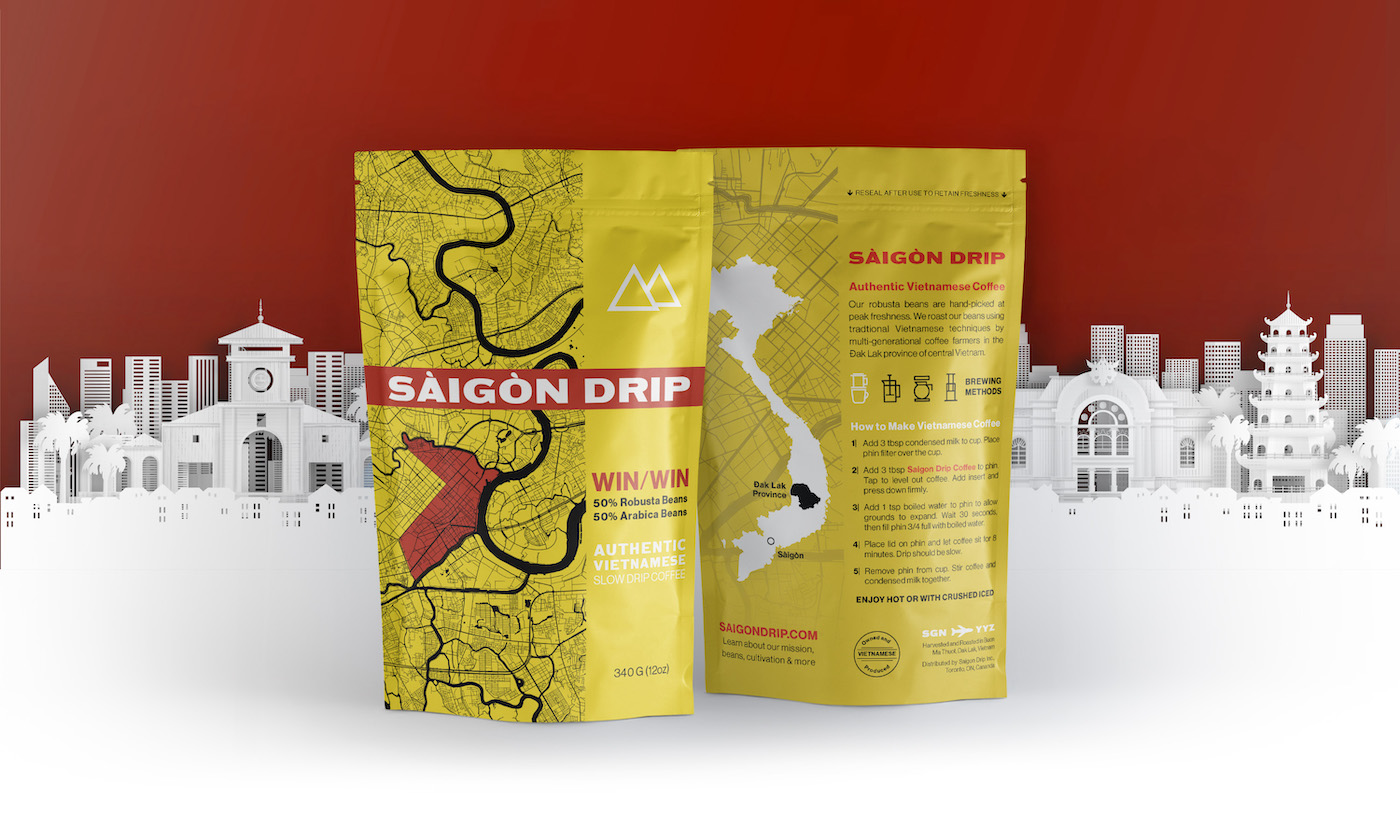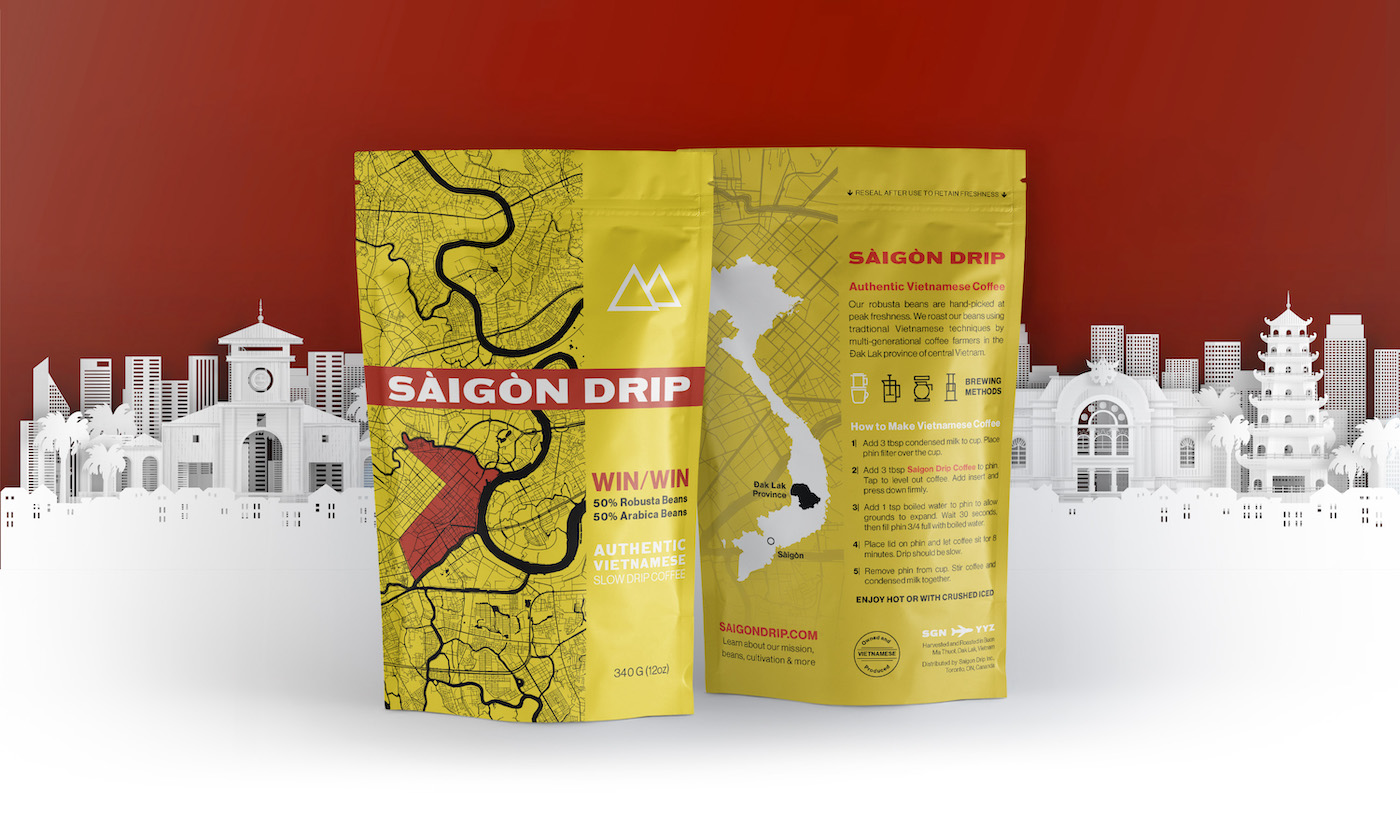 Saigon Drip
is a Toronto-based coffee company that specializes in Vietnamese drip coffee. Co-founder, Sang, spent many years traveling to Vietnam where he explored coffee farms, before deciding to create Saigon Drip in the summer of 2020. The company's beans are handpicked and roasted using traditional Vietnamese techniques by coffee farmers from the Dak Lak Province. Saigon Drip is proud to be the only Canadian company bringing authentic Vietnamese coffee to Canadians. When the client came to Rootree, they already had one blend of beans and were looking to expand to a second, including packaging design — thus, a legendary partnership began. Let's handpick the highlights from this creative project.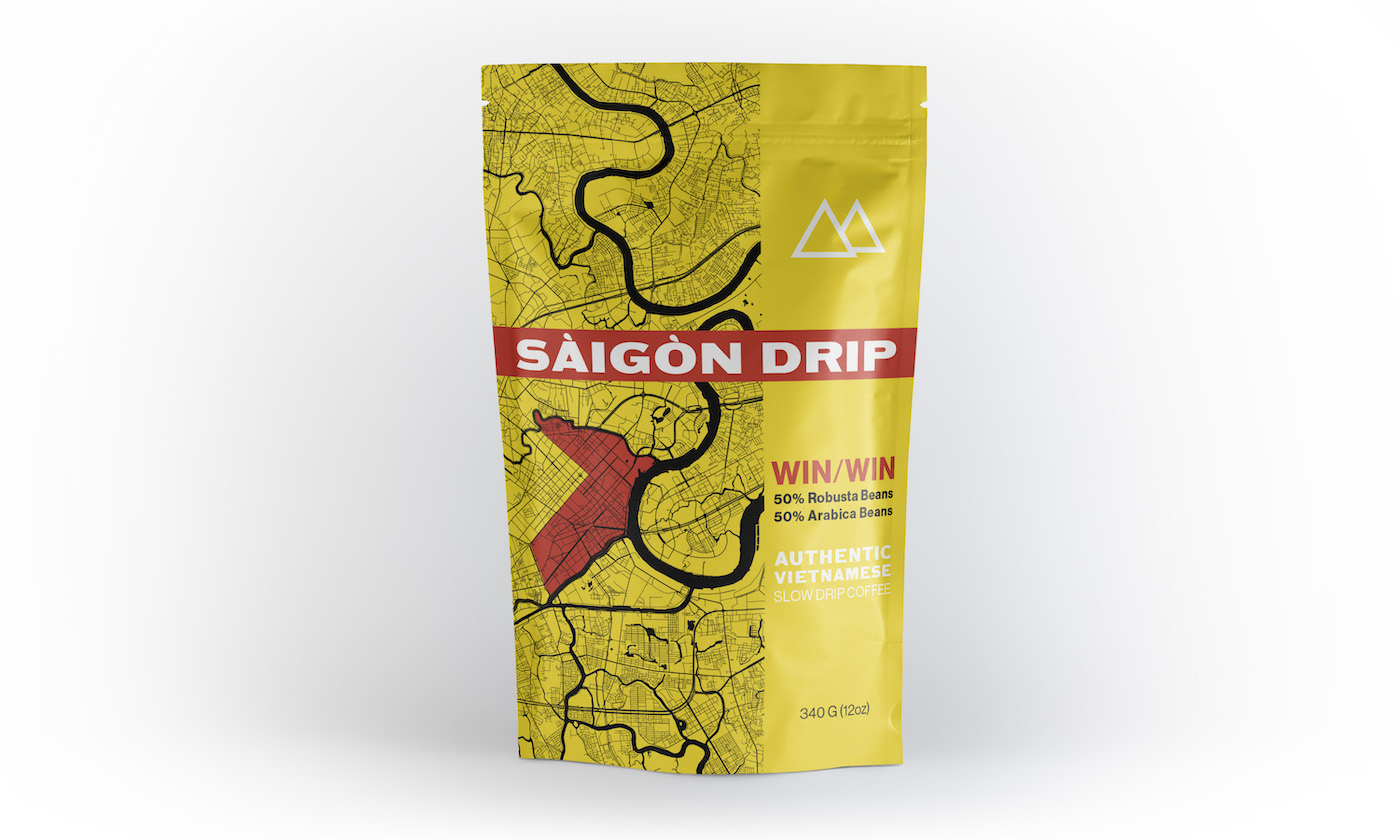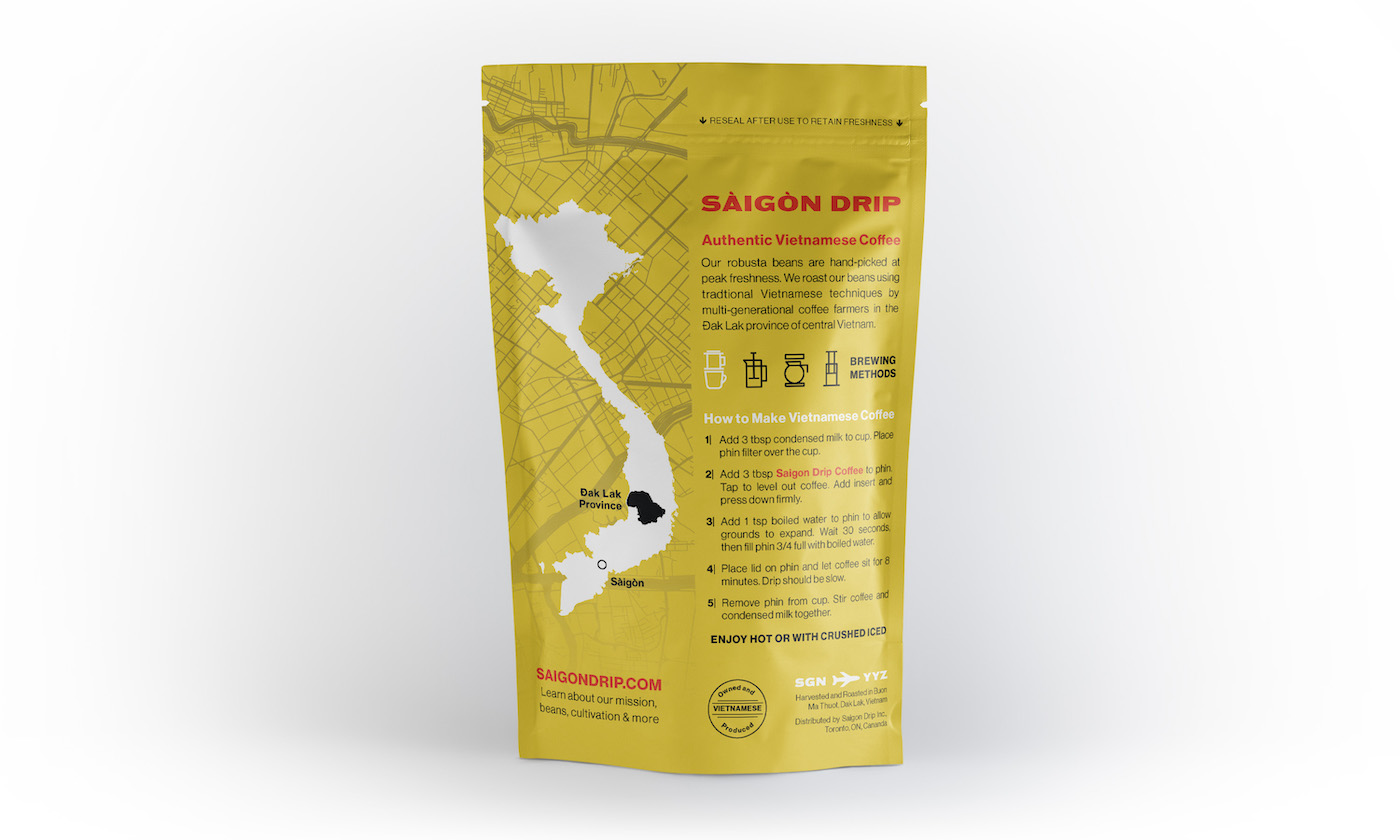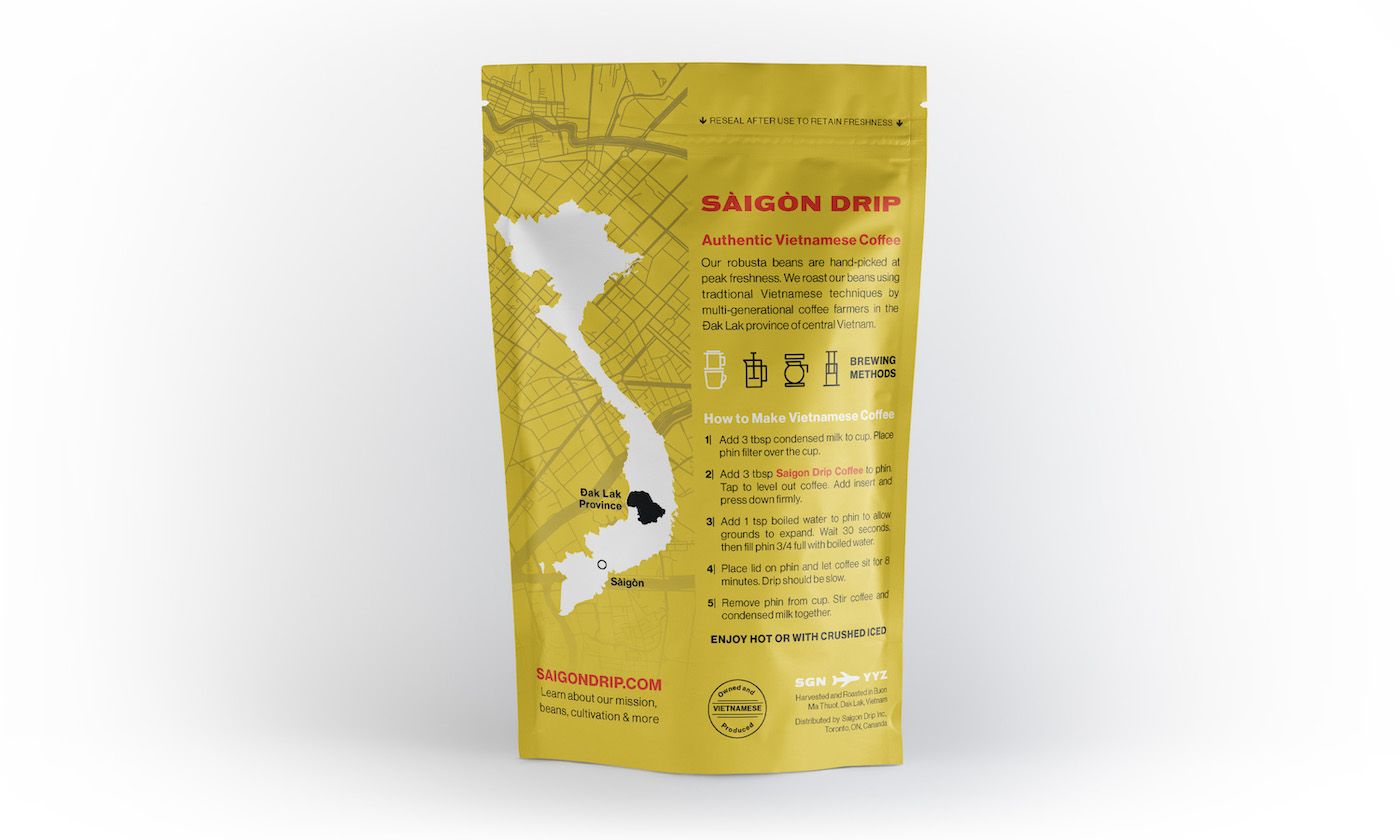 Saigon Drip's new packaging needed to display the same bold vibe as its original vibrant red pouch, while also standing out as a distinct new blend. With this new design, Saigon Drip aimed to make its customers nostalgic for travel and past trips to Vietnam. Working with the co-founders, our Creative Services team decided to use yellow (one of the colours of the Vietnamese flag) as the main colour for this blend. The design was inspired by the intricate embroidery on traditional Vietnamese clothing. The background of the pouch is a zoomed-in portion of a simplified map of Saigon, with the popular District 1 highlighted in red. With no words included within the map, it functions as an interesting background texture. The back of the pouch features a silhouette map of Vietnam, indicating the Dak Lak province where the coffee beans originate from, as well as Saigon. This personal touch provides customers with an authentic experience and connection to the coffee's origins. To achieve the vibrant yellow colour, our Proofs team worked with Saigon Drip to perfect the shade on the physical pouches.
In 2022, Saigon Drip partnered with markets to share their traditional Vietnamese coffee with the community. With their bold new packaging, they decided they needed new menu signage to complement their overall aesthetic and showcase their coffee options.. Our Creative Services team created several options using various icons that would pair with each specialty coffee.
Ultimately, they decided on an eye-catching red option that would accompany their original blend of coffee with minimalistic icons. Overall, the visual appearance is clean, with well-laid out text and the added interest of icons that pop nicely on the red background.