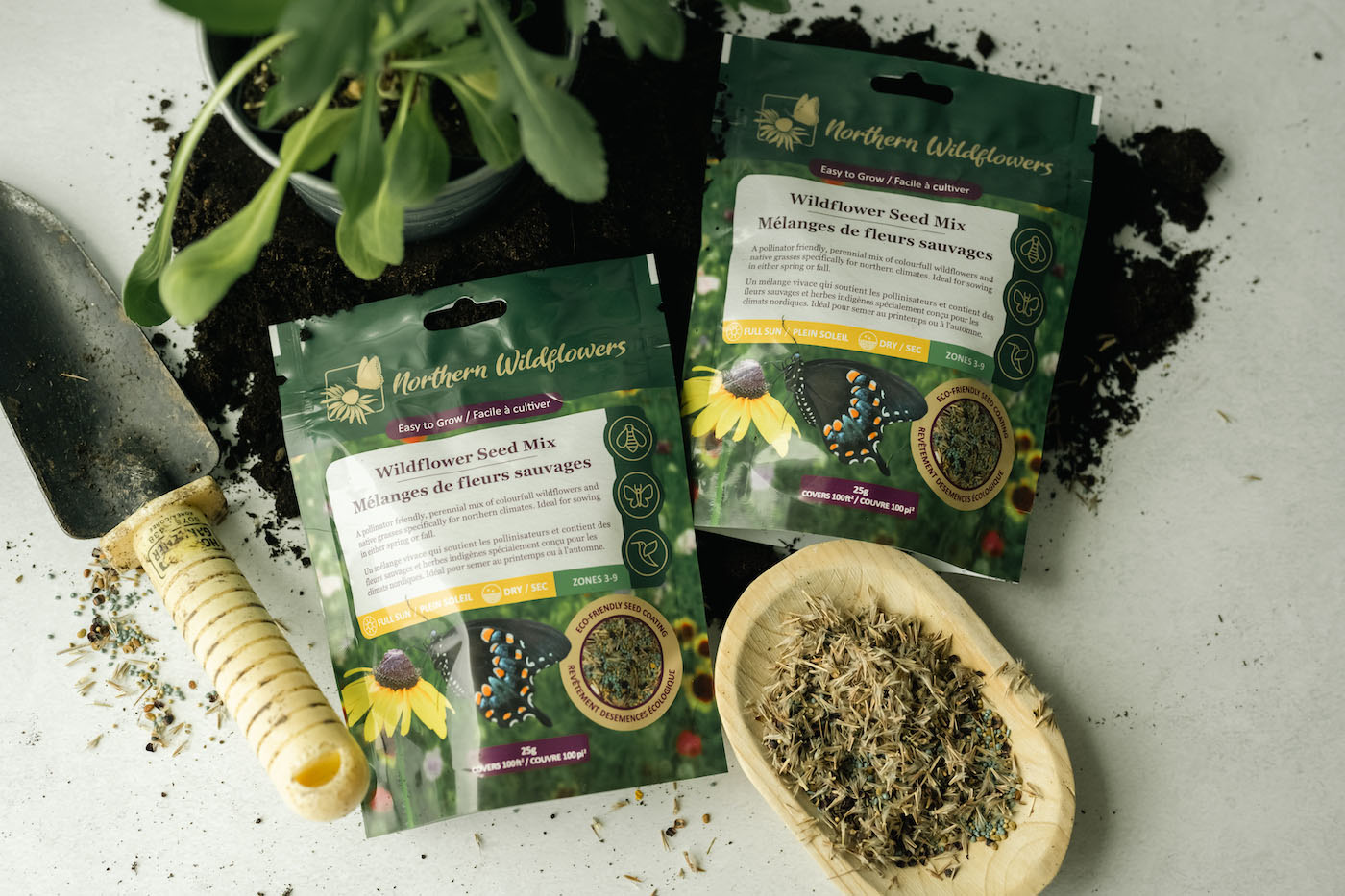 We're travelling all the way to Sudbury to say hello to one of our 2021 RT Foundation Award recipients,
Northern Wildflowers
. The journey of Jenny, founder and CEO of Northern Wildflowers, is anything but boring.
When Jenny started her career as a biologist, she was heavily involved in fieldwork and was all about helping wildlife.
Since she's always had a passion for helping the environment, Jenny wanted to do something with a greater impact and to create positive change, thus, Northern Wildflowers was born in 2012.
Locally grown, ethically sourced, sustainably made
"Our approach is also really unique – we try to make growing wildflowers really accessible to people."
You may be wondering: what are wildflowers and native seeds? How are they different from the flowers and plants I have in my garden?
Wildflowers and native seeds are ones which grow naturally in their environment. Native plants are essential in nature, as they provide food and habitat for animals of all kinds. These plants filter air and reduce soil erosion, all while acting as pollination stations for bees.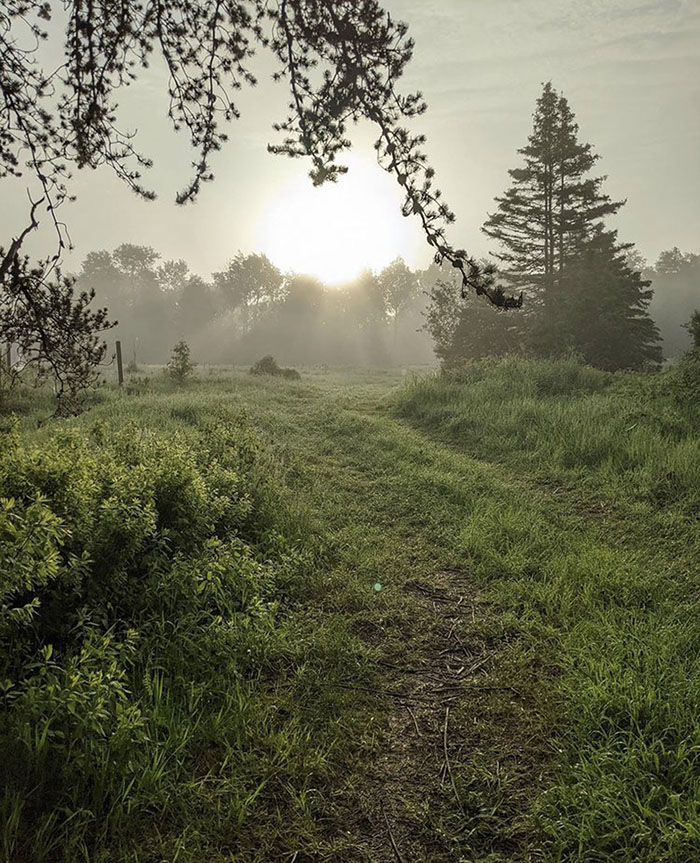 Northern Wildflowers is one of the very few producers of native seeds, offering a variety of seeds that no one else in North America has. With a team of wild collectors, they collect Northern Wildflowers' seeds which are not traditionally or commercially grown. Northern Wildflowers is a stand-out brand on the market with their truly unique wildflower seed mix.
Sustainability is also a significant factor for Northern Wildflowers and something that Jenny and her team take very seriously. They are always thinking about how the products they carry are made, and what people will need if they are going to create a pollinator habitat.
The Northern Wildflowers customer base shares the same values as the company, and thus a large community of gardeners has been brought together as a result of Northern Wildflowers. From green-thumbed veteran gardeners to those who are just starting their at-home garden, Northern Wildflowers products are perfect for just about anyone.
When looking for suppliers, Jenny reveals that Northern Wildflowers "look for Canadian businesses and keep it as local as possible." She further comments, "It was so cool that [Rootree is] from Canada and operate out of Ontario. Environmentally, this is amazing in terms of shipping. It's awesome."
When Jenny discovered the RT Foundation, she knew this was an opportunity that Northern Wildflowers could not pass up. In learning more about Rootree, Jenny was drawn to our mission of creating environmentally friendly packaging. Creating their seed mixes with the planet top-of-mind, it was no question to work with a brand with whom their values aligned.
What is the RT Foundation?
Having eye-catching packaging can be a game-changer for your business if your product is on the shelves among your competitors. That's why Rootree created the
RT | Foundation Award
, to help propel small businesses like Northern Wildflowers to grow with prizes that help small businesses grow!
As a small business owner, Jenny wears many hats. Her daily routine consists of everything ranging from financial management to sales and marketing, overseeing partnerships, and, as she puts it, "getting done whatever needs to be done."
The RT Foundation was designed to alleviate some of the stress that comes with being a small business owner trying to do it all. We take away the cost of designing your pouches, keep your social followers engaged, and create photos that capture your business's newly packaged products in a lifestyle photo shoot.
Jenny jumped at the chance to apply for the RT | Foundation Award after hearing about the exciting opportunity.
"The application process for the RT | Foundation Award was very streamlined. All the questions were very fair, made sense, and easy to answer. Overall, the process was very simple. It was a no-brainer to apply."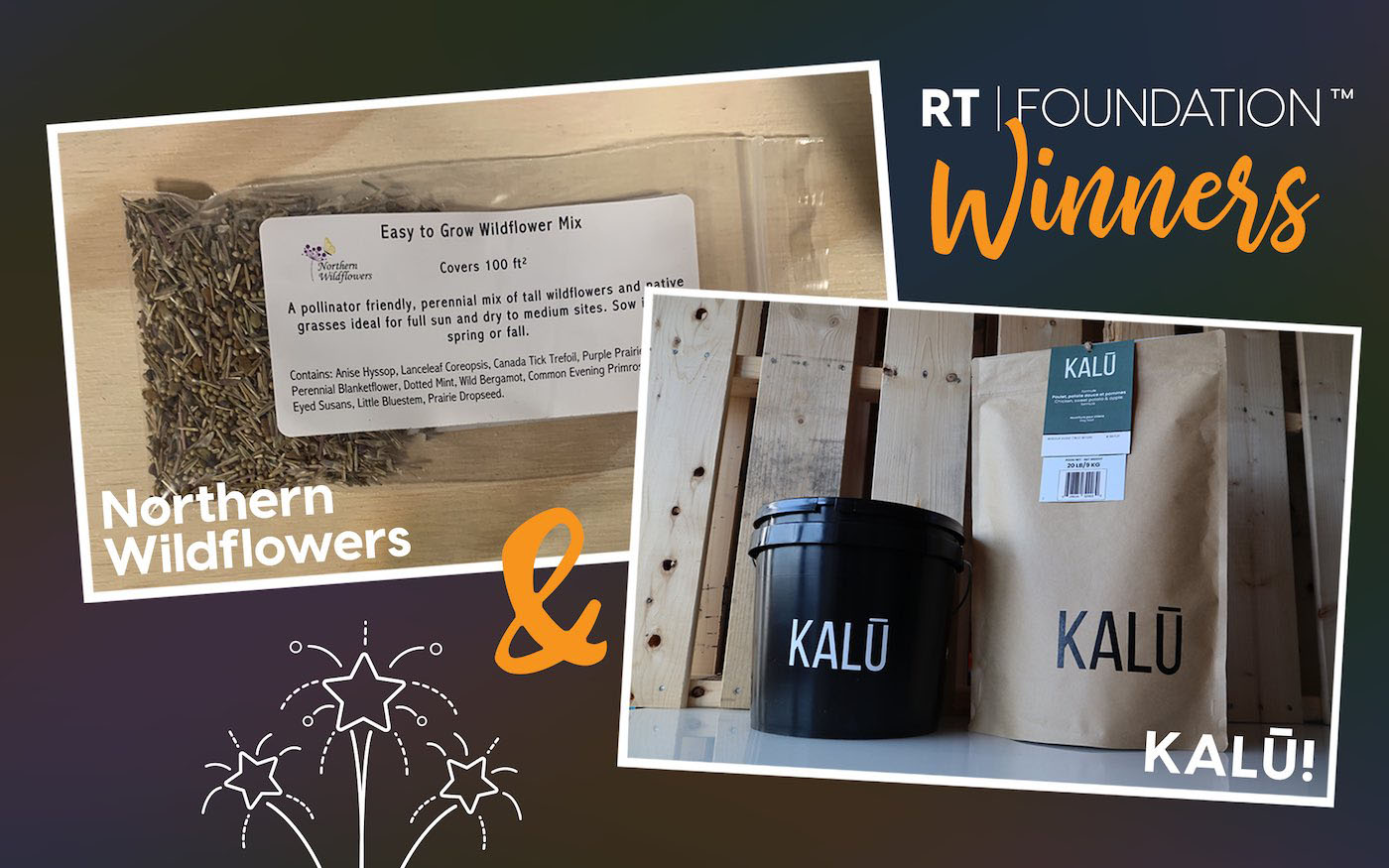 "When you have a company that has an award, it is different because they get what other small businesses need. It was incredibly flattering to think that Rootree felt we were deserving of this award."
It's all about pouch design
After some much-deserved congratulations, Rootree's journey with Northern Wildflowers began. The first stop on our journey: pouch design.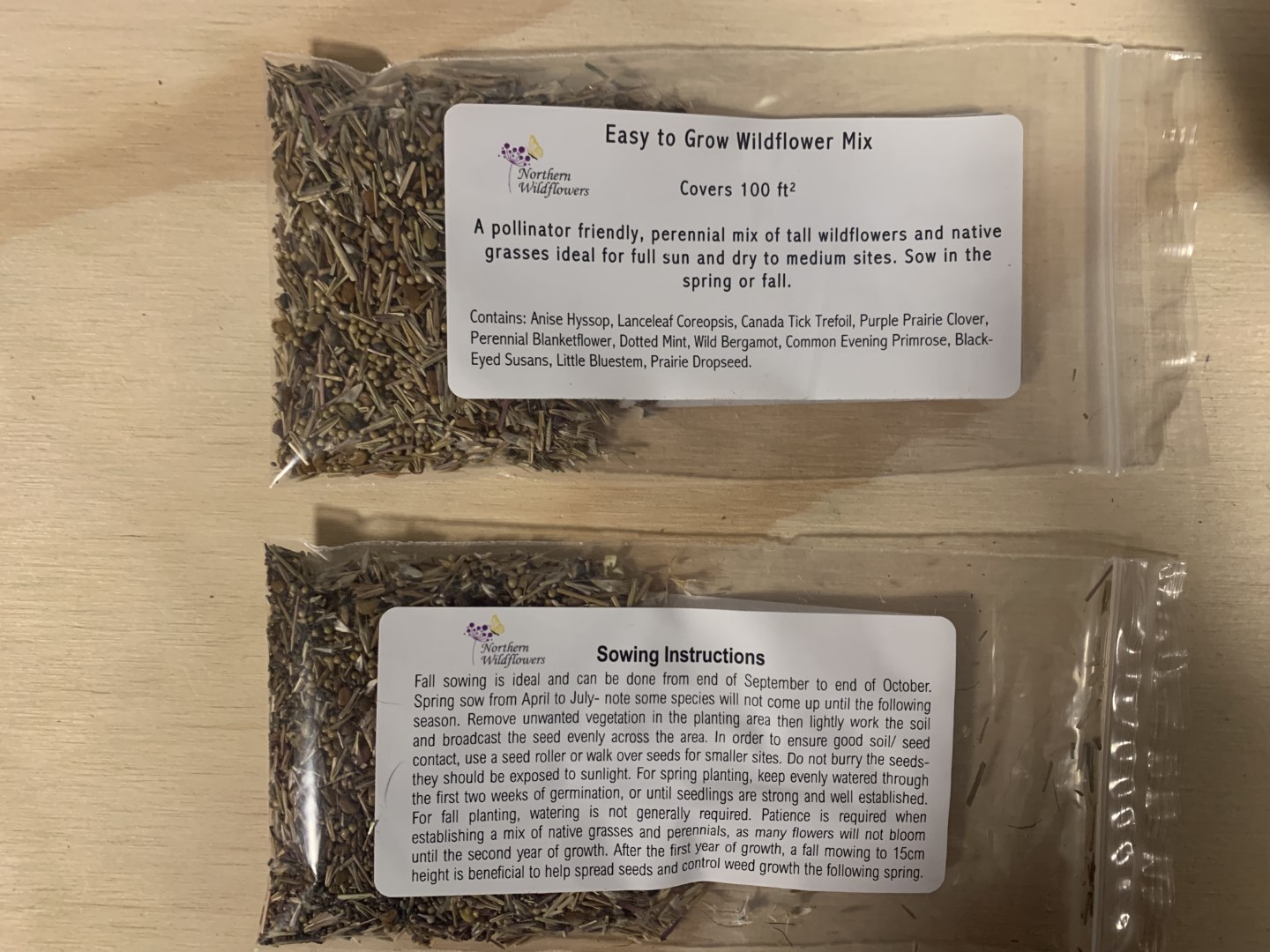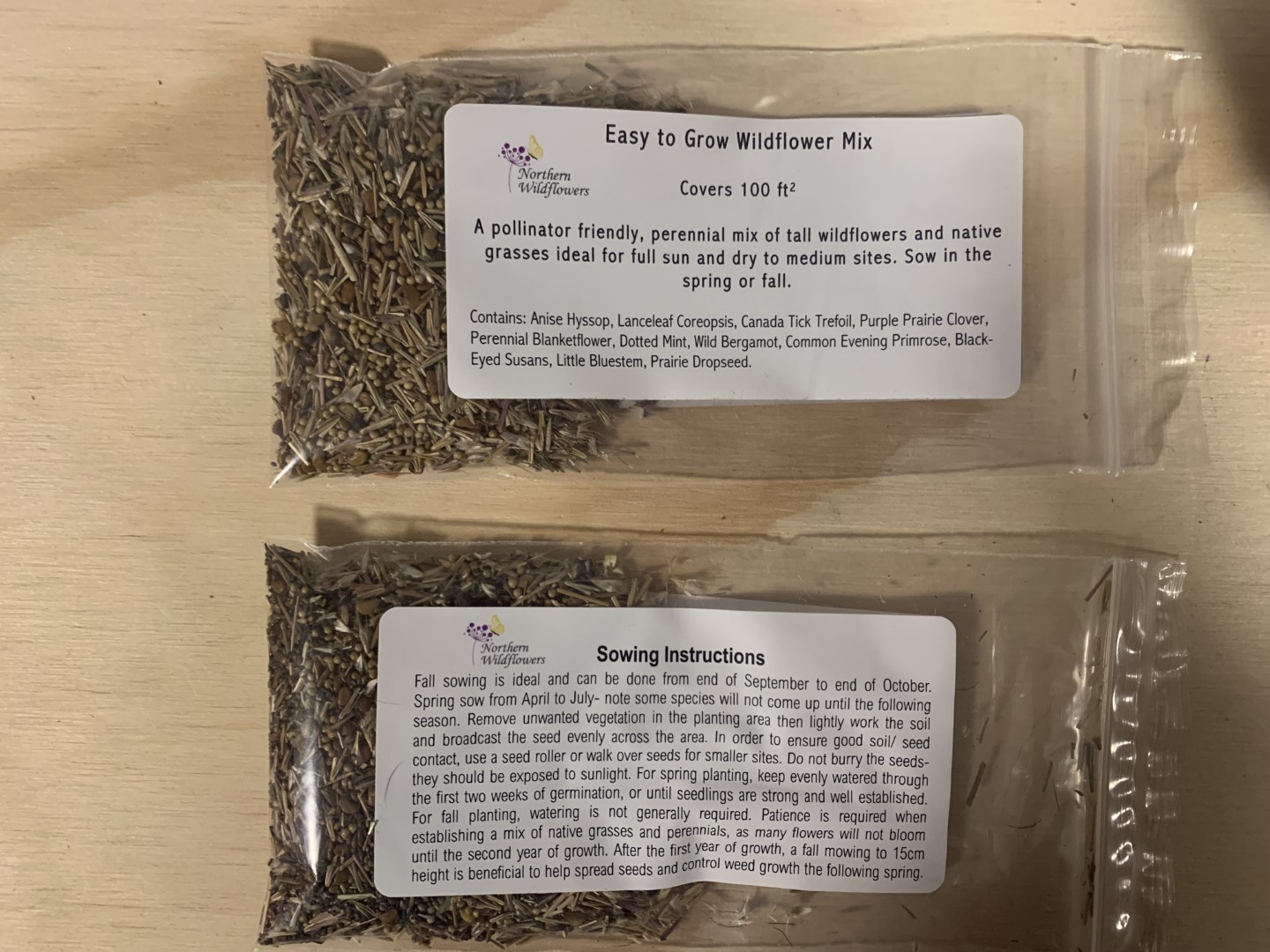 With existing packaging, Rootree's team redesigned Northern Wildflowers pouches, giving them a refresh. Rootree's team provided Jenny with several options for a new look along with an option that went with their old packaging, while adding some exciting new features.
After a collaborative process and multiple brainstorming sessions, Northern Wildflowers opted for a false window to show customers what they could expect inside the package with custom illustrations explaining how their eco-friendly seed coating works. Their stellar new packaging is sure to catch the eye of gardeners and non-gardeners alike.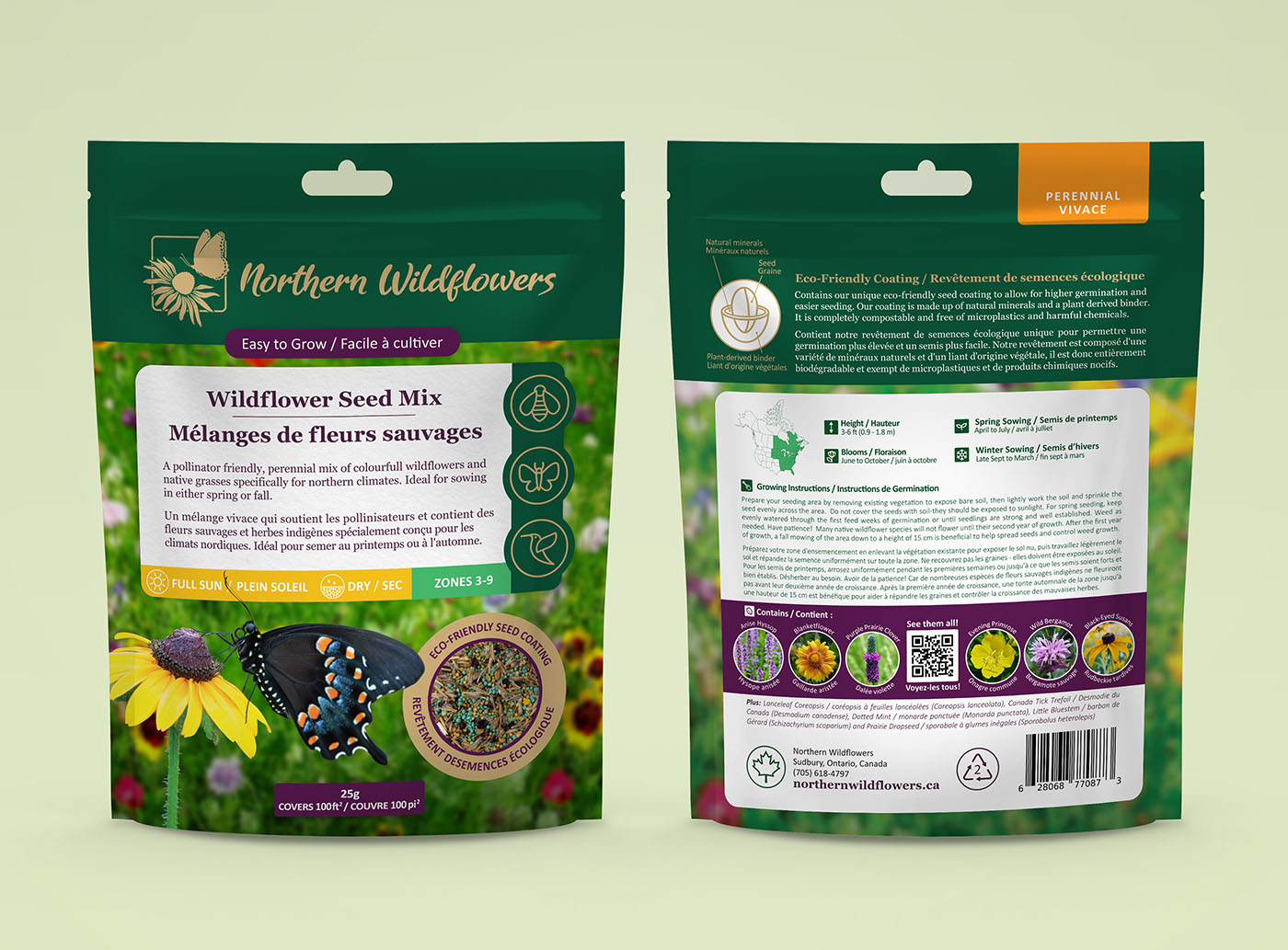 Jenny shares that working with Rootree's Creative Services team was a breeze. As the business owner, she was able to be involved in every step along the way and had support from all members of our team.
Jenny states: "The Rootree team was really accommodating with the kind of turnaround time we could commit to."
In addition to their new pouch designs, Northern Wildflowers also received three months of social media management from Rootree's social media management team. Before engaging on Northern Wildflowers' social media platforms, our social team needed to become familiar with their brand voice, audience, and online presence. To ensure that the 'social squad' was aligned with Northern Wildflowers' brand values, our teams joined together for a brainstorming session. After much collaboration, Rootree's team developed a content calendar, outlining a posting schedule for three months. With graphics, Instagram Reels, "how-to" videos and recipes, our social team checked all the boxes with a variety of posts for both
Instagram
and
Facebook
.
"Rootree really looked at different aspects of gardening and included that in every post. Every post that Rootree created was out-of-the-box and creative. It wasn't just your average gardening post, which was really fun and exciting."
Northern Wildflowers was a part of the journey every step of the way, with the ability to approve and provide feedback for every post.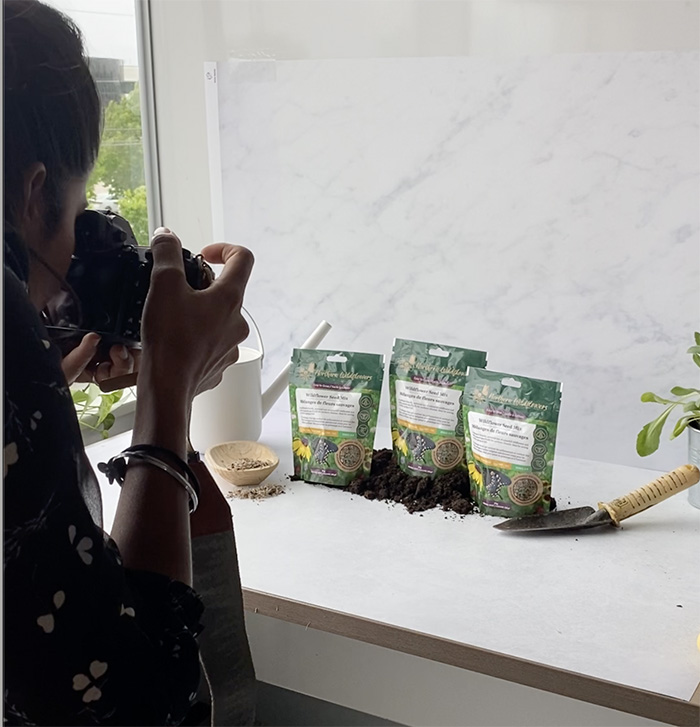 The last stop on our journey is the photo studio. It was important to have bright, clean photographs to show off their newly designed pouches. To capture the Northern Wildflowers brand and messaging, Rootree's team put together a mood board for inspiration. To highlight the product and its purpose, the pouch was captured in different lifestyle scenarios. While it was important to picture the pouches themselves in the garden and dirt, it was just as important to picture the seeds themselves in the hands of a gardener and laid on a dish, all to show the beautiful mix.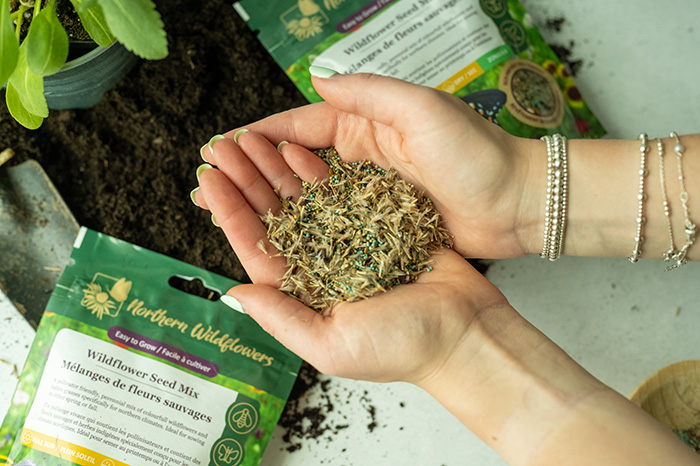 Jenny could not have been happier with the photography as the photos perfectly embodied Northern Wildflowers and their customer base. "Rootree really put thought into what they wanted the pictures to say to people, and that was really important to us."
Life after the RT | Foundation
The RT | Foundation has helped propel Northern Wildflowers further into the gardening space, as their new packaging enters new retailers, becoming accessible to more and more Canadians. When reflecting on how the RT | Foundation has helped her brand, Jenny reveals:
"Overall working with Rootree and winning the RT | Foundation Award has given Northern Wildflowers more exposure. The social media support was really special – we find it can be really hard sometimes to manage. Everything we have received from Rootree has been high quality and amazing."
It has been so fulfilling to work with Northern Wildflowers thus far, and we are looking forward to continuing our partnership on future projects.