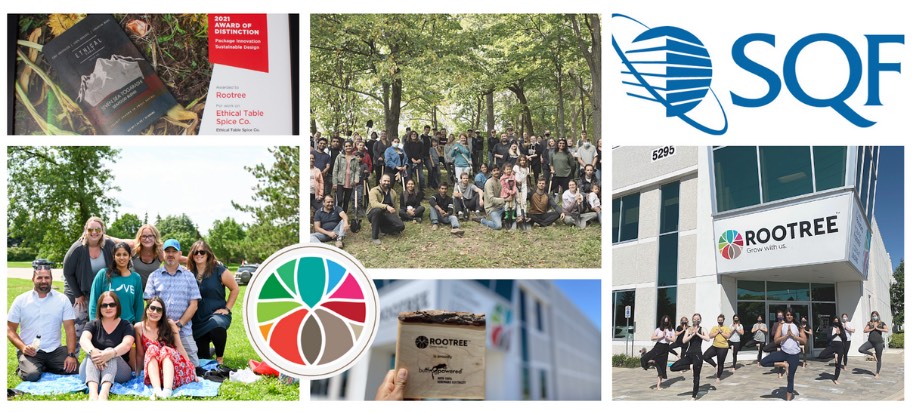 2021 has been a year full of readjustment, hard work, and growth. Rootree has had a jam-packed year, and we'd love to recap it with you. In 2021, we returned to the office, grew our teams, adopted new partnerships and certifications, and encountered a lot of inspiring businesses – all while having a lot of fun along the way. As we near the end of 2021, we've taken some time to reflect on all that's happened in these past 12 months.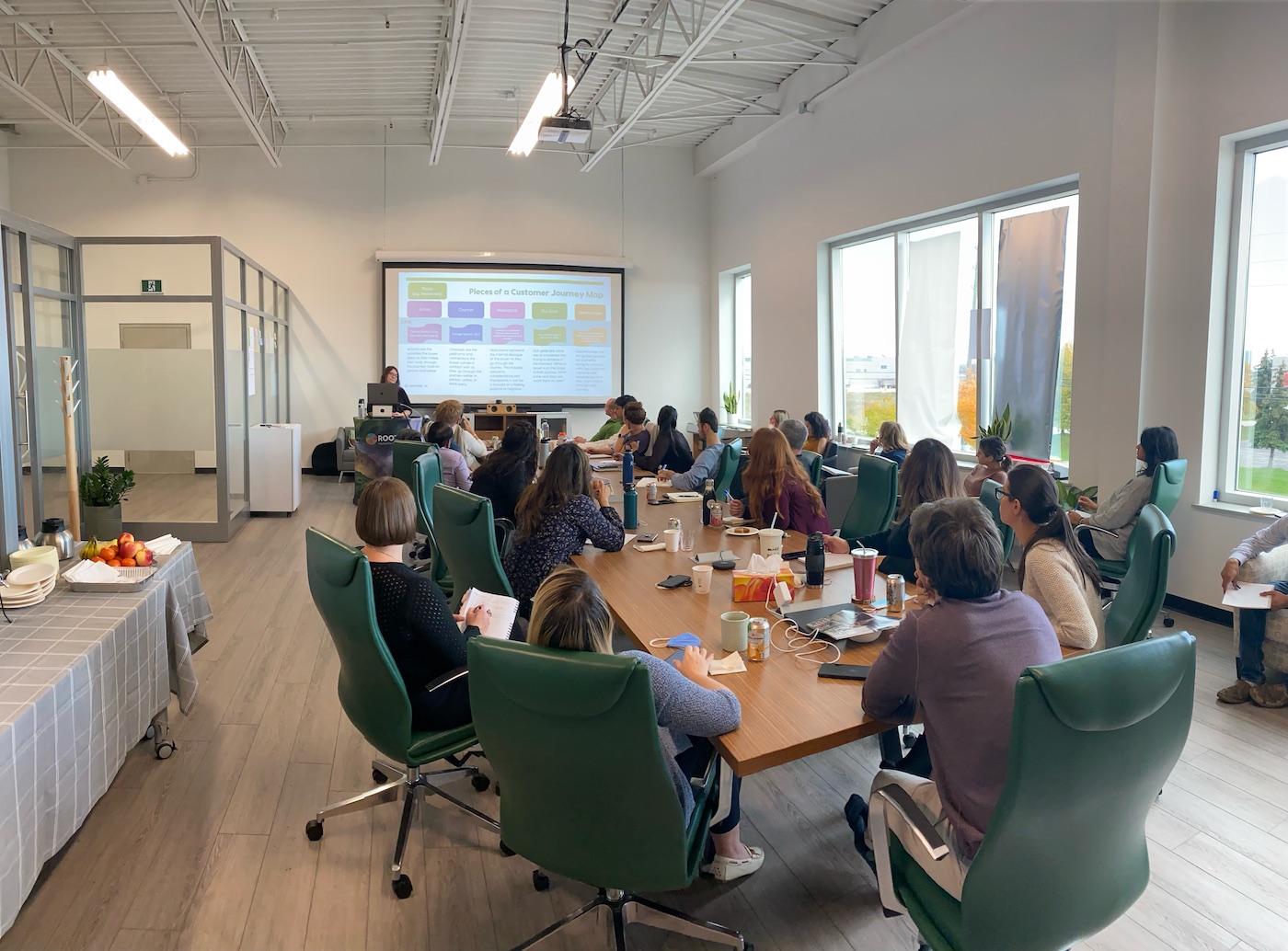 As we all know, the pandemic moved many of life's normal activities online, including most of our Rootree teams. While we rose to the challenge and made it work, we all looked forward to being back together in the office.
Throughout the year, our teams slowly started to return to life at the office. Though we had a mix of virtual and in-person employees, our Rootree family stayed strong with hybrid-style meetings, yoga classes, and RESIN activities like our biweekly Lunch & Learns (more on that later).
Before long, our office was back to its vibrant bustle, with familiar faces as well as some we had only 'met' virtually. Though our environment looked a little different with COVID protocols and PPE, we were thrilled to utilize our offices, boardrooms, and yoga studio with each other's company.
During all of this back and forth, and despite the many day-to-day uncertainties that come along with working during a pandemic, our production team worked hard to fulfill customer orders. Our efforts would not be possible without our production staff members!
A Growing Family Roo-tree
This year, we were happy to welcome so many new faces to our office. Reflecting on where we started, we're amazed at just how much our Rootree family has bloomed.
Our Sales team has grown, including 3 new additions in our Montreal office, allowing us to continue to provide exceptional customer service to our clients in Canada's two official languages.
Our Creative Services team has sprouted some additional talent, which means that we get to work with more amazing businesses and address their growing needs, from digital marketing to website development, to lifestyle photography, and so much more.
Of course, our Manufacturing team has seen the most significant growth in order to accommodate our customers' growing demands. This includes new and exciting equipment, as well as some very talented staff to keep them operating efficiently.
This year also saw the continuation of Rootree's summer internship program, as we welcomed interns across our administrative and Creative Services teams. Our interns enjoyed a vibrant Rootree summer helping our teams with various projects, practicing yoga, tasting cricket smoothies, and participating in Rootree's RESIN program. We were so happy to have them join our Rootree family, even for just a short while!
Joining Forces with Bullfrog Power
In 2021, we embraced the beginning of our partnership with Bullfrog Power, a Spark Power company which generates renewable power from wind and low-impact hydro energy sources across Canada. This partnership allows us to reduce our carbon footprint; when Rootree's offices and facilities use conventional electricity, Bullfrog matches that amount by putting renewable electricity back onto the grid. Not only does this partnership allow us to support Canada's green energy systems, but it helps us support community green energy projects as well. These include renewable initiatives with Indigenous Peoples, solar projects on schools and hockey rinks, and installations with renewable energy co-ops. Learn more about our partnership with
Bullfrog Power
.
Partnering with Bullfrog Power fits with our mission of continuously improving our business practices in regard to environmental responsibility. At Rootree, we strive to minimize environmental impact, while increasing support for our communities and our planet. We look forward to continuing to achieve our goals of environmental sustainability with new innovations in 2022!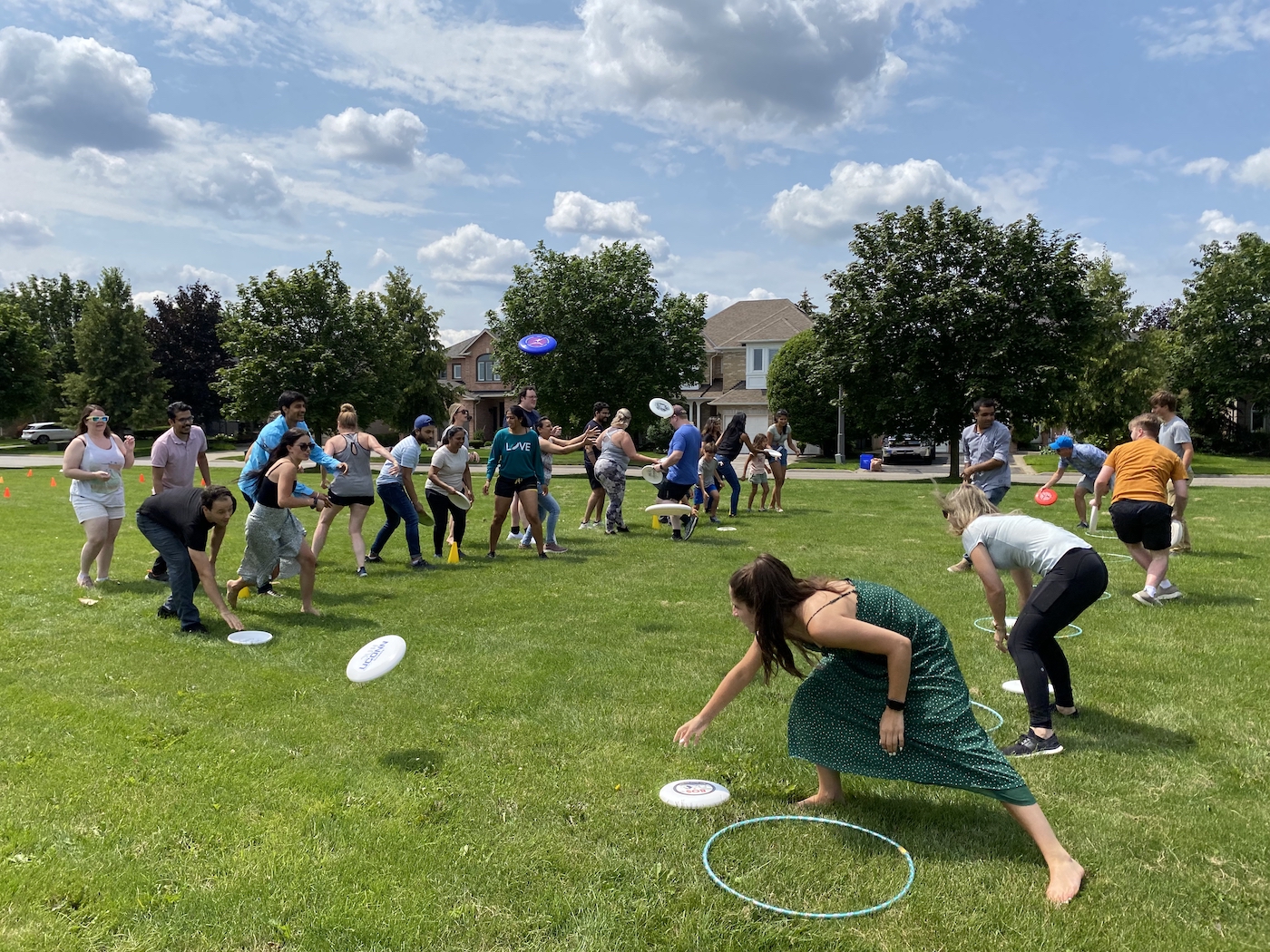 Moving, Learning, and Lunching with the RESIN Program
2021 saw the launch of our RESIN program — the Rootree Employee Self-Improvement Network. RESIN allows staff to devote time to their physical and mental wellness through various initiatives, including half-day Fridays, extended lunches in the park, Lunch & Learn opportunities, language classes, yoga, and other movement in a Movement Challenge.
During extended lunches, our staff took advantage of the hot summer weather by enjoying our lunches at local parks. We had picnics featuring birthday cupcakes and fresh coconuts, and we played games such as cricket, Ladder Ball, KanJam, Frisbee, and Salt & Pepper.
Rootree's Lunch & Learns allowed our staff to learn new things during the workday while enjoying a delicious lunch. Hosted by a different staff member each week, we watched a David Attenborough documentary, played a chess tournament, assembled beds for shelter dogs, and painted beautiful landscapes.
The Movement Challenge featured a company-wide competition to bring home the most points for physical activity. Participating individuals were divided into six teams, competing to rack up the most steps and active hours, and win a final prize. During and outside of work, our staff were working hard to get moving and bring home the gold. The grand prize winners were treated to a morning of treetop trekking followed by a lovely lunch on a patio.
Rootree's summer program concluded at our final extended lunch at Christie Lake Conservation Area: Rootree Summerfest 2021. We announced the winner of the Movement Challenge, and enjoyed a day full of relay racing, tie-dying, and swimming. While we were sad to see the summer come to an end, we patted each other on the back for our hard work.
With wellness and community both priorities at Rootree, the launch of the RESIN program was a huge success. We look forward to growing this program in the coming year and enjoying even more exciting experiences together.

Did Someone Say SQF Certified?
In June, Rootree was thrilled to achieve Safe Quality Food (SQF) certification for our co-packing services. SQF ensures that food products are held to a standard of safety and quality through all stages of the food supply chain. With this certification, customers can rest assured that Rootree holds our products and services to a high standard. We're so excited to achieve this certification and continue providing the best co-packing experience for our clients. Learn more about our
SQF certification
.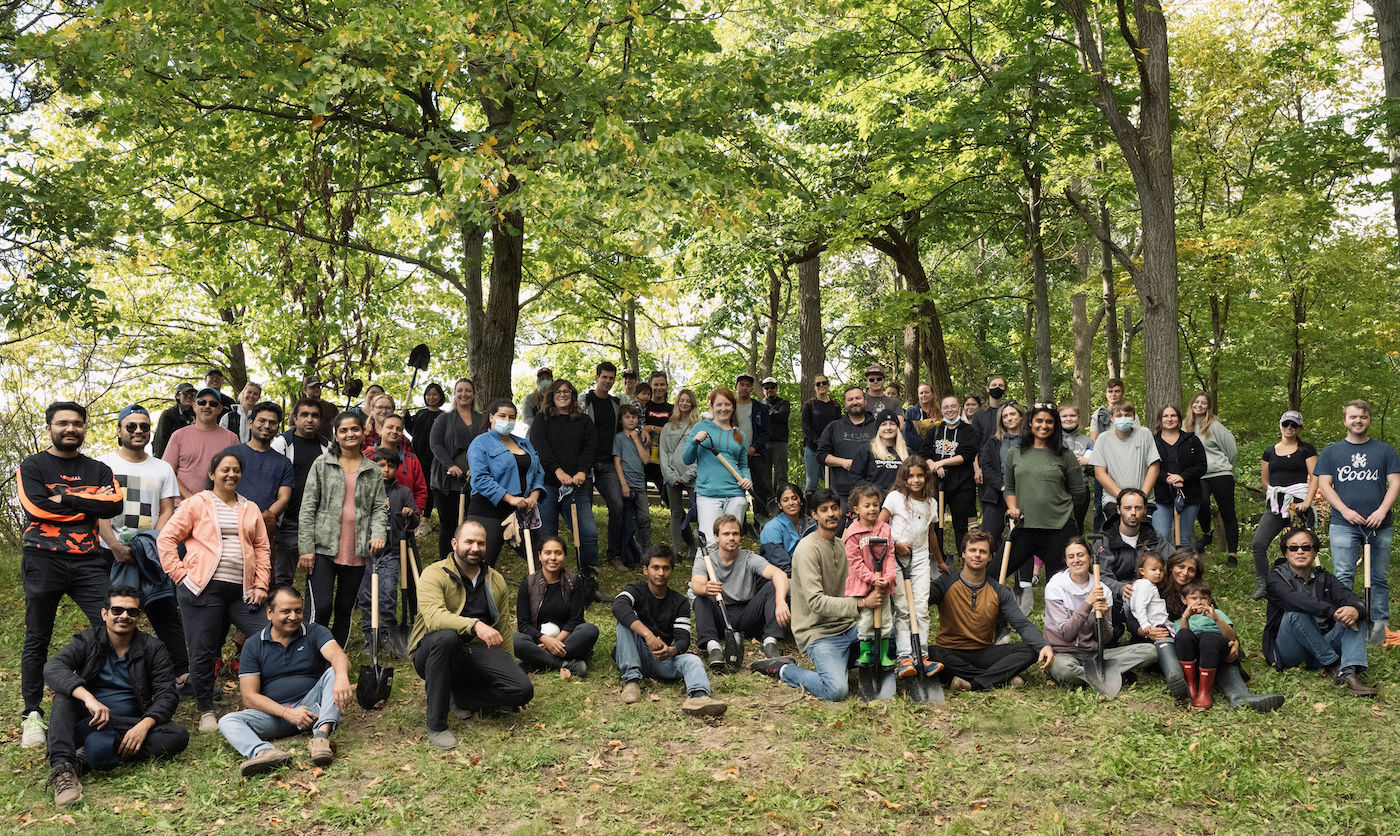 Back in 2020, we committed to planting 2,021 trees in 2021. We're proud to say that this year, our Rootree family has accomplished this goal in partnership with Conservation Halton!
On a sunny day in September, our team gathered at Hopkins Tract in Hamilton, Ontario, where we planted 200 native trees and shrubs in just a few hours. On behalf of Rootree, Conservation Halton planted another 1,821 native plants and trees across locations in Halton Hills and Flamborough. This was an amazing opportunity for our team to get their hands dirty and give back to our local community. At Rootree, we're always aiming to positively impact our environment and promote a better future. We hope to plant even more trees during next year's tree planting day!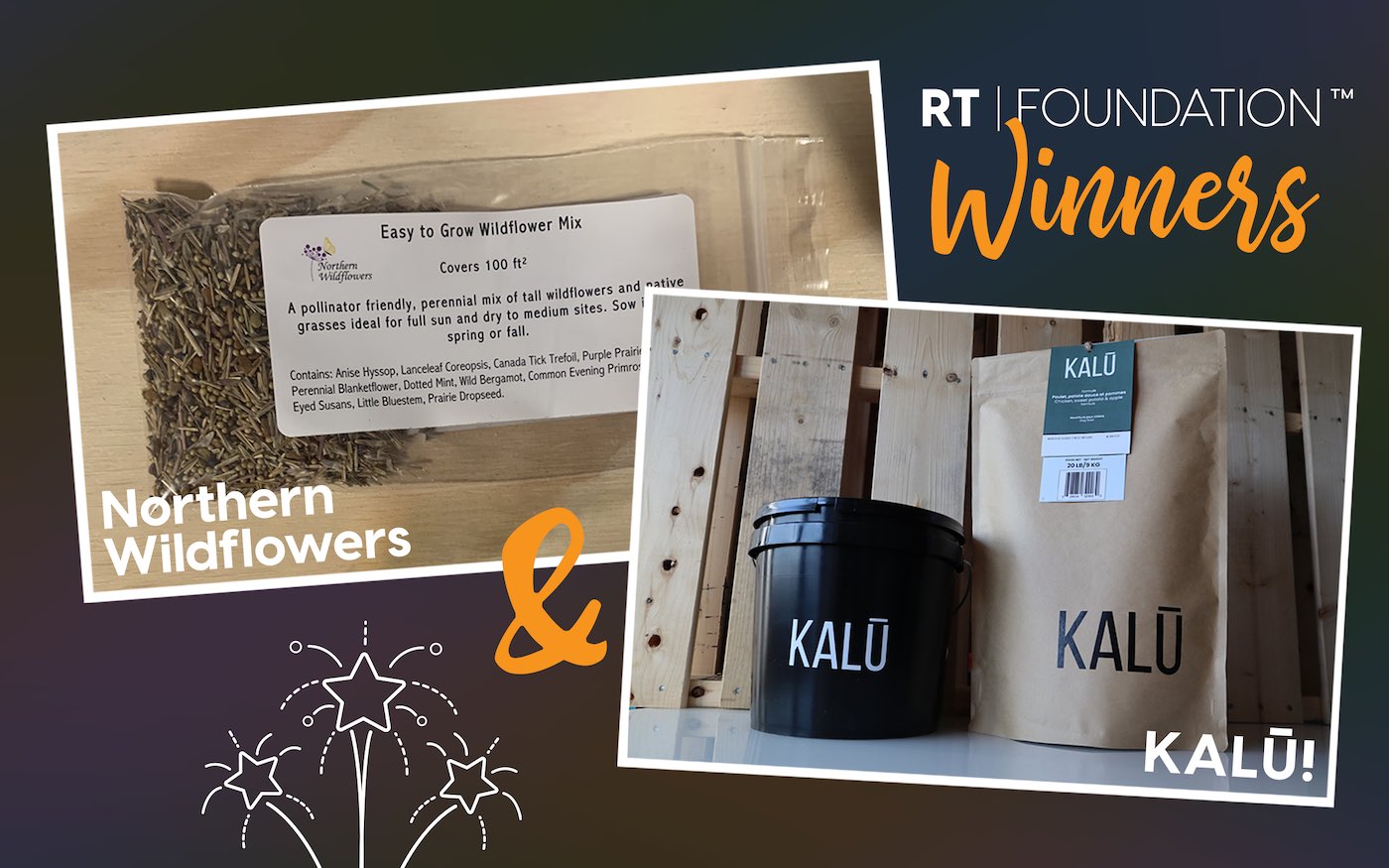 Presenting… The 2021 RT | Foundation Award
October saw the launch of our 2nd annual RT | Foundation Award contest — one of our favourite initiatives of the year. Overlapping with Small Business Week and Semaine de la PME in Quebec, this was the perfect opportunity for us to support the growth of our small business community. This year, our award was even bigger and better with an $8,000 prize, including all-new social media management and an exclusive 2022 promotional offer. We were also able to expand eligibility to include businesses from Quebec, as well as the rest of Canada and the USA.
With 135 applications, we were able to discover so many unique and impactful businesses. While it's always challenging to choose a winner, we were proud to award prizes to two recipients: Northern Wildflowers Inc., from Sudbury, Ontario, and KALŪ from Montreal, Quebec. We can't wait to unveil these projects in the new year! Check out our 2021 RT | Foundation Award Recipients blog post to learn more about these amazing businesses.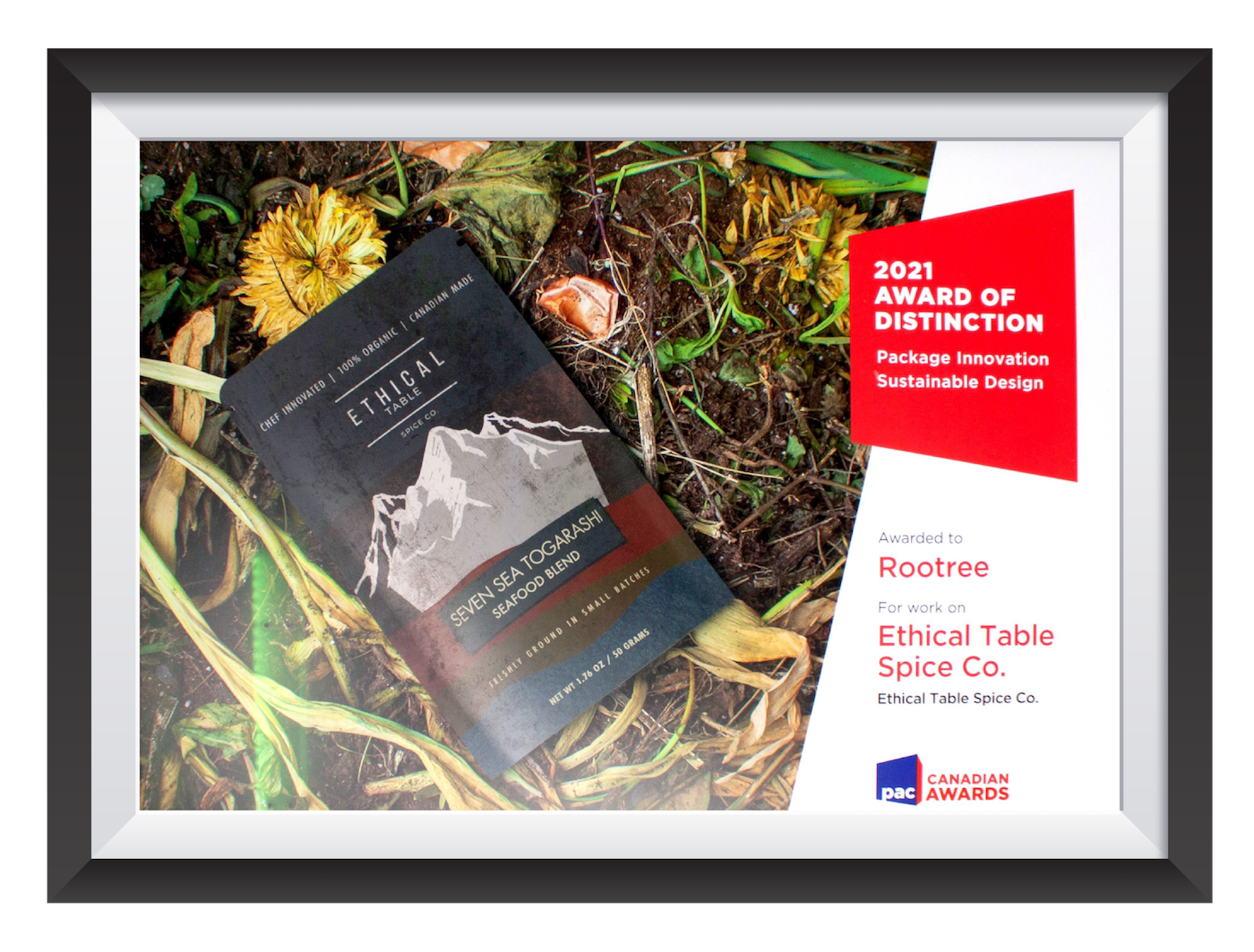 Giving Ourselves a PAC on the back for our Award & Nominations
In May we were thrilled to receive a 2021 PAC Canadian Award of Distinction in Package Innovation in the Sustainable Category for our Rootree x Ethical Table design. It was an amazing feeling to be recognized for our innovative packaging partnership with Ethical Table. We're so proud of our Rootree teams for this great achievement, competing against some of Canada's biggest brands and creative agencies.
We are also excited to be nominated for the 2022 PAC Global Awards for our Rootree x
Dodjivi
packaging design and re-brand. We look forward to hearing the results in 2022!
2021 has been another unique year for everyone, and it's definitely one for the books! At Rootree, we've dedicated ourselves to doing what's most important to us; creating impact within our Rootree family, community, and environment. We hope that 2022 will be another year of growing and achieving our goals. We'd like to thank our amazing staff and our inspiring clients; you make it all possible. As we reflect on the growth and success we had this past year, we eagerly await all that 2022 has to offer.