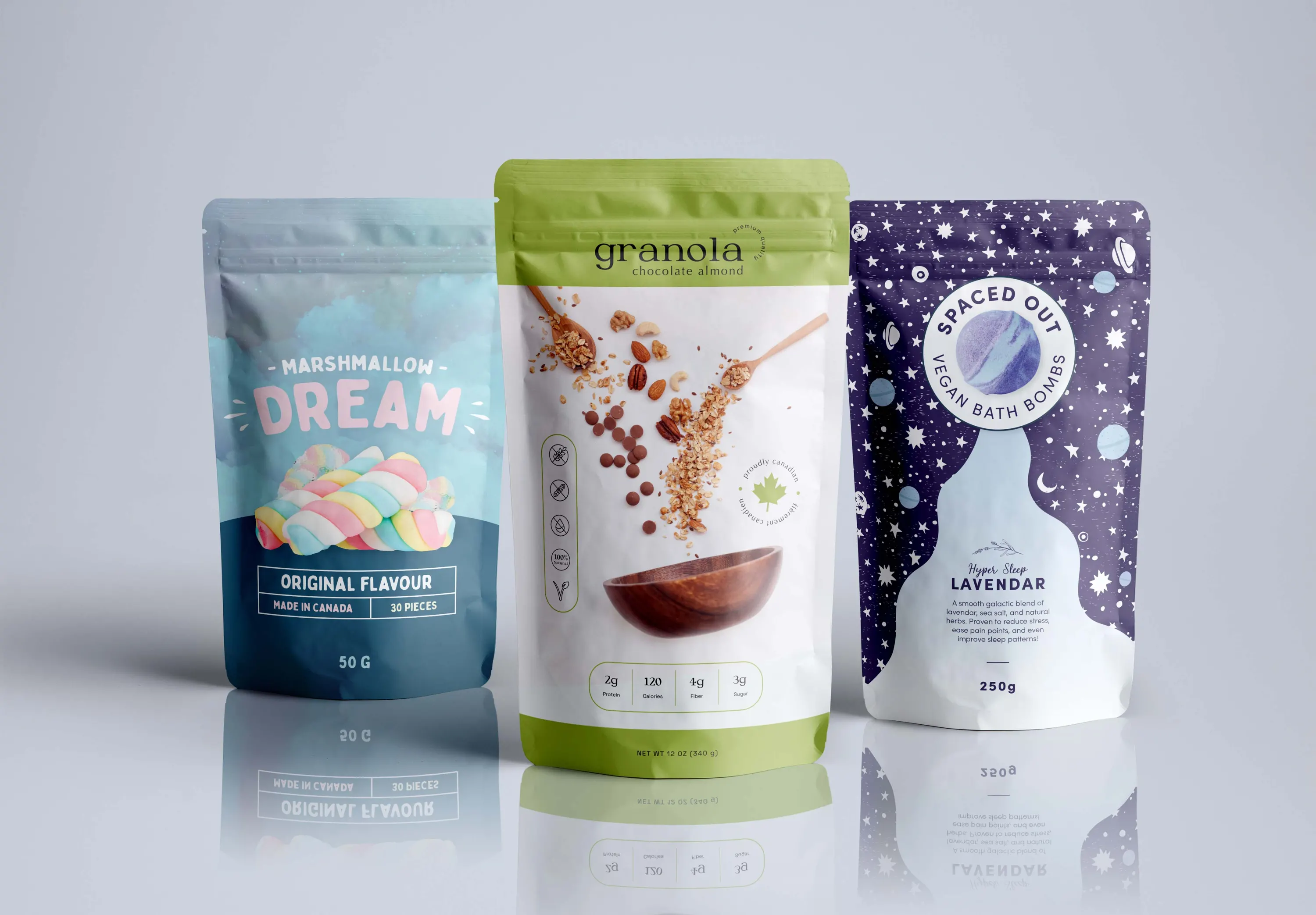 Soft-Touch Light pouches – feather soft to the touch to keep that high-end feel, while also light on your wallet. Don't worry – we know you want the details, so we're here to give them to you!
Perfect for just about any industry, this finish is the newest addition to Rootree's packaging lineup. On the hunt for the premium feeling of soft-touch packaging, but limited by a tight budget? We think it's safe to say that your search is over – Light Soft-Touch Pouches are everything you've been looking for, and more.
Unsure if this new finish is right for you and your product? Keep reading to see why our Light Soft-Touch finish deserves all the hype.
Count us in for pouches with that silky-soft feeling. Easy on the eyes due to unlimited design potential with digital printing, and soft and velvety to the touch – this packaging choice is a win-win. Let's get down to the nitty gritty – it's Q&A time!
Q: How do the Light Soft-Touch pouches differ from your existing Premium Soft-Touch?
A: Our new Light Soft-Touch pouch gives an aesthetically pleasing look, but with a lighter texture than our premium offering – great for any brand, any vibe, and any product.
Q: I'm worried about the outer layer of the packaging becoming dull and scratched over time. Is this a concern with the Light Soft-Touch Pouches?
A: Have no fear, the Light Soft-Touch Pouch is here. With our new Light Soft-Touch pouches, you don't have to stress; we've got you and your packaging covered. The laminate on our new pouches has excellent resistance to the outside world – so no more lost sleep over scuffed up packaging…Light Soft-Touch pouches have come to the rescue.
Q: Can I add a window to my Light Soft-Touch Pouch?
A: Of course! Don't be scared to show off your snacks, powders, granola… or whatever you please – with Light Soft-Touch pouches it's easy to give the customer a sneak peek of what's inside. Clear films with a soft-touch will give windows a slightly frosted appearance. With all of this versatility, can't you just see your product packaged in this pouch?
Wanting a high-end look…but have a tight budget?
We're thrilled to be able to offer this new option that requires no compromise. Premium, customized flexible packaging – the Light Soft-Touch pouch is calling your name!
How do you know if these are right for your business?
Lighter in all ways (including price), Light Soft-Touch pouches are perfect for small businesses looking to save a little, while still achieving that high-end look and feel in their pouch packaging.
Here at Rootree, price and quality are never a trade-off. We ensure you get the best quality for your budget, right down to the look, touch, and feel.
Do Light Soft-Touch pouches sound like the right fit for your product? Feel free to reach out to sales@rootree.ca to chat with one of our knowledgeable sales reps who can help you customize a packaging option that is perfect for your brand.