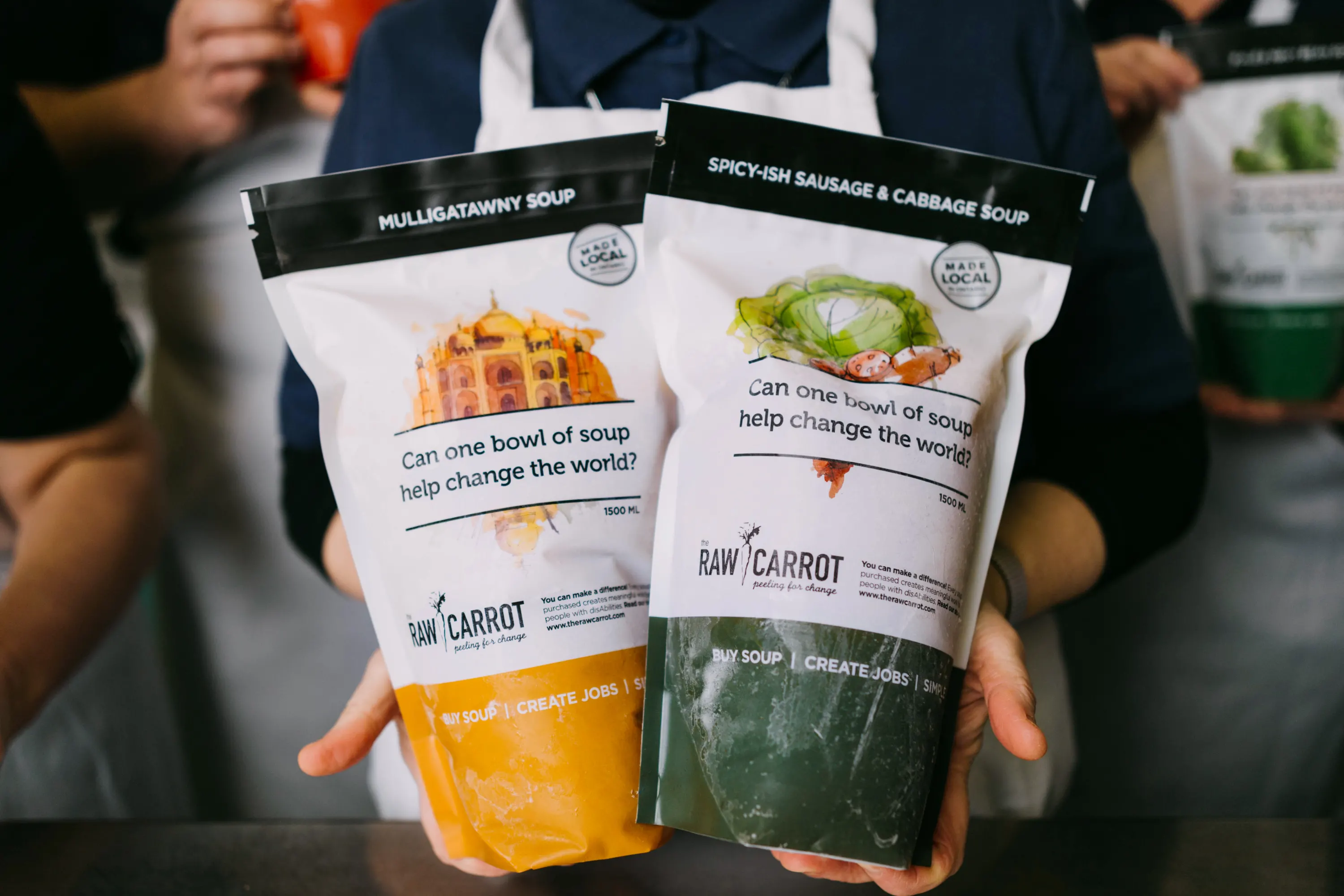 Livelihood, security, and thriving communities – just one bowl of soup away
Let's begin our journey where it all started: The Raw Carrot setting its roots in the ground. The Raw Carrot's ride through the non-profit world has been nothing short of unique, heartwarming, and delicious. They are a company that won't make you feel guilty for overindulging in tasty, gourmet soups…so eat up, give back, and feel good!
It all began when Rebecca Sherbino, soon-to-be co-founder of The Raw Carrot, came back from spending four years abroad. Upon her return to Canada, she noticed that people in her own community were being marginalized, just in different ways than she saw in Africa. Vulnerable people within Rebecca's community, and many others across Southern Ontario, struggle not only to make ends meet, but also with loneliness and boredom.
"People kept telling me that they wanted to work, but they couldn't hold down a job in a traditional work environment" – Rebecca Sherbino
With an idea to create meaningful work and to enact real change within communities, Rebecca and her long-time friend (and now fellow co-founder), Colleen Graham, got to work.
With difficulty finding and keeping a job due to their unique circumstances resulting from various disabilities, while having a real desire to work in their communities, these individuals inspired Rebecca and Colleen to create real change within communities. And thus, The Raw Carrot was born.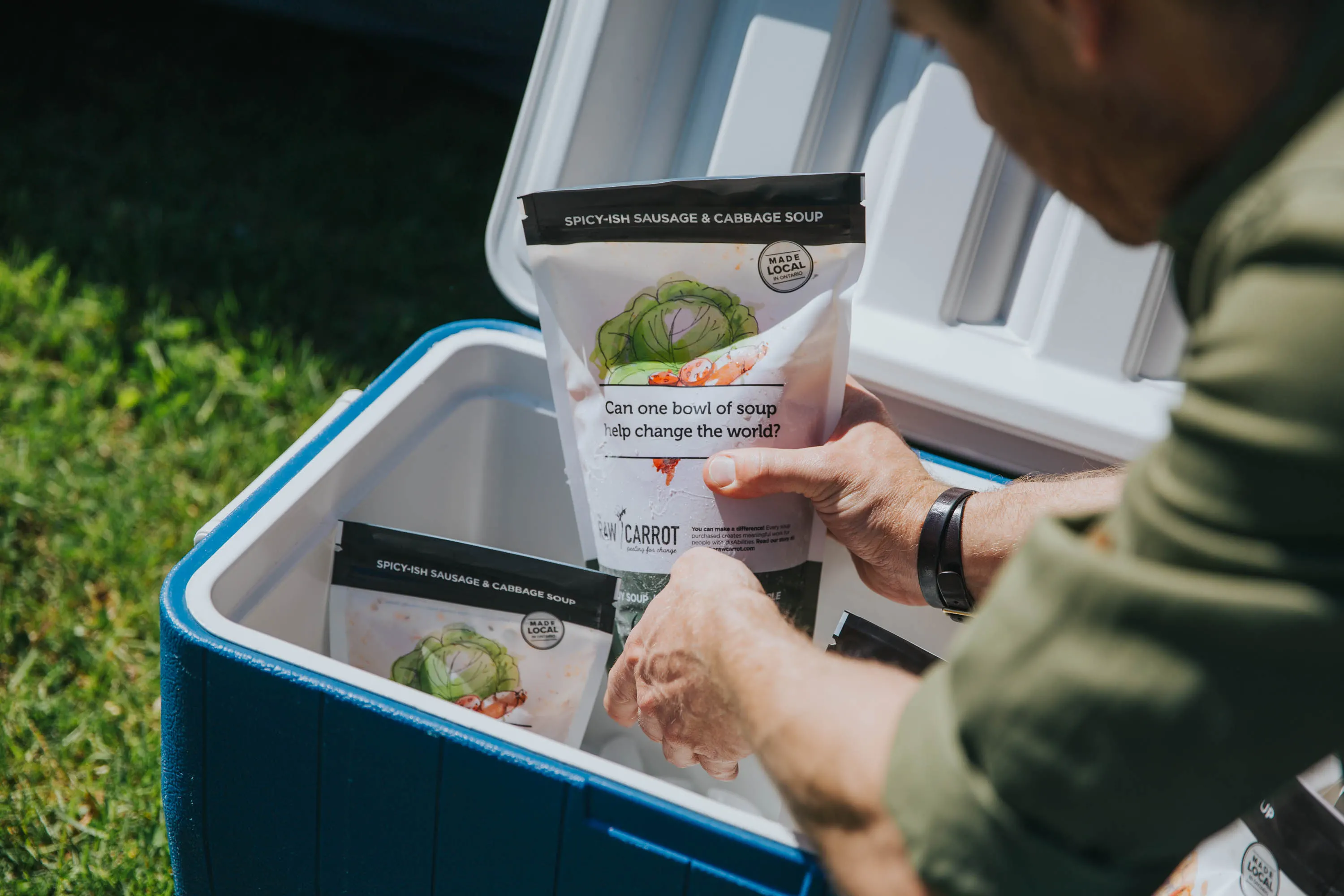 Heartwarming Soup…Literally
"Our business is helping people; our product is soup"
Since its creation, The Raw Carrot has been about one thing, and that's helping people. At the end of the day, it is not about the money, it is about the impact that The Raw Carrot is able to make. Not conforming to the traditional 9-5 mentality, The Raw Carrot is whole-heartedly bound for positive change.
Since 2014, The Raw Carrot has been proven to stir up great change within their communities by creating permanent part-time employment for 27 individuals on the Ontario Disability Support Program. In addition, The Raw Carrot has increased these individuals' monthly income by 15-25% on top of their disability stipend – now this is some soup we can get behind!
Rebecca has demonstrated with The Raw Carrot that people want to work, they just simply need the opportunity in a way that is going to work for them, within the bounds of their abilities.
Differing from a traditional employer, The Raw Carrot addresses the needs of people in the category of disabilities. Generating opportunity, dignity, and pride, The Raw Carrot has created a space where people are able to thrive.
The beginnings of a long relationship…Rootree X The Raw Carrot
Six years ago, with a vision to change people's lives in mind (and soup being made), the search for the perfect packaging was on. Upon researching countless companies, Rootree's sustainable mission, paired with its many packaging options, was a seamless fit with The Raw Carrot. Above all, Rebecca admits it was Rootree's personability that solidified her wanting to work, and grow, with Rootree.
Rebecca says that a personal conversation between The Raw Carrot and Rootree's President & CEO, Phil St-Cyr, was instrumental in solidifying a packaging partnership. Rootree was able to see the vision and goals of The Raw Carrot – and when two companies have a goal to do good, great things can happen – our Rootree team goes above and beyond to make our client's vision a reality.
"Every step of the way, Rootree never said 'this is the exact way you have to do things.' Every time, I have requested to pick up my own packaging to avoid [shipping] costs as a non-for-profit, and every time they have made it possible for me to do that."
Keeping that personal touch is very important here at Rootree. No matter the growth or the client, fulfilling the unique needs of every customer is THE most important objective. That's why we love companies like The Raw Carrot. As a not-for-profit business, The Raw Carrot is looking to cut down on costs wherever possible. When creating packaging for The Raw Carrot, taking their needs into consideration while maintaining their mission and values was of the utmost importance.
The packaging Rootree offers checked all the boxes for The Raw Carrot; from the physical, sturdy packaging, to the benefits of digital printing, The Raw Carrot couldn't be happier with their final product. Thanks to Rootree's digital processes the packaging options for The Raw Carrot can be endless, as they are easily changeable for every soup flavour!
"If I had to describe my interaction with Rootree in three words, it would have to be personal, flexible, and adaptable. They were willing to adapt to the needs of The Raw Carrot. Rootree has always tried to meet us in the middle".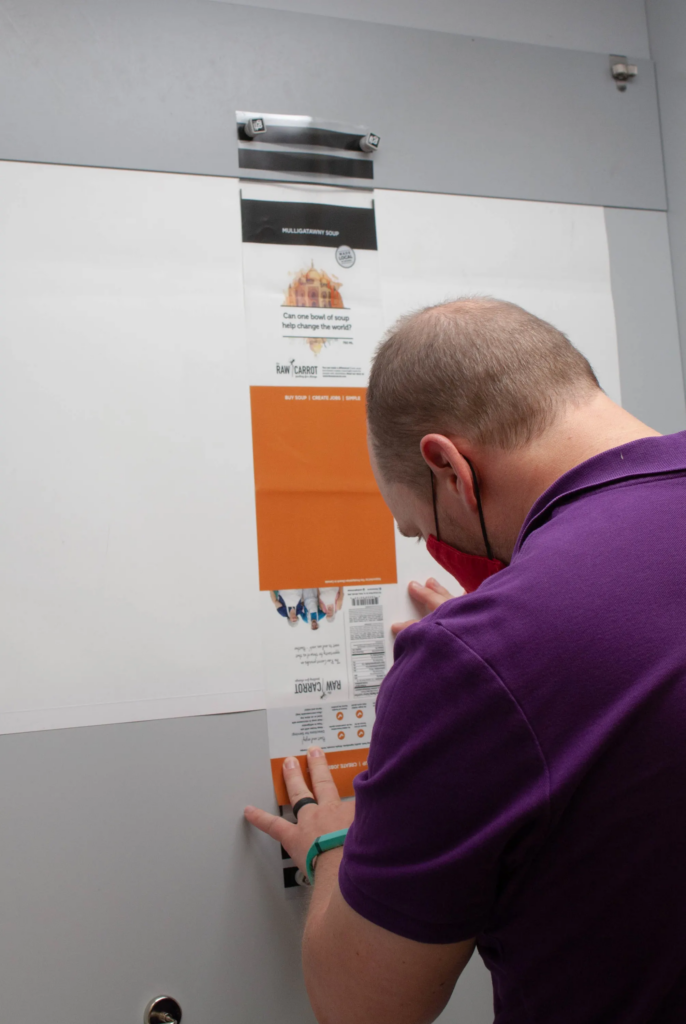 Starting with a love for cooking, having kids at home, and surviving long, cold Canadian winters, soups seemed like a perfect fit. For Rebecca, soup is a social food – after all, there is nothing better than standing around with loved ones, chatting, chopping vegetables in the kitchen, while making warm, healthy soup. With an array of seven different soups, and a growing business, reliable packaging was essential.
Having a frozen product, quality packaging was paramount. The Raw Carrot found Rootree's sustainable, freezer-safe packaging to be a perfect fit.
"We have a frozen product, so it has to sit in a freezer, it has to be freezer safe, and needs to be visible. We have never had problems with ripping, or breakage, or anything of that. We lose no product".
No ripping, no breakage, and no product ever lost, The Raw Carrot X Rootree is an unbeatable combo.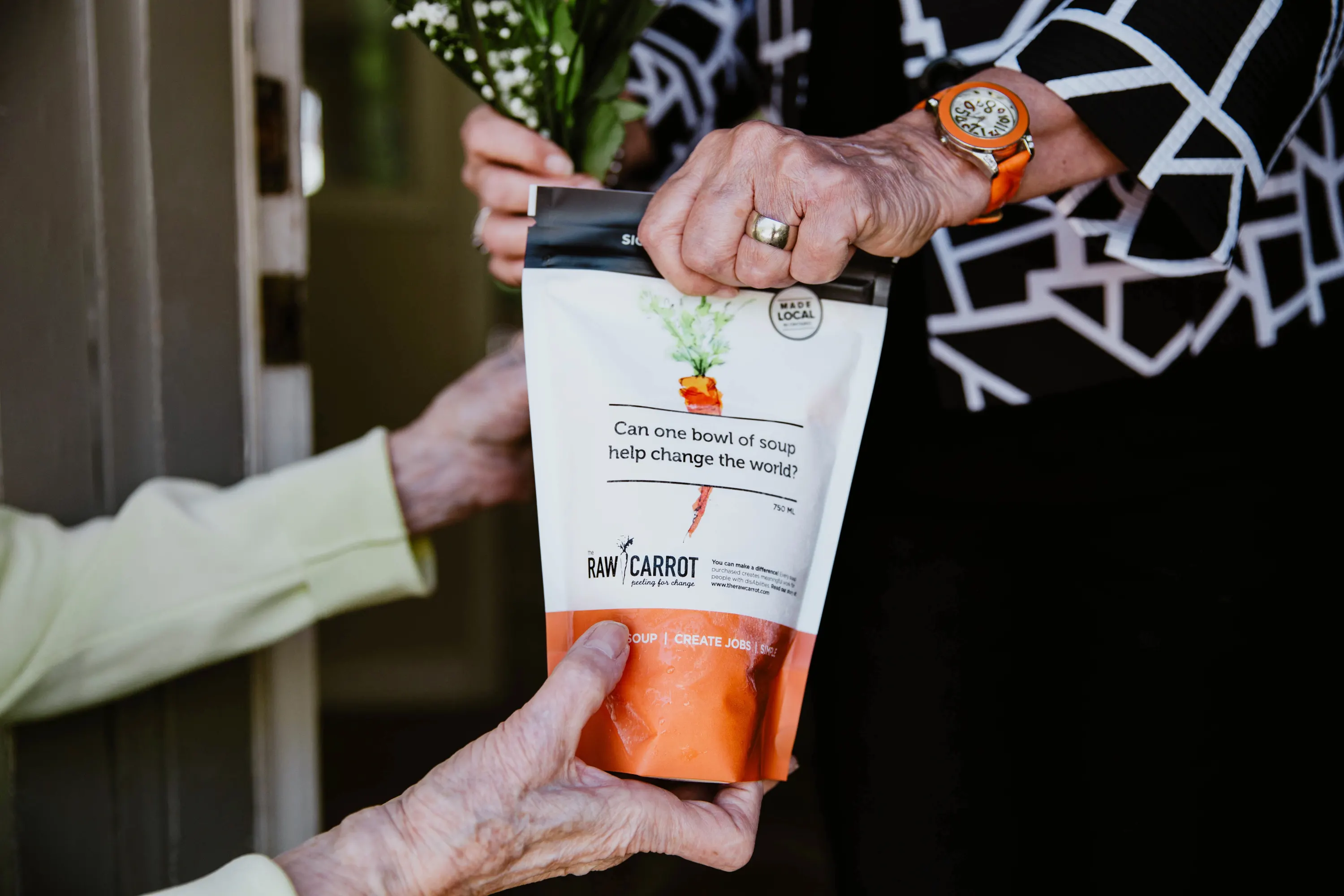 Healthy, Sustainable, Tasty…Good Things Come in Threes
With a passion for a healthy lifestyle, and a background in environmental studies and the charity sector, co-founder, Rebecca, felt that the mission of Rootree aligned with the values of The Raw Carrot. Drawn towards Rootree's commitment to sustainability and our environmental responsibility, The Raw Carrot and Rootree were a match made in heaven. The love for Rootree's sustainability mission does not end with The Raw Carrot, rather, it is something our customers look for in their packaging. There is a growing commitment to advocate on behalf of the planet – compostable or recyclable packaging is your answer!
"The colors are vibrant, it was exactly what we wanted, it was perfect for our product."
Stored in Rootree's freezer-safe packaging are deliciously healthy gourmet soups – from the freezer to your bowl, it's that easy. The ingredients in The Raw Carrot's soups are locally sourced from farmers who are in full support of The Raw Carrot's program. With the help of Rootree packaging, the soups are kept frozen and fresh, making for an easy and nutritious meal – anytime you please. Did we mention they are re-sealable, so you don't have to eat it all at once!
With seven soup flavours, one is sure to satisfy your taste buds: Signature Carrot, Flying Noodle Soup, Veggie Mania, Hearty Lentil Barley, Mulligatawny, Sausage & Cabbage, and Kale & Navy Bean. Do good, eat good. For your belly, your community, and your planet.
Here at Rootree, we could not be happier to be a part of such an amazing not-for-profit's journey. We love supporting healthy, sustainable community initiatives. So, fill your hearts and your bowls, and know that doing good is just SOUPS away.