Let's take a closer look at what Rootree press operator, Seth, gets up to on a daily basis.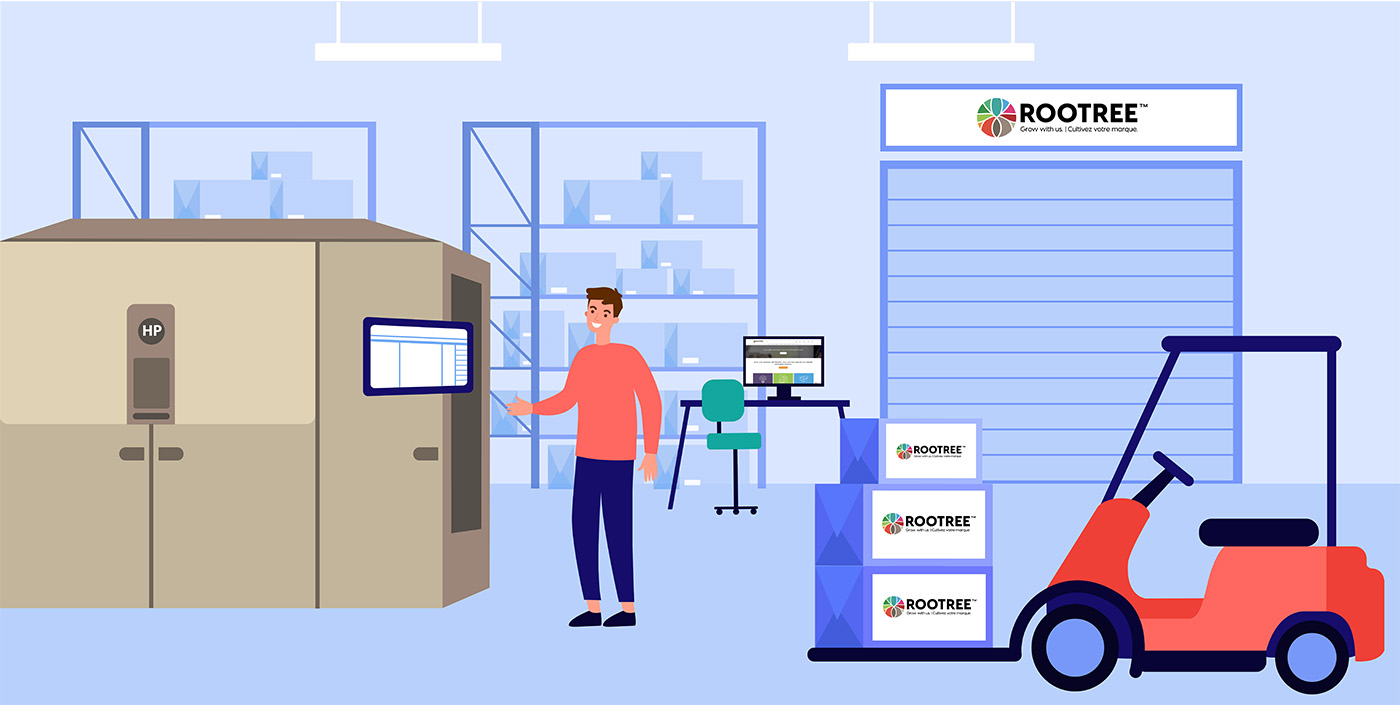 You're headed to the kitchen pantry to grab your favourite HelloAmino baking mix. With the packaging in hand, you begin to wonder…How was this pouch produced so flawlessly? How are the metallic features perfectly popping off the pouch?
For this, we must thank the hard-working press operators who work with such finesse to produce perfect pouches for your products. Our knowledgeable press operators are vital members of the Rootree family. Playing a crucial role in production, they are responsible for making sure the machines are running smoothly, print jobs are on time, and ensuring the final printed product is in tip-top shape.
A day as a press operator requires attention to detail, a troubleshooting mindset, and naturally, some hustle. We got to know just what it takes after spending some time on the floor with one of HP Indigo press operators, Seth Ebos.
Say hello to Seth, a press operator at Rootree. Outside of work, Seth has always loved to dabble in a variety of hobbies.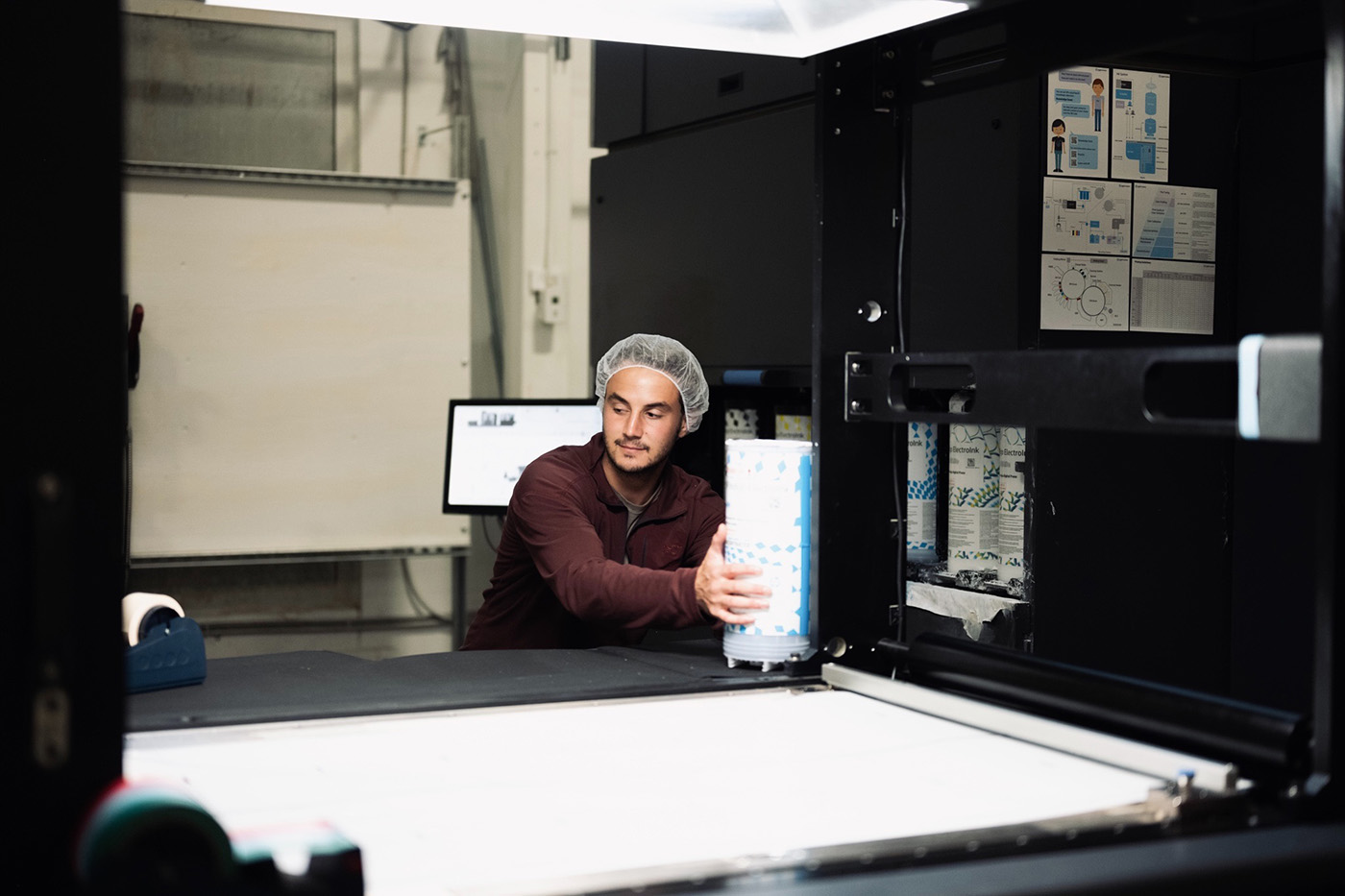 From skateboarding, playing guitar, speaking Spanish, and songwriting, to working toward becoming a certified yoga instructor, Seth has always had a passion for learning new things.
Until now, Seth's career has consisted of a variety of jobs, such as leading campers on canoe trips across Georgian Bay, assisting a Ph.D. student with research, and tutoring. His love for nature, sustainability, and figuring out complex systems eventually led him to land an integral role as a press operator at Rootree, a position that complements his hard-working drive and passion to learn.
Being a press operator comes with a busy schedule, as understanding the ins and outs of how the printing press works is a key responsibility of the job.
When arriving at work, Seth gets right to it; starting by booting up the HP Indigo 20000, performing maintenance, and colour calibrations.
One of Seth's responsibilities is printing off tear sheets for each printing job; one of the last steps before producing a full run of pouches. Reviewing tear sheets is a crucial step, and important for many reasons as the colours seen on the screen when designing packaging may not always match the printed ones, due to varying screen colour calibrations.
Tear sheets are Seth's opportunity to see how the colour looks in real life while making sure there is enough contrast before hundreds, or maybe thousands, of pouches are printed to avoid mistakes and material waste if adjustments are needed. What would we do without our talented keen-eyed press operators?
Seth reveals that like any job, some days can run smoother than others, and that staying on your toes is an important skill when it comes to being a press operator.
On a busy day while working on the HP Indigo Press, Seth might be found performing machine maintenance, changing materials, and making service calls – which all can happen in a matter of seconds. Seth is always on-the-go, constantly between our production and pre-press room.
When asked what he loves most about his job, Seth reveals: "I love all the people I work with. I also really enjoy getting to know the HP Indigo press a little better each day!"
In addition to all the learning opportunities his job provides, Seth holds great value in working for a sustainable company like Rootree.
"I really love that Rootree is helping redefine the packaging industry with new refinements in eco-friendly packaging."
You might be thinking that operating such a large piece of machinery sounds stressful. Ensuring everything runs smoothly when dealing with technology comes with its challenges, but Seth has gained an appreciation for this type of fun and fast-paced environment.
"One of my favourite things about my job is I am constantly learning and fine-tuning my skills as a press operator. My least favourite part is getting asked what my least favourite part about press operating is. I love it."
With these witty answers, and a strong drive for success, Seth's enthusiasm always shines and he is a valued team member at Rootree
Like any occupation, being a press operator comes with its own set of challenges, but at the end of the day, it's extremely rewarding. Teaching other press operators' tricks and tips he's learned along the way is one of the most fulfilling aspects of Seth's job – sharing his knowledge helps others excel in their roles and ultimately makes the production process at Rootree even smoother. As our day in the life of a Rootree press operator wraps up, Seth leaves aspiring press operators with some advice:
"Be patient with the knowledge. It takes time, there is no rush and no need to know everything all at once."